"The Future Vintage" blog series is dedicated to the clothing, shoes, bags and accessories of today that will in the next 20 to 30 years be the "future vintage." You might be thinking: Everything will be vintage at some point! Yes, that is true. What this series spotlights however are the current designers that are offering well-made, collectible worthy goods that I believe will one day be the highly sought after Vintage with a capital "V." The designers that I personally choose to feature in this series produce unique, quality pieces that will stand the test of time through their style and craftsmanship.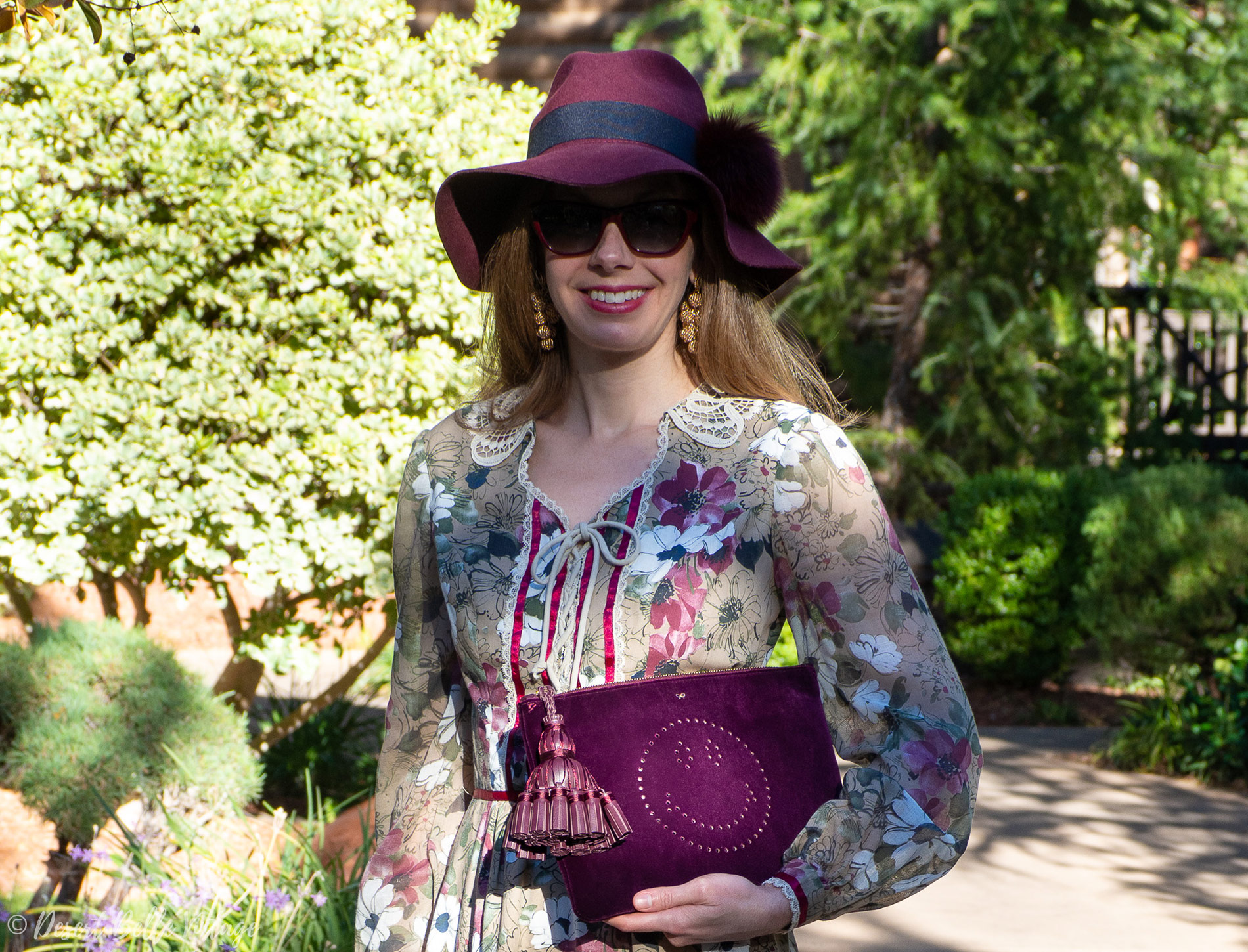 Anya Hindmarch: Future Vintage Handbags & Fashion Accessories
British designer Anya Hindmarch is without question a future vintage label. Hindmarch designs practical handbags for everyday carrying but wittingly imbues those designs with a refreshing mix of humor, nostalgia and whimsy rarely seen in the contemporary fashion accessories market. I, like many handbag enthusiasts, cheerfully embrace her singular, unprecedented and unexpected visions. Anya Hindmarch turns the handbag and fashion accessories industry on its head through her innovation and imagination!
This exquisite, vintage Victorian-inspired, 1970's floral prairie dress is just the right match for Anya Hindmarch's quirky, yet richly feminine, perforated Smiley velvet clutch. It's fanciful 70's boho romanticism meets early 1970's feel-good, "be happy" pop culture!
Anya Hindmarch offers statement making, fun yet functional, handbags and fashion accessories that are future vintage pieces of carryable art.  Click here to learn more about Anya Hindmarch and her whimsical world of fashion.
Please continue reading for further information below on 1970's prairie fashion and the dress featured in these pictures.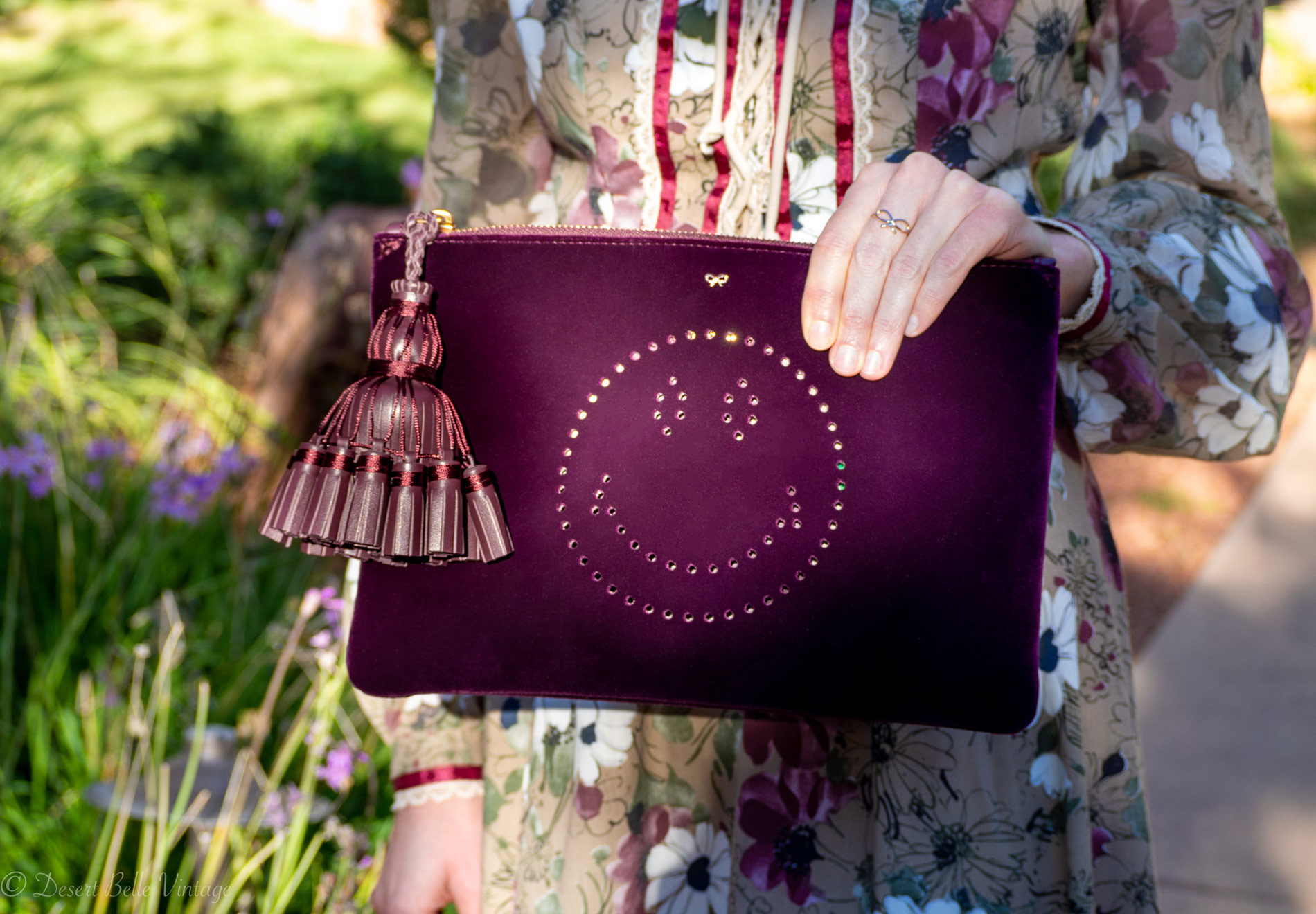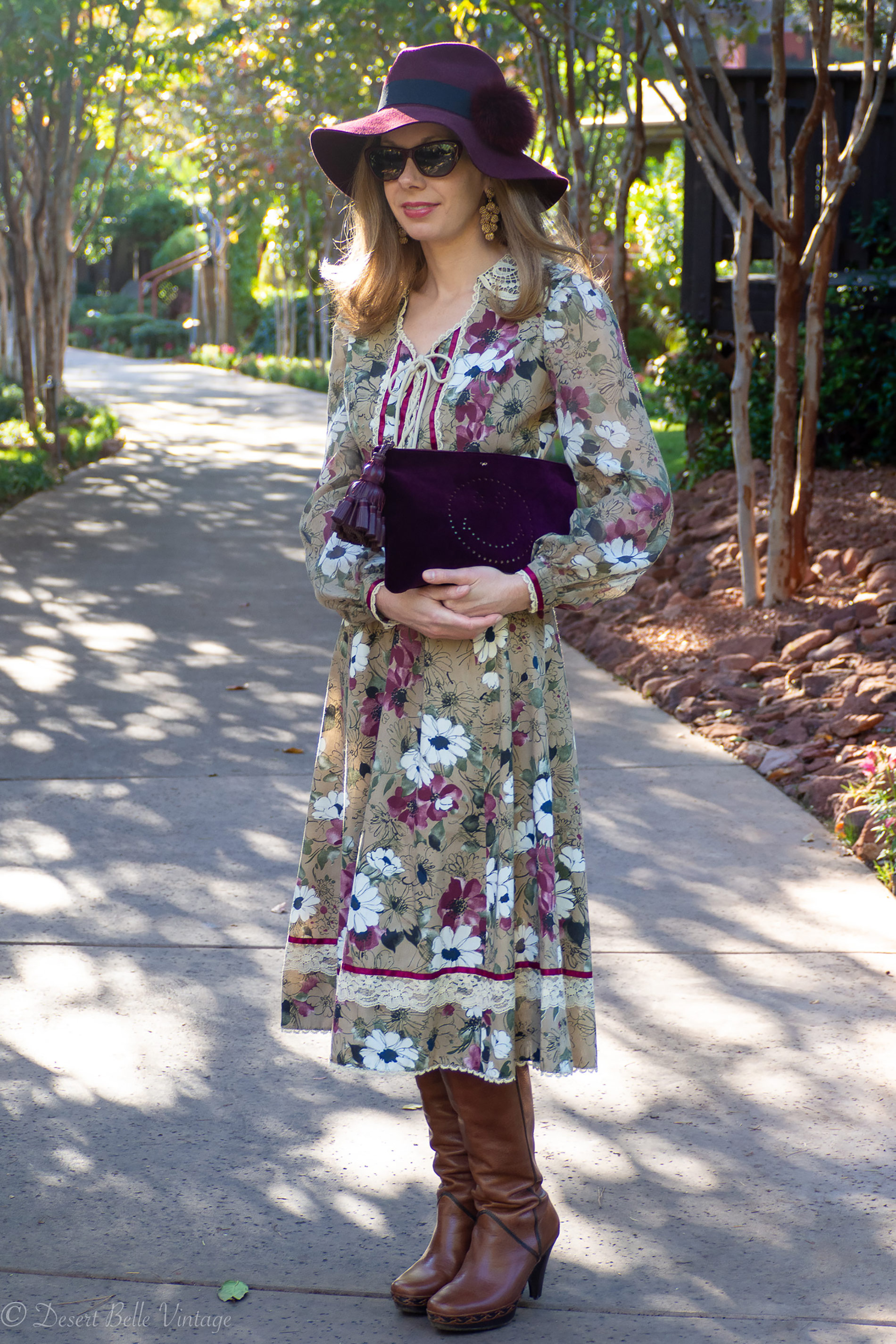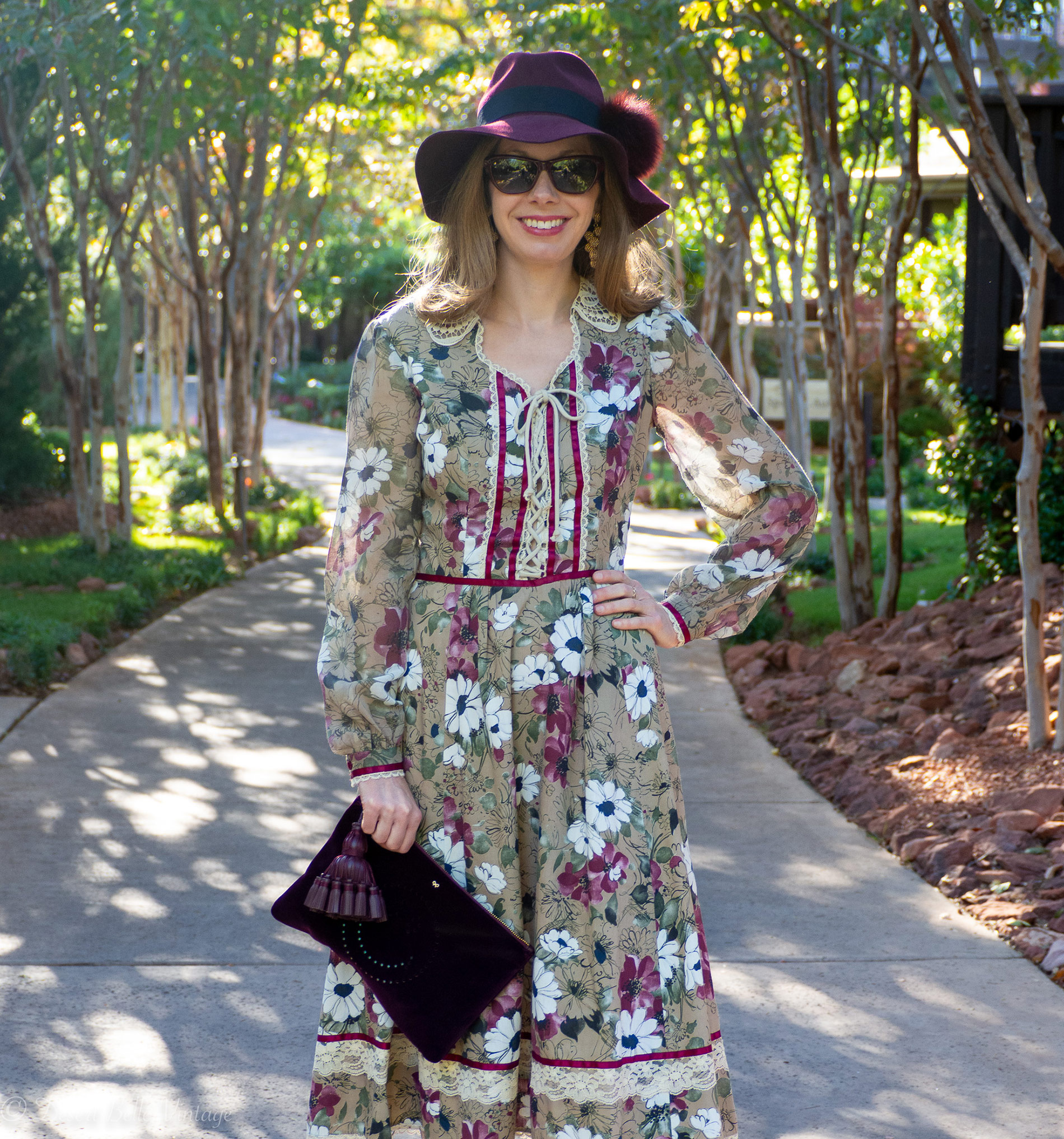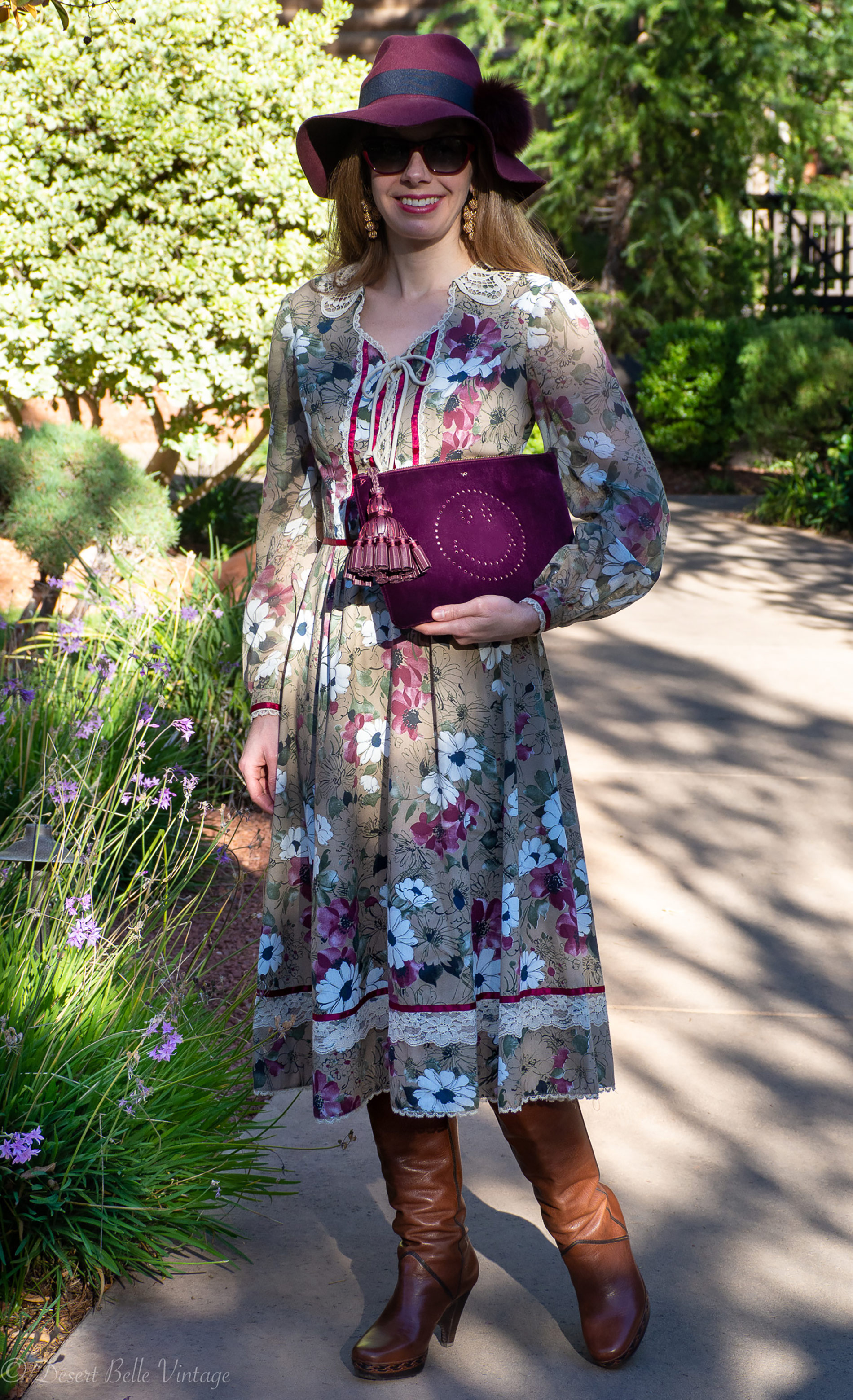 Storybook Escapism in 1970's Prairie Fashion
There is definitely an enchanting, fairytale quality to 1970's prairie dresses. The flowery, flowy and ultra feminine 70's prairie aesthetic calls forth a dreamy wanderlust to experience and explore in an overtly bohemian chic way different historical places and times, be it the American frontier, Victorian or Medieval periods. Fashion runways throughout this past year embraced the nostalgic trend and included many dresses inspired by 70's prairie style.
Gunne Sax is widely regarded as one of the 70's labels du jour for all things prairie. The Gunne Sax label offered a wide range of flowery frocks and separates inspired by the prairie days of Laura Ingalls Wilder, the Middle Ages and the Victorian and Edwardian time periods. Some pieces, through their elaborate designs, border on the edge of cosplay, but all have in common a transforming, frilly femininity. Long skirts, laced bodices, ruffles, lace and satin trims and billowy, balloon bishop, sleeves are examples of design elements incorporated by Gunne Sax to achieve that fantasy, storybook escapism ideal.
The vintage 70's dress worn in these pictures with the Anya Hindmarch clutch is unlabeled, so the original designer is unknown.  It is apparent through the style and fabrication of the dress worn in these photos that the designer that impeccably constructed the dress looked to the Gunne Sax line for inspiration. A heads up: There will be a post featured in "The Style Files"  in 2019 devoted to a Gunne Sax ensemble.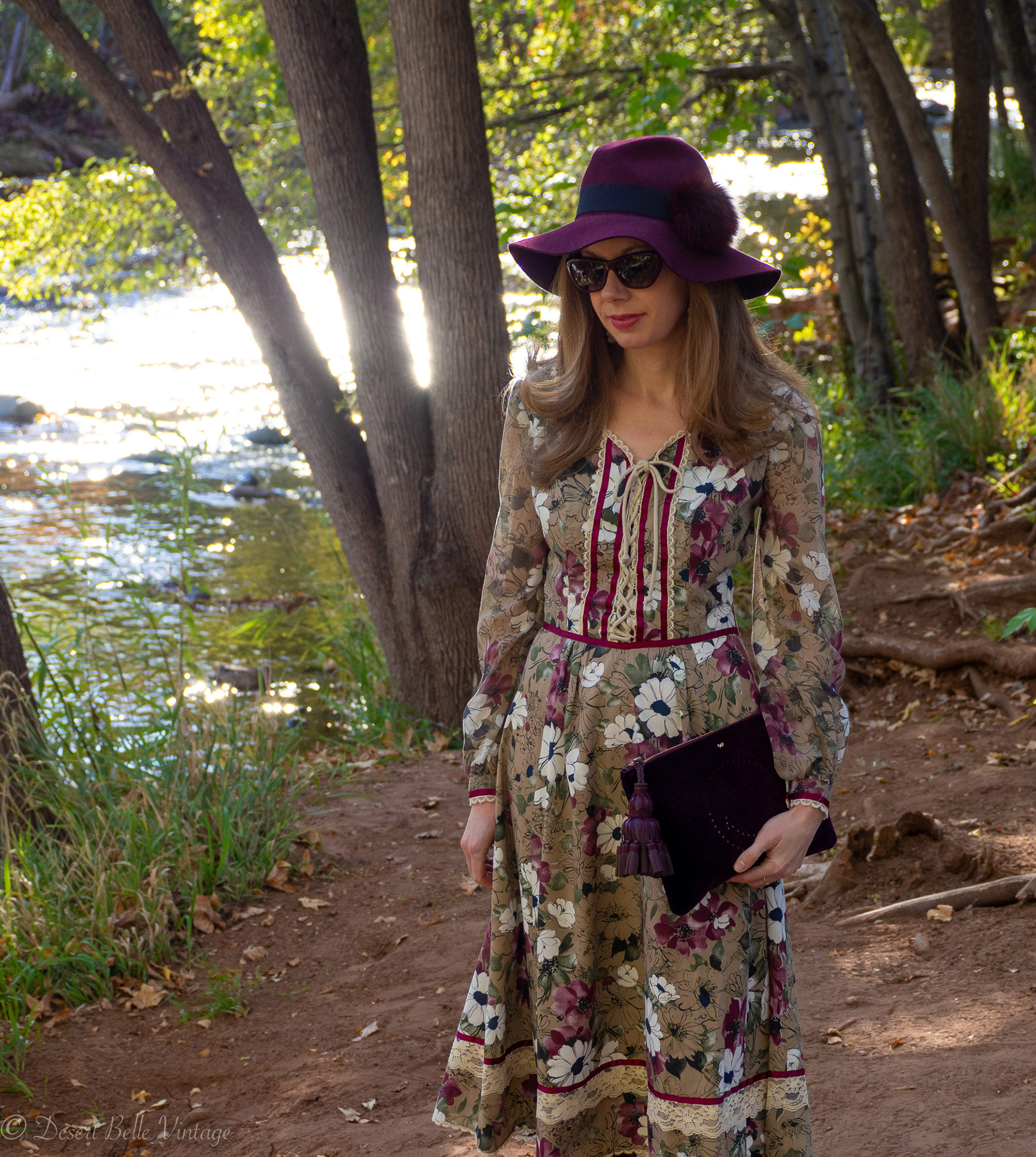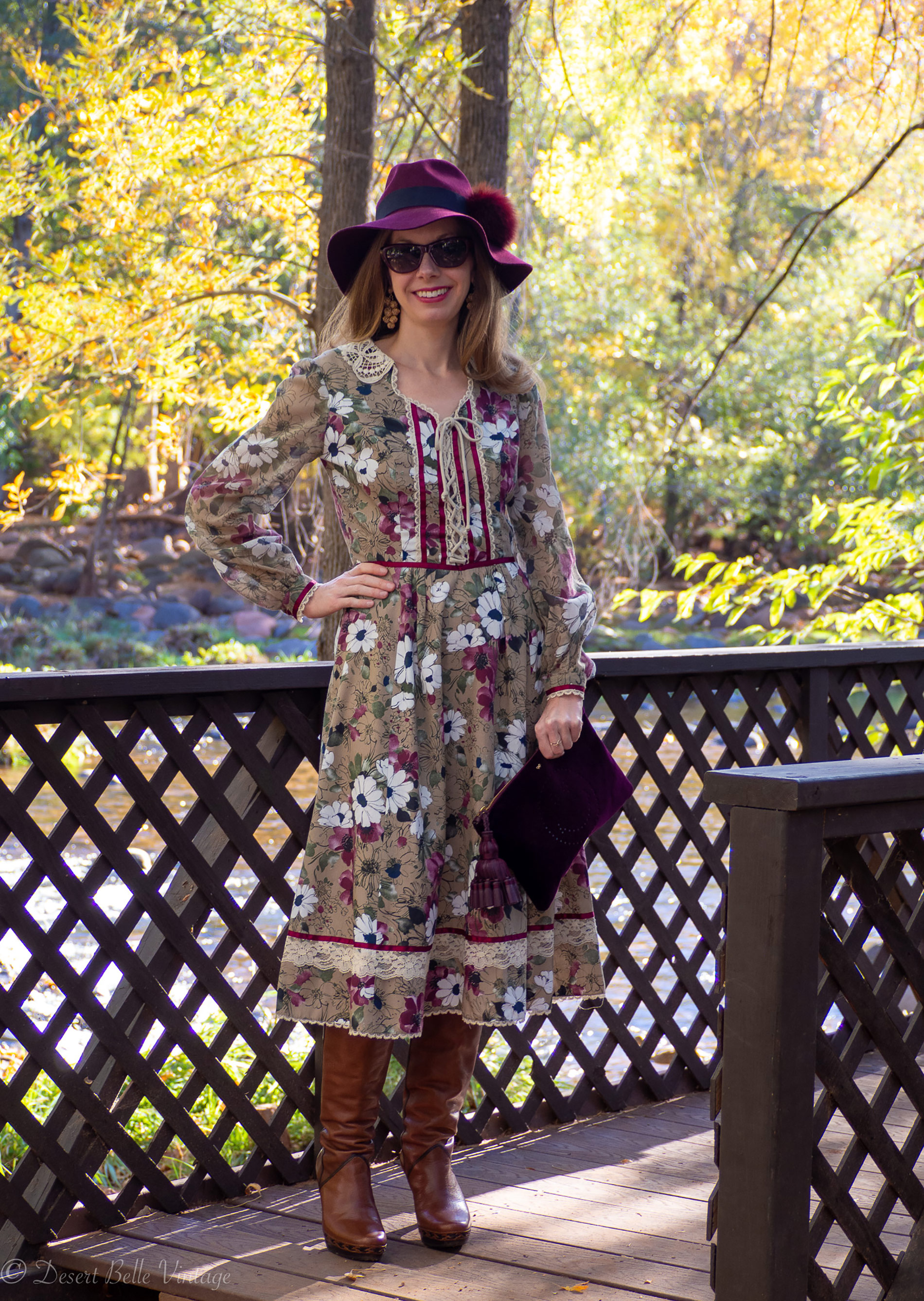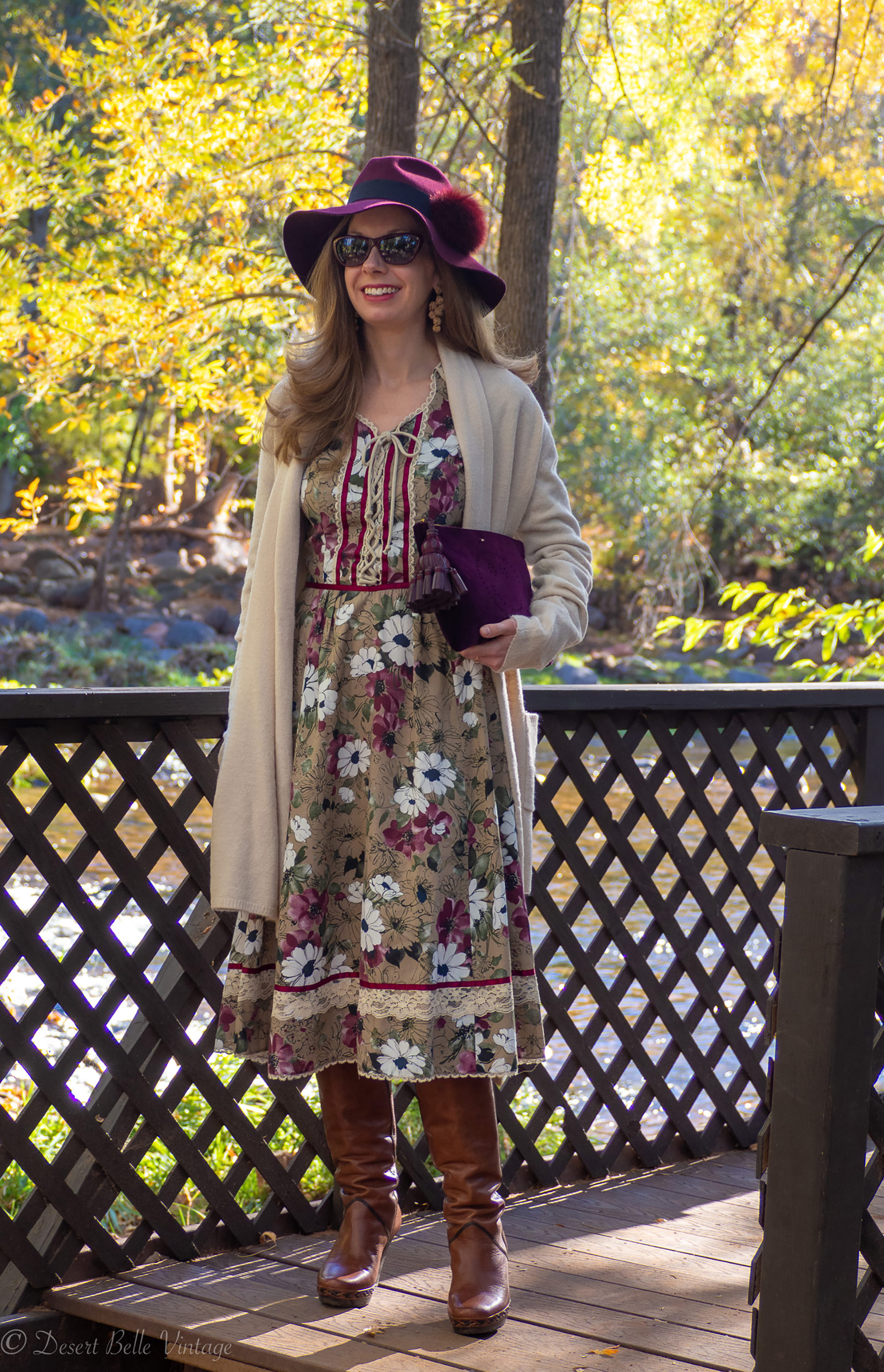 Dress: Vintage 1970's (unlabeled, designer unknown). Boots: Cole Haan (over 10 years old). Bag: Anya Hindmarch (sold out). Hat: Shiraleah (past season). Cardigan: Morning Lavender (sold out).
It is important to note that I am not affiliated, associated, authorized, endorsed by, or in any way officially connected with any of the designers (or any of their subsidiaries or affiliates) featured in this series or anywhere on the Desert Belle Vintage site. This blog contains my opinions and does not reflect the opinions of any featured businesses.