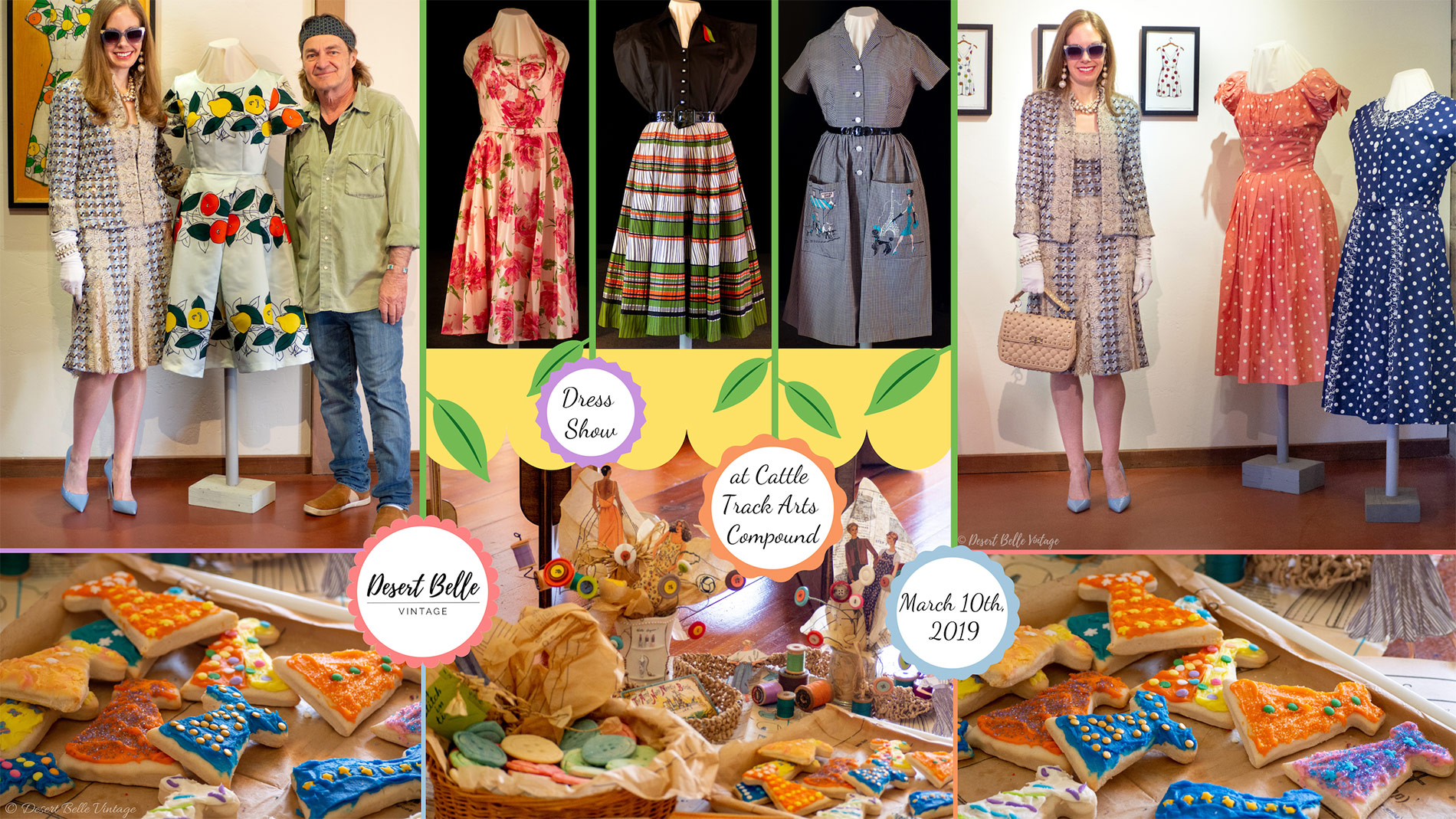 I am thrilled to share details and photos of last Sunday's Cattle Track dress show and reception in Scottsdale, AZ. Thank you to everyone that came to the show! For those of you that could not come, this post will fill you in on last weekend's festivities.
Desert Belle Vintage at Cattle Track
Last Sunday's Cattle Track dress show was a true marriage of "Art + Fashion." Cattle Track gallery attendees enjoyed viewing a select sampling of my own personal dress collection (including the eight dresses drawn by Mark McDowell) along with dresses from the Desert Belle Vintage collection. Mark McDowell's original dress drawings of my eight dresses were also on display scattered amongst the actual dresses. Cattle Track Fiber Artist Chance Phillips and friends baked adorable button cookies and dress-shaped cookies complete with "frosted" skirts and bodices and "sprinkled" with edible buttons, sequins and trims. The cookies were delicious to munch on while looking at the literal dresses.
To learn more about the history and story behind my dress collaboration with Scottsdale, AZ artist Mark McDowell, please click here for the premiere "Art + Fashion" series post.
The Famous Eight
Artist Mark McDowell chose out of my personal collection eight dresses total to immortalize in colored pencil, four vintage dresses and four modern dresses. All eight dresses were on display at the March 10th Cattle Track dress show along with their drawings.
The Desert Belle Vintage Blog has documented five of the dresses so far. Each individual dress post showcases Mark's original dress drawing along with the styling and modeling of the actual dress in real-life. To view the five dress posts, please click here.
Mark has sold all eight original dress drawings from this series to a private collector. I have spent untold web hours on this Desert Belle Vintage "Art + Fashion" Blog series not counting the time preparing for the Cattle Track show and of course the initial pulling and photographing of dresses for Mark to choose from. I provided Mark with historical information for each garment such as designer and date as well as explanations on different garment constructions. Due to my hard work as volunteer on this project, I am elated to announce that Mark has promised me an original dress drawing of my own! He is going to draw a 9th dress from my collection. He has chosen an adorable vintage 1950's red dress with black flocked dots. We are calling it "The Lucy Dress." I will devote a special post to "The Lucy Dress" after I receive the drawing. I plan to complete the remaining three dress posts to conclude the coverage of my collaboration with Mark after I receive Mark's "Lucy Dress" drawing. Thank you to all of the Desert Belle Vintage Blog readers excited to see the future and final posts on my collaboration with artist Mark McDowell!
Wearing Dolce & Gabbana at Cattle Track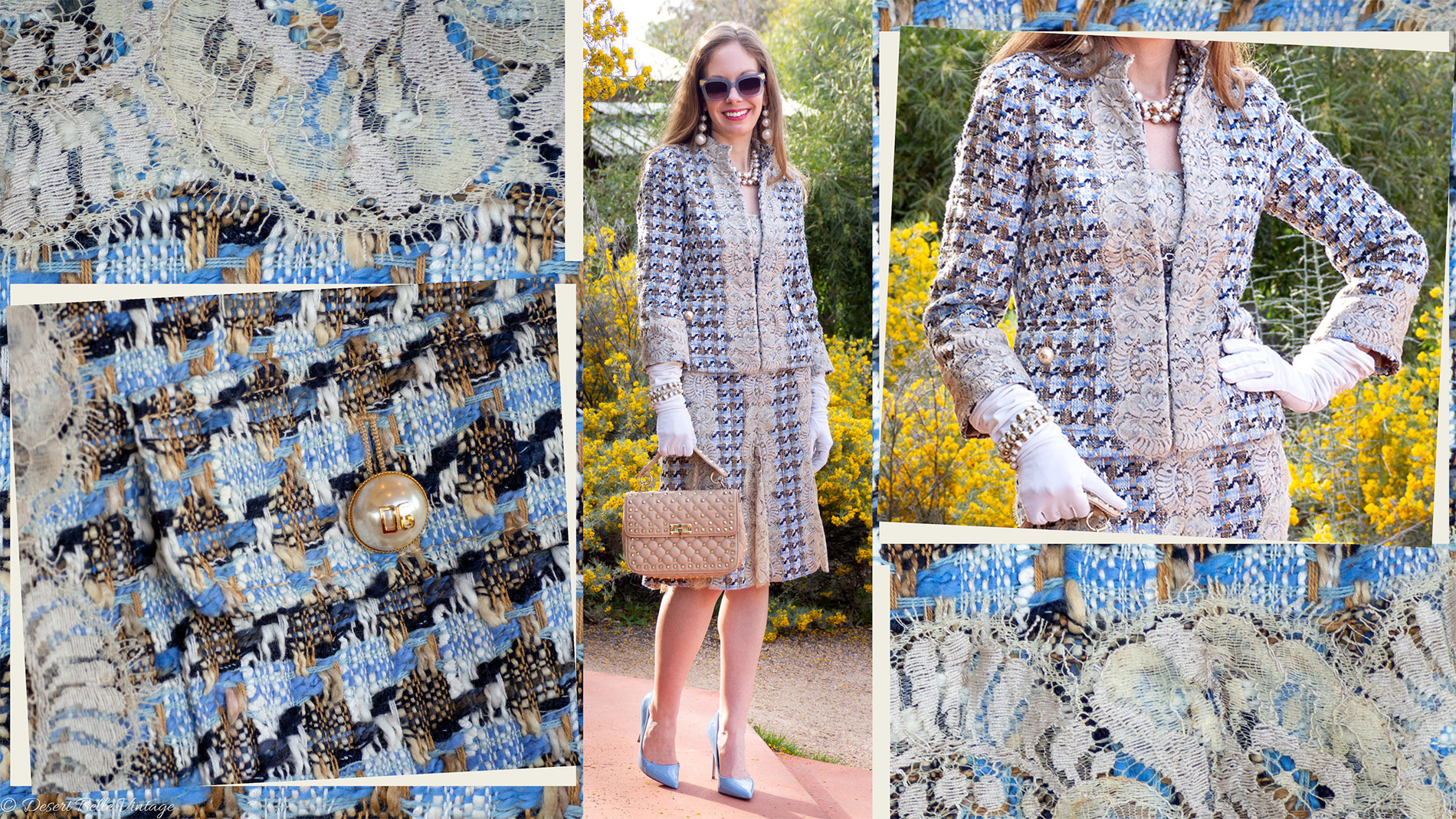 While most everyone that follows my blog knows of my love for 1950's dresses, many are not yet aware that I passionately collect and wear vintage from all decades. I seek and admire quality in all aspects of a garment, and vintage fashion has yet to disappoint! My special love for 1950's dresses is due to their whimsical and feminine prints, flattering silhouettes and impeccable quality and construction. Throughout my over twenty years of collecting however, I have found that every decade through the 1990s and into the 21st Century has offered fashionistas gorgeous, well-made and timeless pieces.
While selecting dresses from my personal wardrobe for his drawings, artist Mark McDowell again and again requested and gravitated to full skirted 1950's frocks and playful, modern dresses with definite retro vibes. Having collected many 1950's dresses and modern dresses of a 50's silhouette, I definitely have my share of dresses that fit the bill for what Mark was seeking.
To shake things up a bit for this collaboration and step outside of the mid-century, circle skirt, swing dress aesthetic, I chose to wear a Dolce & Gabbana couture tweed suit for the Cattle Track Show. This suit represents a fine specimen of non-50's vintage and spotlights the creative range of my own personal style and the discerning, multi-decade, appreciation and reverence for fashion celebrated by Desert Belle Vintage.
The Dolce & Gabbana suit exudes refinement and sophistication! The ensemble evokes an elegant and chic Chanel energy but with a sassy edge that only Dolce & Gabbana can achieve. The suit consists of a dress and jacket constructed of rich, dimensional tweed fabric with cream lace trims. No detail was overlooked in the fabrication of this set! The dress has a gorgeous flared lace-inset godet skirt. Stunning pearl buttons with gold "DG" logos and trim are sewn on each front jacket pocket. The creamy lace was strategically placed throughout dress and jacket to properly line up the florals therein maximizing the dramatic effect of the lace's pattern. I feel at my most feminine in this suit, and I also feel incredibly powerful. I understand why Carrie in Sex and the City loves Dolce & Gabbana so much. The Italian fashion powerhouse constructs flawless garments and knows how to dress a woman!
I paired a nude, spike gold-studded, quilted leather purse with the look along with baby blue patent heels to bring out the blue in the suit's tweed. Creamy white gloves go perfectly with the jacket's 3/4 length sleeves. Finishing touches include a multi-strand pearl necklace and bracelet, triple-pearl drop earrings and baby blue sunglasses.
Welcoming Spring at Desert Belle Vintage
I am looking forward to the warmer weather to come and am picking some gorgeous floral outfits to feature on the Desert Belle Vintage Blog for the sunny months ahead. I am diligently working to open the Desert Belle Vintage online Shop sometime this May. Thank you for visiting my site and reading my blog! I am excited about the future ahead for Desert Belle Vintage!
Now on with the pictures from the Desert Belle Vintage Cattle Track Event!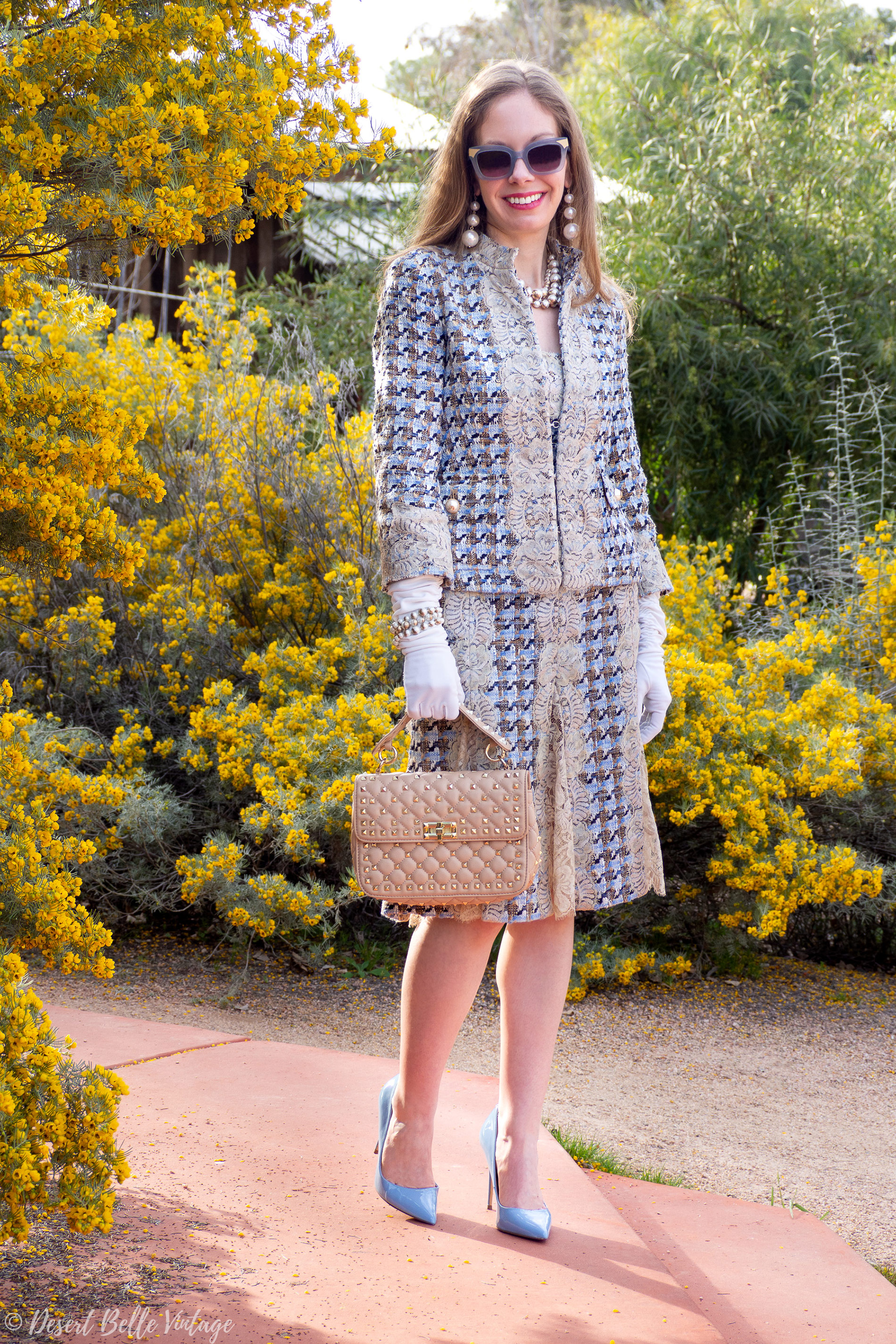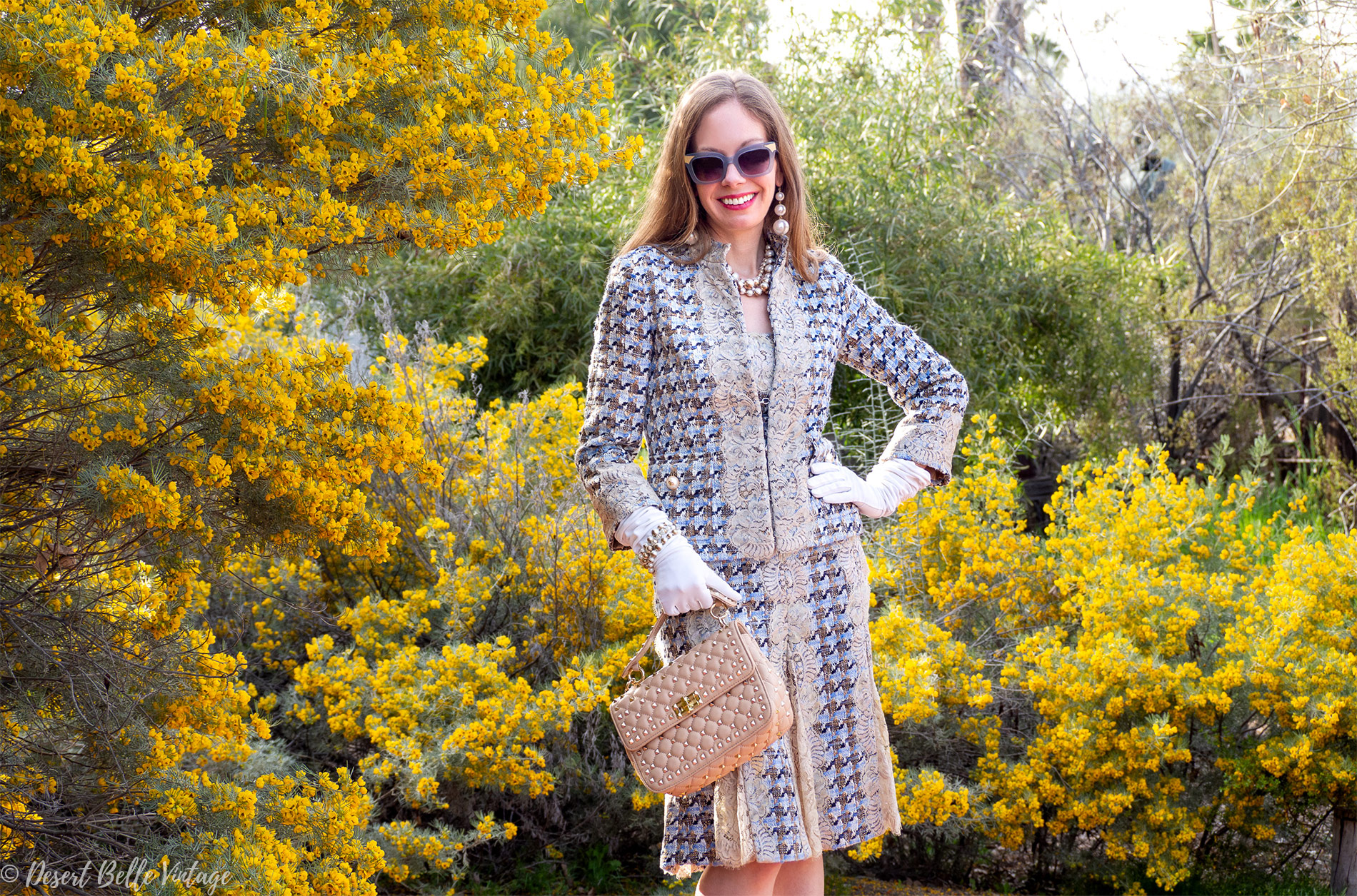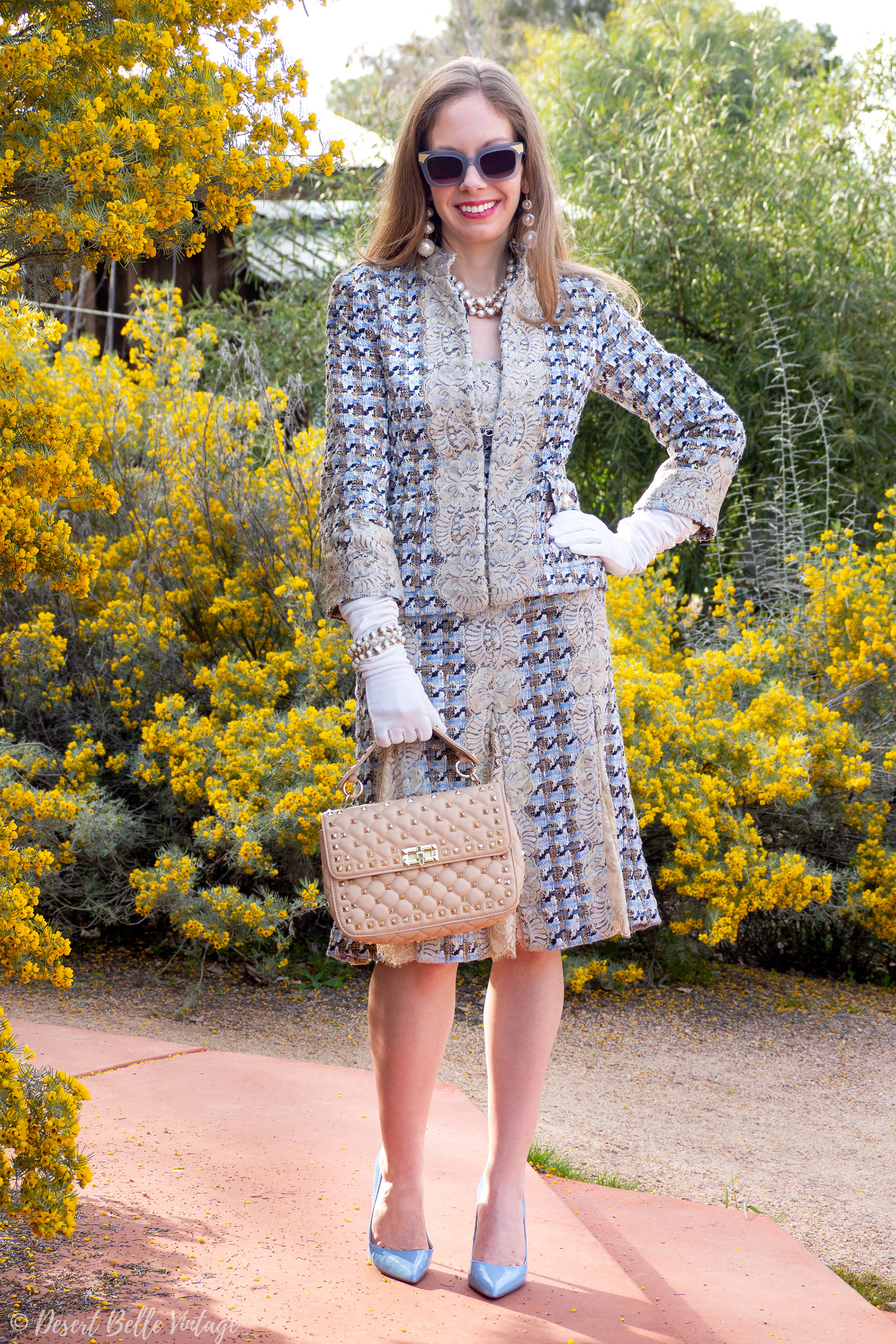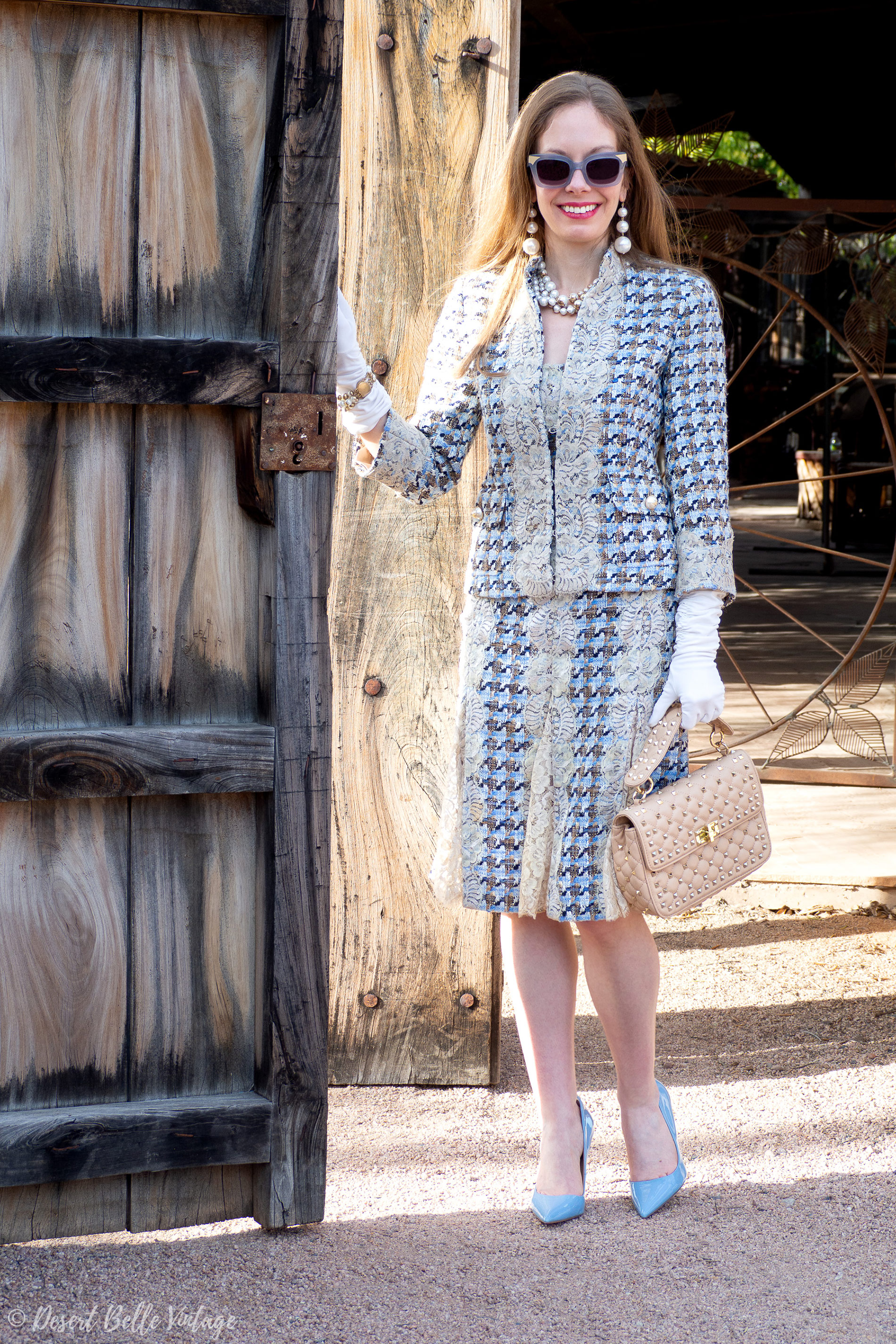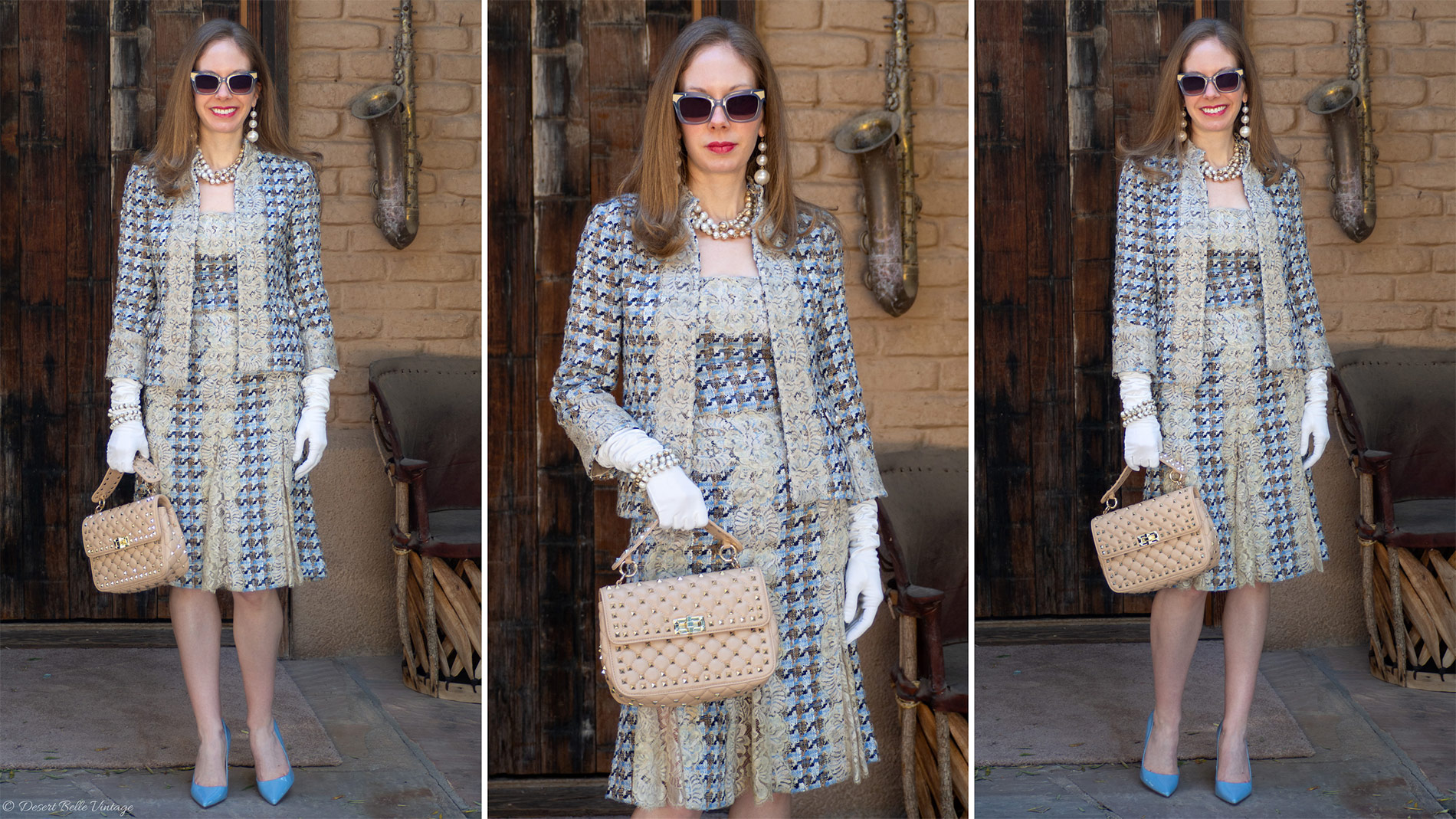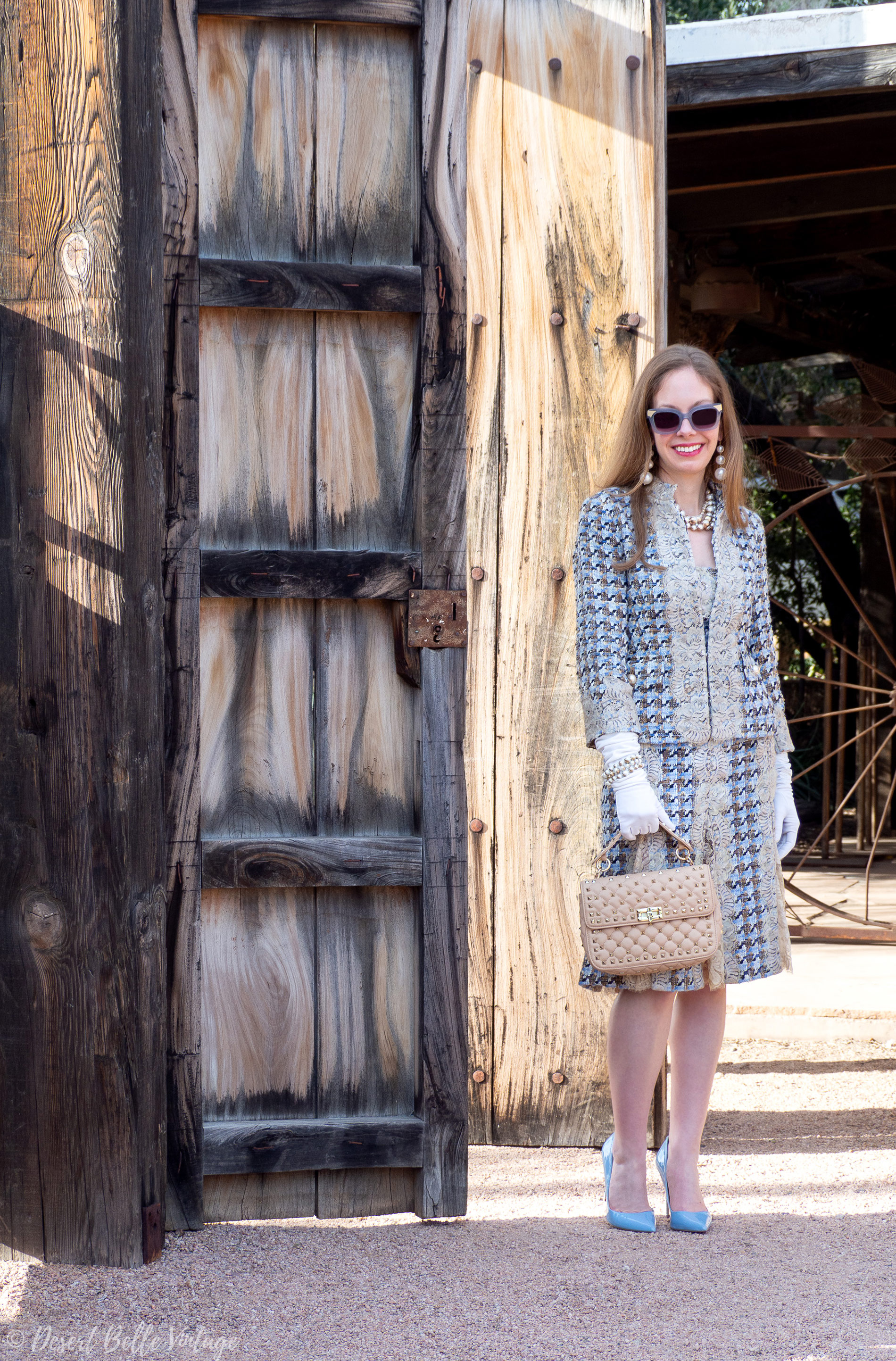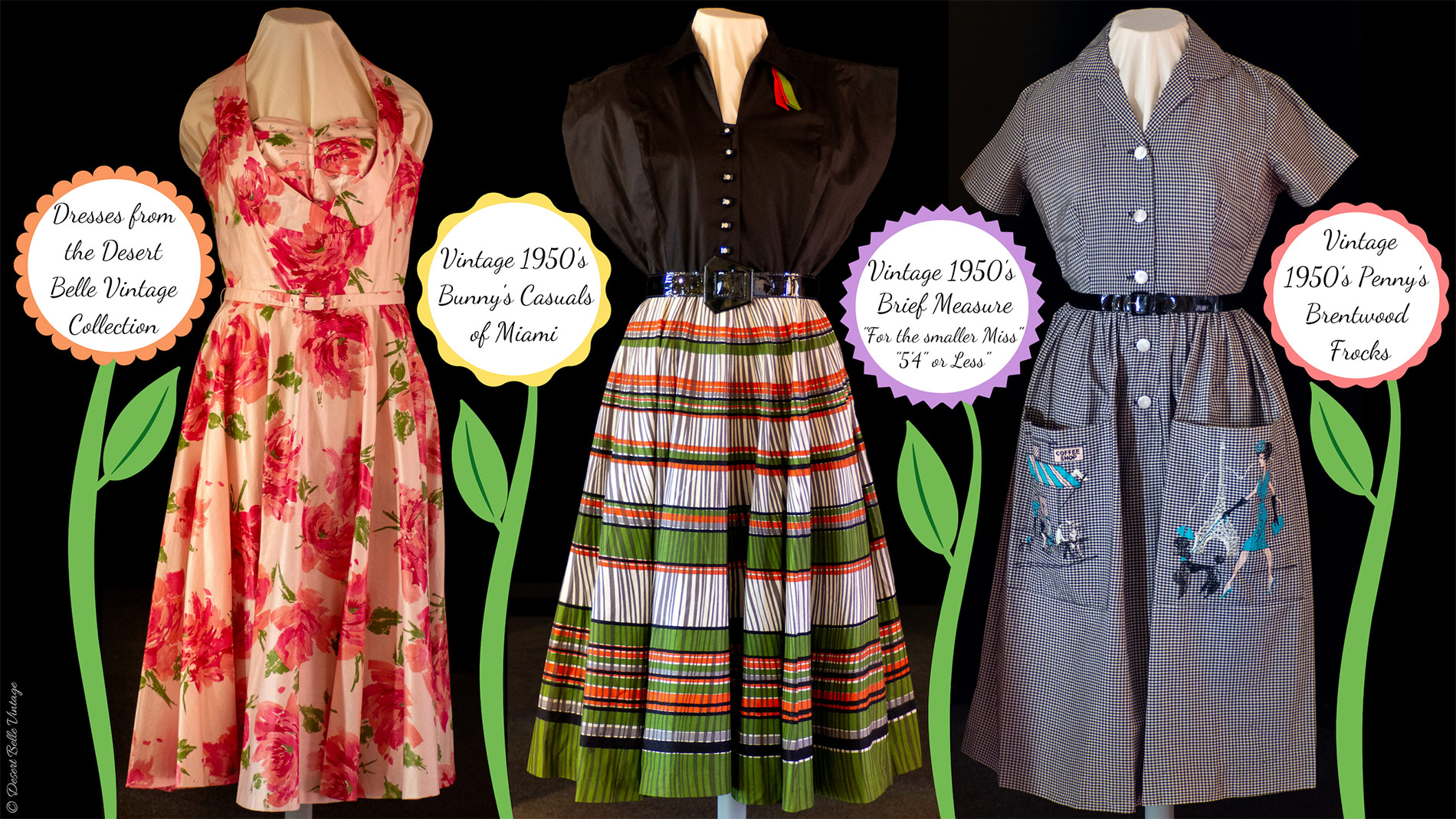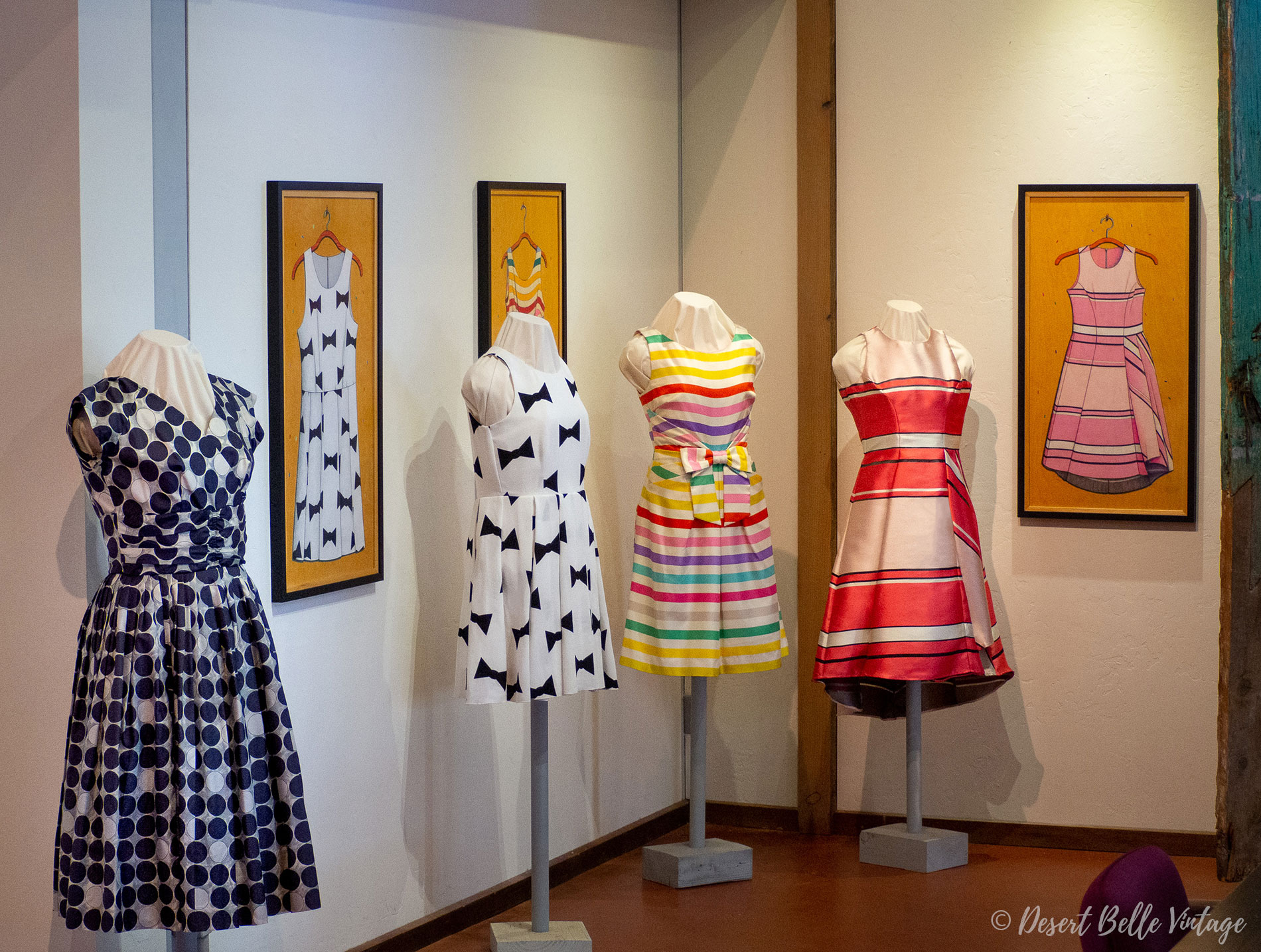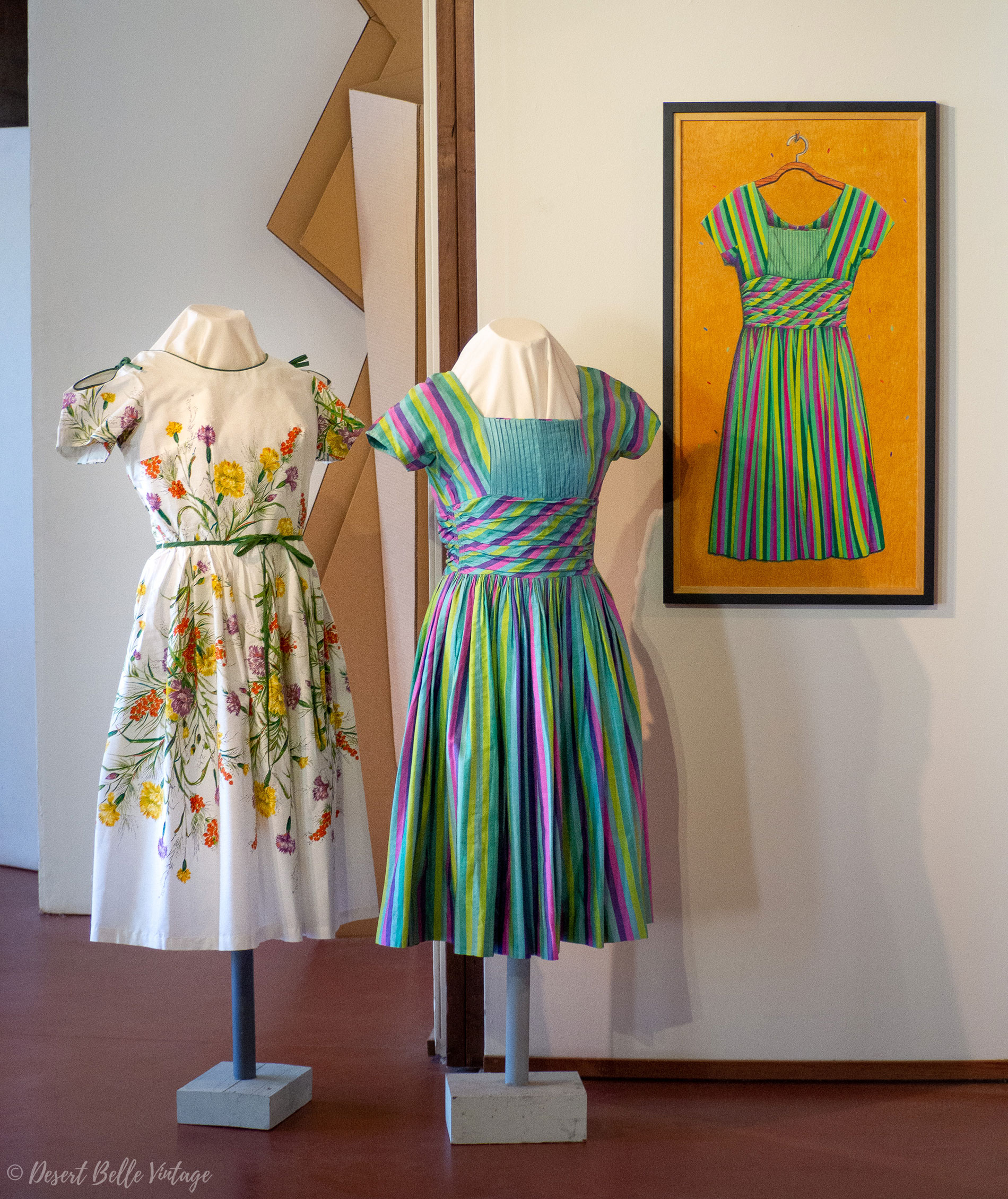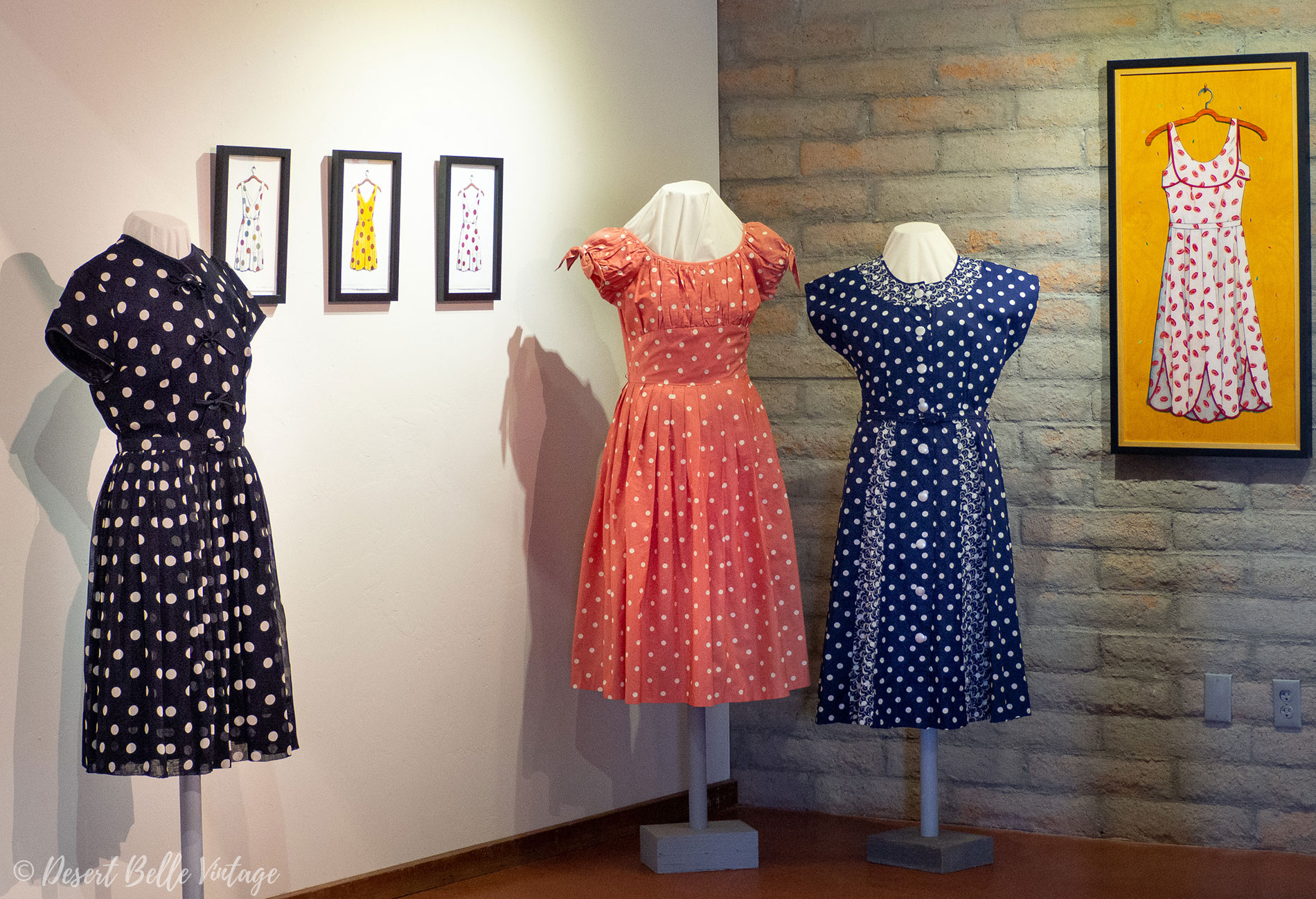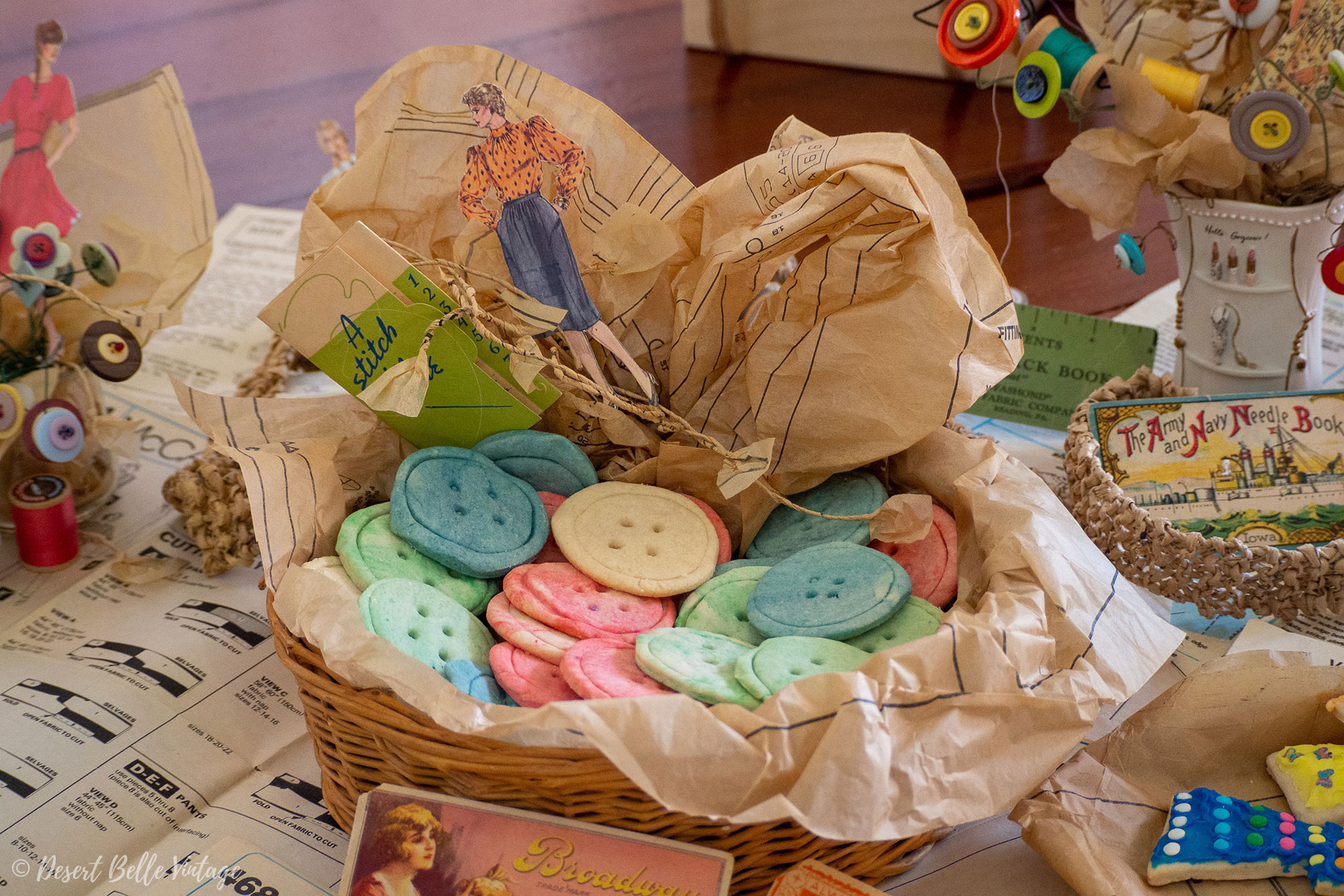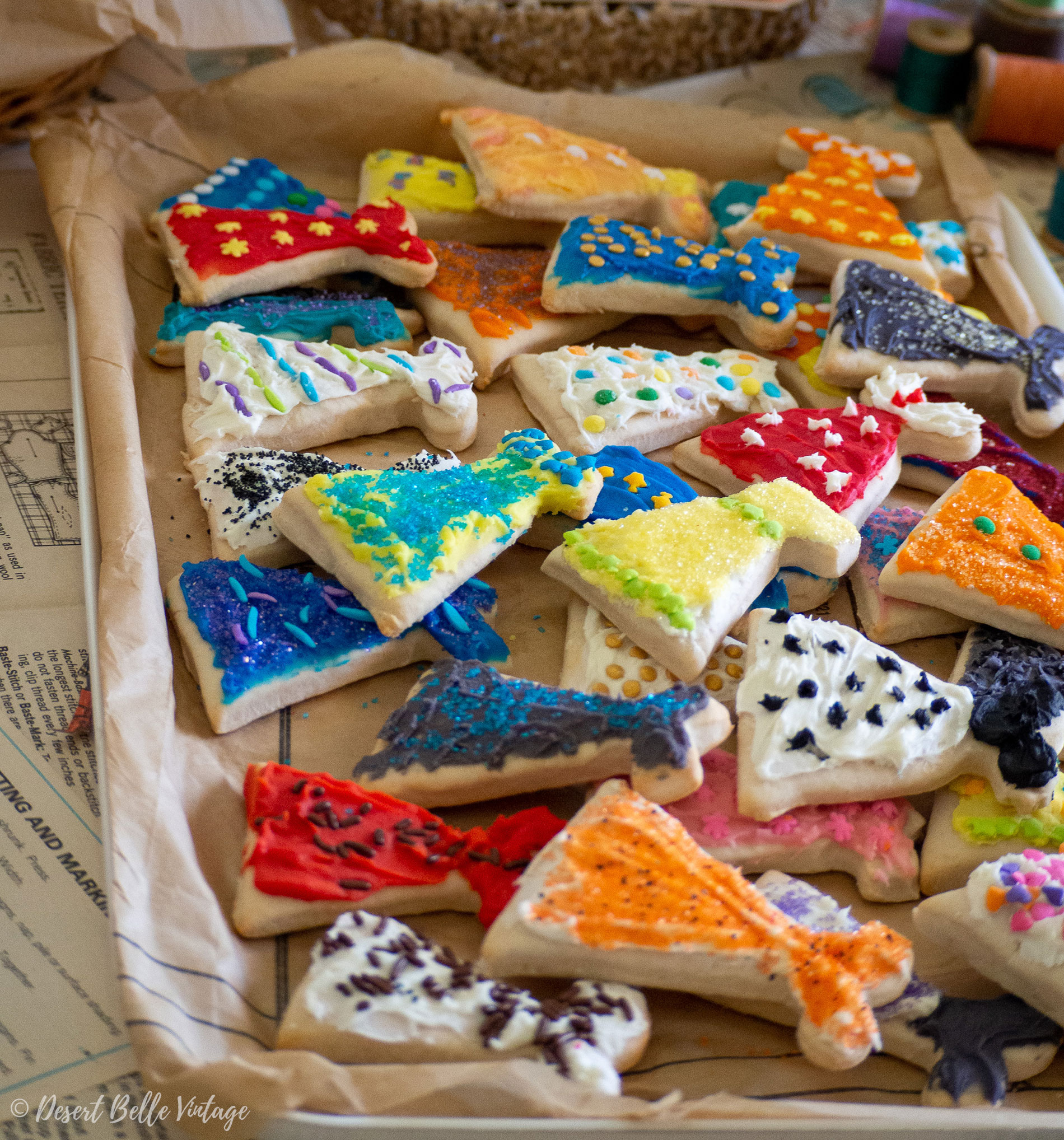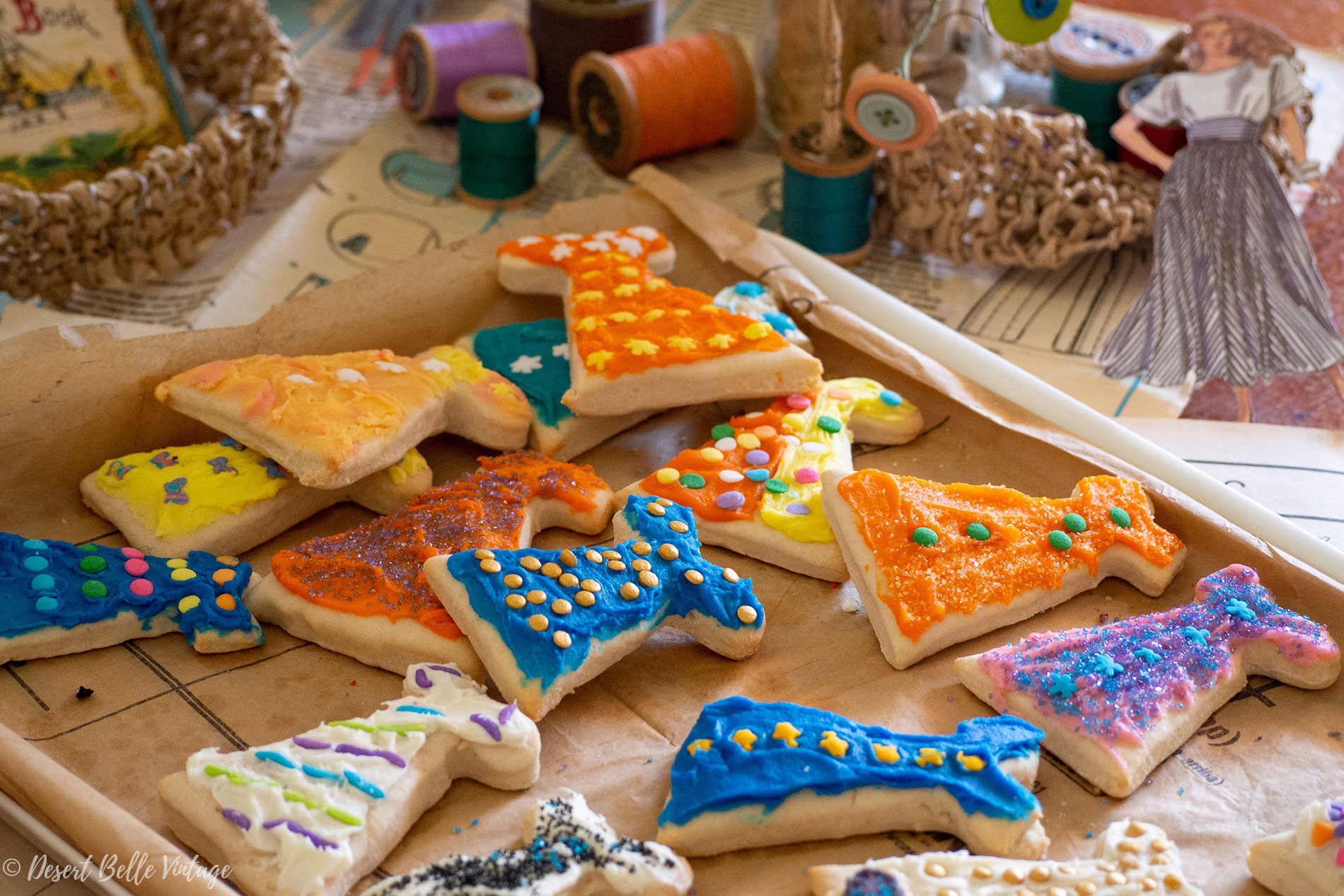 For more information on Dolce & Gabbana or to view their current collection, please click here to visit their website.
It is important to note that I am not affiliated, associated, authorized, endorsed by, or in any way officially connected with any of the fashion designers (or any of their subsidiaries or affiliates) featured in this series or anywhere on the Desert Belle Vintage site. This blog contains my opinions and does not reflect the opinions of any featured businesses.