"The Future Vintage" blog series is dedicated to the clothing, shoes, bags and accessories of today that will in the next 20 to 30 years be the "future vintage." You might be thinking: Everything will be vintage at some point! Yes, that is true. What this series spotlights however are the current designers that are offering well-made, collectible worthy goods that I believe will one day be the highly sought after Vintage with a capital "V." The designers that I personally choose to feature in this series produce unique, quality pieces that will stand the test of time through their style and craftsmanship.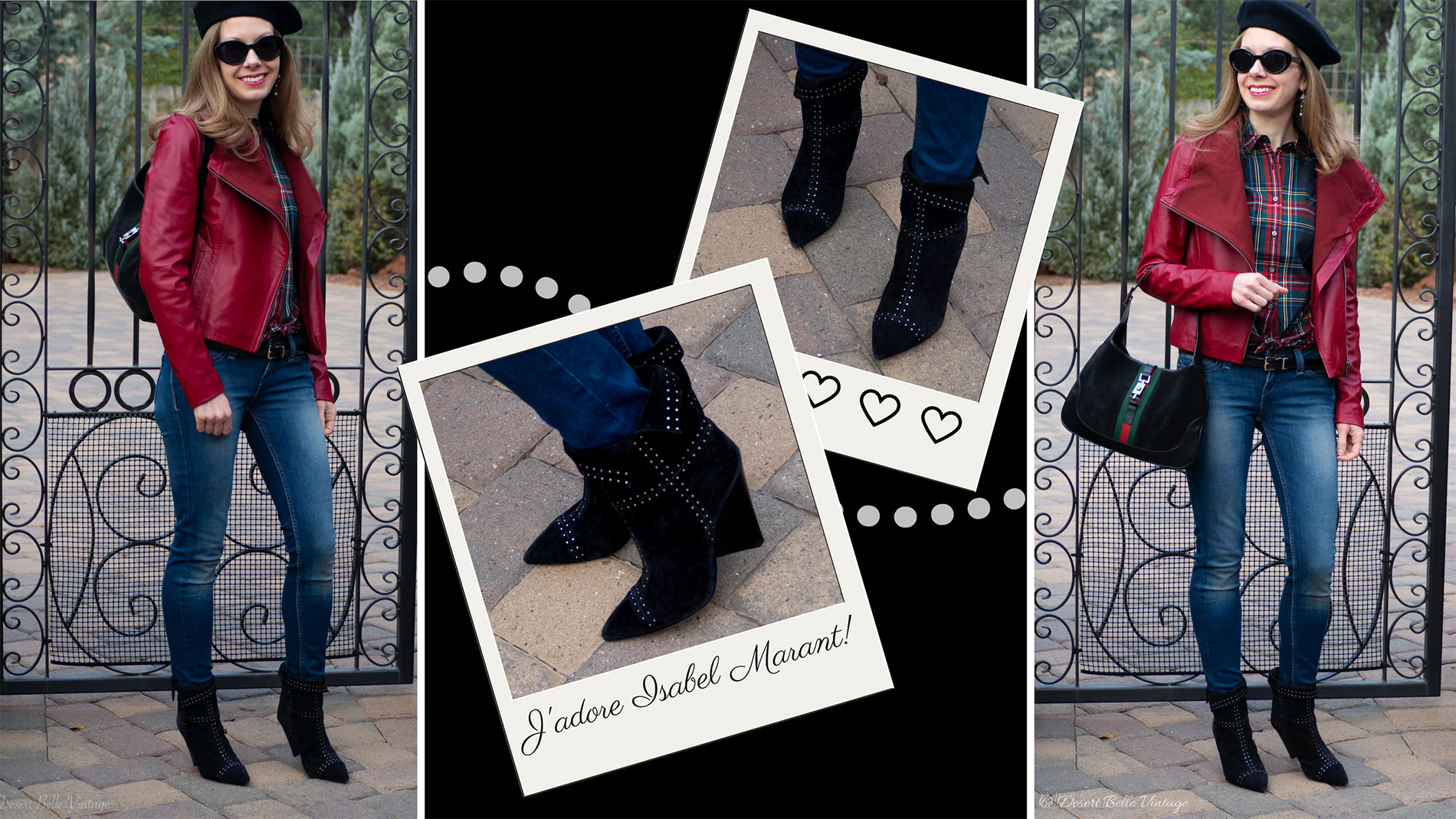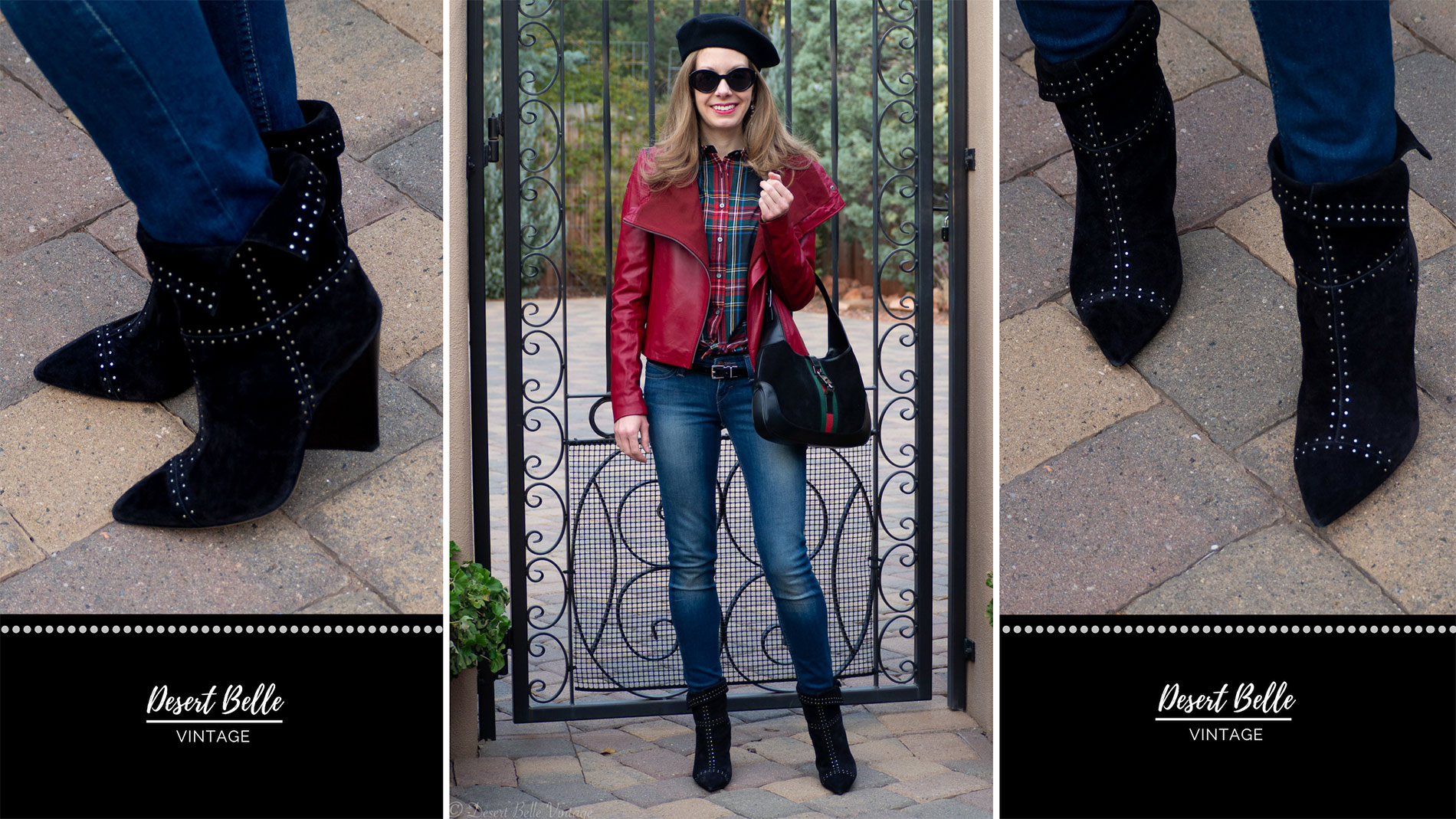 Isabel Marant's Future Vintage Artisan Boots
I love the cool, effortless vibe of the Isabel Marant line. French designer Marant combines soft femininity with a tough, rock and roll glam edge, and her designs give strength and a sense of empowerment to the wearer.
The Isabel Marant collection encompasses clothing, footwear, bags and jewelry. I adore everything she designs, but I have a special fondness for her boots! You can dress them up or dress them down. The Marant boots I am wearing in the photos are design-wise a combination of many stylistic influences, from Victorian, Boho and Punk to even Western. The buttery Italian suede, stud trim, unique cone heel and fold-over collared top give them a Modern hipness that only Isabel Marant could have envisioned and brought to life and to the collections of shoe lovers everywhere!
When reflecting on describing this look, I decided the emsemble reflects a little bit here and there of various style inspirations and contrasts, similar to Isabel Marant's boots. The outfit is a little preppy, a little biker chic, a little French, a little rock and roll and even a little Western. When choosing the separate pieces for this look, I aimed to dress with a pleasant mix of contrasting influences and ideas. Above all though, I aimed to put together a relaxed and easygoing outfit that represents my personal, daily, casual and natural, out-and-about style. The goal was to coordinate a Modern, cool, feminine ensemble with a positive undercurrent of confident female strength and energy that Isabel would be proud of!
Click here to learn more about Isabel Marant and to shop her current collection.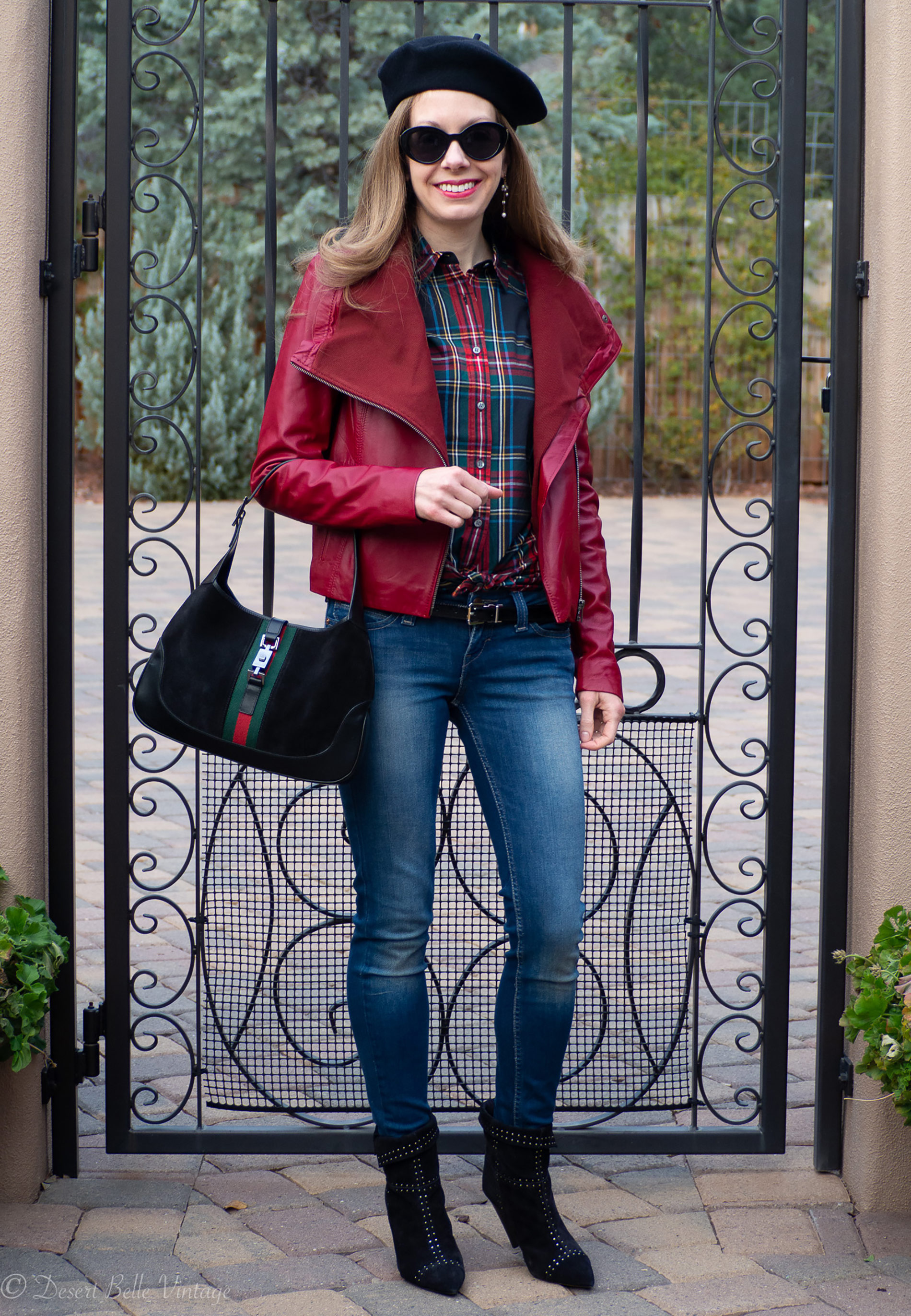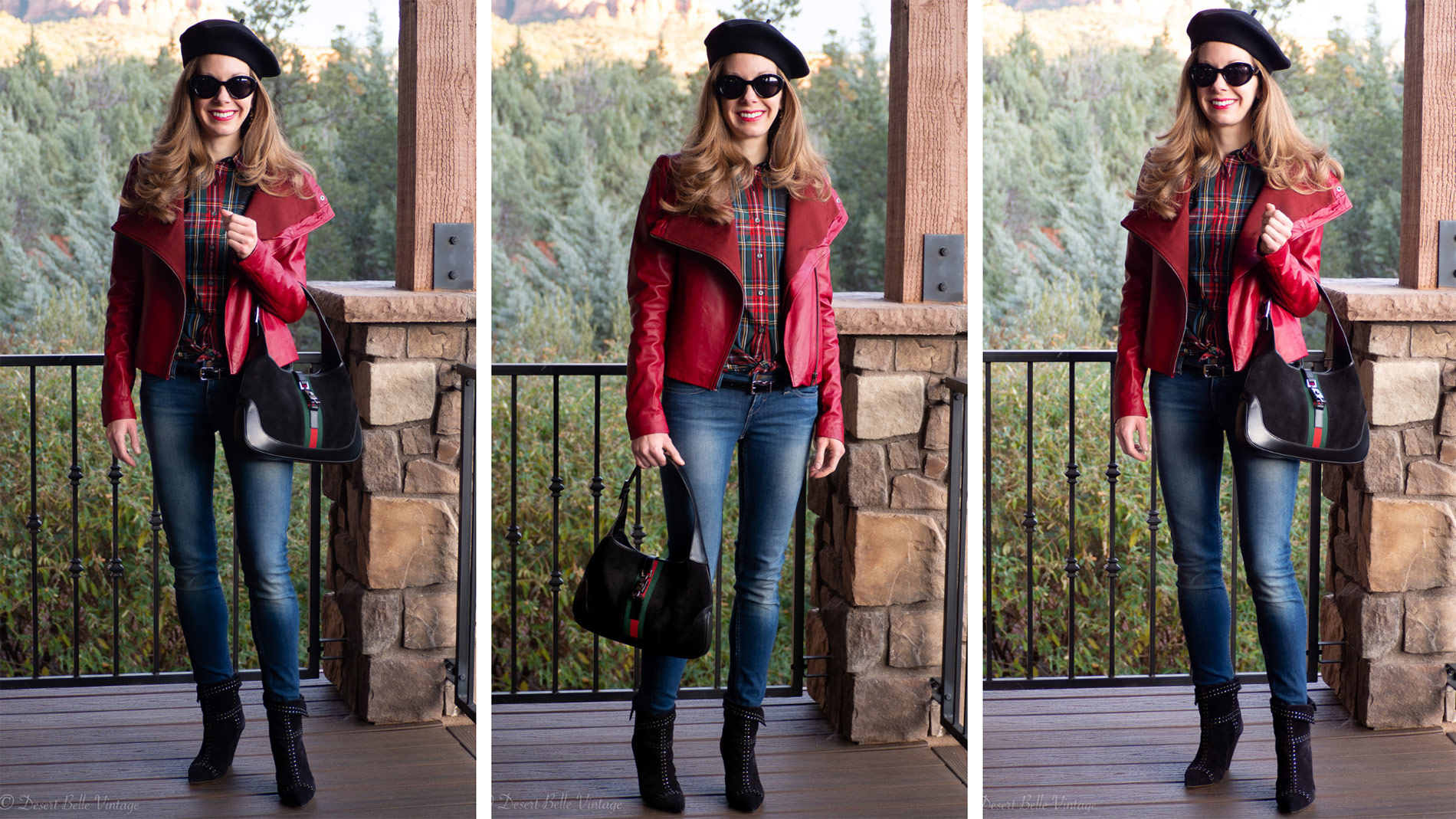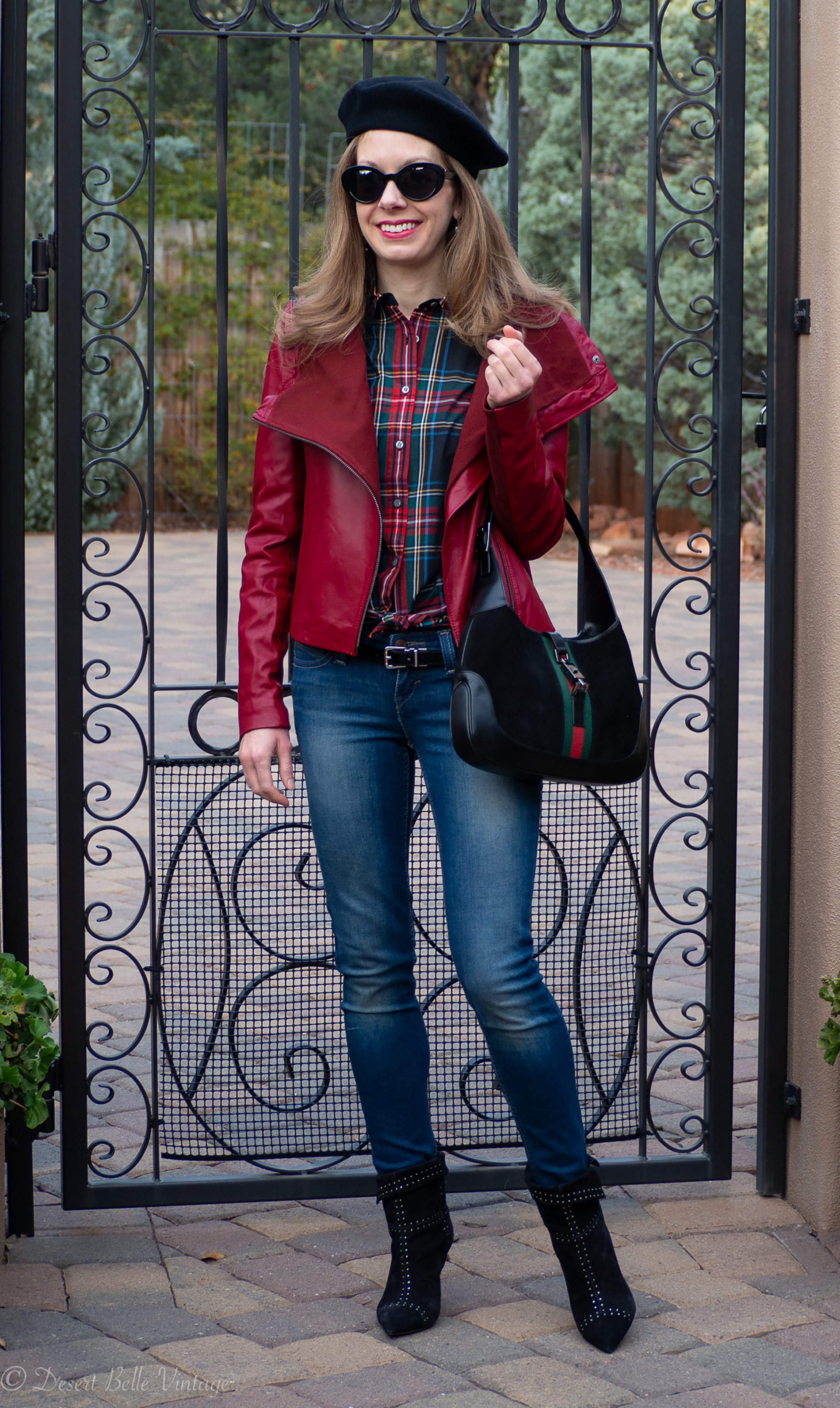 Boots: Isabel Marant (sold out). Red Leather Jacket: 2017 Bloomingdale's Collaboration Yigal Azrouël x Aqua. Plaid Shirt: J.Crew (past season). Jeans: Levi's. Bag: Gucci (close to 20 years old – almost vintage!). Beret: Lola Hats (Vintage 1990's). Delicate Pearl Drop Earrings: Vintage.
It is important to note that I am not affiliated, associated, authorized, endorsed by, or in any way officially connected with any of the designers (or any of their subsidiaries or affiliates) featured in this post or anywhere on the Desert Belle Vintage site. This blog contains my opinions and does not reflect the opinions of any featured businesses.