"The Future Vintage" blog series is dedicated to the clothing, shoes, bags and accessories of today that will in the next 20 to 30 years be the "future vintage." You might be thinking: Everything will be vintage at some point! Yes, that is true. What this series spotlights however are the current designers that are offering well-made, collectible worthy goods that I believe will one day be the highly sought after Vintage with a capital "V." The designers that I personally choose to feature in this series produce unique, quality pieces that will stand the test of time through their style and craftsmanship.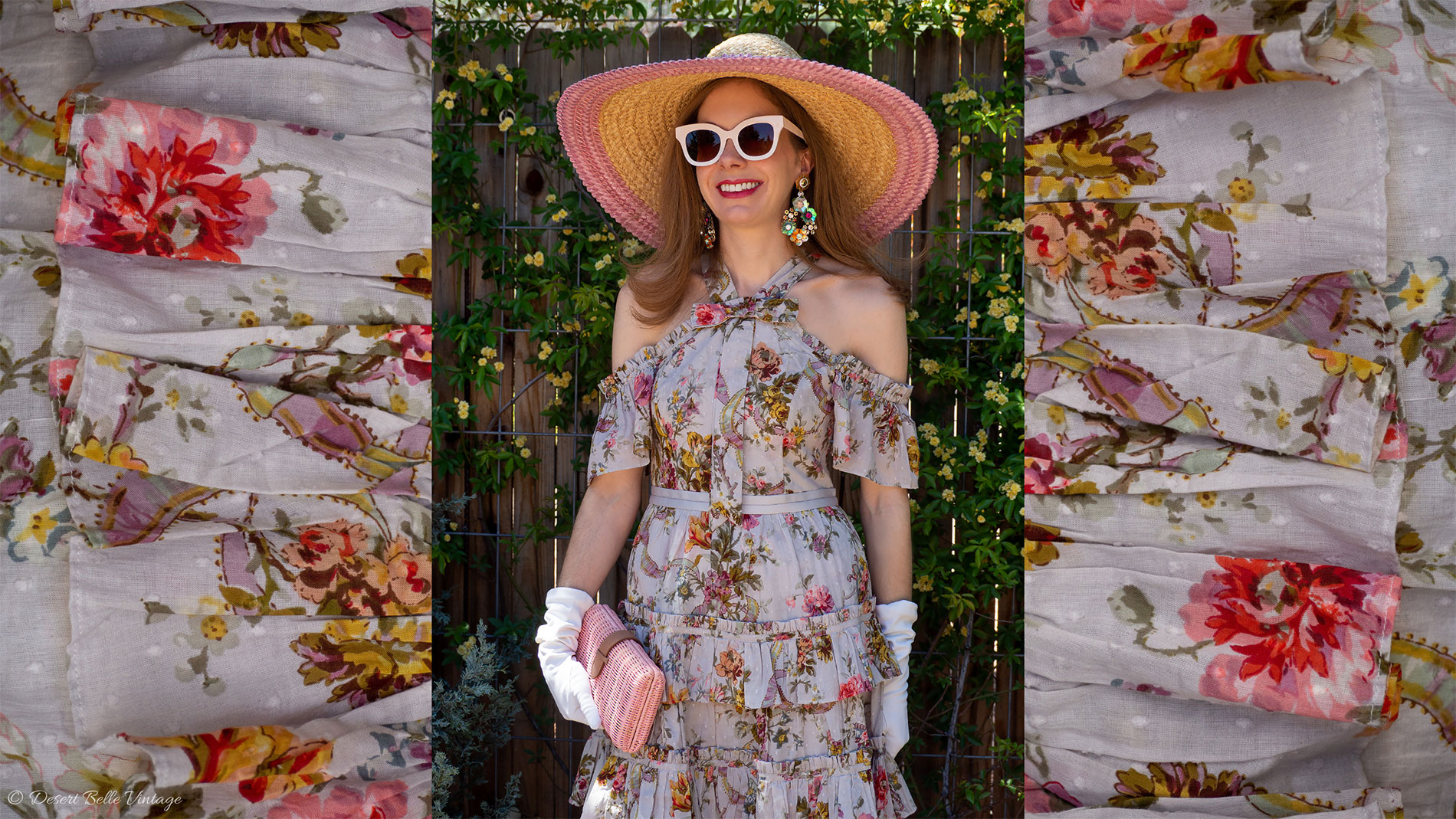 Gigi Burris: Future Vintage Hats
When I think of luxuriously elegant and impeccably constructed headwear, one name that immediately comes to mind is Gigi Burris.
I discovered the Gigi Burris Millinery line through various fashion magazines. My first Burris Millinery purchase is the hat I am wearing in these photos. I had been looking for a sunhat that incorporates a pink trim in some way, and it was love at first sight when I found this hat! I adore the unique glossy pink woven edge and band. It is a versatile hat that can be dressed up for a special lunch (as in my pictures) or dressed down for a day at the beach.
Gigi Burris is a true artist of millinery, and her discerning eye for chic design and flawless craftsmanship shine through in each and every one of her pieces. She incorporates singular embellishments in her designs like luxuriant ribbons and exceptionally handmade flowers and feathers.
I applaud that Gigi Burris Millinery is both based and constructs all hats in New York City. Per the Gigi Burris website: "Each Gigi Burris piece is manufactured by hand locally in New York City. Hats are created using the centuries-old technique of hand blocking on wooden blocks." In an age when so many goods are mass manufactured to cut costs (and many times therein sacrificing quality), Burris stays true to her aesthetic by making sure that each design bearing her label reflects her time-honored craft, true vision and meticulous techniques.
Gigi Burris' reverence and passion for the art of couture millinery and her distinctively sophisticated headwear designs set her apart from other contemporary accessory designers. I look forward to seeing what breathtaking creations Gigi Burris Millinery offers with each passing season, and I know whole-heartedly that Burris' hats are "Future Vintage" treasures to be worn, loved, passed down and cherished.
To learn more about Gigi Burris and view the current Gigi Burris Millinery collection, please click here.
For my special lunch date, I paired a beautiful spring-appropriate Needle & Thread dress with my Gigi Burris hat. Statement floral earrings, pink wicker clutch, strappy heels and creamy white vintage gloves complete the look. Links for Needle & Thread and other outfit items can be found at the bottom of this post.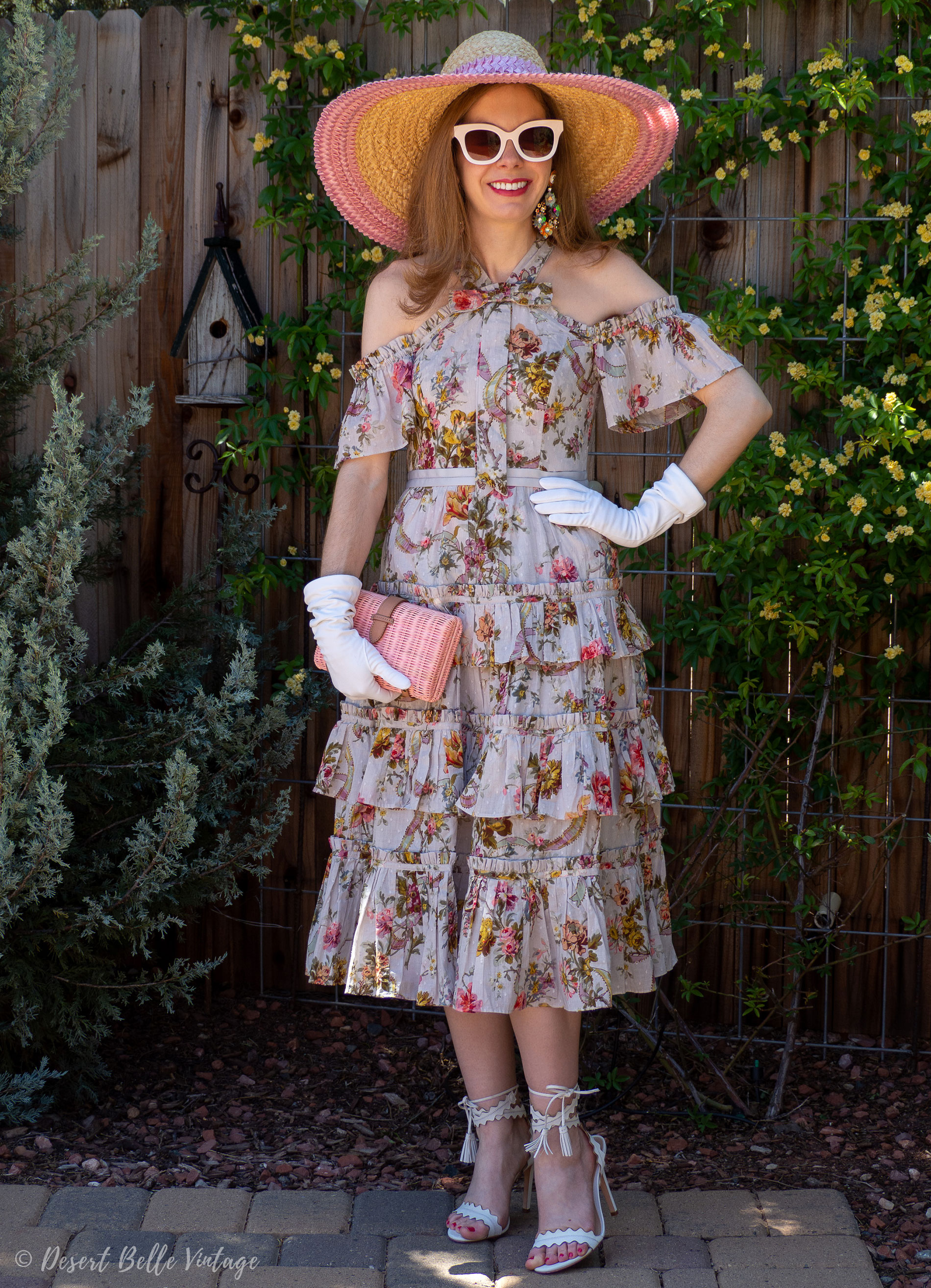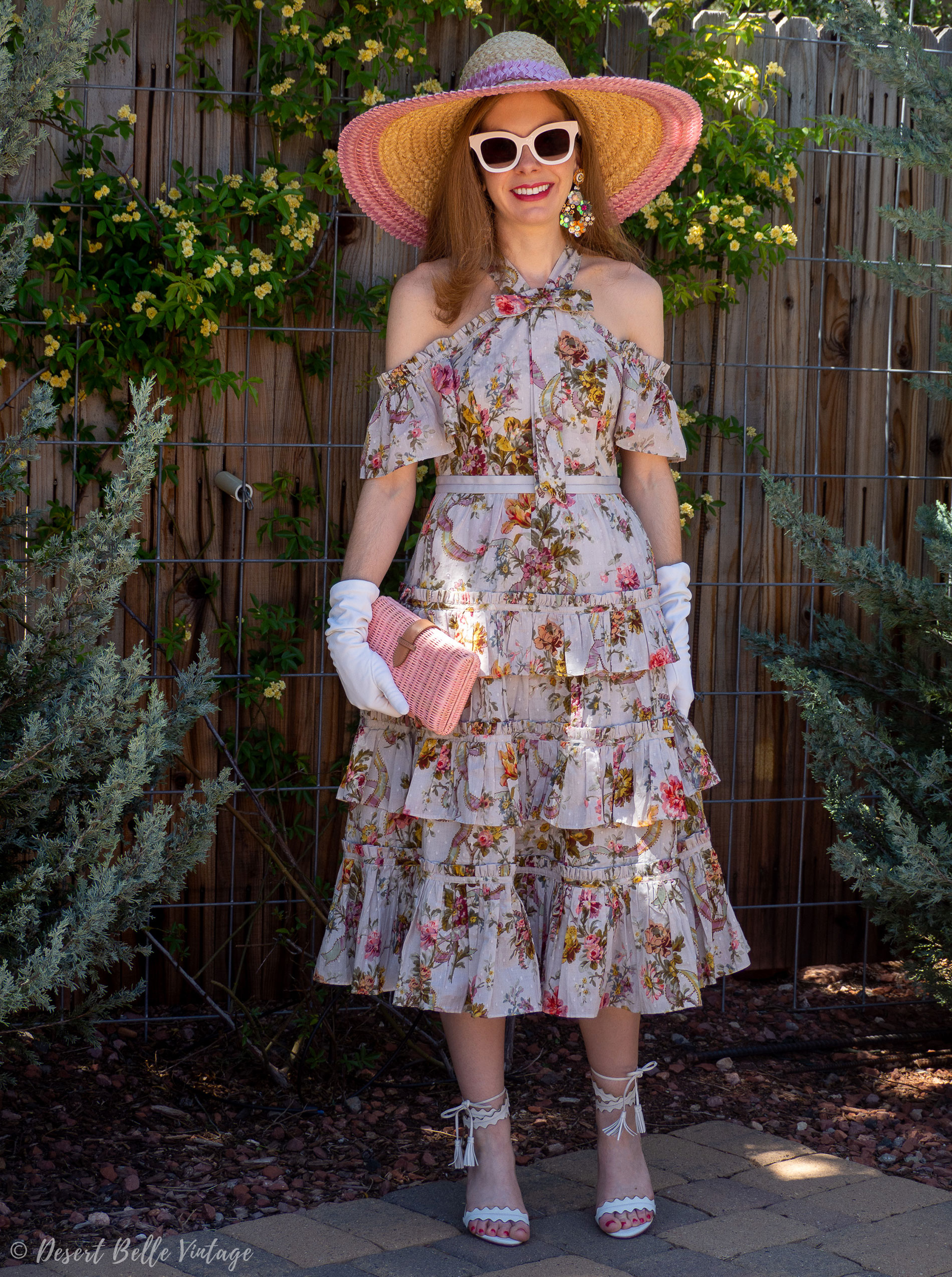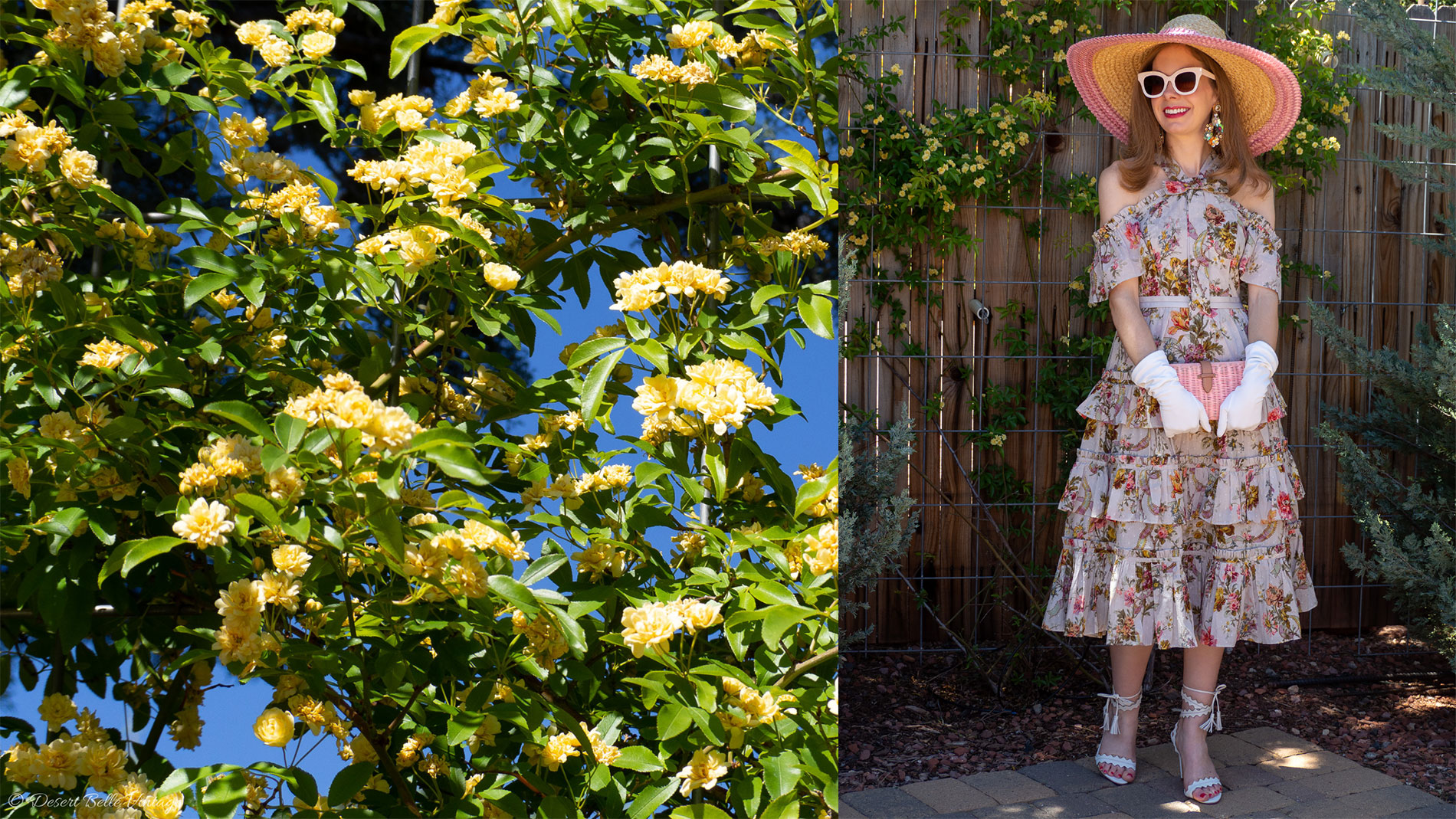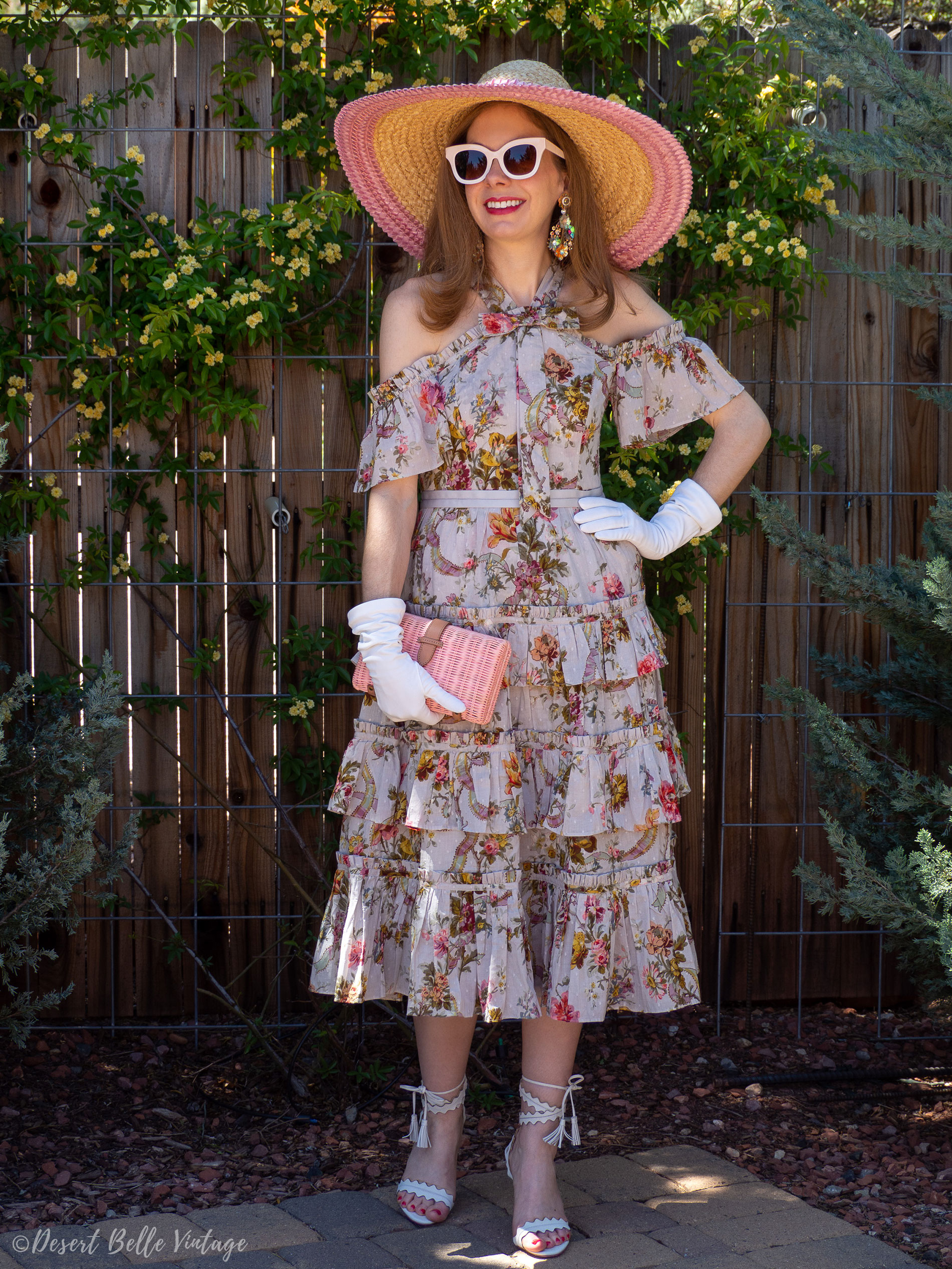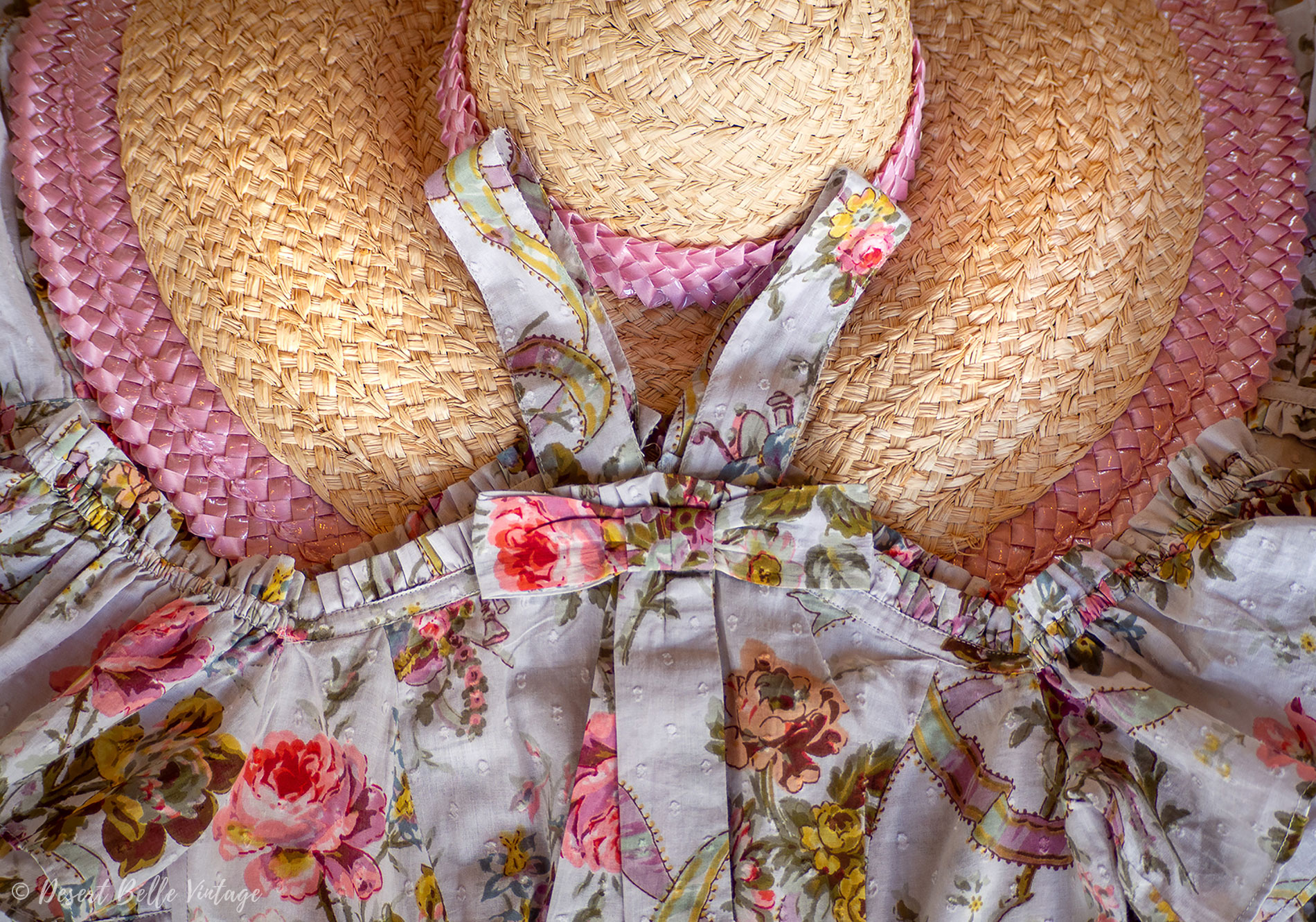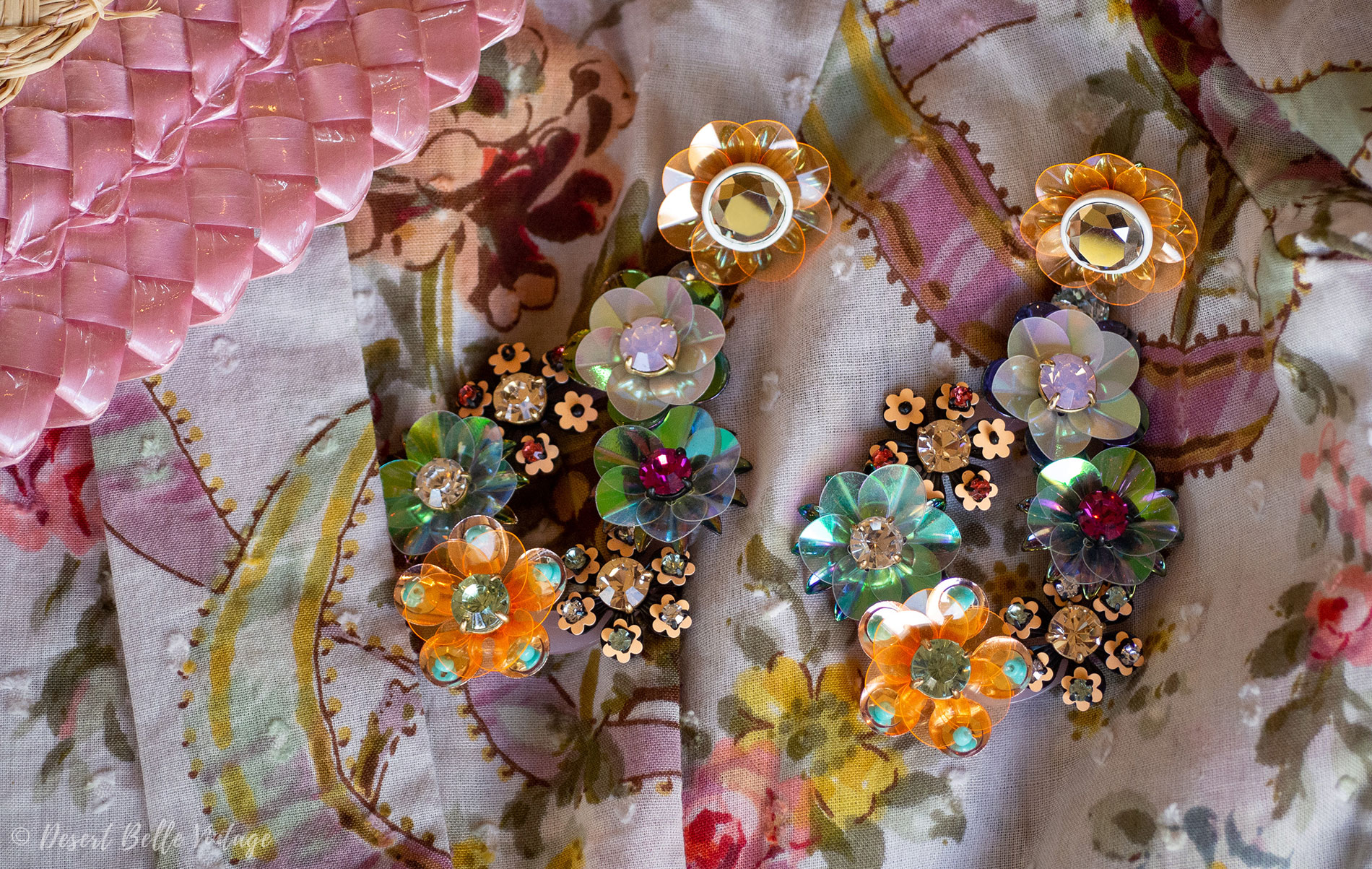 Dress: Needle & Thread (past season). Hat: Gigi Burris (past season). Heels: Schutz (past season). Rattan Clutch: J.Crew. Gloves: Vintage 1950's. Earrings: J.Crew (past season).
It is important to note that I am not affiliated, associated, authorized, endorsed by, or in any way officially connected with any of the designers (or any of their subsidiaries or affiliates) featured in this post or anywhere on the Desert Belle Vintage site. This blog contains my opinions and does not reflect the opinions of any featured businesses.