I am an avid collector and wearer of vintage Victor Costa garments. I love a closet full of color and outfits with a playful and whimsical use of fabric and pattern, and vintage Costa garments do not disappoint! Costa utilized striking, eye-catching fabrics and patterns with many of his designs. His outfits are a blast to accessorize with fun purses, jewelry and shoes due to their colorful palettes and charming constructions. I have dedicated an entire category in "The Style Files" to Victor Costa to showcase my personal collection of vintage Costa garments and hopefully introduce others to his work.
As I have mentioned in past blog posts, the spring and summer months are a celebratory time for me. I love the longer days that allow me to spend more time outdoors, and I adore seeing (and smelling!) all of the happy blooming flowers. I recently took a "garden tour" in my late 1960's – early 1970's "Romantica by Victor Costa" floral dot maxi dress ensemble.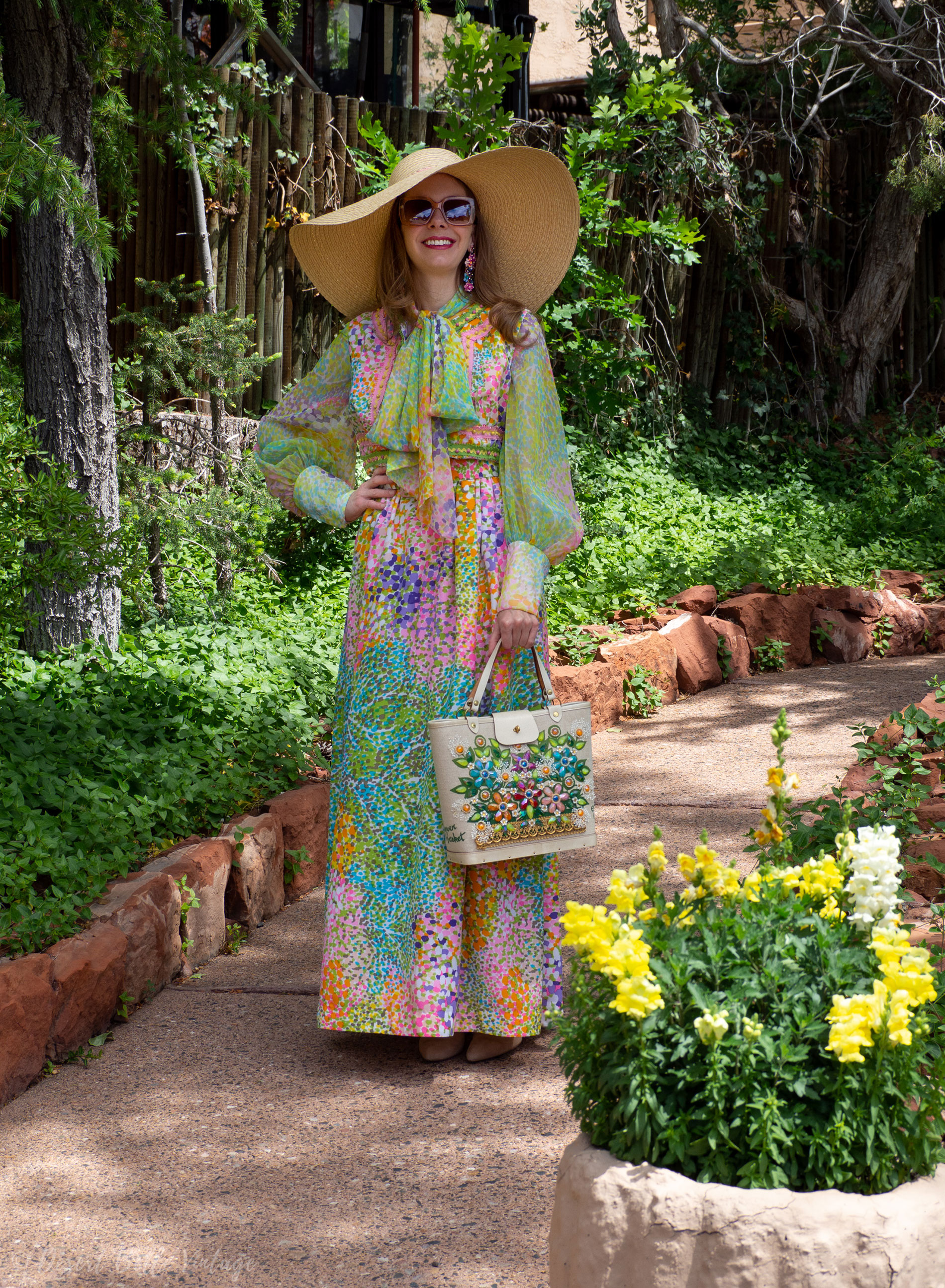 Victor Costa's Storied History
If you are familiar with Victor Costa, you know that many of his designs are direct interpretations of couture runway looks. A brief outline of Victor Costa's beginning career history is as follows: Victor Costa, born in 1935 and originally from Houston, Texas, demonstrated a passion for clothing design at an early age. "At age 10 [Costa] designed paper doll dresses and sold them to his [peers] for two cents apiece."1 "As a teenager, he made prom dresses for his [high school] classmates."2 Impressively, at one point in his professional fashion education, "he attended the school run by the Chamber Syndicale, the fashion trade association in Paris; a [fellow student] was Yves Saint Laurent."2 After his time studying in Paris, "Costa sold fashion sketches to Ceil Chapman, Oleg Cassini, Herbert Sondheim and Philip Hulitar. Then he designed bridal gowns."2 "He joined Suzy Perette in 1965, where he went to Paris and selected [designer dress] models to copy."3 "Costa, who has a photographic memory, showed such flair for the work that he was rewarded with his own line of original designs, Romantica by Victor Costa for Suzy Perette, in 1968."4 "He left Perette in 1973 and [moved to Dallas, Texas]. [In Dallas], he bought a share of Ann Murray and was [then] able to buy out and rename the company in 1974 [to Victor Costa]."3
Victor Costa's time at Suzy Perette had an undeniable influence on his fashion career. The name "Suzy Perette" was not adopted from a real-life person but was simply the name of an American dress company operating from the 1950s through 1970s. The Suzy Perette company was known for manufacturing and offering American women Paris runway looks at reasonable, non-runway, prices. While with the Suzy Perette company from 1965 – 1973, Victor Costa honed his skills for reproducing couture Parisian clothing at affordable costs. Vintage Suzy Perette garments are gorgeous and well-made, even if they are replicas of couture Parisian fashions, and many now fetch "high-end" prices on the modern vintage market.
Once independent to start designing and producing garments under his own "Victor Costa" label in the mid 70s, Victor Costa still directly looked to couture runway fashions for inspiration. As with Suzy Perette, Costa's garments were designed and manufactured to sell for a fraction of what their high-fashion counterparts fetched. In today's fast fashion apparel industry, we are accustomed to seeing fashion chains cater to fashionistas looking for runway trends at "look for less" prices. In the 1970s and 1980s, this was not the norm. Unlike today's fast fashion companies however, in the 70s and 80s, Costa kept a keen eye on quality and craftsmanship and had most of his garments sewn in the USA, many in his Dallas factory. Therefore, Costa dresses from the 70s and 80s are beautifully constructed and with an attention to detail you seldom find in the modern retail market. Back in the 80s, Victor Costa ensembles ranged in price from $200.00 to $800.00. While that may sound expensive to contemporary mass market retail shoppers, when compared with today's fast fashions, the well-made, primarily USA constructed, Costa runway doppelgängers were fairly priced fashion treasures.
Victor Costa garments are highly sought after today due to their quality fabrications, timeless designs, chic fabrics and place in fashion history. His vintage "Romantica" line is very collectible due to the fact that there are fewer garments to be found bearing that label. In addition, the outfits for the "Romantica" line represent an earlier phase in Costa's career, and they were not created to represent direct runway replicas. Since many 1970's and 1980's "Victor Costa" label garments are direct interpretations of couture runway looks, many collectors appreciate that each outfit from those time periods represents a cherished style time capsule showcasing a particular look and moment in fashion history. TV shows and films have through the years featured Victor Costa dress "cameos." One made-famous-by-film dress that comes to mind when many fashionistas think of Victor Costa is Charlotte's red and white striped peplum waist dress from Sex and the City 2.
My Summertime "Romantica" Date with Victor Costa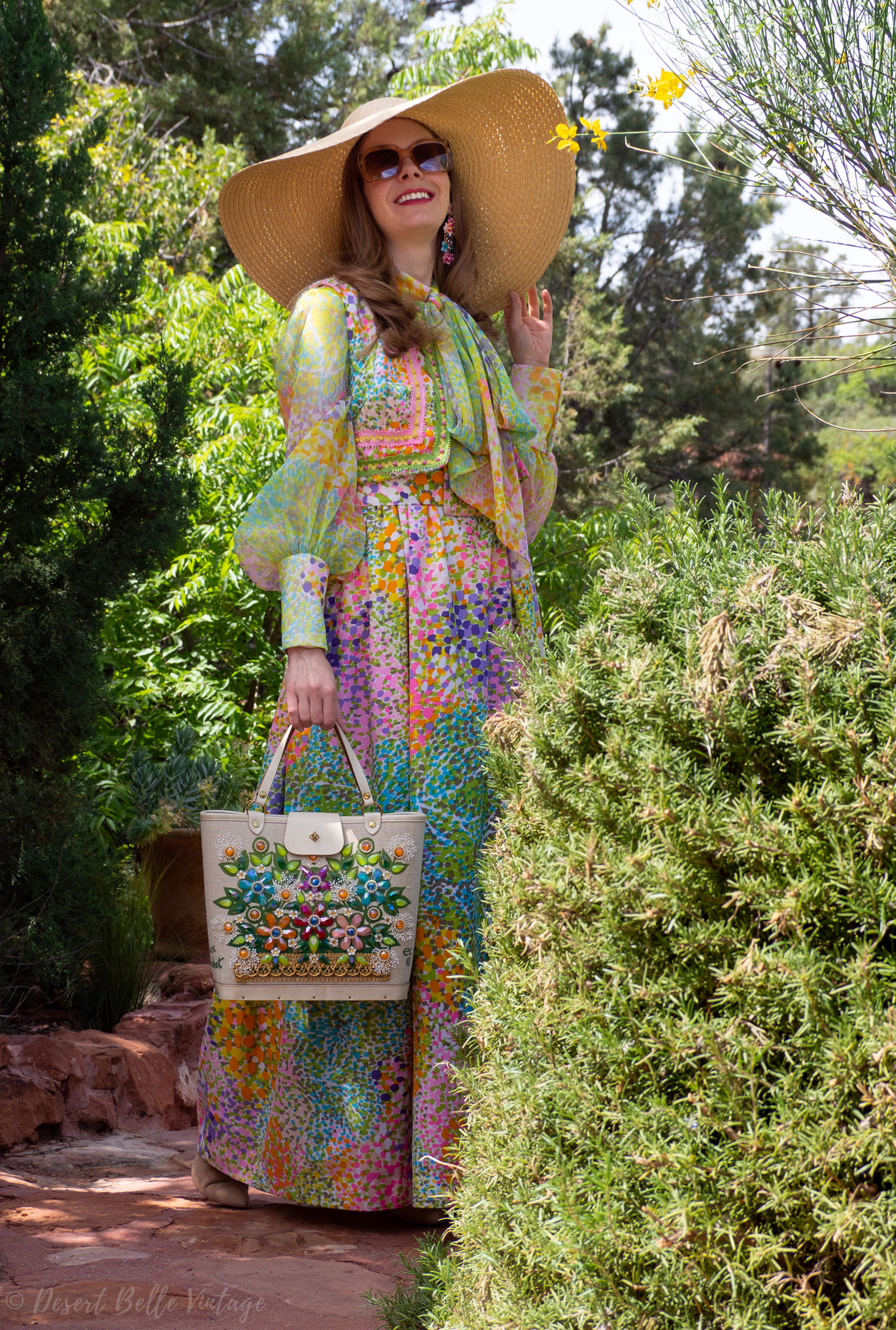 The Victor Costa outfit I am wearing in these photos in from his late 1960's – early 1970's "Romantica by Victor Costa" line. In my many years of collecting Costa garments, this set is hands down my favorite Victor Costa "Romantica" look. My ensemble consists of a pussycat bow maxi dress with sheer billowy sleeves and matching wide belt and embellished vest. The fabric of all three pieces is a stunning painterly, impressionistic, graphic floral dot. If you look closely, you can see that the front skirt of the dress has what looks like tree branches or roots stretching out in all directions. The fabulous vest features traditional 60's – 70's boho chic details with its faceted metal bead and picot edge ribbon trim embellishments.
All of the garments that Victor Costa designed for his late 1960's – early 1970's "Romantica" line are brilliant, sophisticated examples of individualistic bohemian fashion. My "Romantica" set captures the late 60's – 70's haute bohème aesthetic splendidly. From the sumptuous and richly hued floral dot fabric to the creatively embellished vest, this spectacular set exudes an exuberant and glamorous bohemian chic energy with a touch of the exotic and the romantic. Or should I say the "romantica?"
When accessorizing this look, I was elated to discover that my vintage 1960's Enid Collins "Flower Basket" purse coordinates beautifully with the outfit. The jewel petals of Collins' rhinestone flowers delightfully match the colors of the lush floral dot fabric. I did not want to over accessorize the outfit as the artistic fabric is a statement all on its own. I finished the look with floral dangle earrings, a wide brim sunhat and neutral nude boots. I have included photographs of me in the full ensemble as well as in the dress and belt sans vest and purse. There are so many possibilities to styling this set! This outfit marks the beginning of my Victor Costa journey that is being chronicled on the Desert Belle Vintage Blog.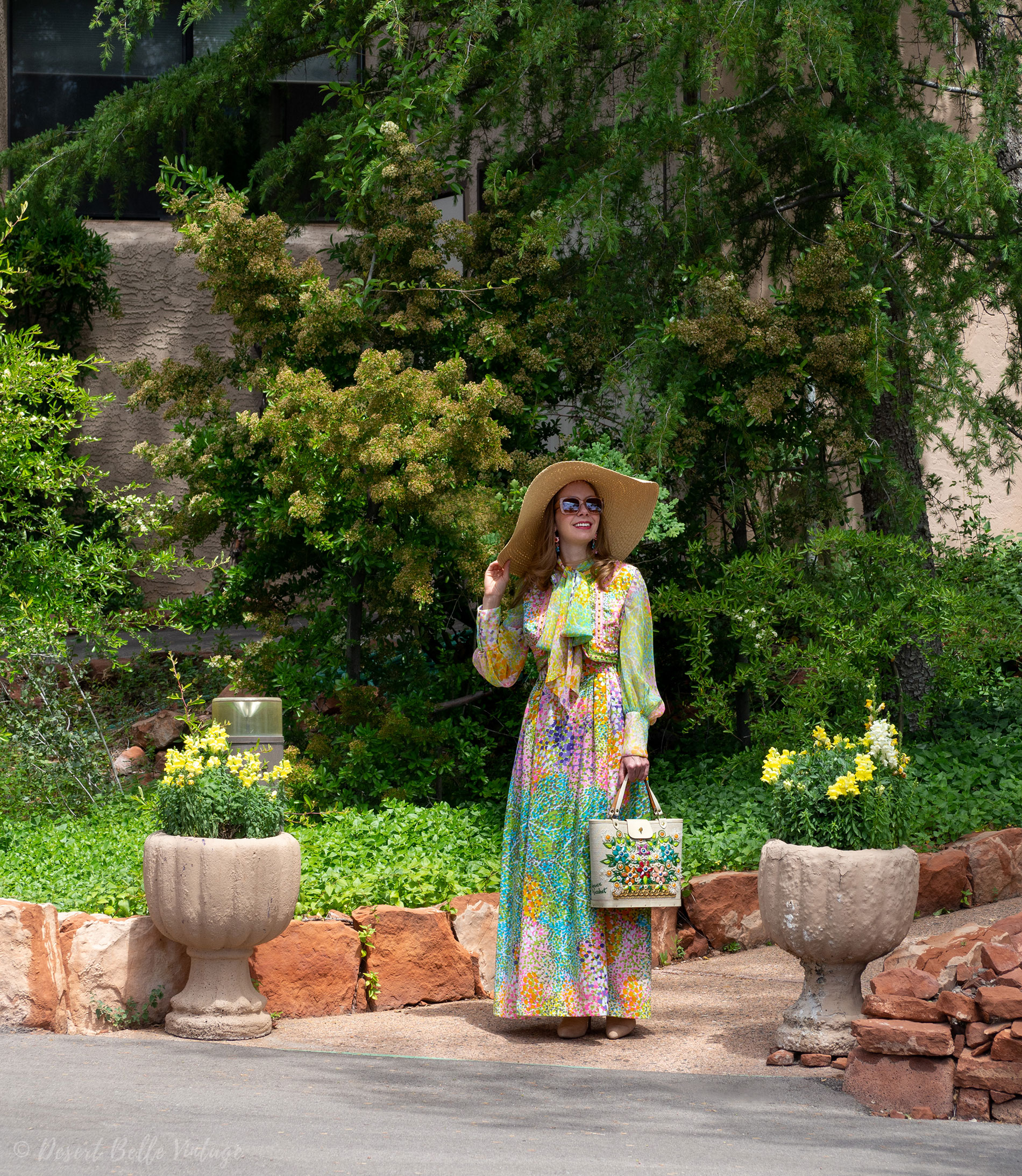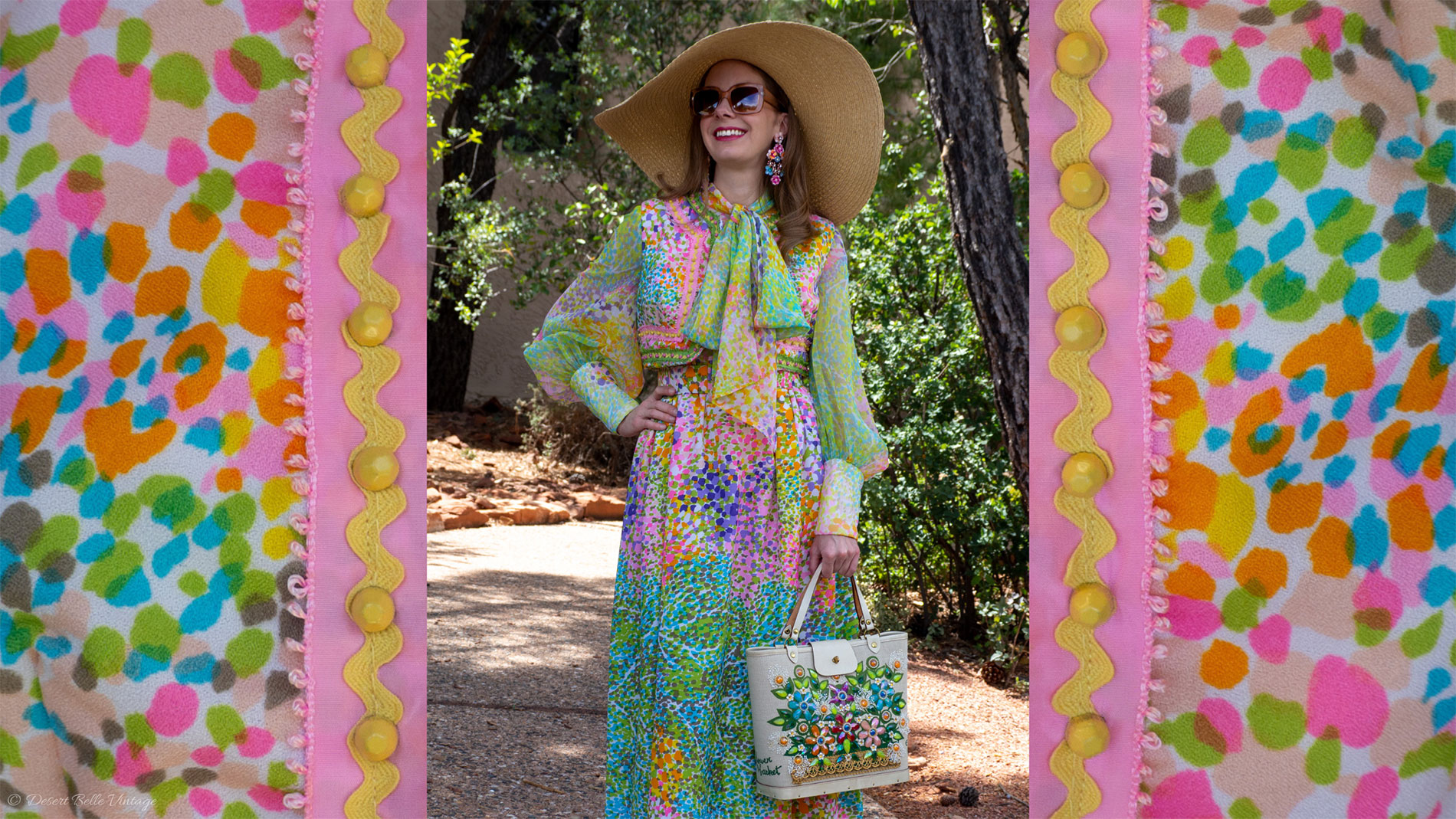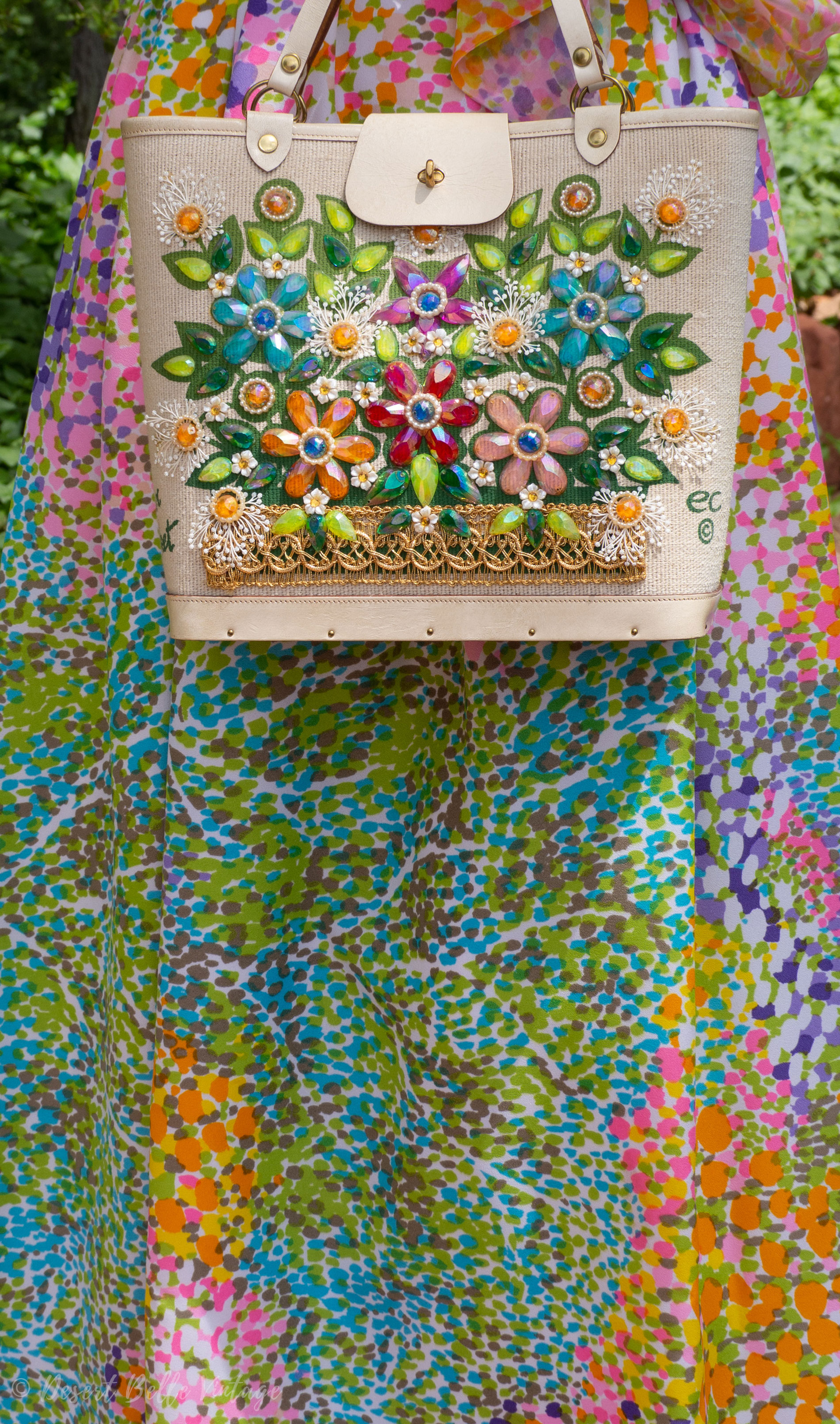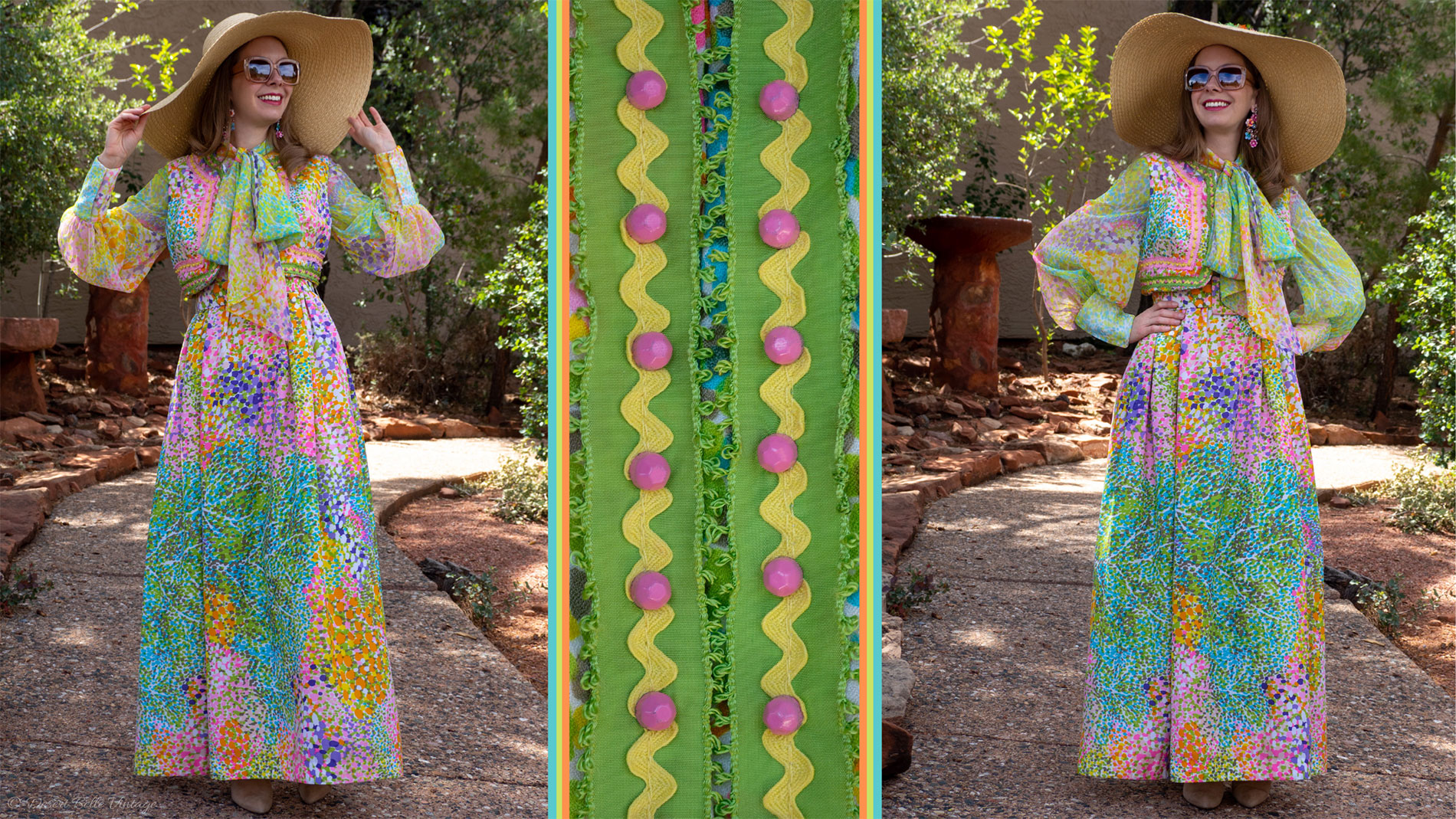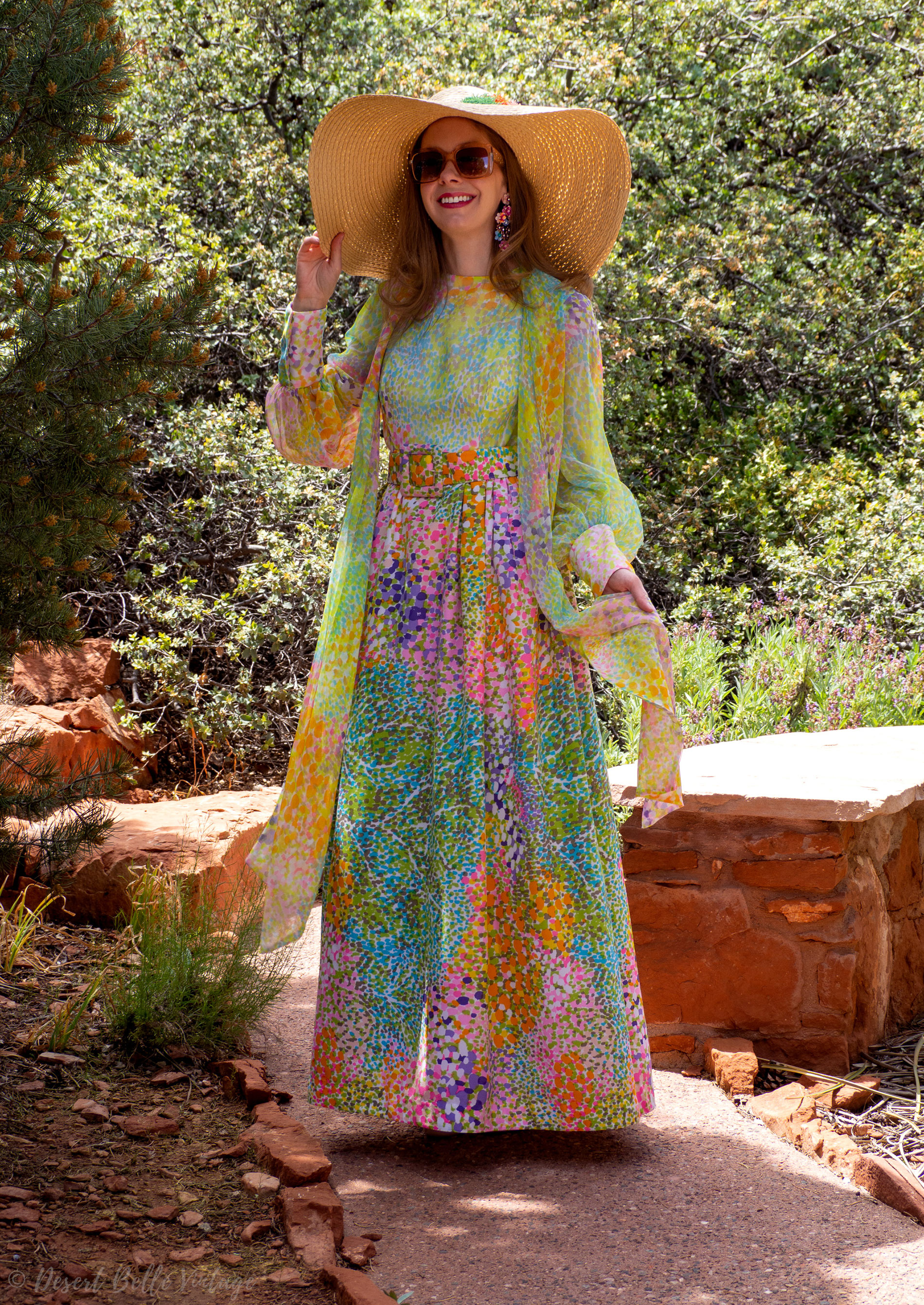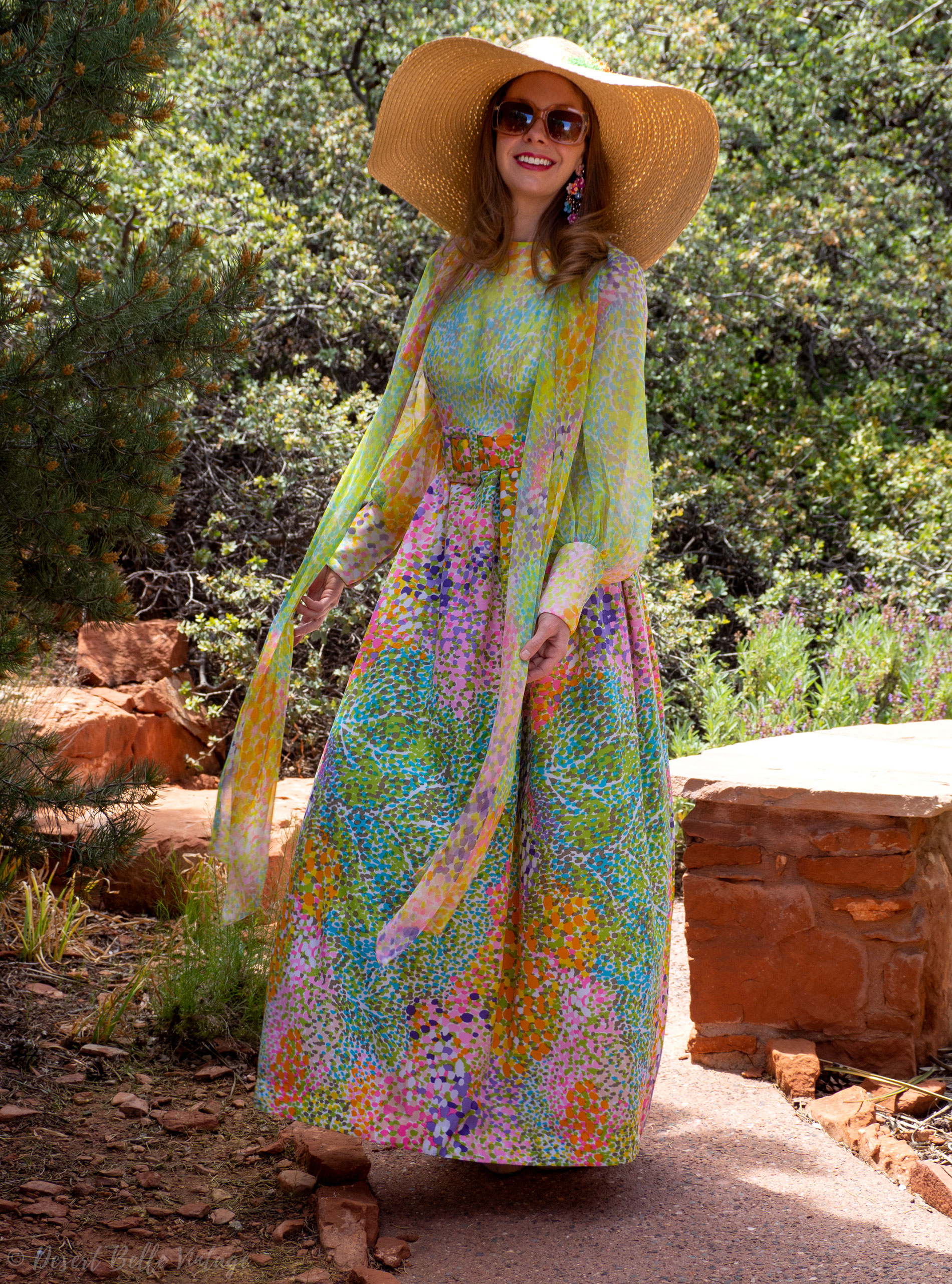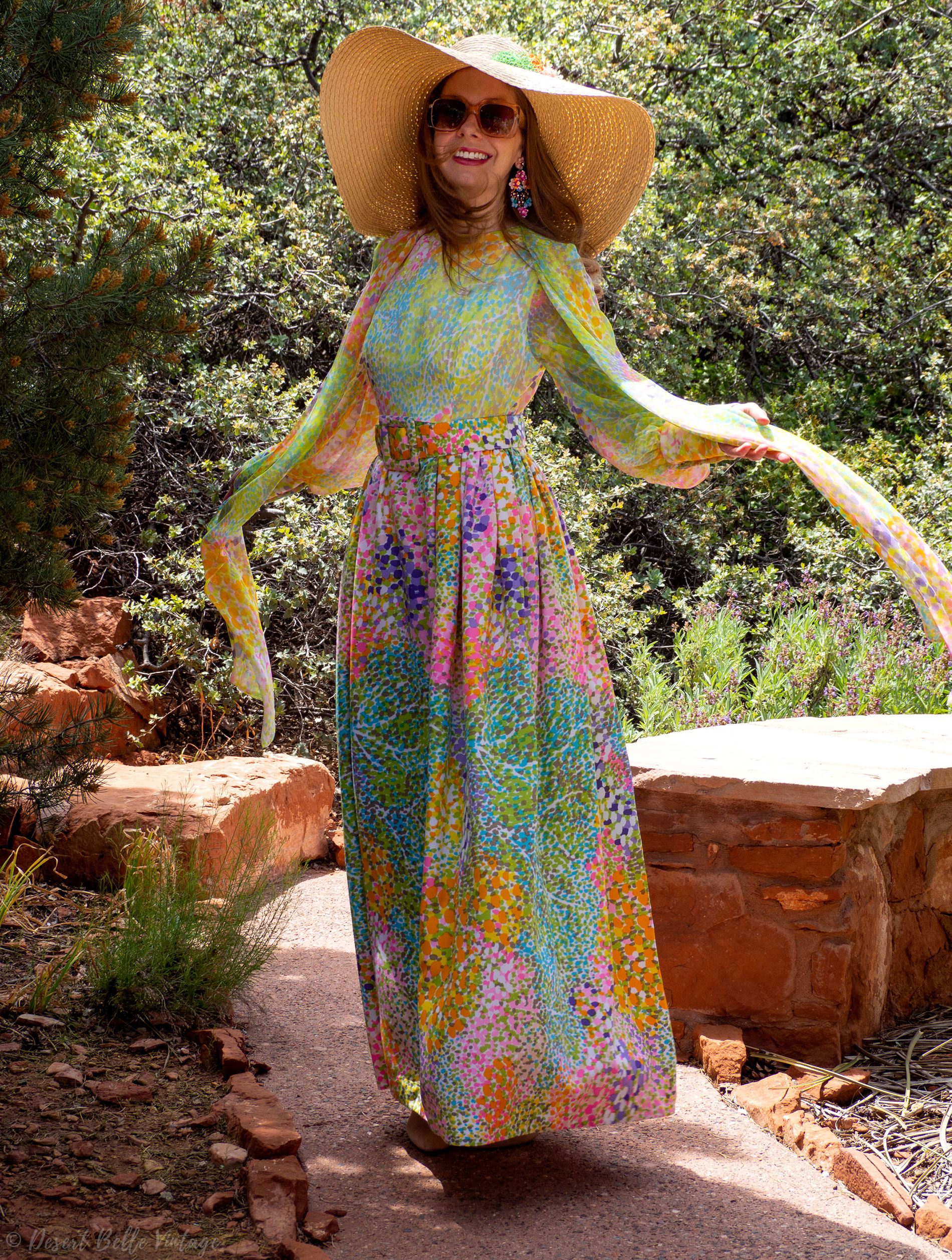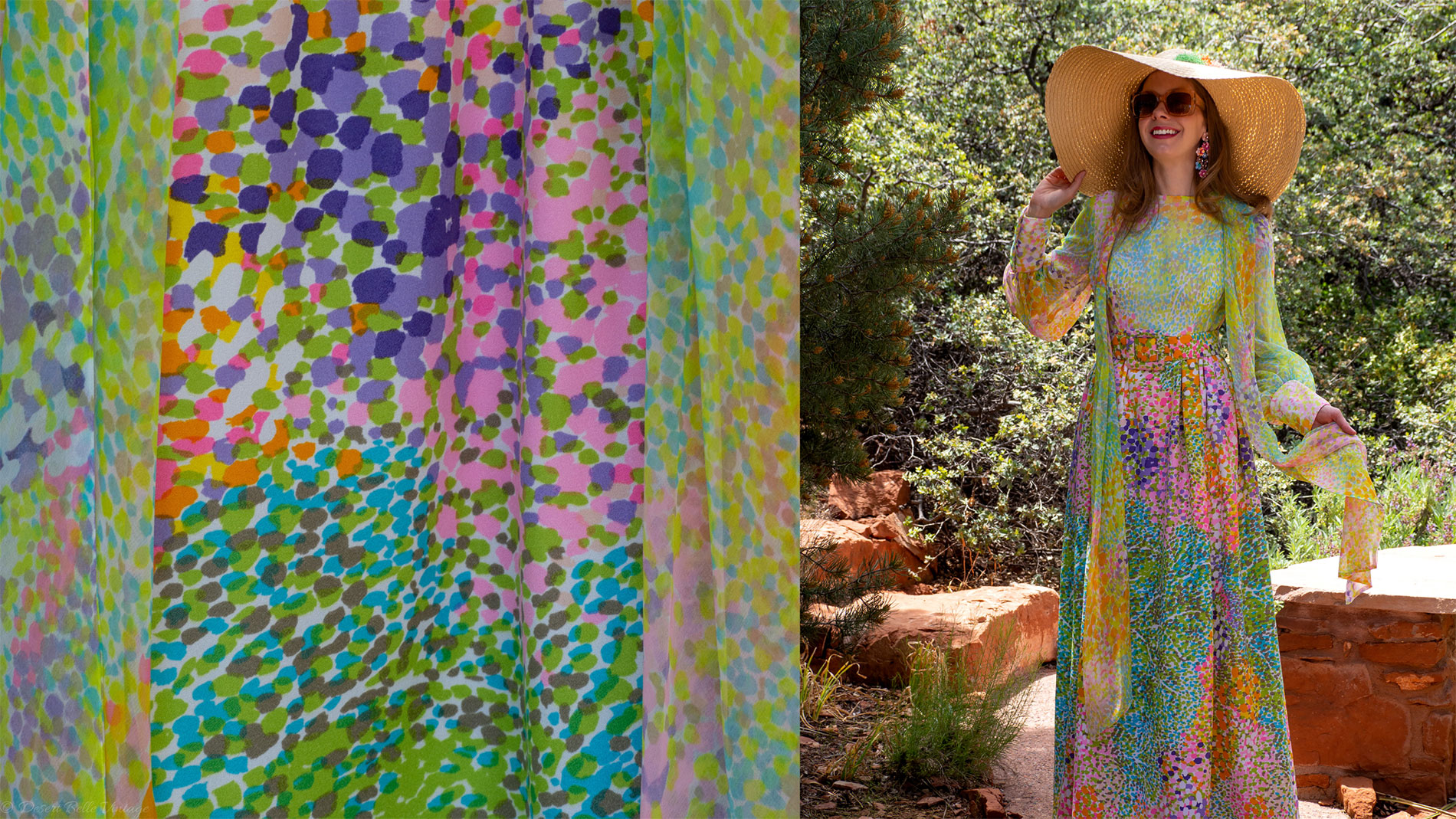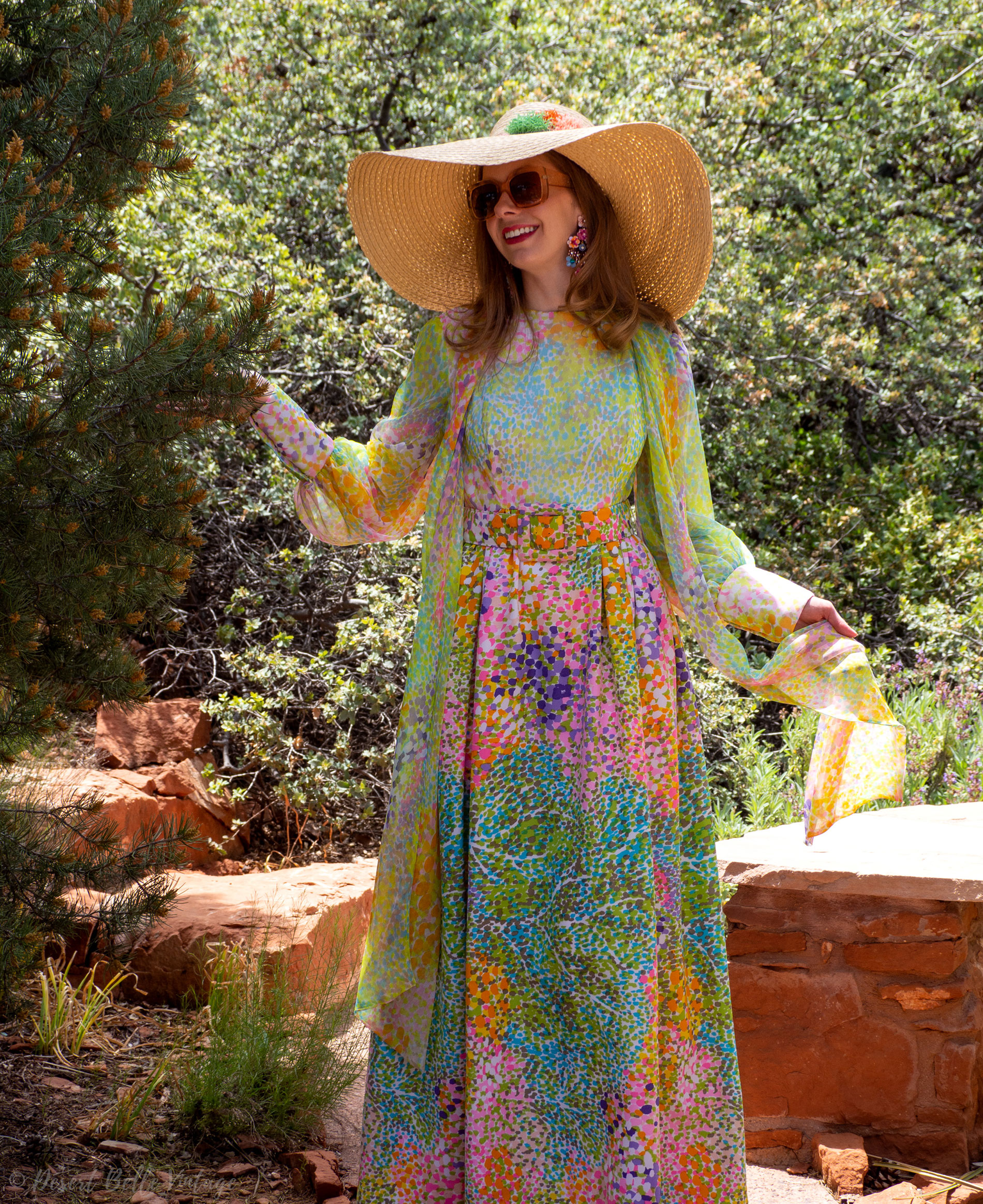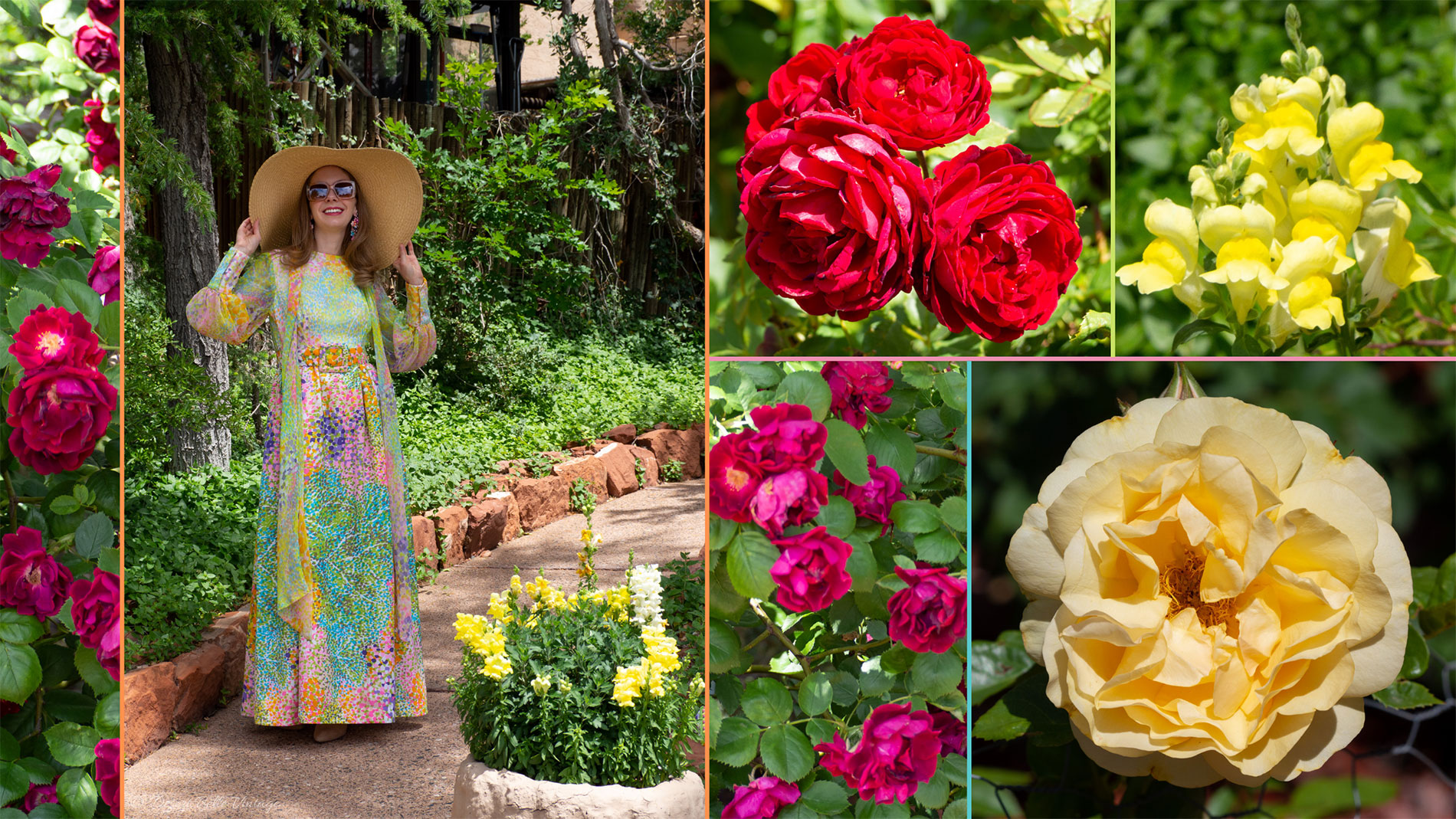 Dress, Vest & Belt: Vintage "Romantica by Victor Costa." Purse: Vintage 1960's Enid Collins "Flower Basket." Boots: Sam Edelman (past season). Hat: Quagga (past season). Earrings: J.Crew (past season).
References
1. Johnson, Bonnie & Powell, Lee. "Copycat King Victor Costa Cuts the High Costa Designer Duds." People. August 22, 1988.
2. Morris, Bernadine. "A Cost-Cutting Designer Who's Riding a Wave." The New York Times. December 29, 1987.
3. Vintage Fashion Guild. Label Resource: Victor Costa: https://vintagefashionguild.org/label-resource/costa-victor/
4. FIDM Museum Blog "The Inimitable Victor Costa" quoting Martin, Contemporary Fashion. Women's Wear Daily. October 28, 1968. FIDM Museum Blog article page (dated January 26, 2016): https://blog.fidmmuseum.org/museum/2016/01/victor-costa.html
It is important to note that I am not affiliated, associated, authorized, endorsed by, or in any way officially connected with any of the designers (or any of their subsidiaries or affiliates) featured in this post or anywhere on the Desert Belle Vintage site. This blog contains my opinions and does not reflect the opinions of any featured businesses.