It is officially spring in Arizona! The birds are singing and flowers are blooming! I celebrated the start of the spring season with a trip to Northern Arizona's Briar Patch Inn in Oak Creek Canyon. Briar Patch Inn is a truly magical place, and the perfect setting to wear my vintage 1970's Gunne Sax coordinated floral jacket and midi skirt set.
If you have followed my Desert Belle Vintage Blog from the beginning, you might remember my post from last November where I model a vintage 1970's prairie dress and discuss storybook escapism with 1970's prairie fashion. In my November post, I talk about the enchanting, fairytale quality to 1970's prairie fashion. The flowery, flowy and ultra feminine 70's prairie aesthetic shifts your mindset to peaceful simplicity and calls forth a dreamy wanderlust to experience and explore different historical places and times, be it the American frontier, Victorian or Medieval periods.
If you would like to read my November 2018 post or simply revisit that story before reading on, please click here.
Desert Belle Vintage at Briar Patch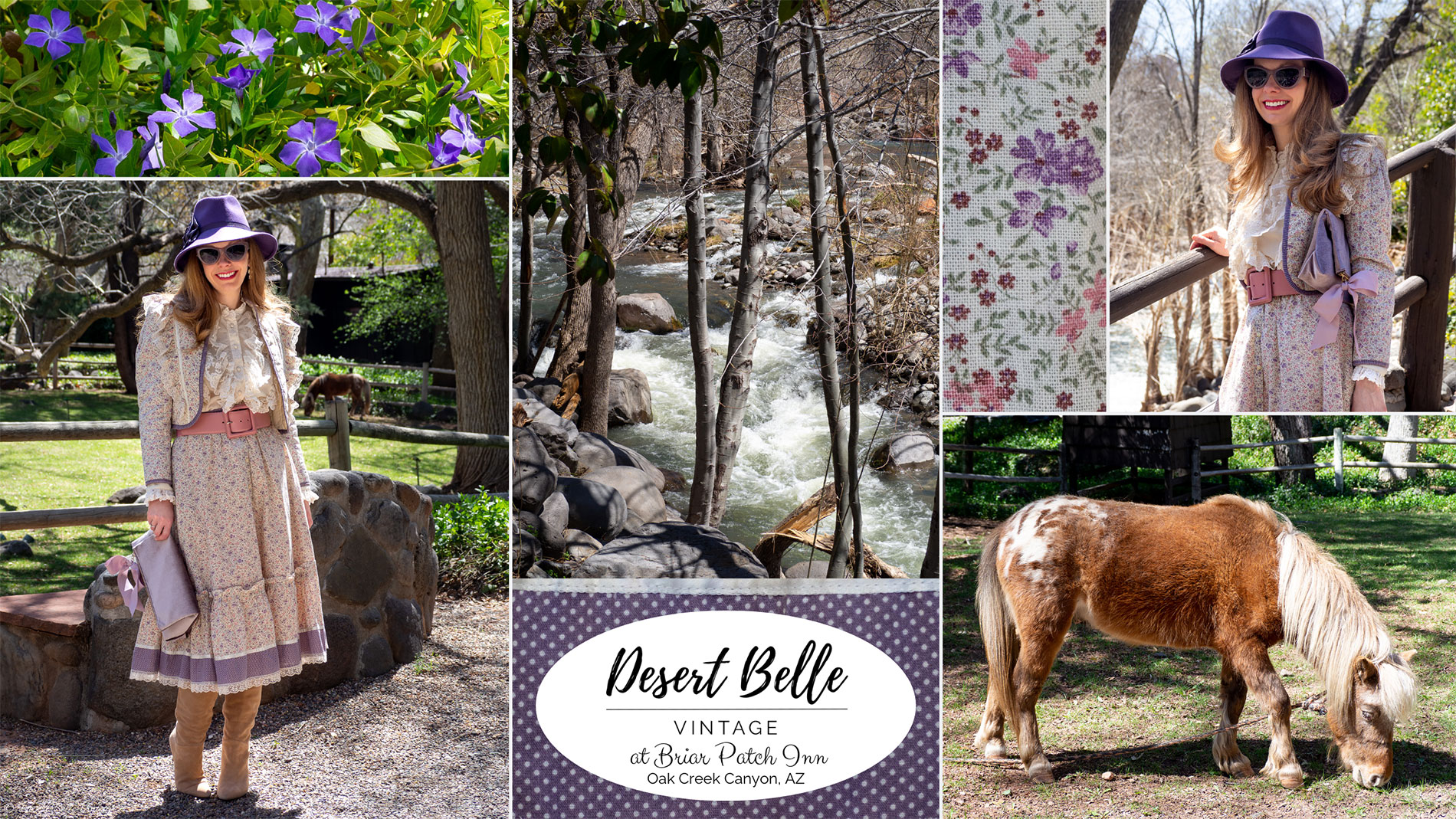 Briar Patch Inn is a wooded, fairylike enclave in Arizona's Oak Creek Canyon. When deciding on where to photograph my Gunne Sax ensemble, I knew Briar Patch would be ideal due to its ranch-like, Western frontier setup and peaceful "step back in time" feel.
The owners of Briar Patch have a horse named Happy that roams the grounds, and Happy was thrilled to oblige me with pictures during my visit. The rushing yet tranquil sound of the famous Oak Creek can be heard in the background throughout the grounds. Briar Patch is a truly special place that should not be missed when visiting Oak Creek Canyon.
For the Love of Gunne Sax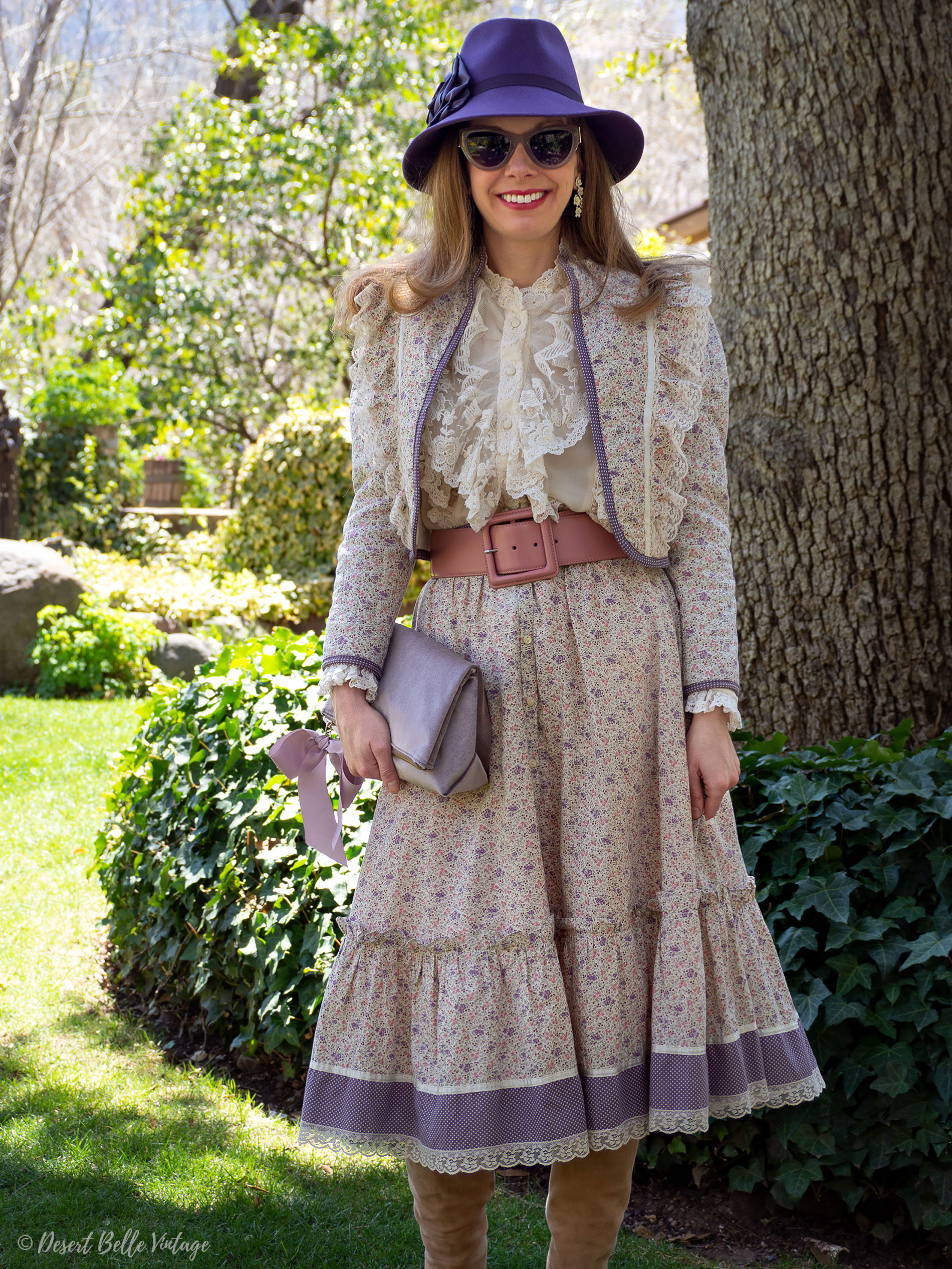 Gunne Sax is widely regarded as one of the 1970's labels du jour for all things prairie. Twenty-somethings and teens went crazy for the line in the 1970s. Sixties and Seventies counterculture embraced the nostalgic yet singular and unique-for-the-then-current-times looks of the Gunne Sax collections. The label name is derived from the "gunny sack," the burlap bags that have been used throughout history for potatoes, sandbags, and children's sack races among other things.
In the 70s, the Gunne Sax label offered a wide range of flowery calico frocks and separates inspired by the prairie days of Laura Ingalls Wilder, the Middle Ages and the Victorian and Edwardian time periods. Regarding the history of the company, per the Vintage Fashion Guild: "Gunne Sax was a small dress manufacturing company in San Francisco, started in 1967 by Elle Bailey and Carol Miller. In 1969 Jessica McClintock [of later Jessica McClintock, Inc. bridal, party and prom dress fame] invested in the company and became the designer. She bought [Gunne Sax] in 1969. Gunne Sax was known for nostalgic 'granny dresses' and soon the look expanded into prairie dresses and Victorian and Edwardian inspired designs in the 1970s and into the early 1980s."
In my years of collecting, I have found that all Gunne Sax dresses and co-ords have in common a nostalgic, transforming and frilly femininity. Gunne Sax ensembles represent perfect examples of the magicalness of vintage. When you wear a vintage item from any decade, you feel as though you are transported back in time, like you become a piece of history. When you wear Gunne Sax, there is a double metamorphosis that occurs. Donning Gunne Sax transports you back not only to the 1970s but also back to whichever unique time period your specific Gunne Sax look emulates. The Gunne Sax company left no design stone unturned when creating detailed, romantic, prairie chic outfits for their line. Maxi and midi skirts, laced bodices, velvets, ruffles, lace and satin trims and princess puff sleeves are just some examples of design elements incorporated by Gunne Sax to achieve that fantasy, storybook escapism ideal.
My Date with Gunne Sax
I purchased my Gunne Sax co-ord jacket and skirt set within the last couple years. I found the set while on a lunch date! After lunch, my date and I wandered over to a few antique and thrift shops near the restaurant to explore and see what treasures we could find.
While perusing one thrift store, I was elated to discover my Gunne Sax ensemble hanging on the racks amidst a random assortment of maternity wear, newer maxi and semi-formal dresses and children's clothes. I gleefully took my prized find over to my date to show him my treasure. He looked appalled that I would pick out such an outfit, wrinkled up his nose and face in disgust, and said in a loud, shocking tone: "That looks like something grandma would wear!" Taken aback and unwilling to believe his rudeness, I coyly asked, "You don't think I could pull this off?" He laughed derisively and said "I don't know about that." Meanwhile, he proceeded to get excited over a tired (no pun intended!) men's automotive mechanic shirt. My feelings hurt, I put the outfit back on the rack while thinking in my mind: "This guy is inconsiderate and lacking in imagination!"
The afternoon continued on as we wandered in and out of shops. My date, who claimed to love thrifting and the thrill of the hunt, spent much of the time either playing or talking on his cell phone while I looked in the other shops. When we parted ways for the evening, I made a beeline back to the thrift shop and purchased my Gunne Sax outfit. My future with my dud of a date obviously was going nowhere, but I knew that my Gunne Sax outfit was a special find, and there was no way I was going to allow my keen sense of fashion to go out the window!
I have to point out that my date did not entirely describe my Gunne Sax outfit incorrectly by saying that it "looks like something grandma would wear." The Vintage Fashion Guild does mention that "Gunne Sax was known for nostalgic 'granny dresses.'" Where my date's perception and creativity fell short however is in envisioning the style possibilities of "grandma's" outfit. There is without doubt an innocence to Gunne Sax outfits, but behind that quiet demureness definitely lies an understated sexiness.
In today's culture, low-cut, barely-there clothes are widely commonplace and seeing bare skin or near-naked bodies paraded is prevalently routine and no longer surprising. Contrary to what some may think, an outfit does not have to have a plunging v-neck, mini skirt or lack of overall coverage to be sexy. Sometimes a lack of exposure creates more for the imagination to dwell on, desire and fantasize about. Our fanciful and wildly imaginative minds can without bounds travel further than the reality of what is shown in front of us. For example, in old films, what was implied and not played out on screen was oftentimes more powerful than what was because our imaginations were given permission by the director to take over and fantasize about what may or may not have been happening. I have always believed that gradual reveals or hidden mysteries are more sexy than lack of modesty. Like the great art of burlesque has taught us, the promise or fantasy of nudity is more powerful than the nudity itself.
Gunne Sax in the 21st Century
Vintage Gunne Sax dresses and separates are still wildly popular today with both new and experienced vintage collectors and enthusiasts and adventurous fashionistas. Many fashion designers within the last five years have embraced the nostalgic Gunne Sax look and have offered boho-romantic fashions inspired by 1970's prairie style.
I styled my skirt and jacket set with a frilly 1970's Victor Costa blouse, camel suede boots, lavender velvet clutch, cream flower earrings, purple hat and pink belt and petticoat.
When I meet others that appreciate and/or wear Gunne Sax, there is oftentimes a story to go along with someone's fond memories of the label. I meet ladies who were married or who attended special functions like their proms in Gunne Sax attire. Do you have a Gunne Sax story? If so, I would love to hear it!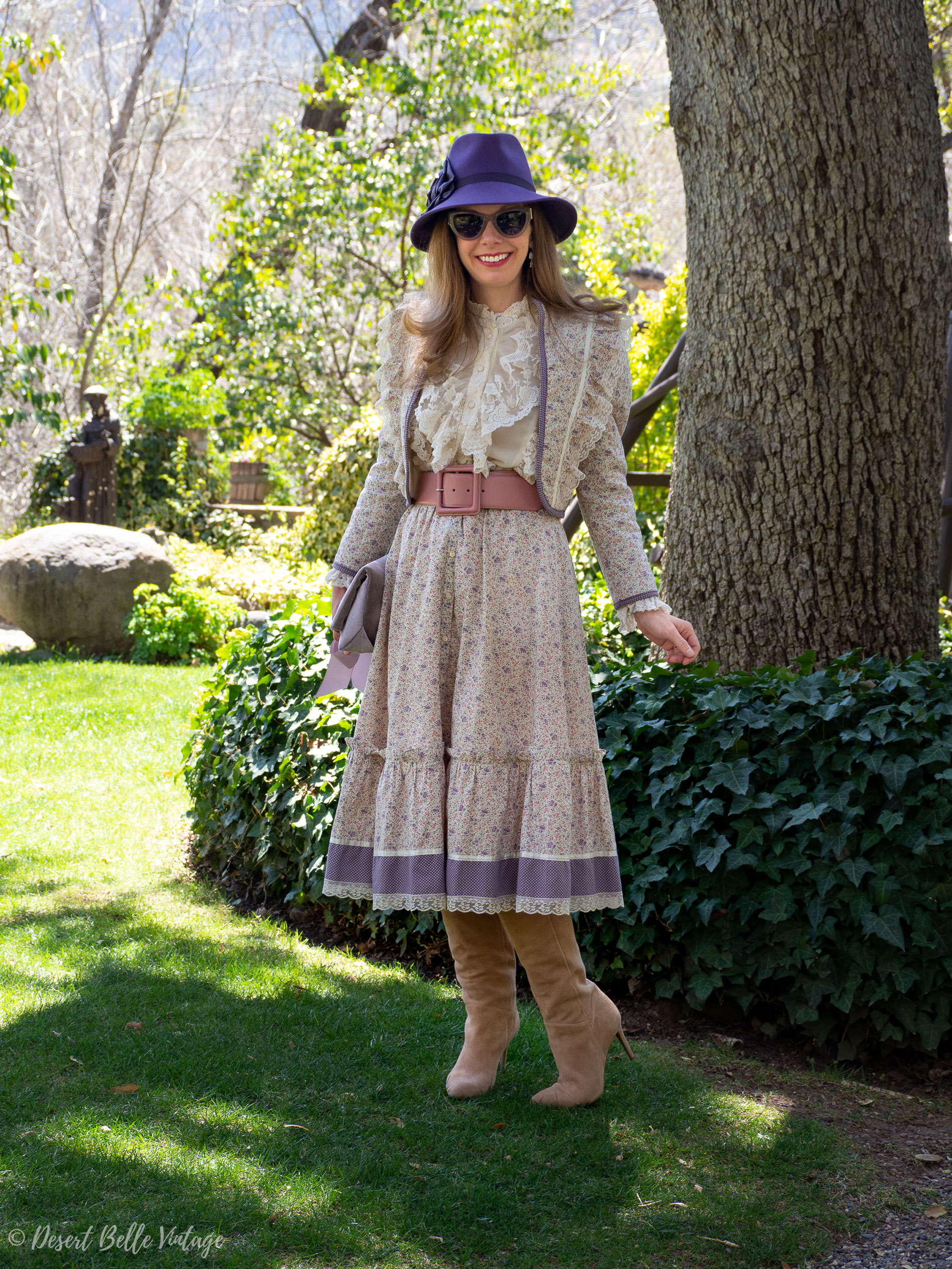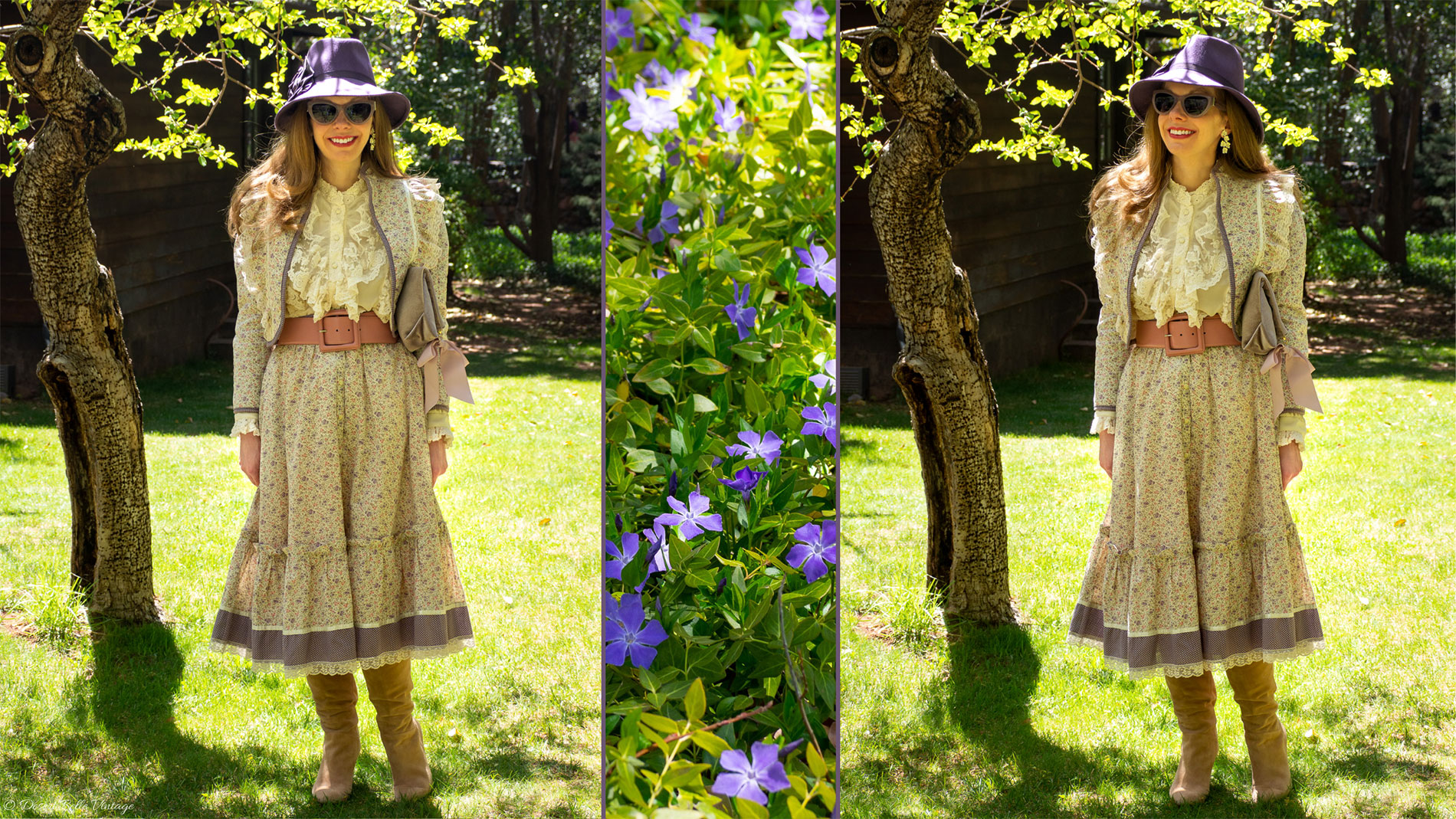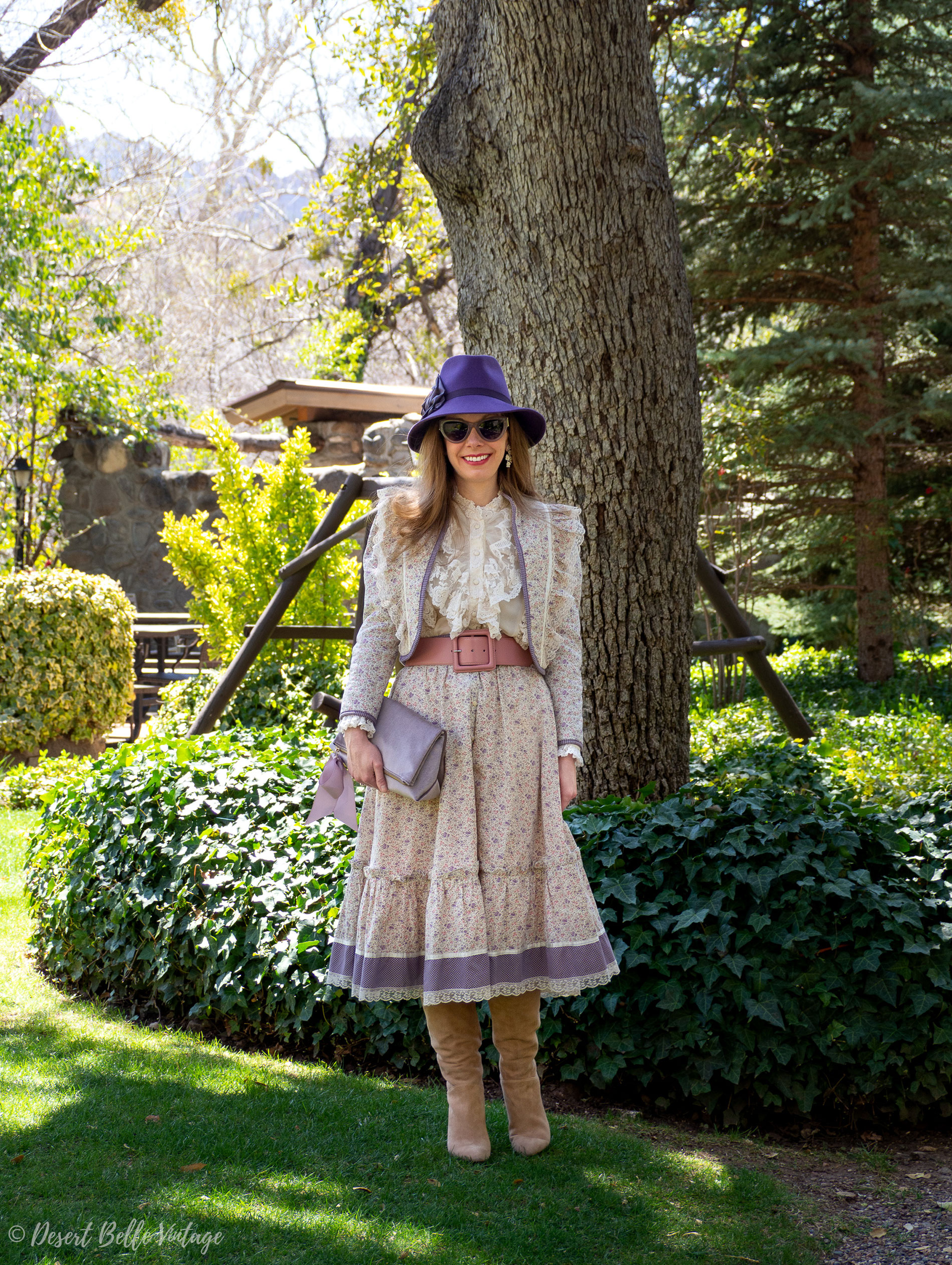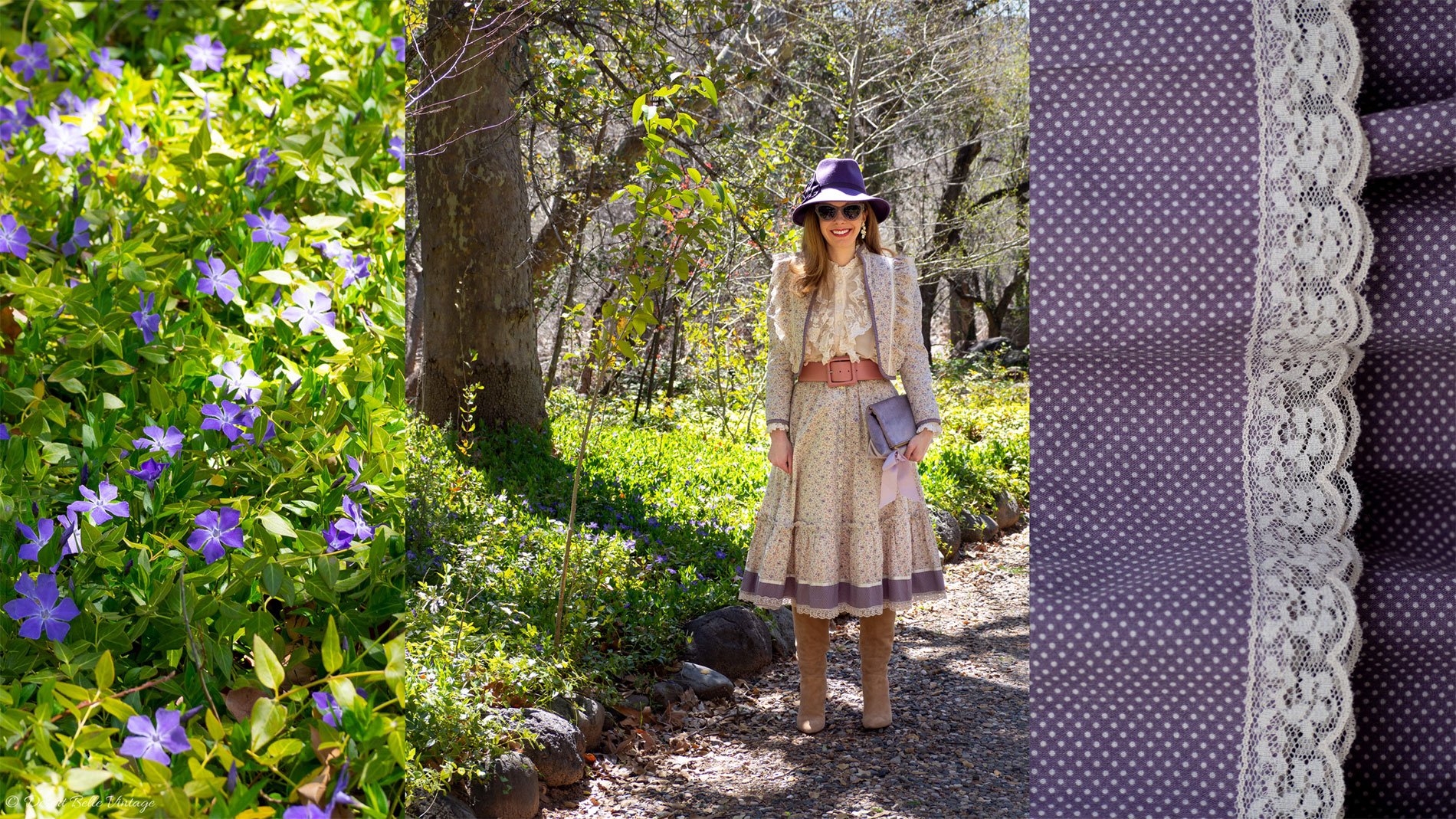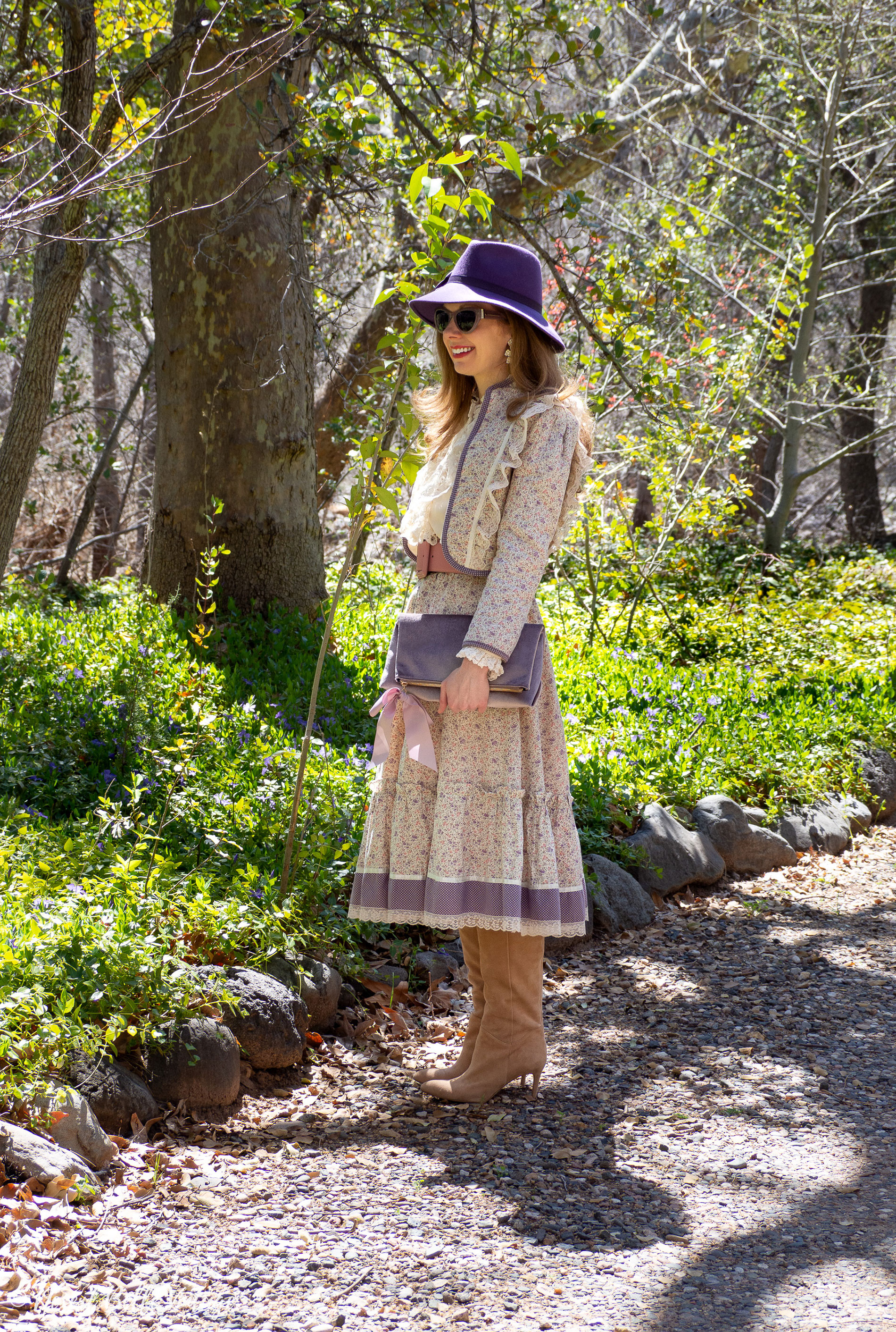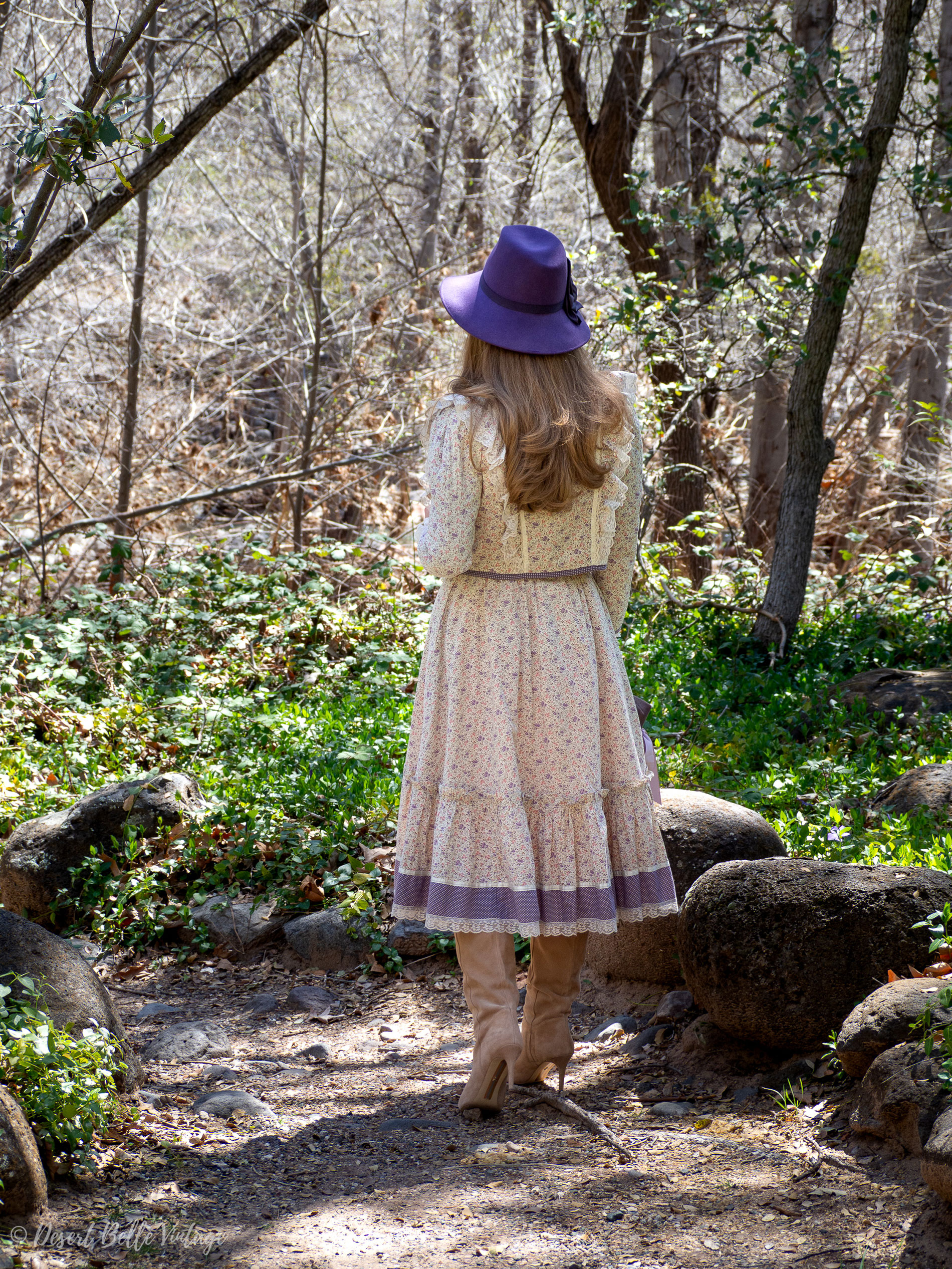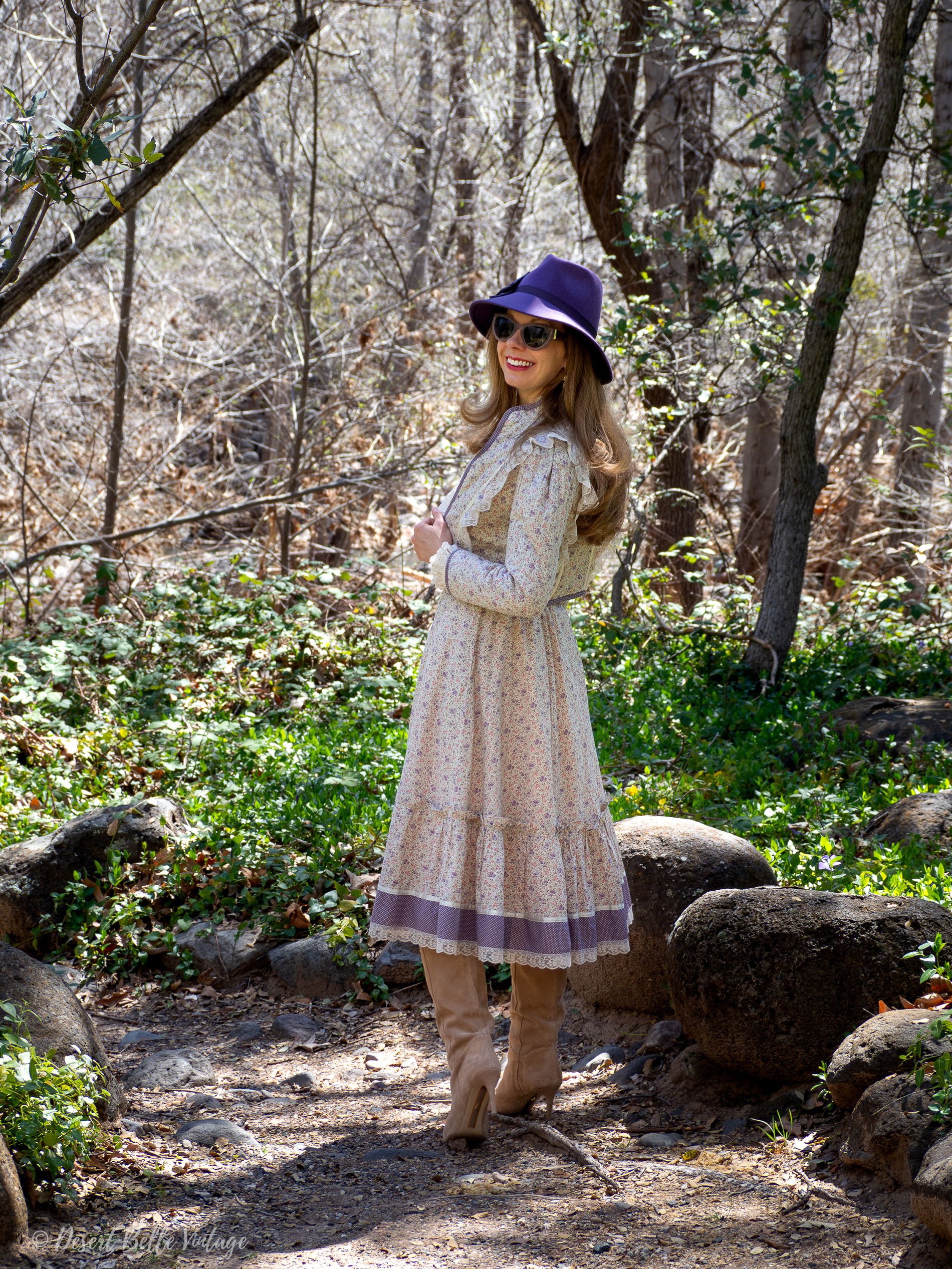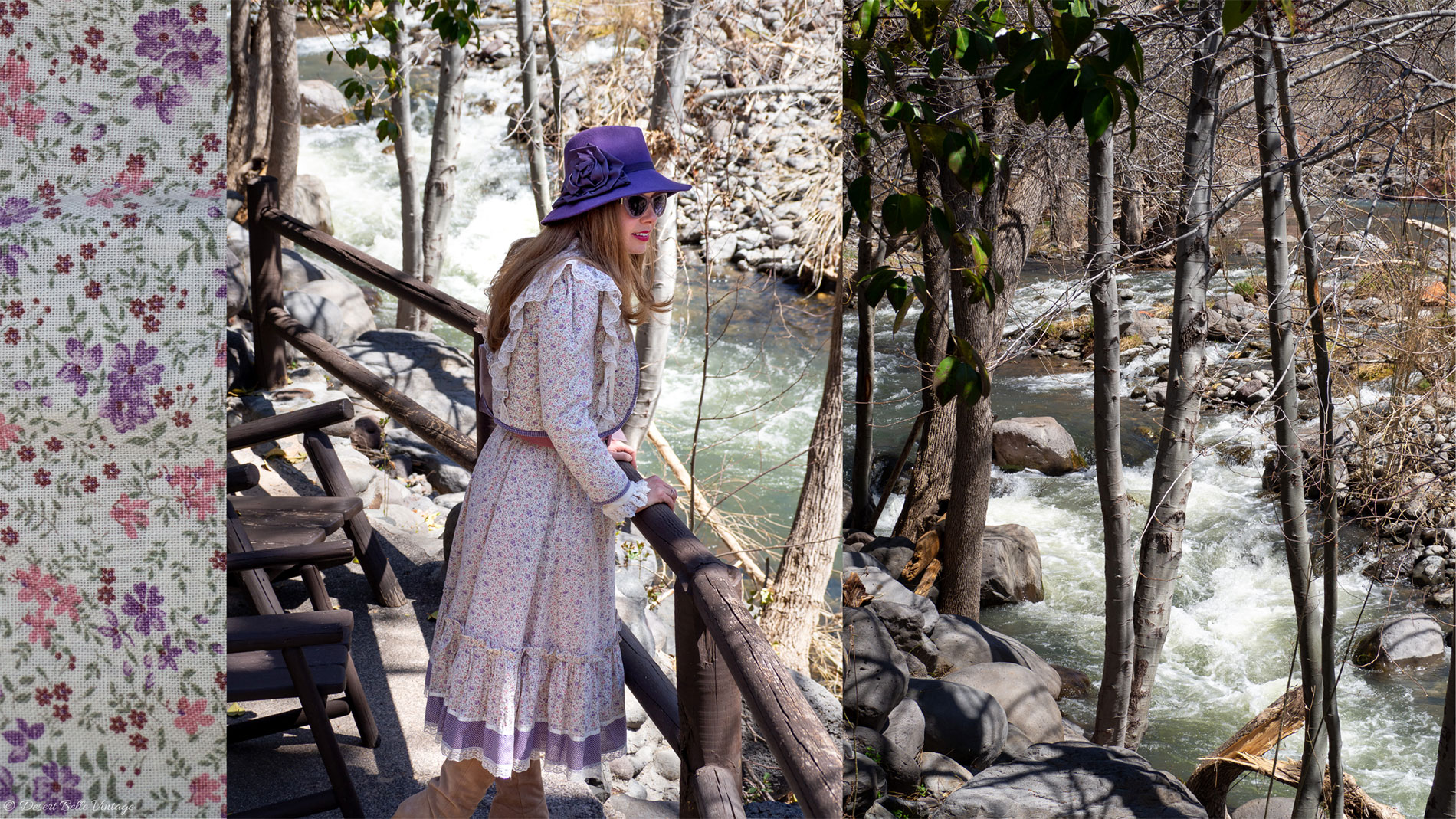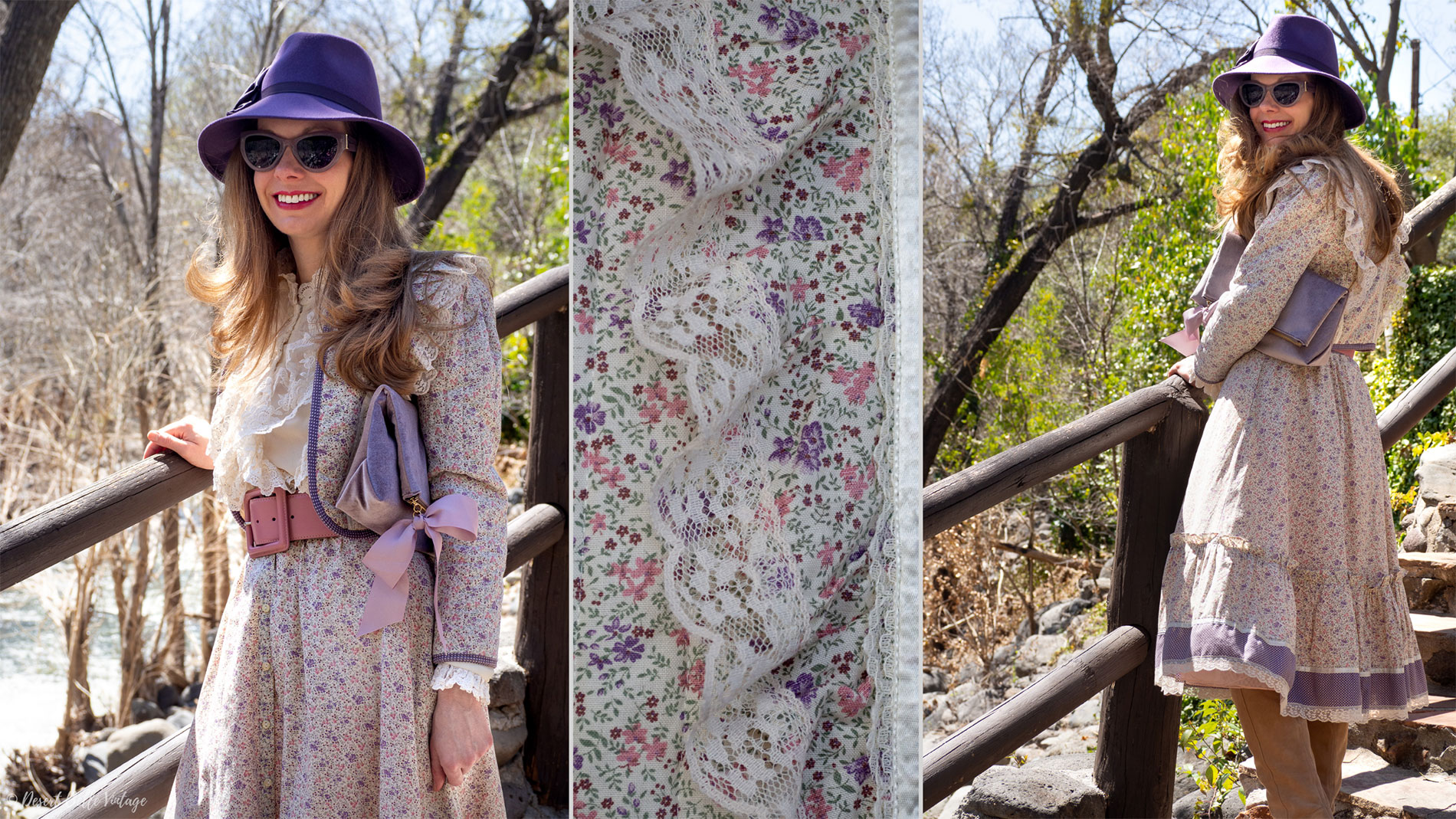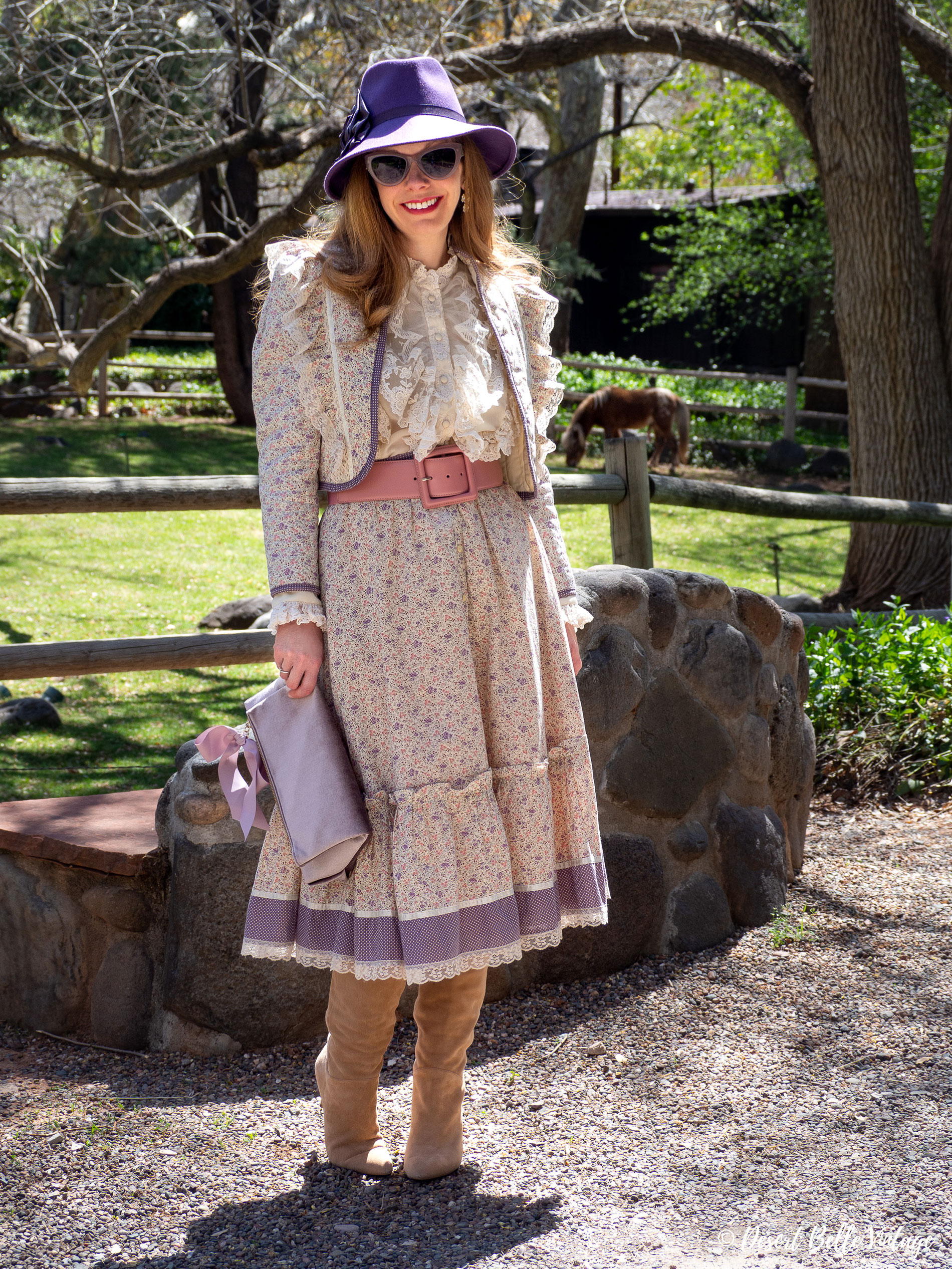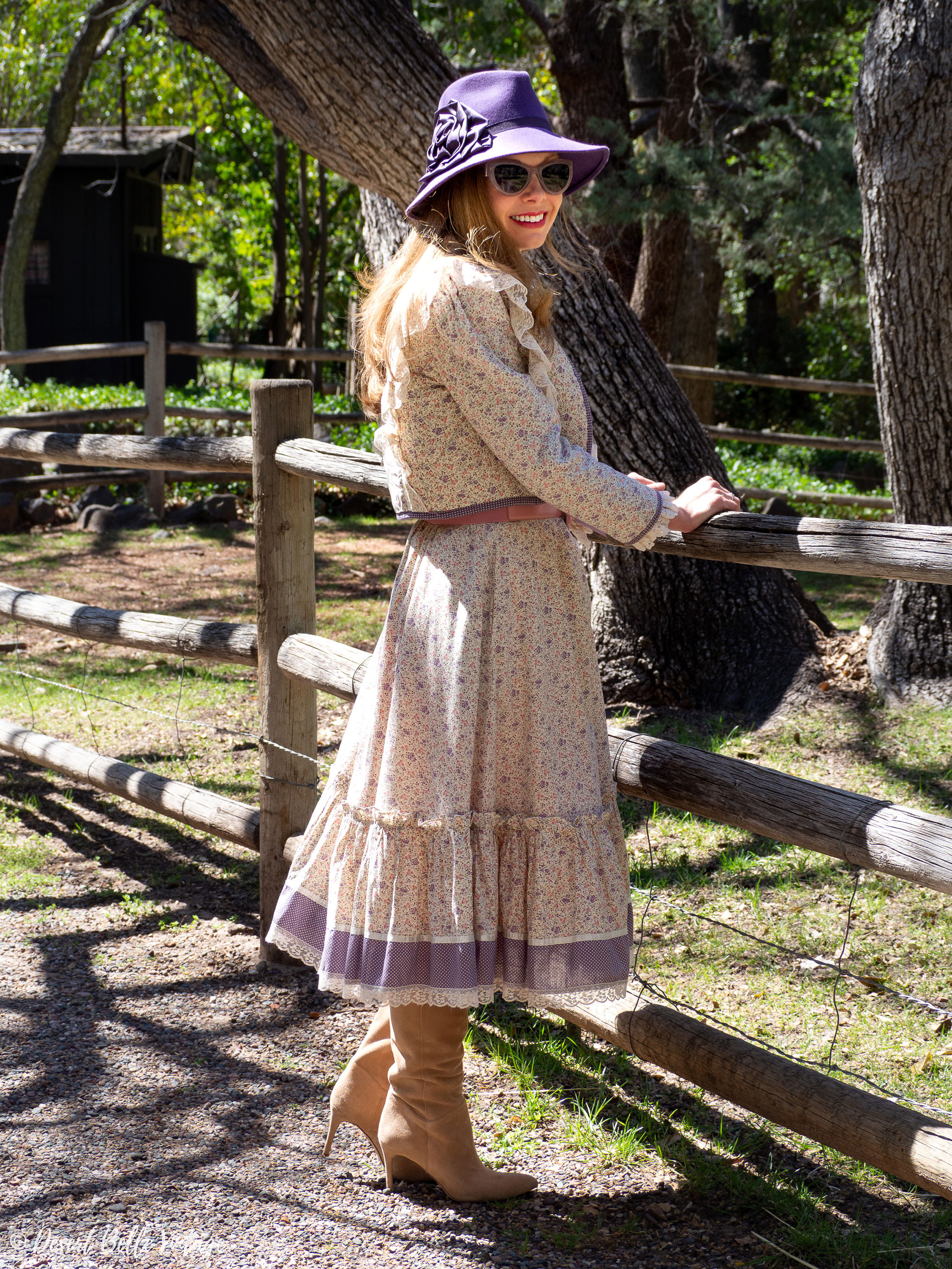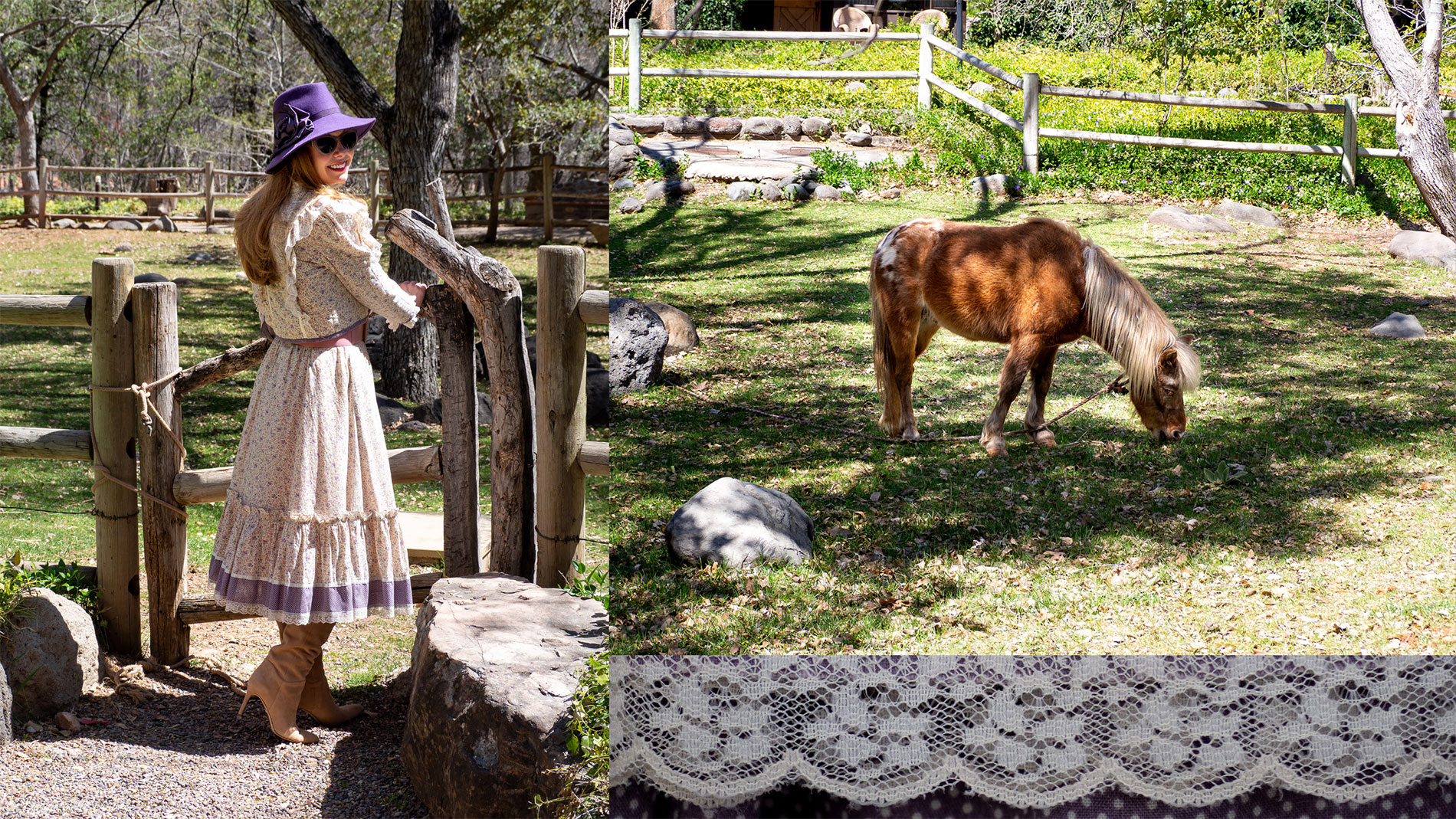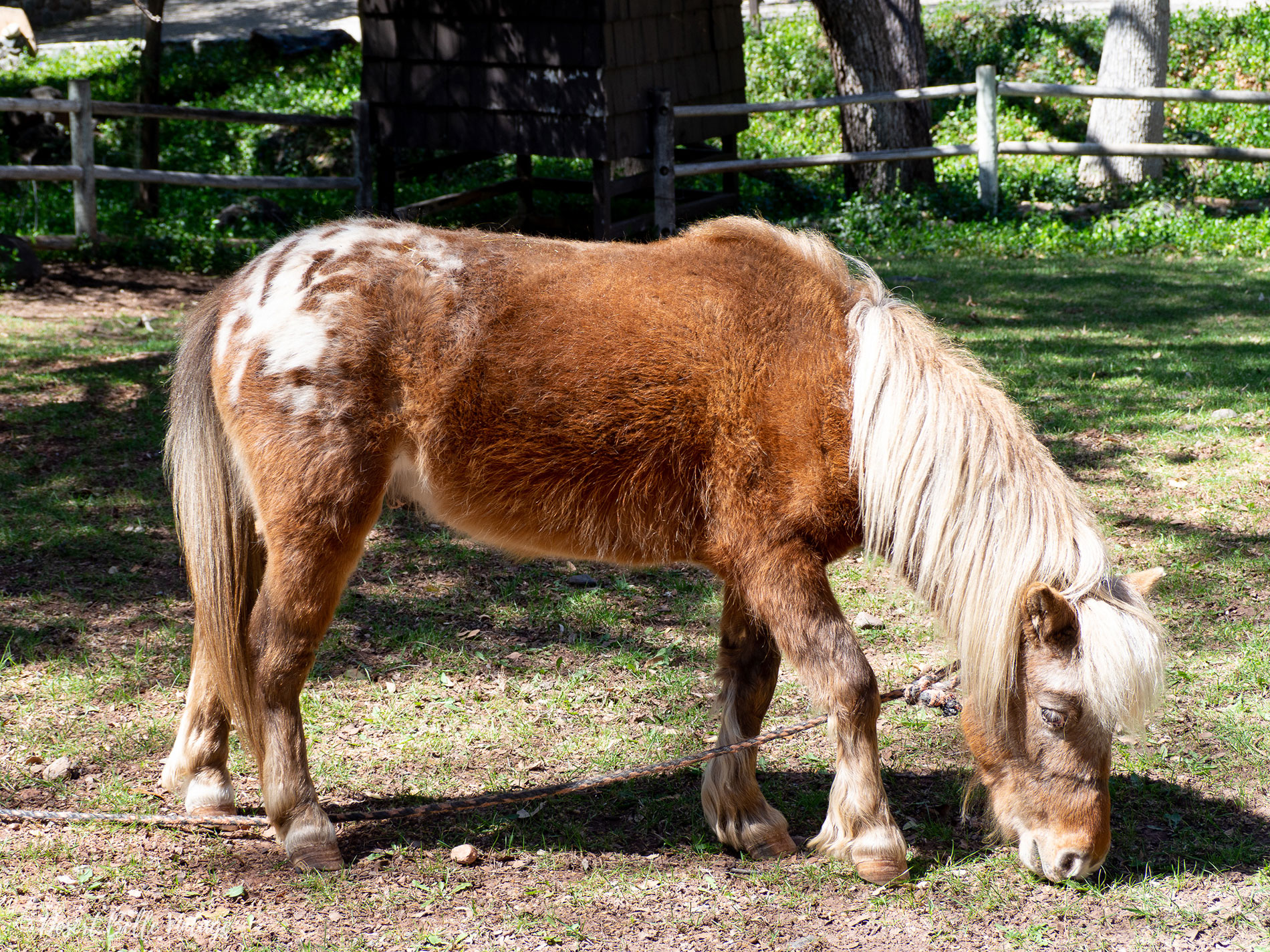 You have reached The End of this "Storybook Gunne Sax Tale" by Desert Belle Vintage. Thank you for reading!
Jacket & Skirt Set: Vintage 1970's Gunne Sax. Lacy Blouse: Vintage 1970's Victor Costa. Boots: Sam Edelman. Velvet Clutch: Ann Taylor (past season). Floral Earrings: Jennifer Behr. Pink Belt & Pink Petticoat: Atlantic-Pacific x Halogen at Nordstrom (past season). Hat: Halogen (past season).
To learn more about Briar Patch Inn, please click here to visit their website.
It is important to note that I am not affiliated, associated, authorized, endorsed by, or in any way officially connected with Briar Patch Inn or any of the fashion designers (or any of their subsidiaries or affiliates) featured in this series or anywhere on the Desert Belle Vintage site. This blog contains my opinions and does not reflect the opinions of any featured businesses.