"Be daring, be different, be impractical, be anything that will assert integrity of purpose and imaginative vision against the play-it-safers, the creatures of the commonplace, the slaves of the ordinary." – Cecil Beaton
I love a great novelty print. Novelty prints add charm, whimsey and playfulness to a wardrobe. A novelty print truly allows one to have fun with fashion and be everything Cecil Beaton encourages in his above quote. When it comes to fashion, why not live vivaciously and dress for your happiest self? Fashion is a way to express one's individuality, be singular and distinct, experiment, take risks and push the style envelope.
Through the years, I have collected a wonderful assortment of novelty prints from different time periods. My novelty collection began out of my adoration and appreciation for 1950's novelty garments. In America during the 1950s, novelty prints were all the rage. In the 50s, both notable designers as well as talented home seamstresses created novelty themed dresses and separates. I look forward to sharing some of my vintage 1950's novelty pieces, some of which transcend the "print" category as they are handmade novelty felt (not print) masterpieces. More on that later!
Diving Into Novelty Fashion with Fish Print Fabulousness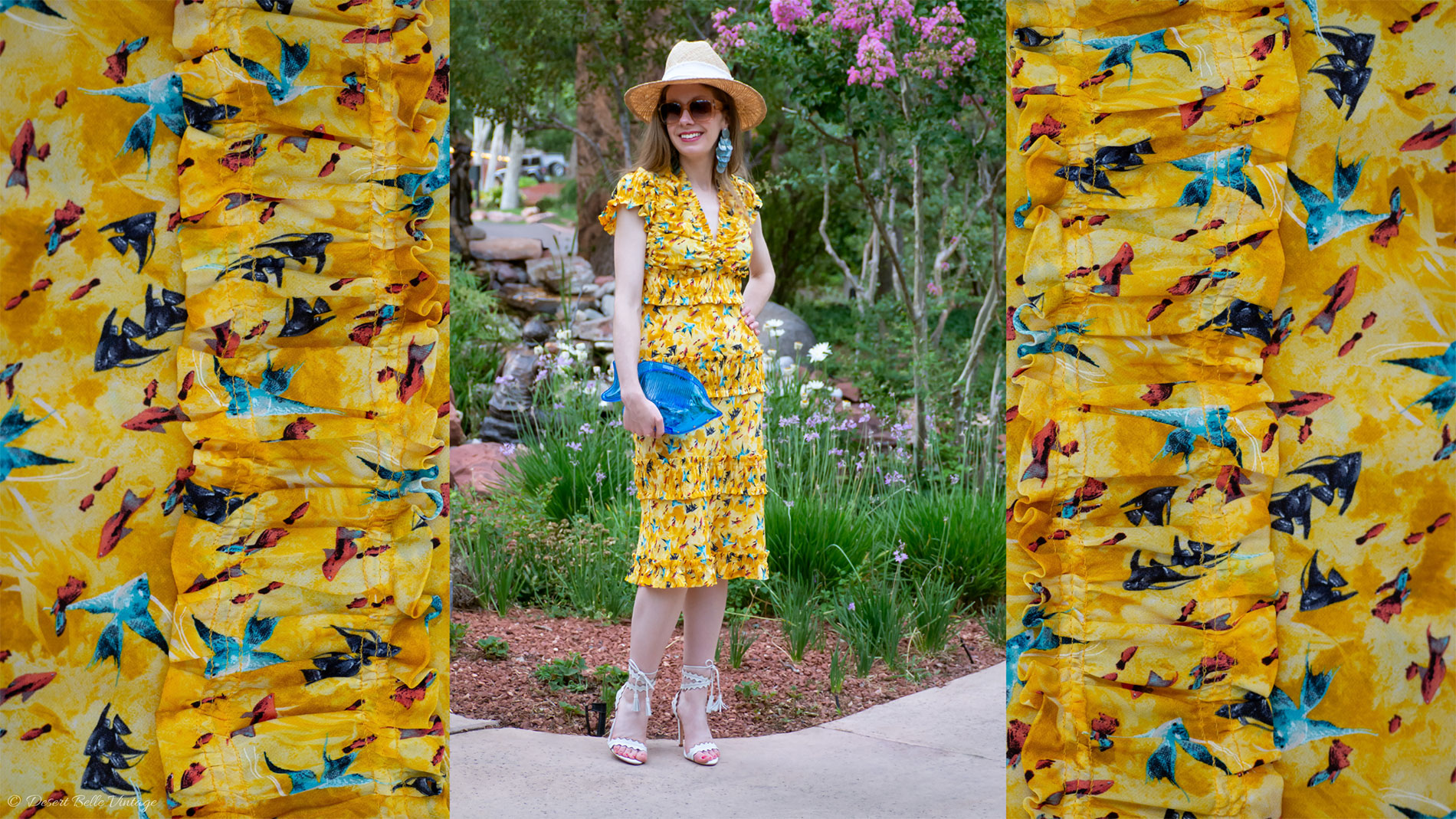 I have devoted an entire section of "The Style Files" in the Desert Belle Vintage Blog to "Novelty Fashion." This is the premiere post for the "Novelty Fashion" category, and I am thrilled to start off with my vintage 1990's Fendi by Karl Lagerfeld 'Fish' print novelty dress. I chose to begin with Karl Lagerfeld as I have always admired his illustrious and distinguished career in fashion, and this dress is a rare example of a novelty print design from Fendi by Karl Lagerfeld.
I was deeply saddened to learn of Karl Lagerfeld's passing back in February of this year. The fashion world lost an artist and icon with a tremendous vision. Karl Lagerfeld began his fashion career in the 1950s. He was hired by Fendi in 1965 and worked with the Italian luxury fashion house for more than 50 years up to the time of his death. He started working with Chanel in 1983 and stayed with the French company for over 30 years until his death. He was creative director of both Fendi and Chanel at the time of his passing.
At one point in the 1990s, while leafing through a fashion magazine at a hair salon, I remember seeing a Fendi advertisement showcasing the marvelous fish print I am celebrating in this post. At that past moment, my attention was suddenly seized as I remember gazing at the woman in the ad and instantly falling in love with the imaginative and fantastic fish print she was wearing. I am very rarely swayed by advertisements to purchase anything, but this ad enchanted me, and I sought out my own piece of yellow Fendi fish print paradise. While I was already impressed with the dress from simply looking at the ad, I found myself to be even more impressed with the dress in person. The dress fits like a dream, the construction is flawless and the fabric superb! The silk fabric's lively and joyous fish have exceptional detail, and their bright tropical colors really pop off of the rich yellow background. I appreciate the subtle feminine touches throughout the design of the dress, like the soft ruffles, delicate ruching at the bodice and elegant cap sleeves.
In the pictures for this post, I paired the dress with a fun blue acrylic fish clutch and statement fish scale earrings. I finished the look with strappy heels, hat and sunglasses. I knew a photo with water was essential for this outfit, so I made sure to enjoy some "pool time" while in the dress. This dress is officially one of my favorite summertime outfits. I feel a real joie de vivre while wearing this special fish print dress, and I celebrate Karl Lagerfeld and thank him for giving the fashion world so much beauty and genius.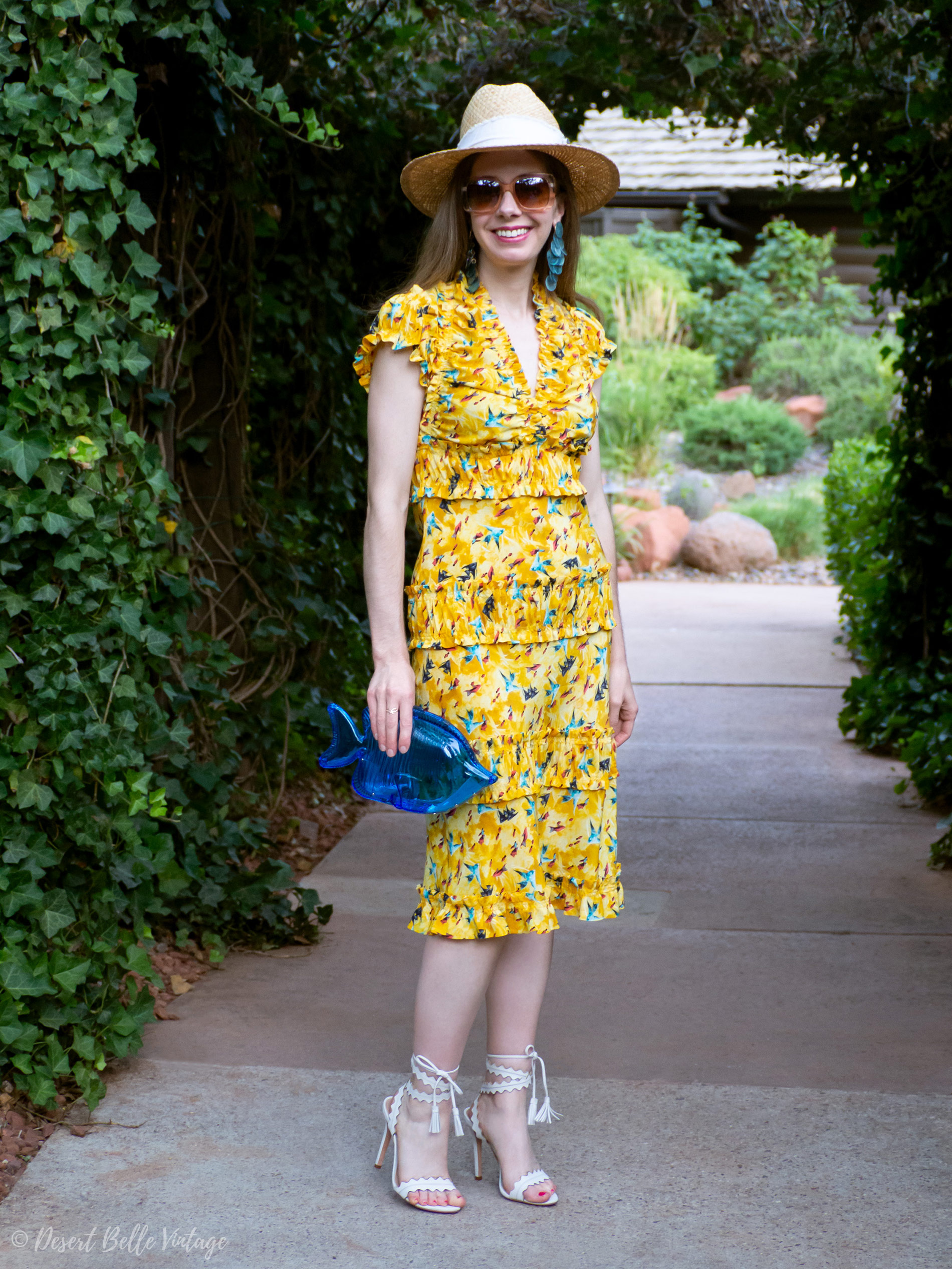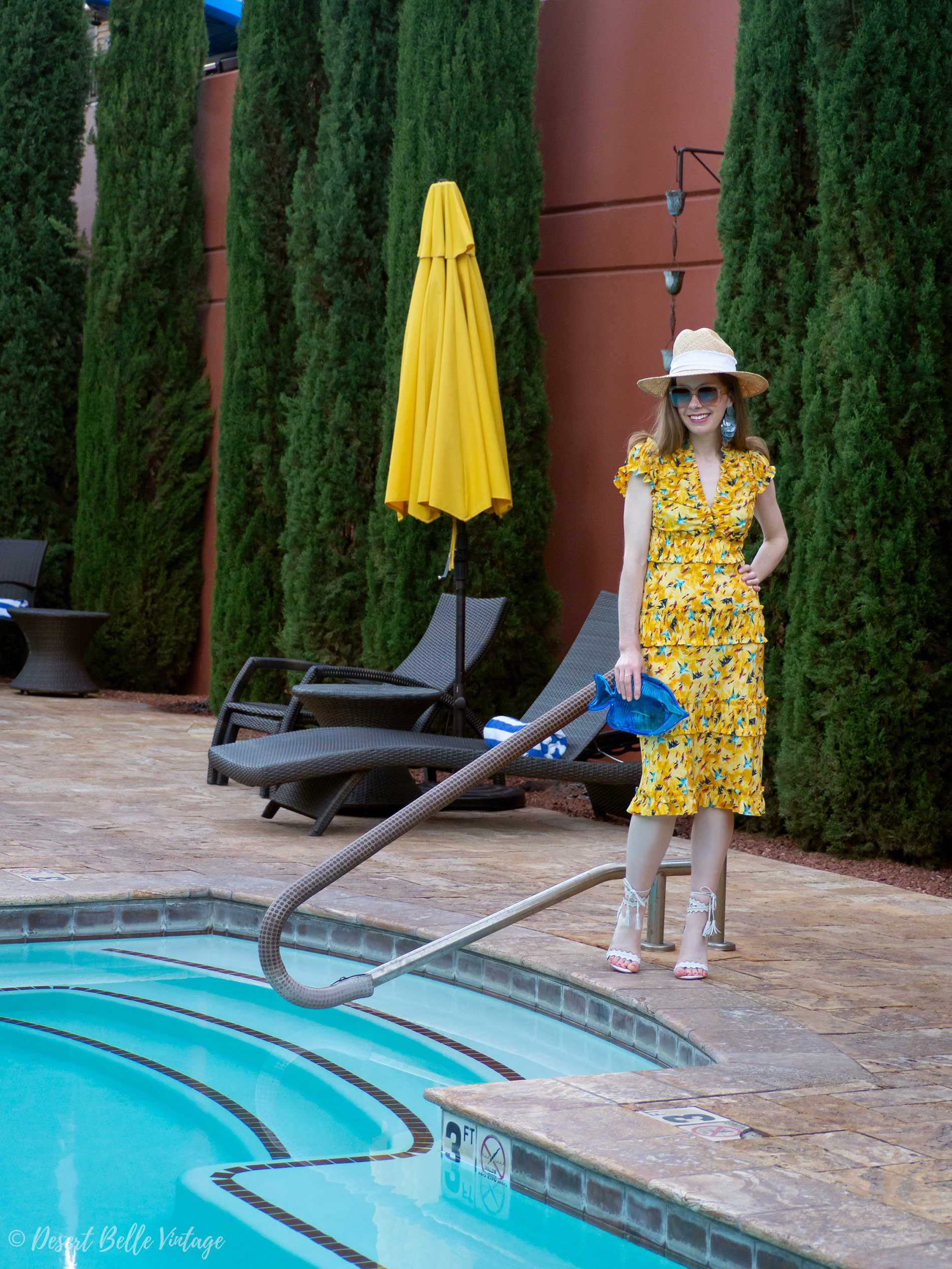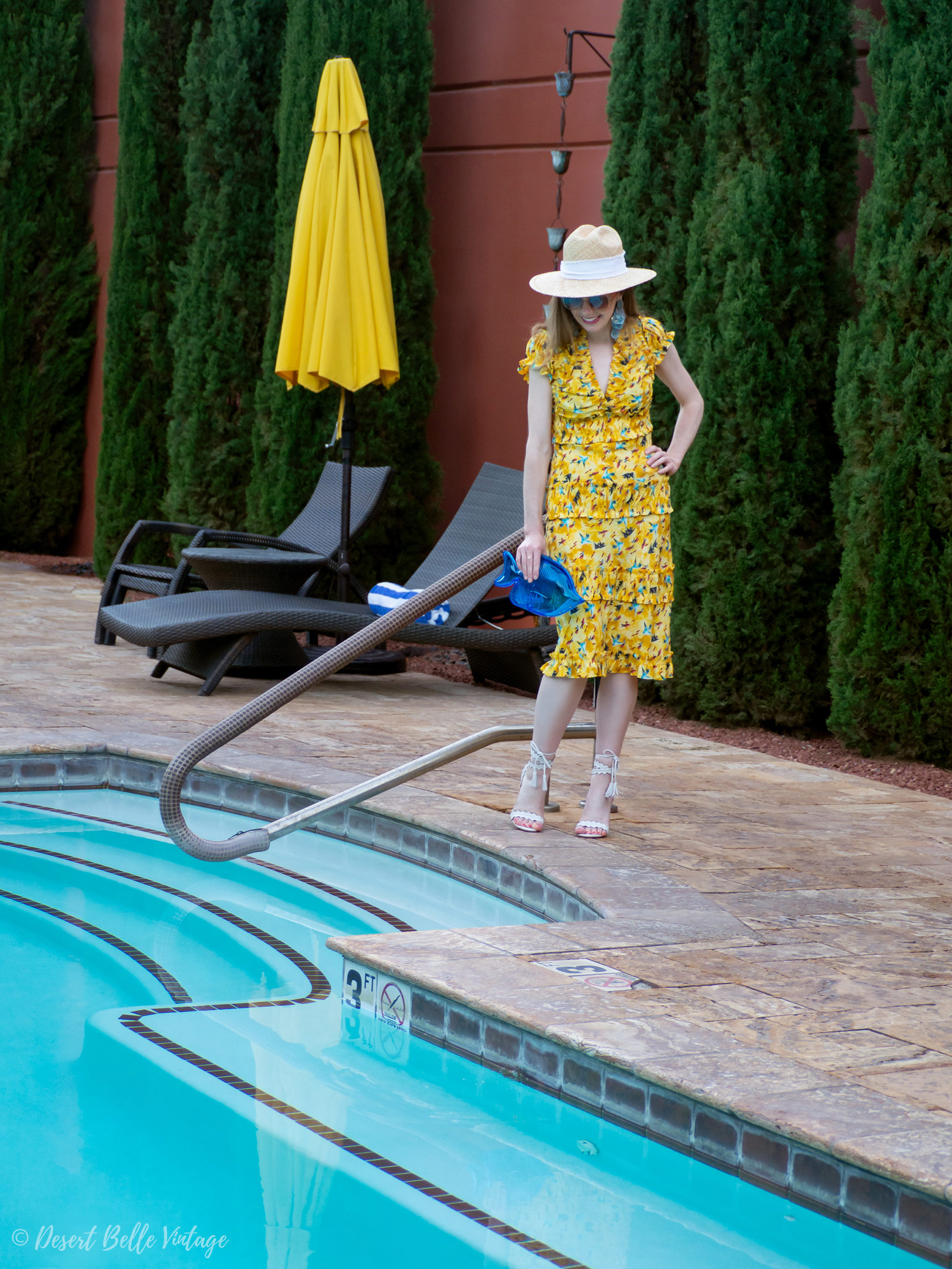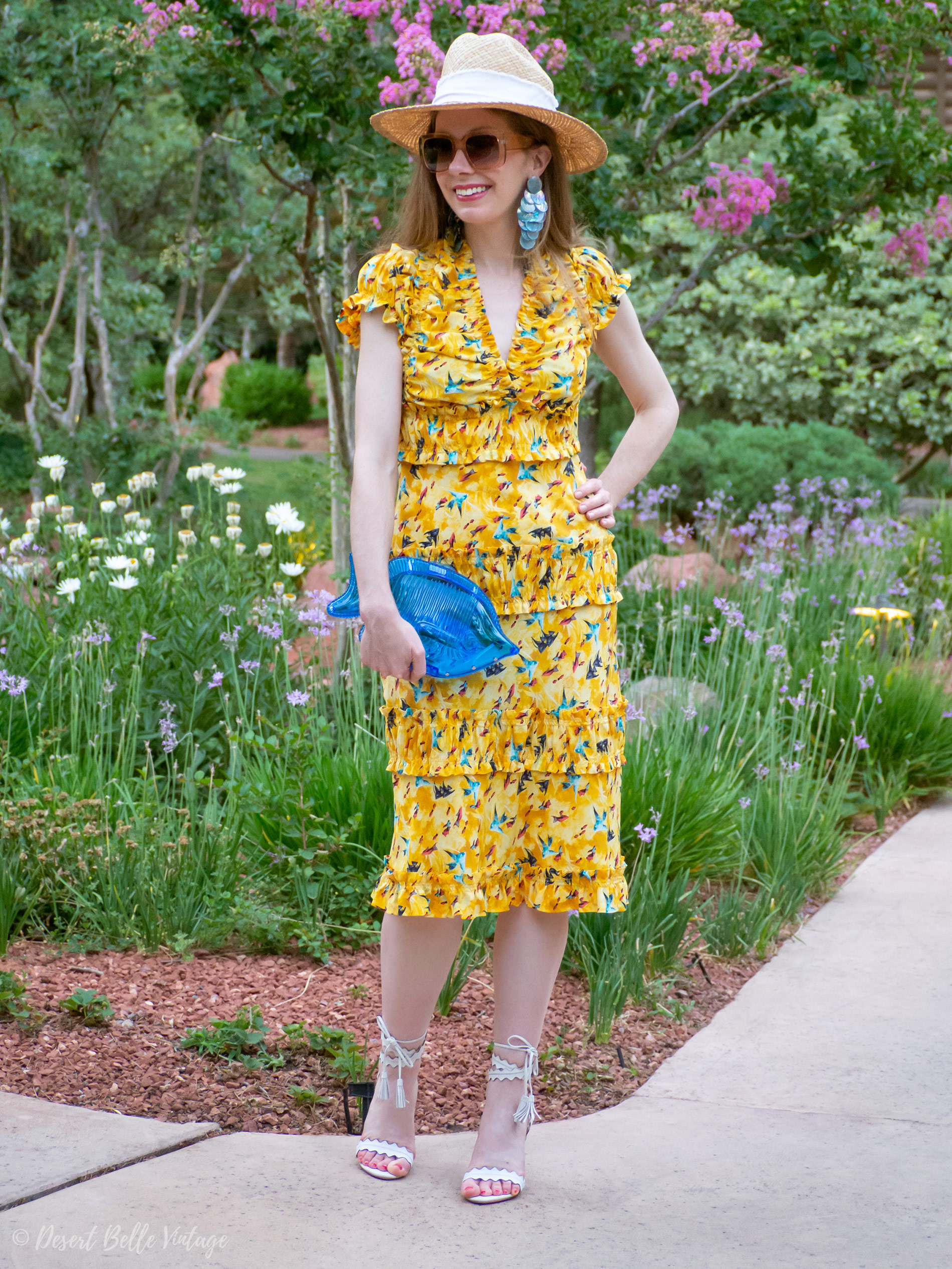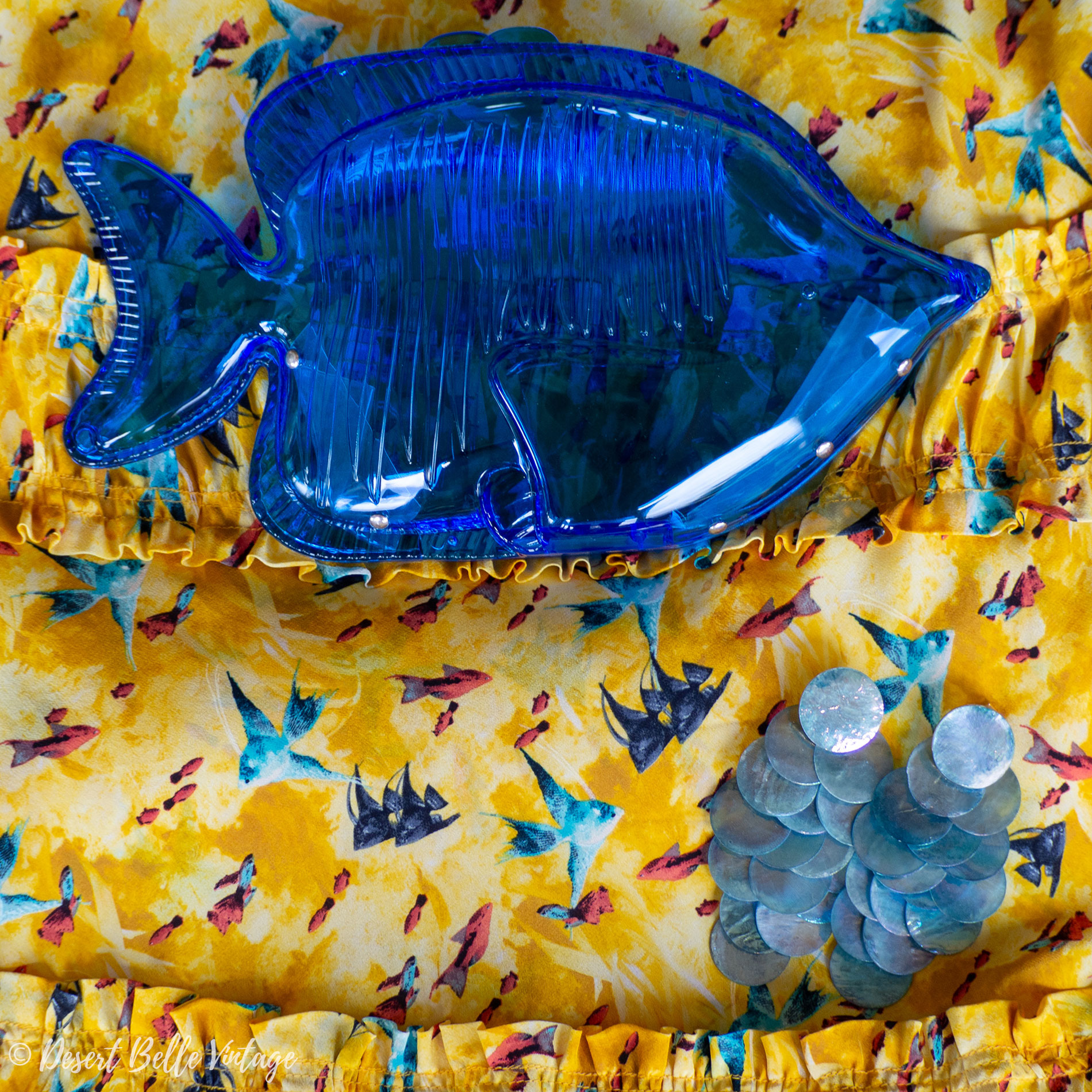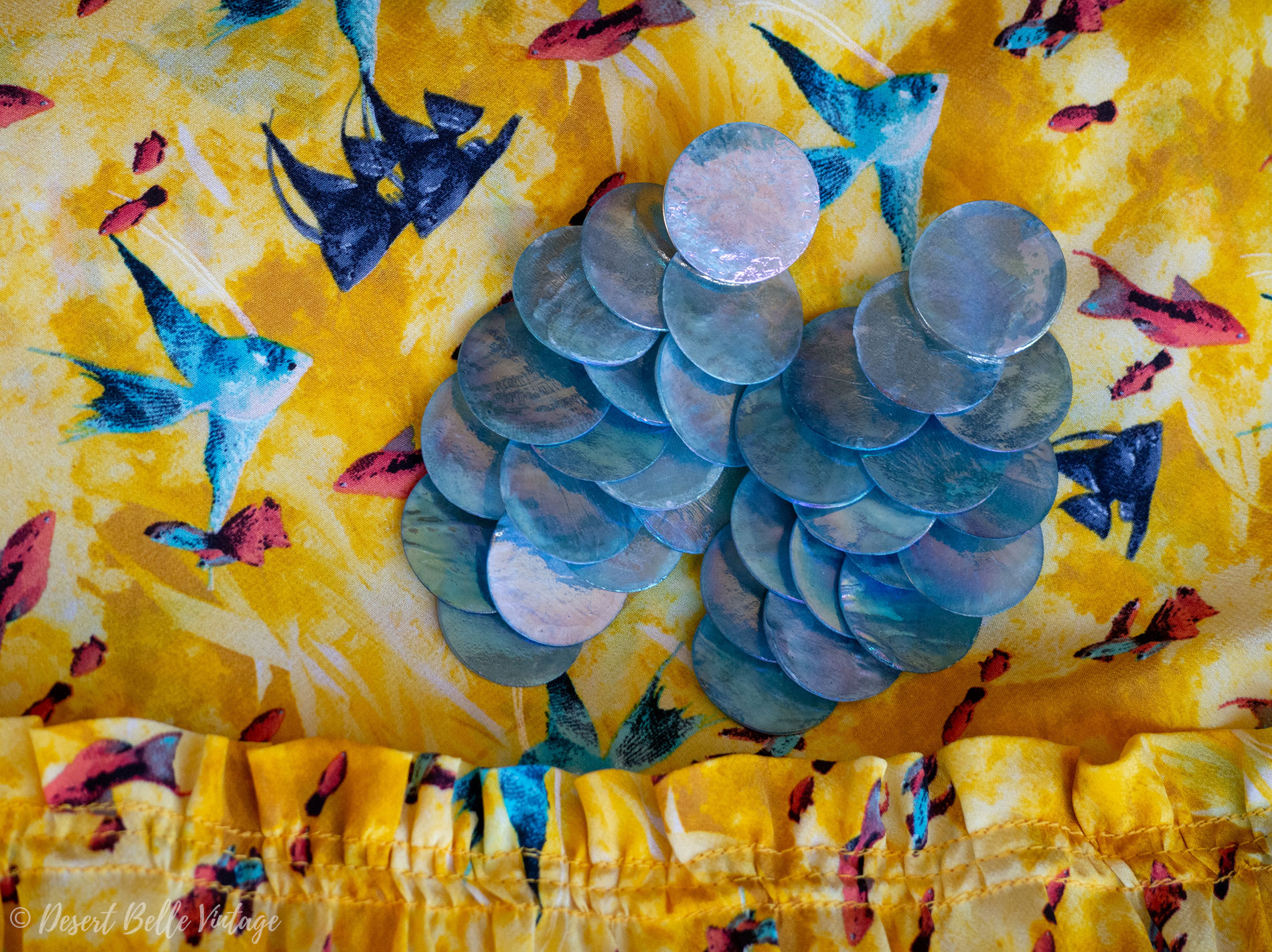 Dress: Vintage 1990's Fendi by Karl Lagerfeld. Fish Clutch: Zara (past season). Heels: Schutz (past season). Hat: Hat Attack (past season). Earrings: Zara (past season).
It is important to note that I am not affiliated, associated, authorized, endorsed by, or in any way officially connected with any of the designers or companies (or any of their subsidiaries or affiliates) featured in this post or anywhere on the Desert Belle Vintage site. This blog contains my opinions and does not reflect the opinions of any featured businesses.