I am continuing my celebration of February's Tucson Museum of Art show with the fifth and latest chapter in the Desert Belle Vintage "Art + Fashion" blog series. This post is devoted the gorgeous Original Lucinda California dress that I wore in Tucson.
For the previous "Art + Fashion" series posts and to learn more about the history and story behind my collaboration with Scottsdale, AZ artist Mark McDowell, please click here.
Desert Belle Vintage at Cattle Track in Scottsdale, AZ March 9 – 29th, 2019
This month's Tucson Museum of Art Trunk Show was a success (more on Tucson and the other dress that I wore to that show below), and I am excited to spend time at Cattle Track Arts Compound the month of March by appointment for clients and for a dress show and reception Sunday, March 10th.
March 9th and March 11 – 29th: Desert Belle Vintage will be available by appointment at Cattle Track in Scottsdale. If you are in the Scottsdale area and are interested in purchasing a vintage dress or simply meeting me (Laura) and learning more about the Desert Belle Vintage collection, please email me at hello@desertbellevintage.com to reserve an appointment time at Cattle Track. If you are interested in purchasing a dress, please let me know the desired decade, style, size and price range of dress that you are looking for. Exceptional customer service for my clients and the protection and preservation of my garments come first, and appointments allow me to better fulfill each client's particular requests and ensure the safe keeping of all garments before purchase.
There will be a dress show and reception at Cattle Track Arts Compound on Sunday, March 10th from 12:00pm – 4:00pm. The eight dresses from my collaboration with Mark McDowell along with their original drawings will be on display at the March 10th reception. Cattle Track Arts Compound is located at 6105 N. CattleTrack Rd. in Scottsdale, AZ 85250.
If you are not in the Scottsdale area to reserve a Cattle Track appointment or stop by the March 10th reception, I am excited to announce that the Desert Belle Vintage online store will be opening May 2019. Until then, I always welcome vintage inquiries if you are seeking a particular dress for an event. Please contact me at hello@desertbellevintage.com, and I will be happy to assist you.
Tucson's Hotel McCoy & the Vintage 1950's Original Lucinda California Dress

I stayed at the marvelous Hotel McCoy while in Tucson, AZ for the Tucson Museum of Art Trunk Show, February 9 – 10th. Hotel McCoy is Tucson's first and only mid-century modern art hotel. This recently restored and refurbished 1960's mid-century gem is filled with cool, retro decor and colorful local art. Hotel McCoy has not even officially been open for one year yet but is generating amazing buzz for its focus on and appreciation for local artists. The lobby and guest rooms are filled with original artwork, and phenomenal murals by various artists are scattered throughout the property.
I fell in love with the bright palettes and amusing subject matters of Hotel McCoy's art murals. The magnificently fun murals at Hotel McCoy are behind me in most all of my pictures from Tucson. From a hip Converse inspired sneaker (featured in my last post) to a colorfully rich and reverent illustration of John Wayne, the incomparable murals at Hotel McCoy are definitely worth a visit and not to be missed!
I wore two dresses (one modern and one vintage) for the Tucson show that are part of the series of eight dresses that Mark McDowell chose to draw. This post is dedicated to the vintage dot dress that I wore to the show. I featured the modern striped dress and shared pictures of me in both dresses at the Tucson Museum of Art show in my last post. If you have not already seen that post, please click here.
The monochrome color palette of my vintage black and white dot dress yearned for pops of background color in photos, and the murals at Hotel McCoy did not disappoint! I found that the superb mural of "The Duke," the entertaining sci-fi murals and the welcoming neon painted "Hotel McCoy" sign mural offered excellent backgrounds for the dot dress. I have noted the name of each mural artist and have included a link to a list of all the Hotel McCoy artists at the end of this post.
I purchased my vintage dot dress over 10 years ago. The dress is circa 1950's and is tagged "Original Lucinda California" and "100% Silk." Dresses by Original Lucinda California (also described as Lucinda Original of California) were designed and sewn with meticulous attention to fabric choice, detail and construction. This particular dress that I am wearing rivals modern couture. From the fine, quality choice of silk fabric to the intricate ruching on the bodice and built-in crinoline underskirt (not photographed), it is obvious much time and thought went into the production of this dress.
When I purchased my Original Lucinda dress it was "new old stock" or "deadstock" as vintage collectors say and had never been worn! I have preserved the original paper tag inside the dress. A price of $29.95 is handwritten on the original paper tag. Money-wise, that was a lot for a dress back in the 1950s. Deadstock merchandise is the rarest of rare when it comes to vintage clothing. The fact that this dress has survived over 60 years without ever being worn (except for my Tucson photoshoots) and is still in impeccable condition is remarkable!
What drew me to this dress over 10 years ago was the unique "op art" dot print of the silk fabric. It is a fun pattern to accessorize! While going through my closet to choose coordinating accessories, I was thrilled to discover that my 2012 Marni for H&M graphic black dot coat looks sensational with the dress. The coat has a 1950's silhouette and cut that make it an ideal topper for the dress. The cut of the sleeves on the coat allow elegant gloves to be worn and shown off. I added a pair of vintage white 1950's ruched gloves to the look. For jewelry, I wore a matching multi-strand pearl necklace and bracelet and pearl earrings with black velvet bows. A black beret, white round sunglasses and a white round purse extend the "dot" theme. To finish and to include a fun pop of color, I chose a pair of fiery suede slingback pumps with pearl-embellished heels.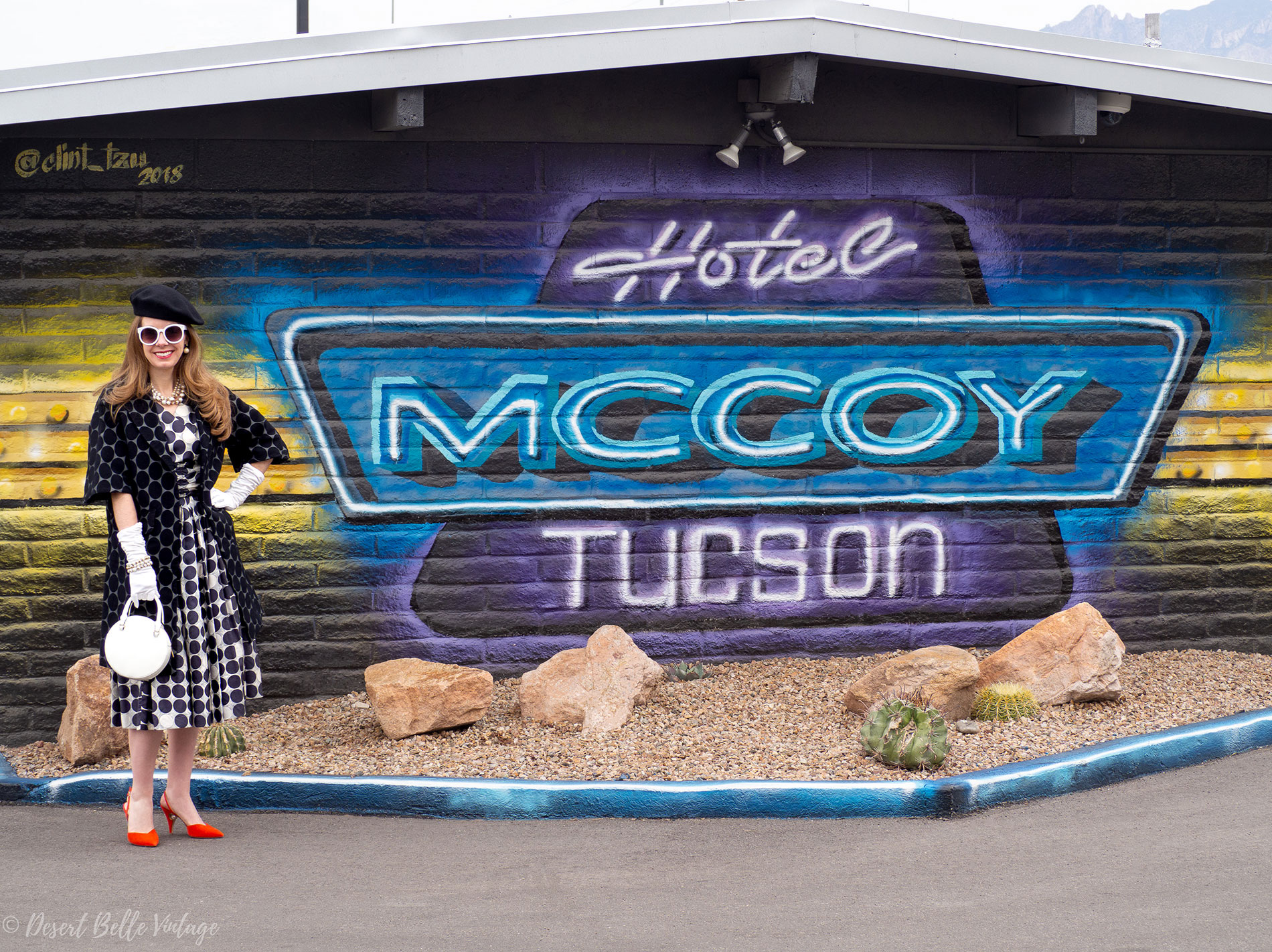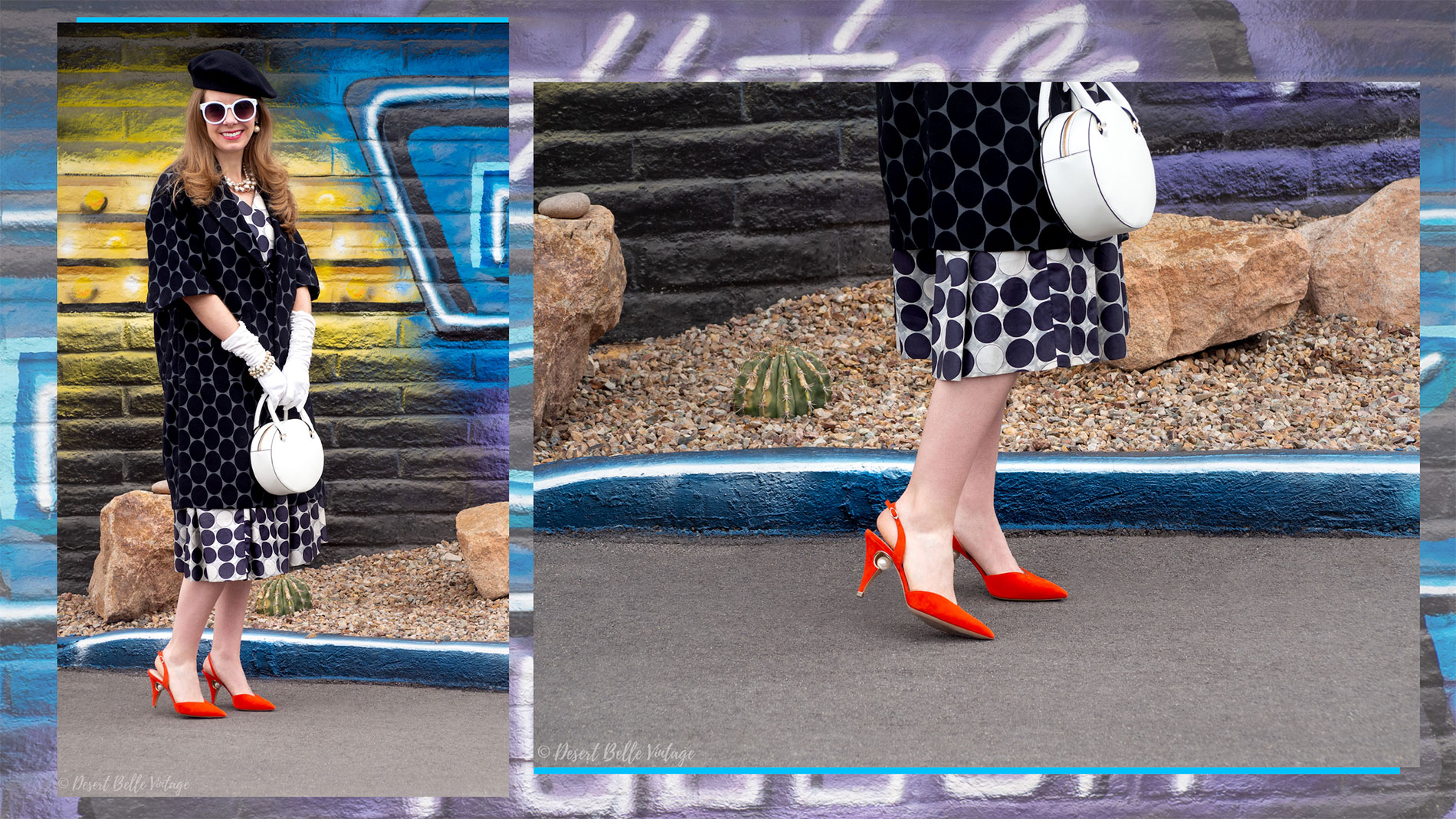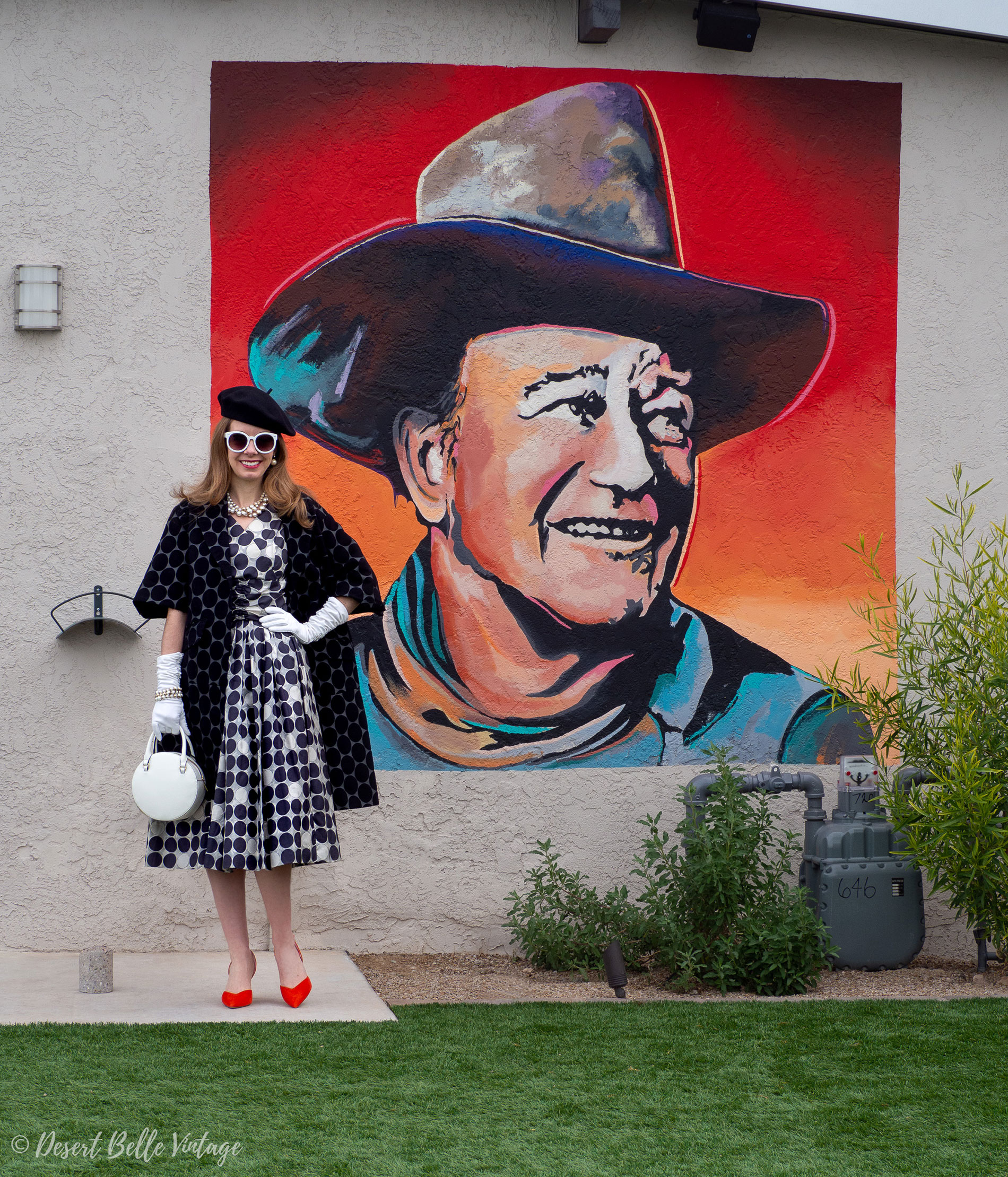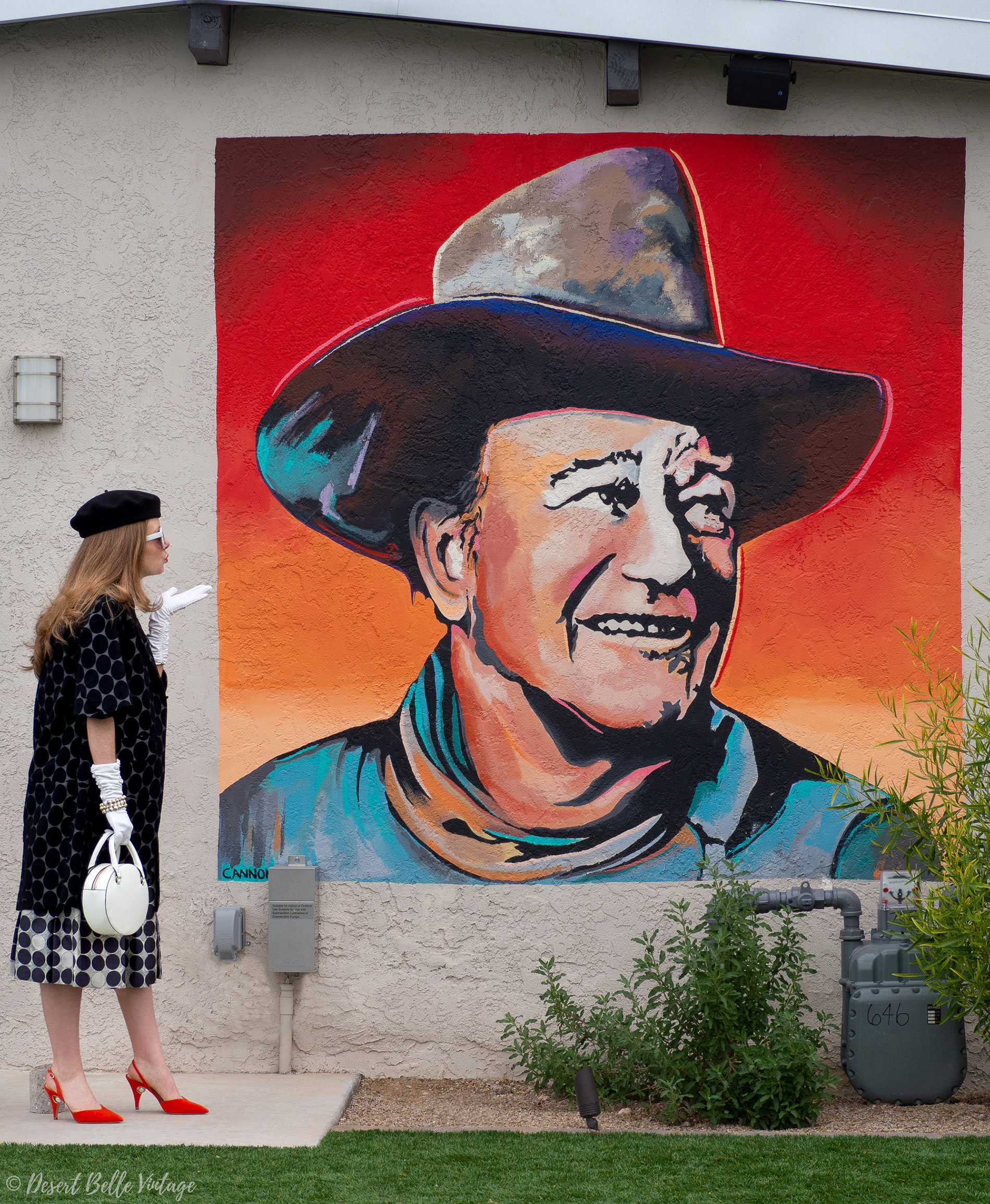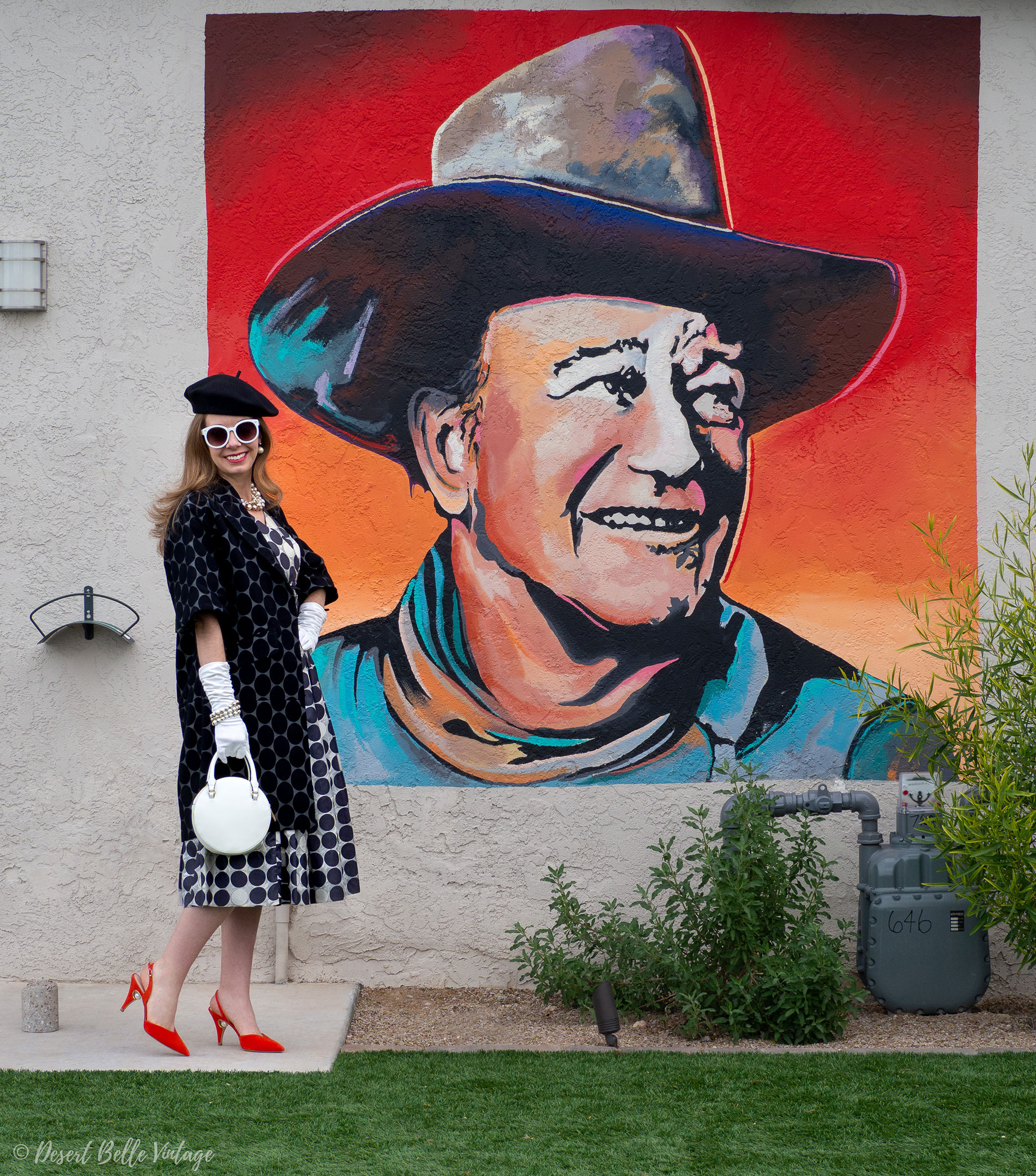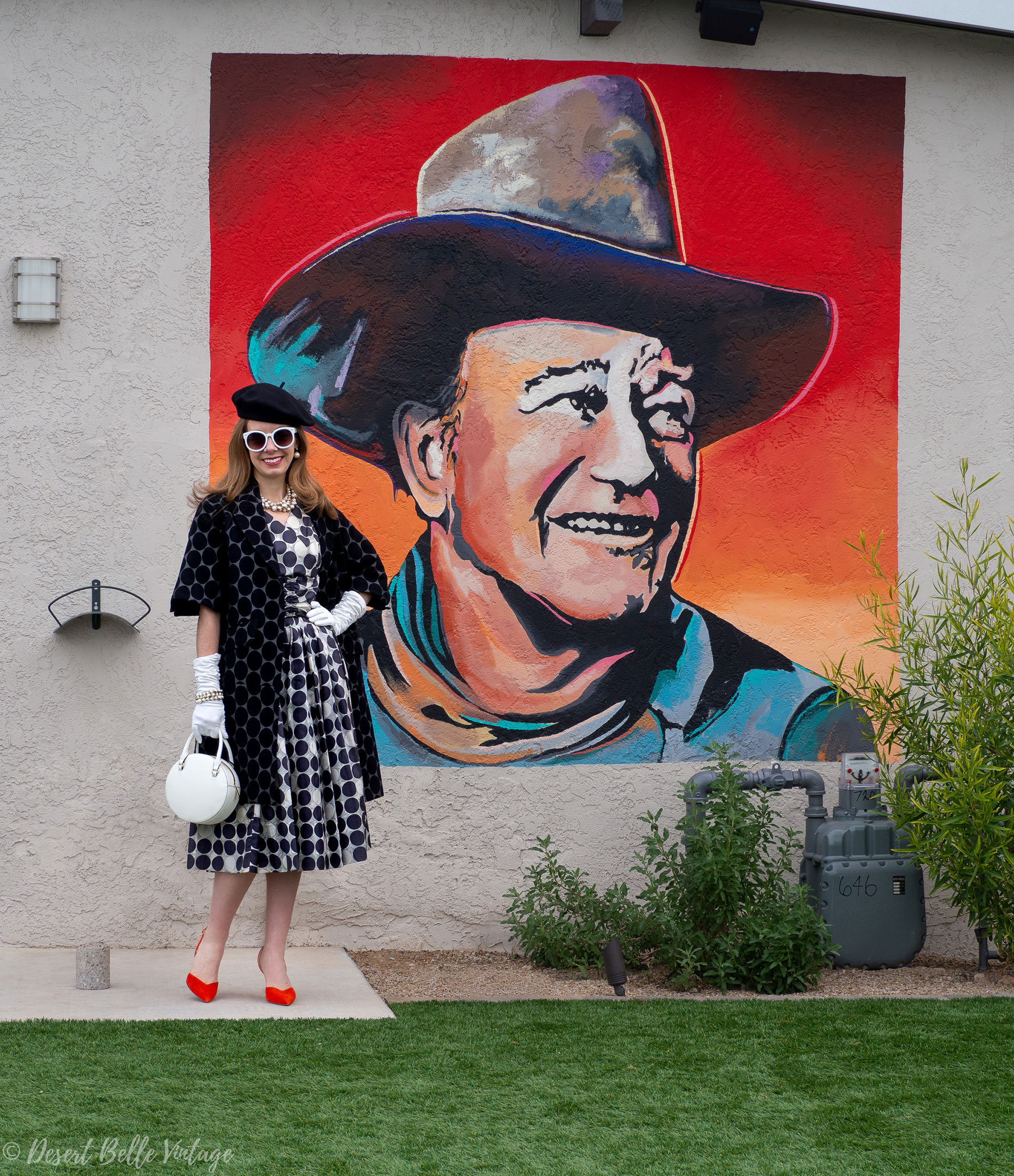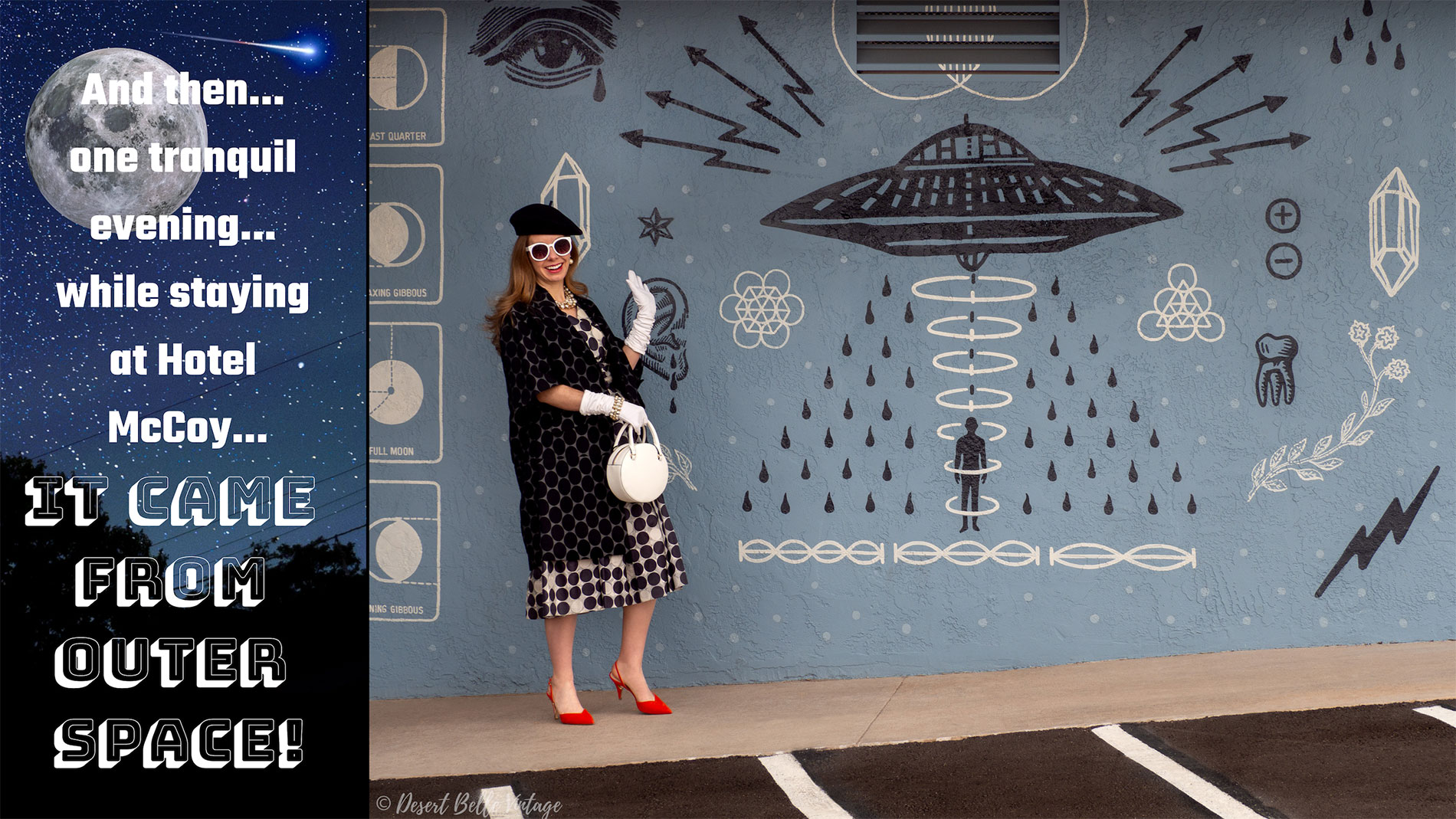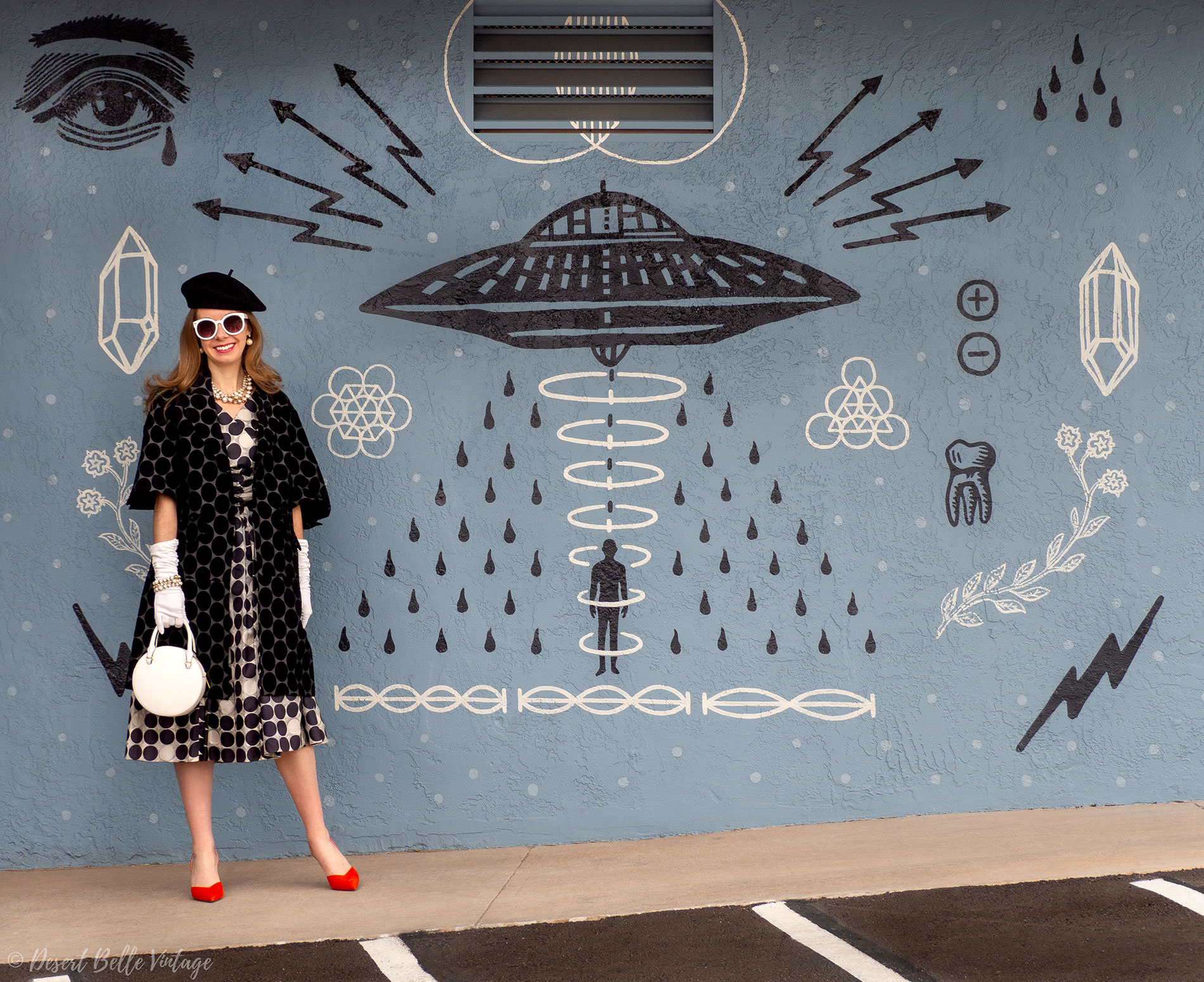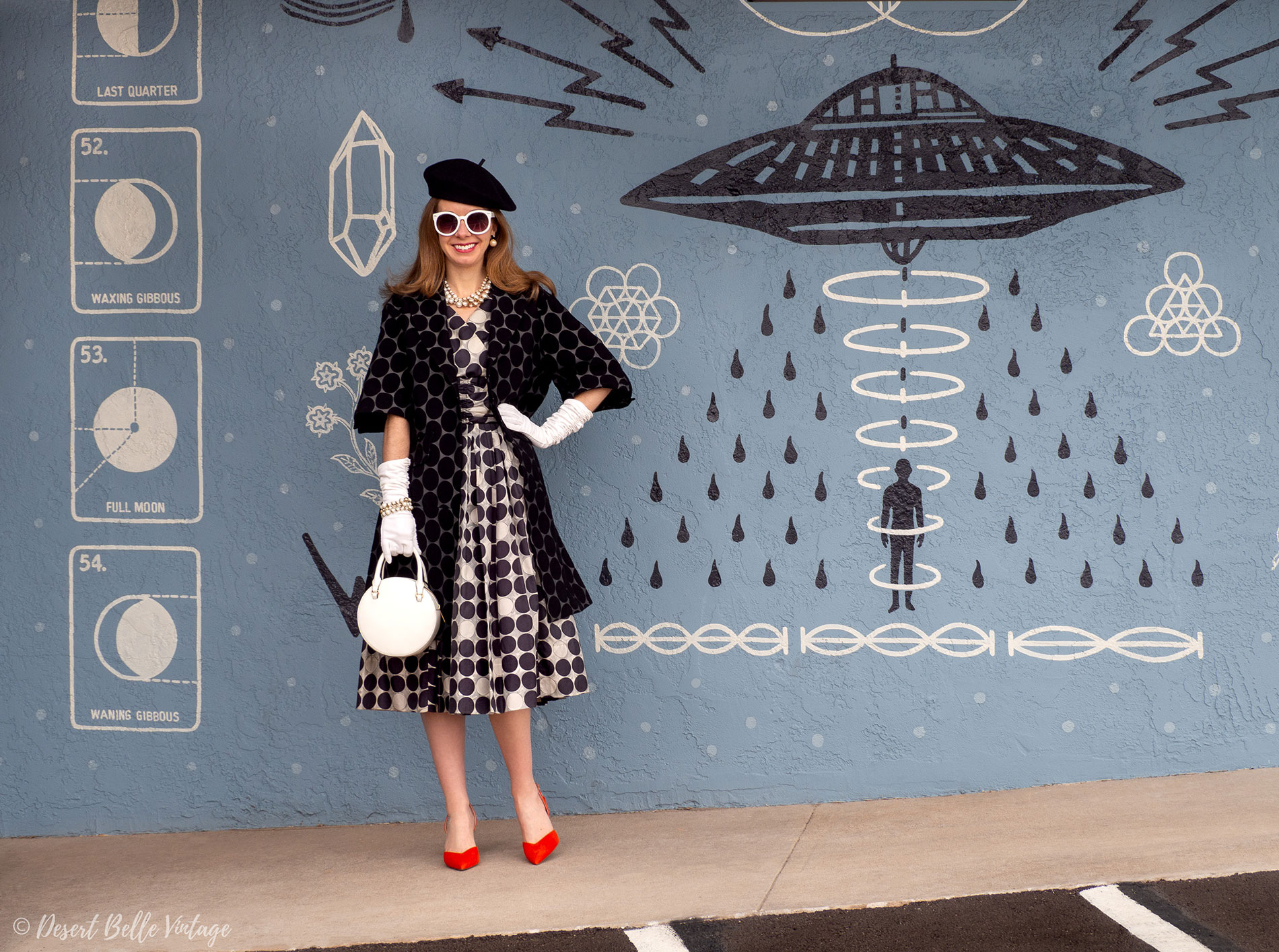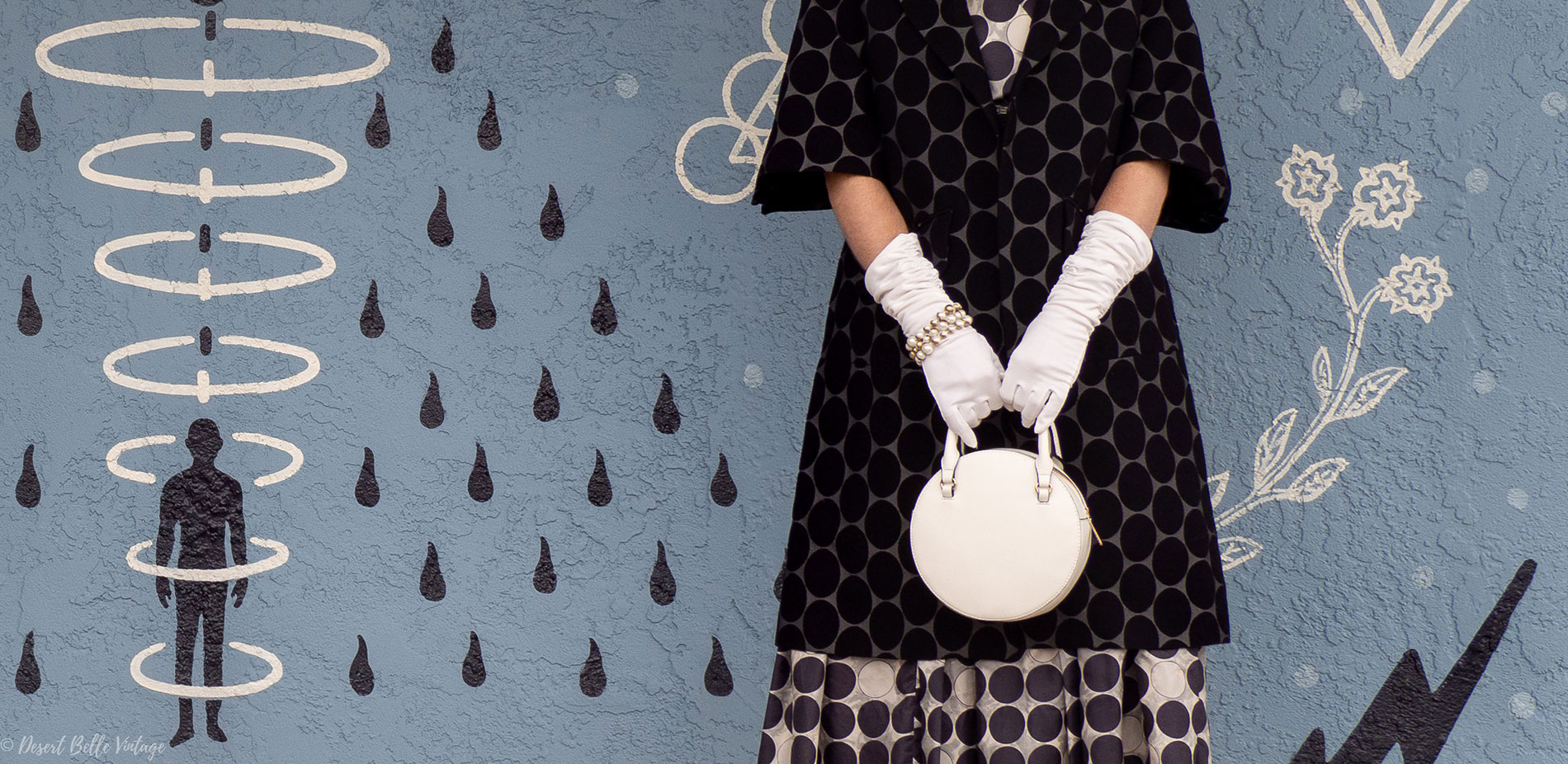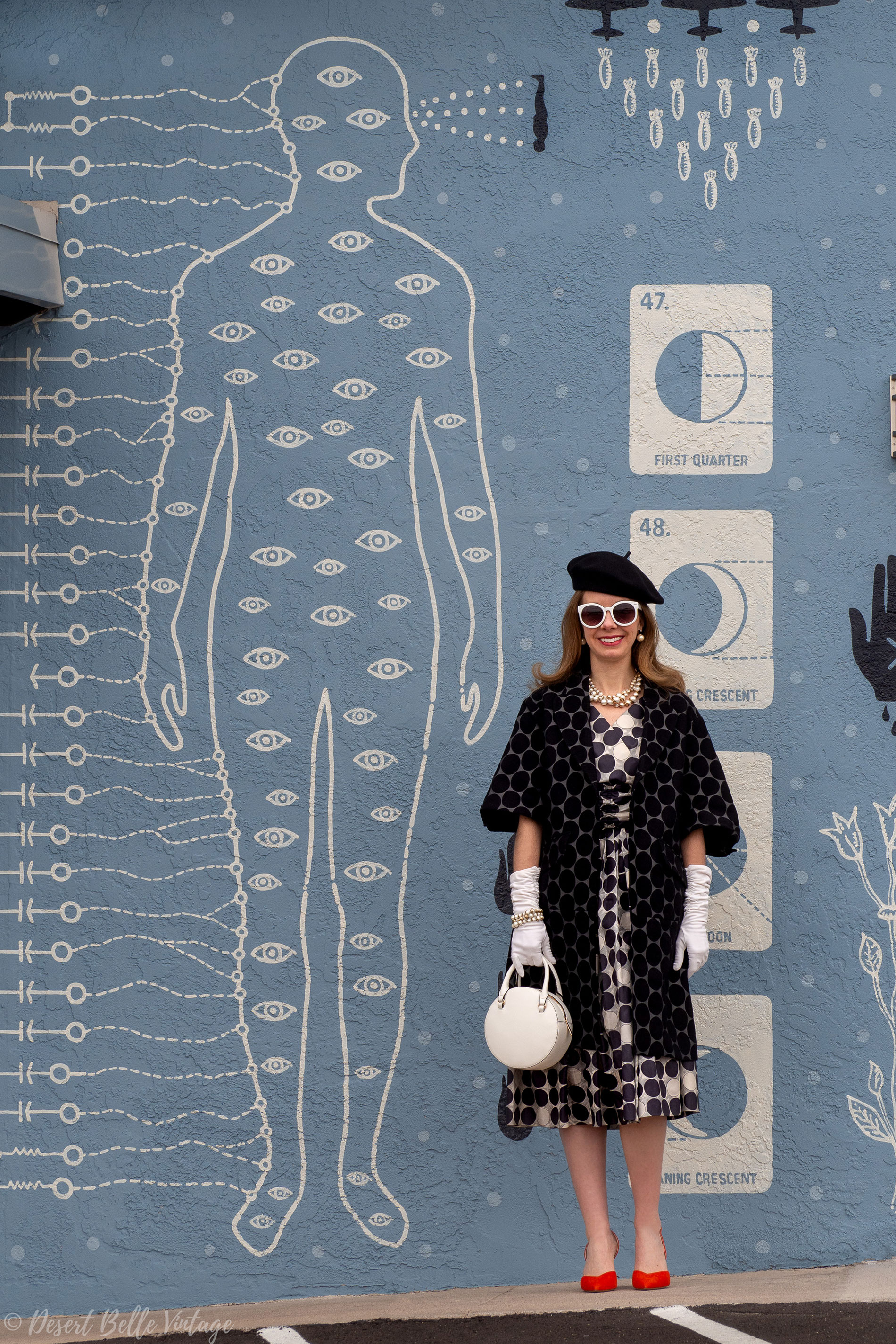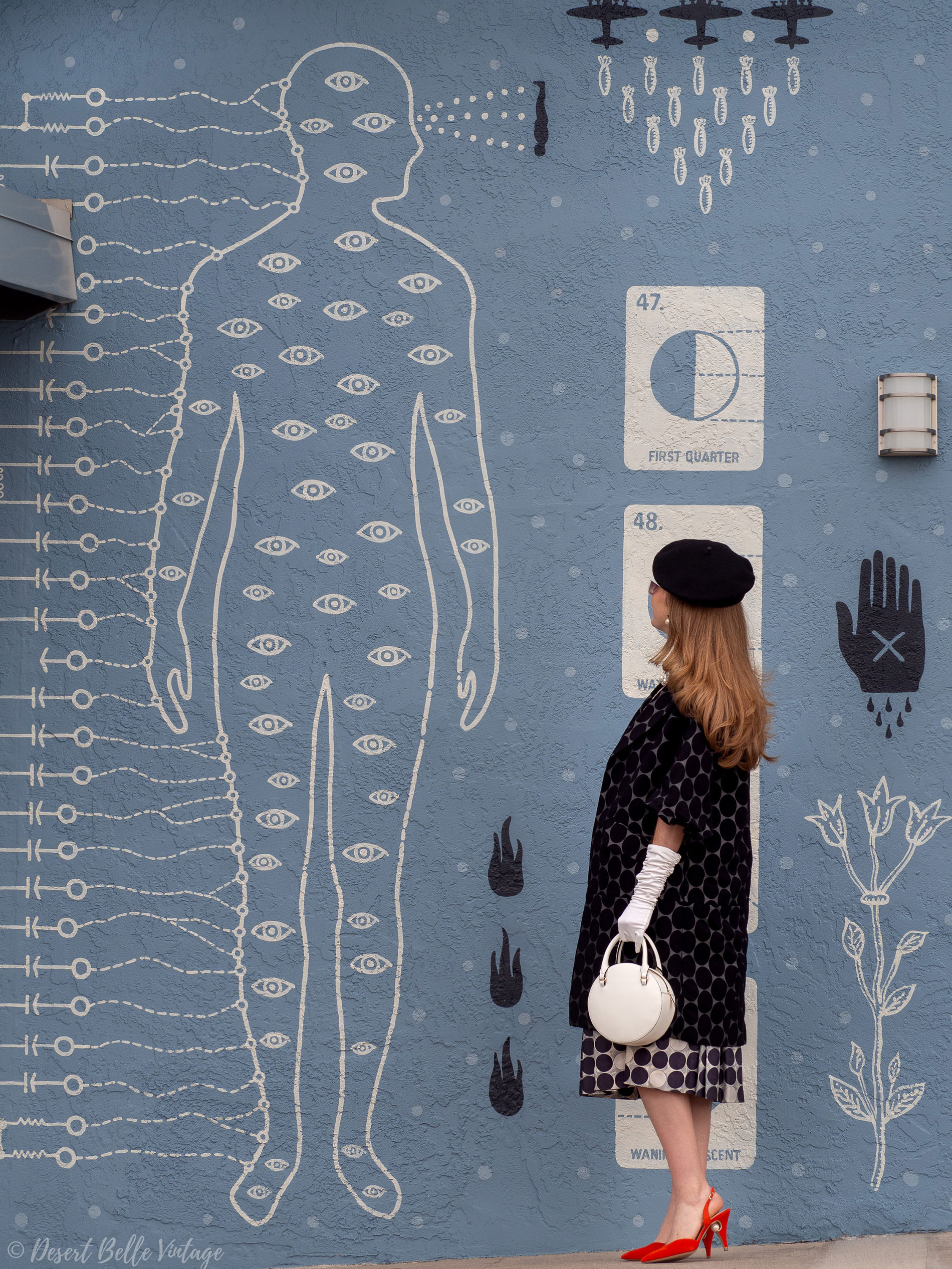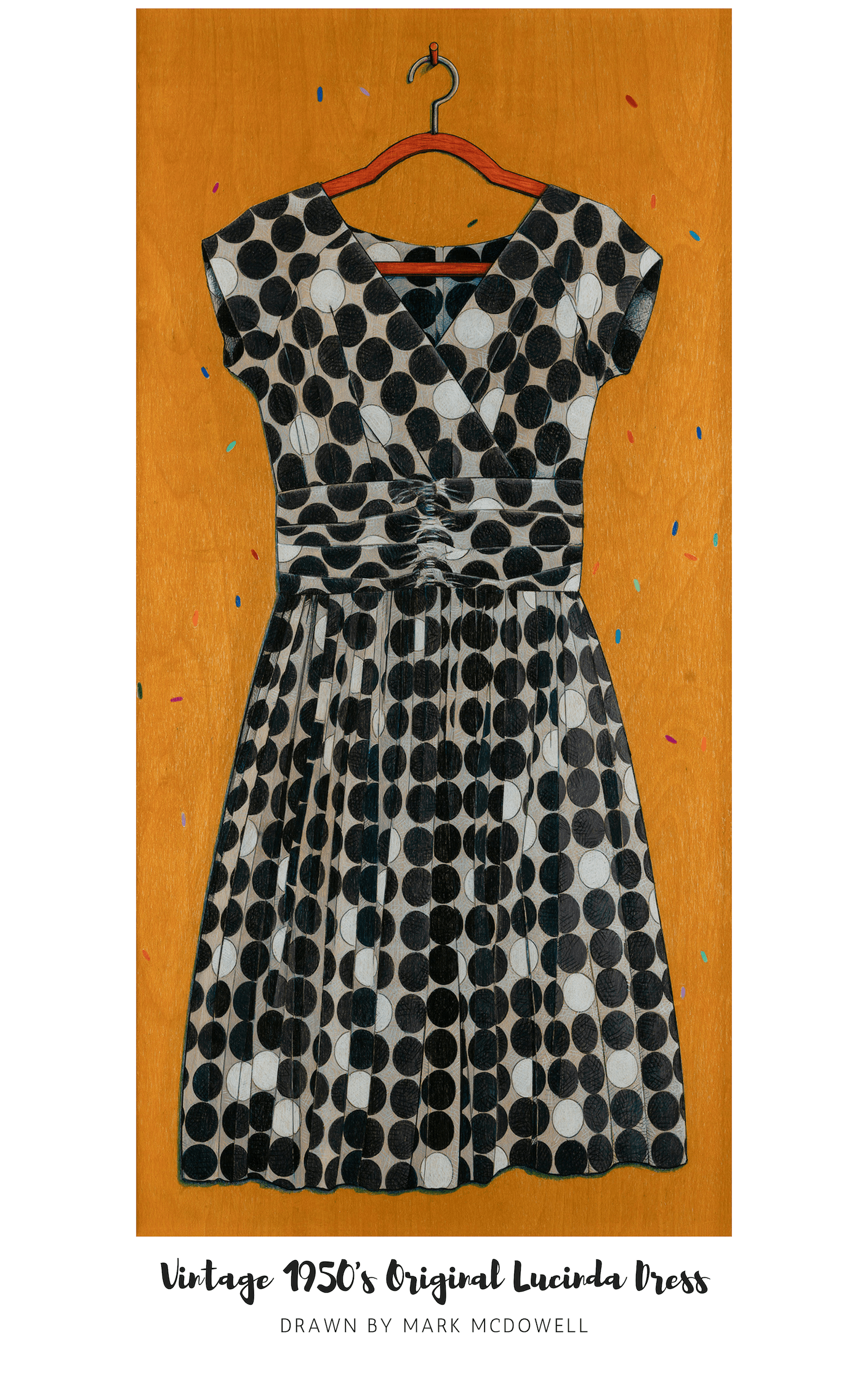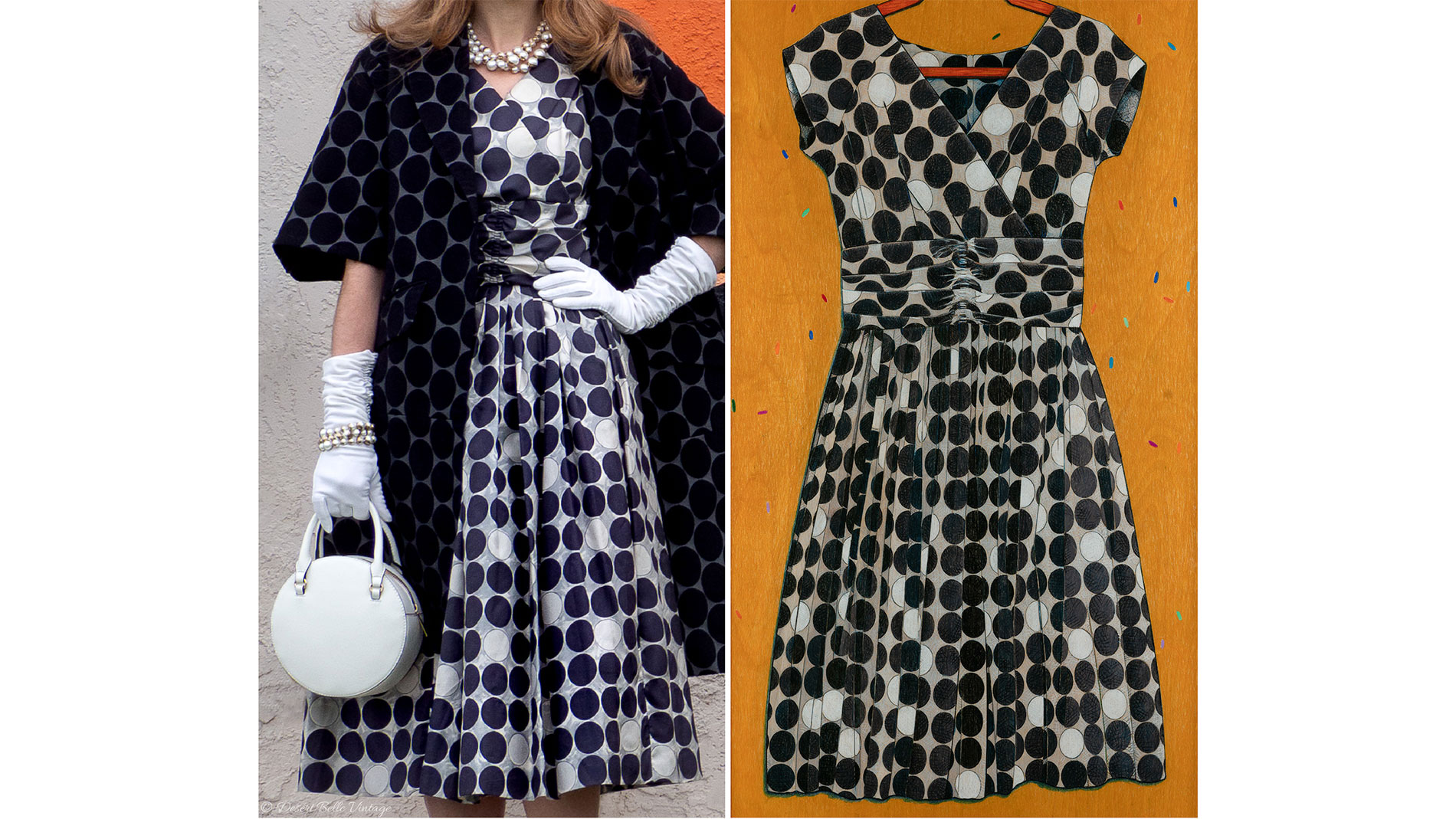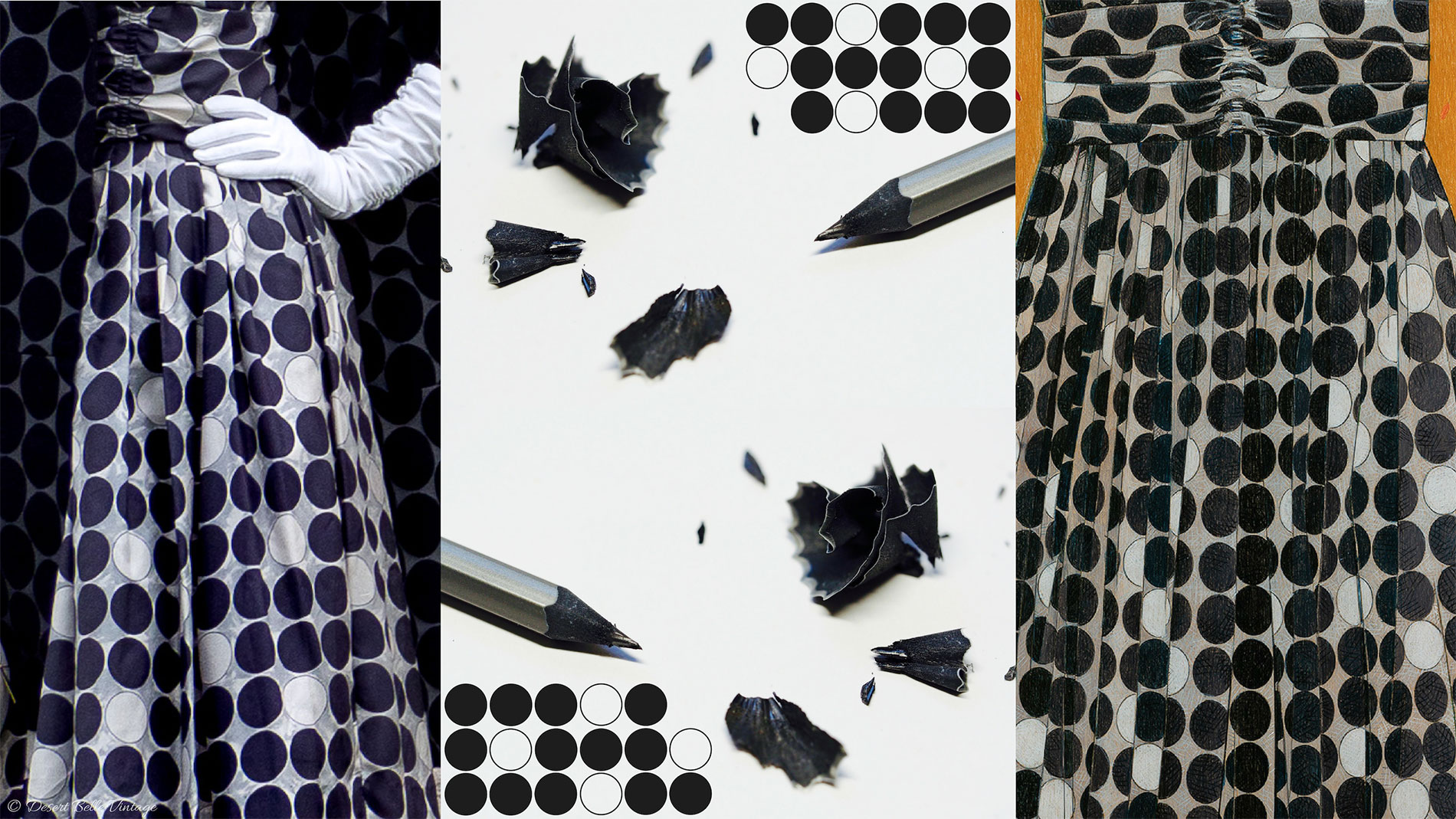 Dress: Vintage 1950's Original Lucinda California. Black dot coat: 2012 Marni for H&M Collaboration. Purse: Target (past season). Pearl-embellished slingback heels: Nicholas Kirkwood (past season). Beret: Lola Hats (Vintage 1990's). Gloves: Vintage 1950's (Brand: Van Raalte). Jewelry: Pearl Earrings with Black Velvet Bows: Kate Spade (past season) & Triple Strand Pearl Necklace & Bracelet: Maker unknown.
The artist of the neon painted Hotel McCoy sign is Clint Tzu. The names of the other featured mural artists are included above in the post. The Hotel McCoy website can be found by clicking here. To see a list of all Hotel McCoy artists, please click here.
It is important to note that I am not affiliated, associated, authorized, endorsed by, or in any way officially connected with Hotel McCoy, the Hotel McCoy artists or any of the fashion designers (or any of their subsidiaries or affiliates) featured in this series or anywhere on the Desert Belle Vintage site. This blog contains my opinions and does not reflect the opinions of any featured businesses.