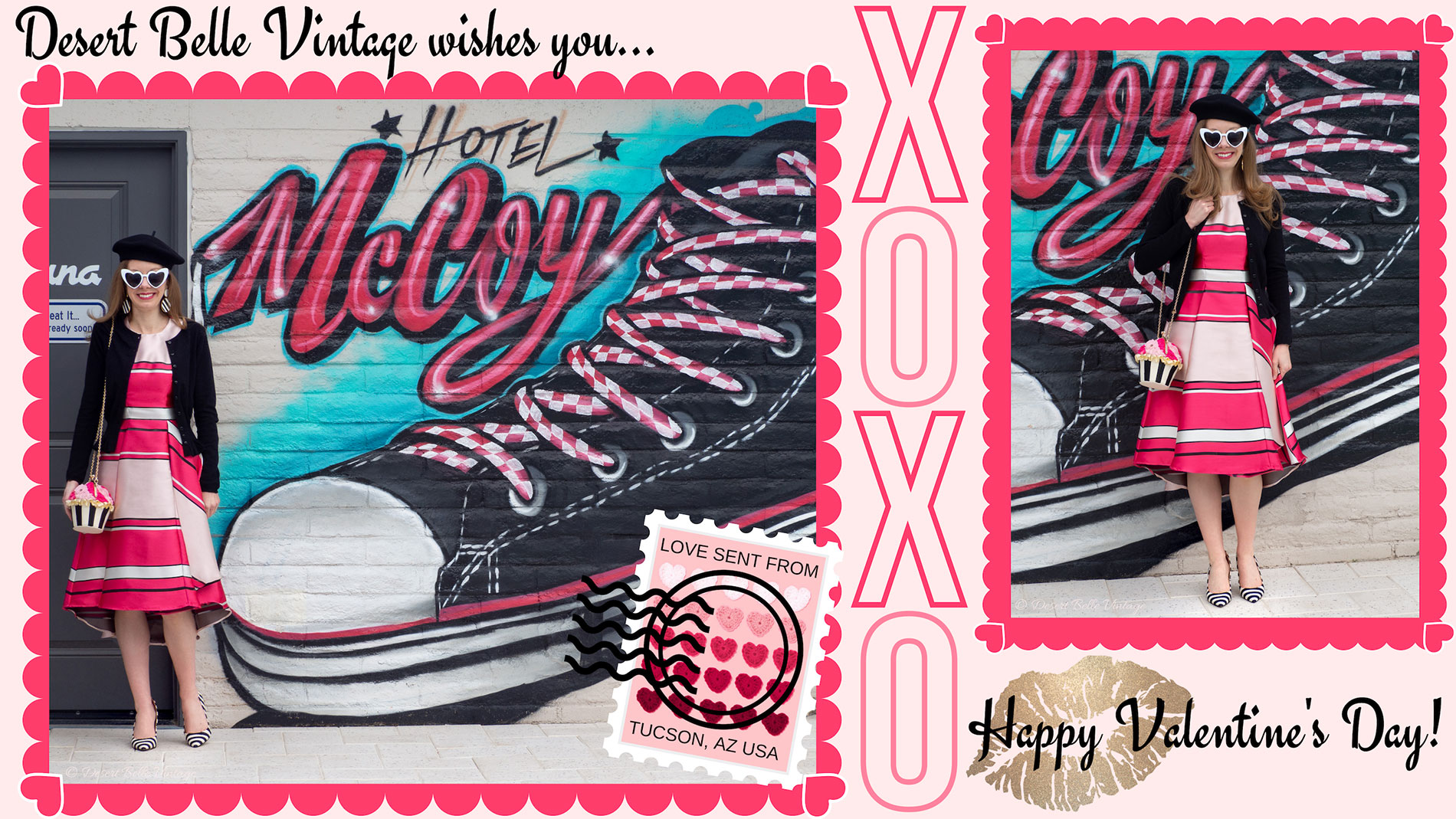 Happy Valentine's Day! XOXO I am honoring this sweet day with the fourth installment in the Desert Belle Vintage "Art + Fashion" blog series!
About the "Art + Fashion" Series
I began an exciting and incredibly enjoyable collaboration with Scottsdale, AZ artist Mark McDowell in the summer of 2018. Mark was inspired to do a series of fun, feminine party dresses for his Tucson Museum of Art Trunk Show in February 2019. I was thrilled to open my personal closet to Mark and offer him an assortment of playful dresses with which to work. Mark chose out of my personal wardrobe eight dresses total to immortalize in colored pencil, four vintage dresses and four modern dresses.
The Desert Belle Vintage "Art + Fashion" Blog series is showcasing every original dress drawing completed by Mark. Each individual dress post includes Mark's original dress drawing along with the styling and modeling of the actual dress in real-life. Furthermore, the "Art + Fashion" series is chronicling both the February 2019 Tucson show and March 2019 Cattle Track show.
Please click here for the previous "Art + Fashion" series posts and to learn more about my fabulous collaboration with Scottsdale, AZ artist Mark McDowell.
The Tucson Museum of Art Trunk Show


Last weekend's Tucson Museum of Art show was a success! I loved seeing Mark's original dress drawings of my dresses together on display, and I thoroughly enjoyed visiting with everyone that stopped by. Mark is a member of the exceptionally talented Scottsdale based band The Dusty Ramblers Project, and museum-goers were treated to a special performance by the band Sunday afternoon.
I wore two dresses (one modern and one vintage) for the Tucson show that are part of the series of eight dresses that Mark chose to draw. I wore one of the dresses on Saturday while displaying the other on a dress form and then rotated the dresses for Sunday, wearing the one that had been on the dress form and displaying the other.
I am celebrating the Tucson Museum of Art show by dedicating all February 2019 posts to the "Art + Fashion" series and the two dresses I wore to the Tucson show.
This post is devoted to the modern striped dress that I wore to the Tucson show. I am thrilled to share the above pictures from the museum as well as pictures taken at the marvelous Hotel McCoy, where I stayed for the trip. More on my modern dress and Hotel McCoy below.
But first….
Desert Belle Vintage at Cattle Track in Scottsdale, AZ March 9 – 29th, 2019
There will be a dress show and reception at Cattle Track Arts Compound on Sunday, March 10th from 12:00pm – 4:00pm. The eight dresses from my collaboration with Mark McDowell along with their original drawings will be on display at the reception March 10th. Cattle Track Arts Compound is located at 6105 N. CattleTrack Rd. in Scottsdale, AZ 85250.
If you are unable to attend the Sunday, March 10th dress show and reception, Desert Belle Vintage will be available by appointment March 9th and March 11 – 29th at Cattle Track in Scottsdale. If you are in the Scottsdale area and are interested in purchasing a vintage dress or simply meeting me (Laura) and learning more about the Desert Belle Vintage collection, please email me at hello@desertbellevintage.com to reserve an appointment time at Cattle Track. If  you are interested in purchasing a dress, please let me know the desired decade, style, size and price range of dress that you are looking for. Exceptional customer service for my clients and the protection and preservation of my garments come first, and appointments allow me to better fulfill each client's particular requests and ensure the safe keeping of all garments before purchase.
If you are not in the Scottsdale area to reserve a Cattle Track appointment or stop by the March 10th reception, I am excited to announce that the Desert Belle Vintage online store will be opening May 2019. Until then, I always welcome vintage inquiries if you are seeking a particular dress for an event. Please contact me at hello@desertbellevintage.com, and I will be happy to assist you.
Hotel McCoy & The Modern Striped Dress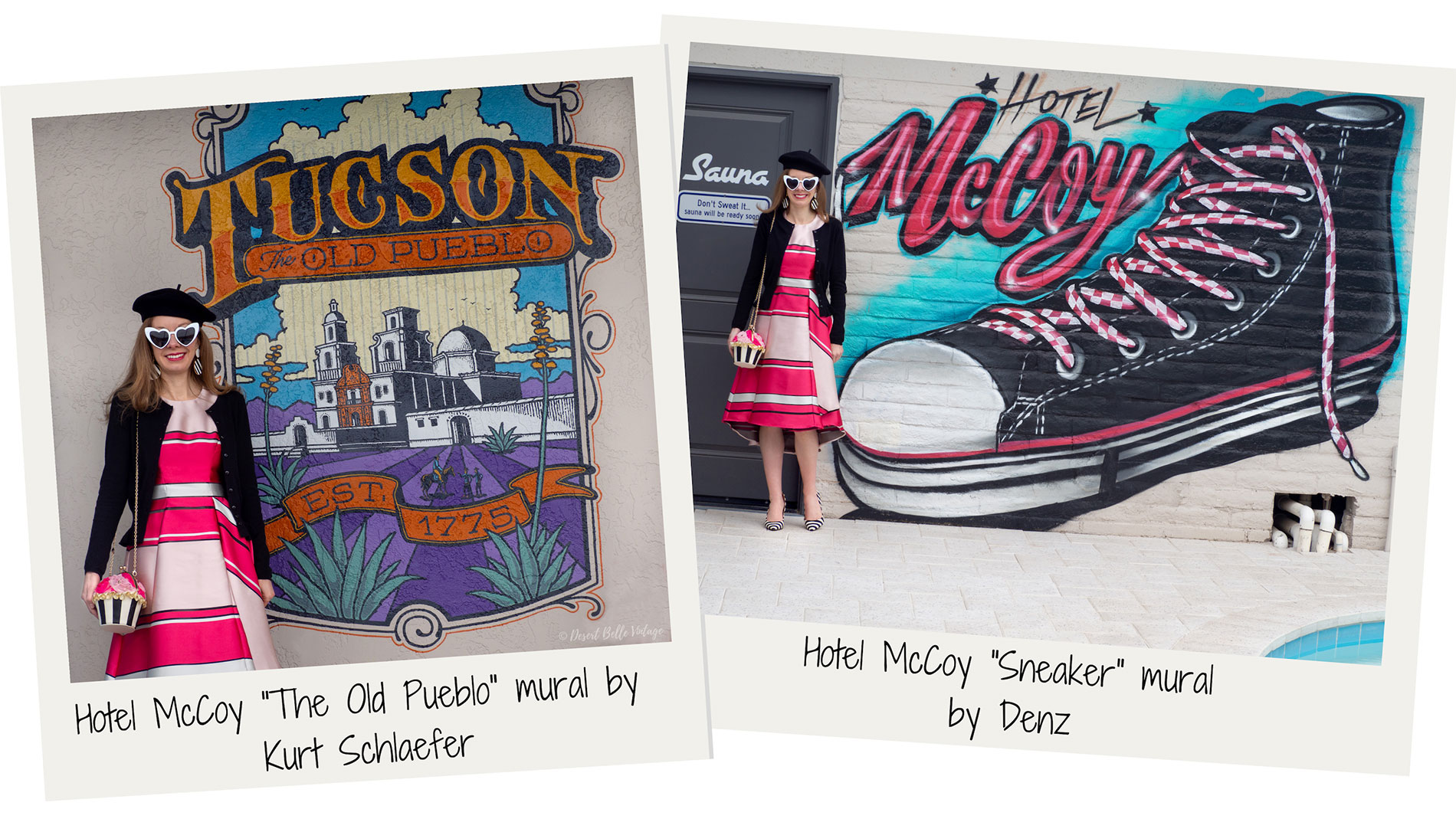 While in Tucson last weekend, I stayed at the most amazing mid-century modern art hotel: Hotel McCoy. This recently restored and refurbished 1960's mid-century jewel is filled with cool, retro decor and colorful local art. Phenomenal murals by various artists are scattered throughout the property, and I fell in love with their bright palettes and amusing subject matters. The magnificently fun murals at Hotel McCoy are behind me in most all of my pictures from Tucson. From a hip Converse inspired sneaker to a colorfully rich and reverent illustration of John Wayne, the incomparable murals at Hotel McCoy are definitely worth a visit! (A heads up: the mural of "The Duke" will be featured in my next post!)
During my stay at Hotel McCoy, I was elated to discover that the color palette of the Converse inspired sneaker mural coordinates beautifully with one of the dresses I brought to wear for the Tucson show: my pink, black and white modern striped dress. I took every opportunity while wearing the dress to capture some great pictures in front of the cooler than cool shoe mural. I also snapped some fantastic pics in the striped dress in front of a groovy, 60's inspired, psychedelic mural and a traditional Tucson "Old Pueblo" art mural. I have noted the name of each mural artist and have included a link at the end of this post to a list of all the Hotel McCoy artists.
Knowing that Valentine's Day was around the corner, I styled my modern striped dress with white heart sunglasses and a playful cupcake purse with ruffled pink chiffon frosting and bead sprinkles. The way I feel about polka dots is the way I feel about stripes: the more the merrier! I paired black and white striped pumps with the dress to give a nod to the striped fabric of the dress and the black and white striped cupcake liner of the delectable purse. I finished the look with black and white striped statement disc earrings, black beret and black cardigan. It was unexpectedly chilly in Tucson, so I was happy I thought to pack a sweater!
I purchased this striped dress within the last three years. The dress is from Coast, a British women's fashion line. Striped dresses, separates and accessories are timeless staples to add to a wardrobe and a must for any season. Links to Hotel McCoy and Coast are located at the end of this post.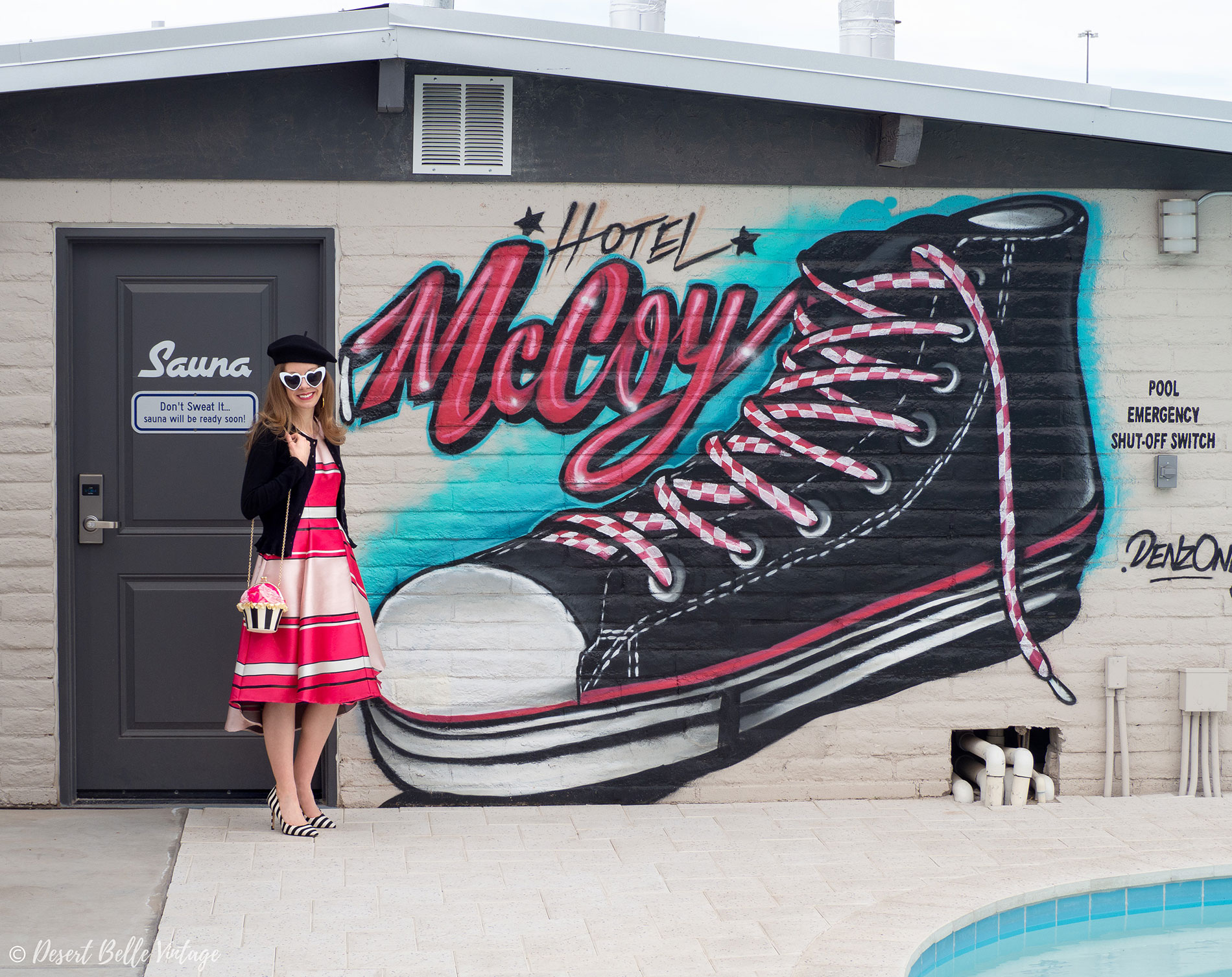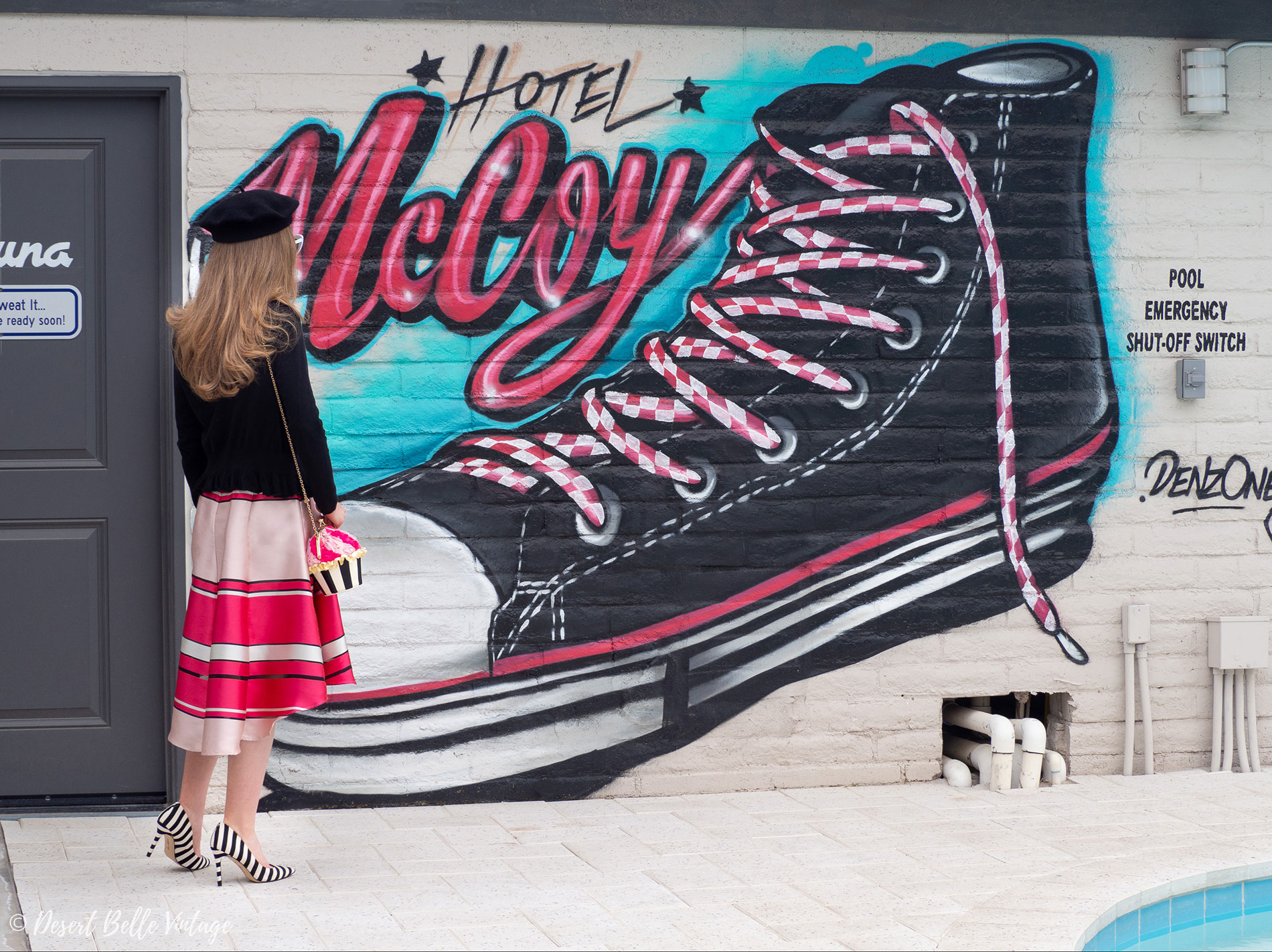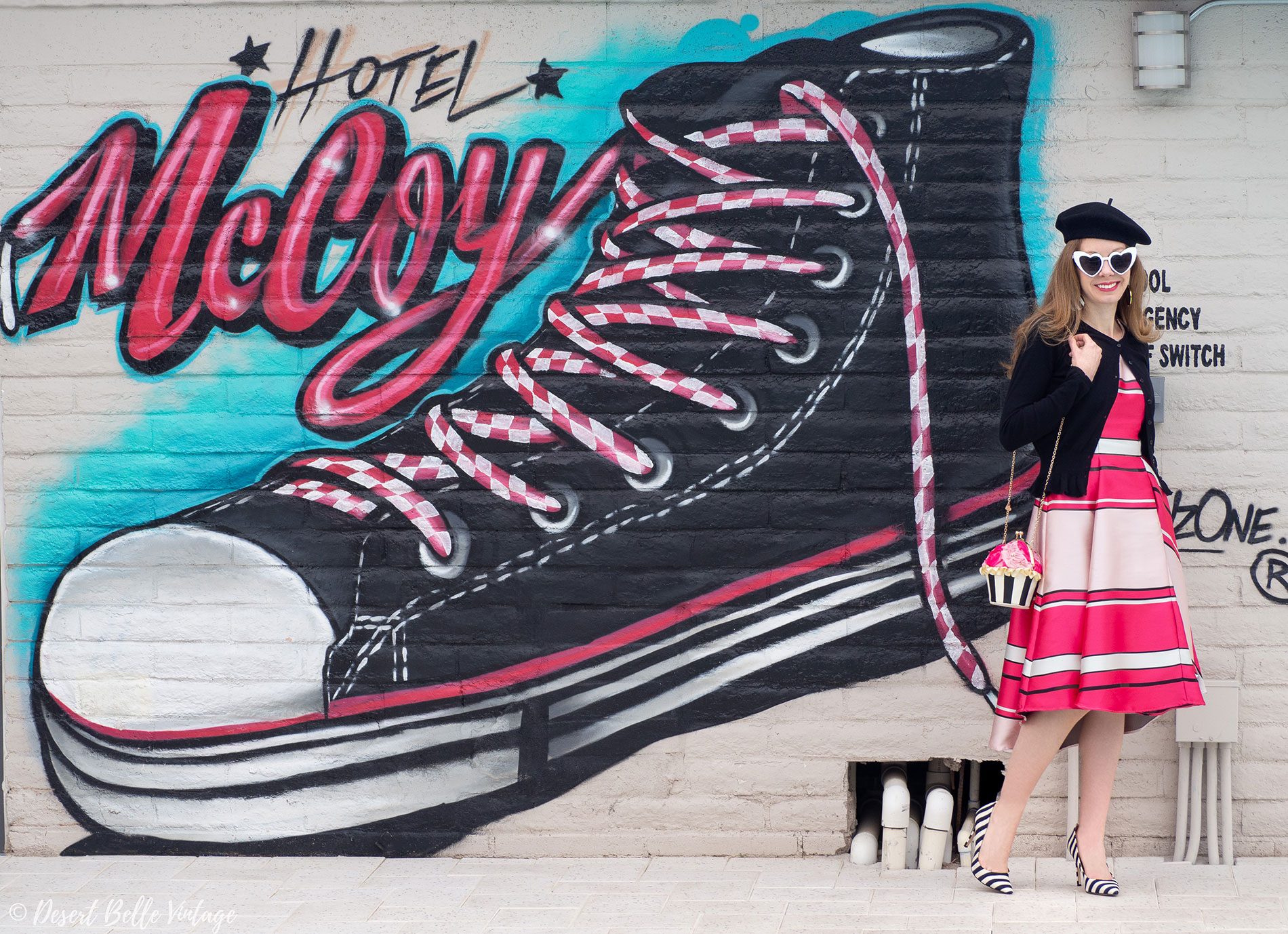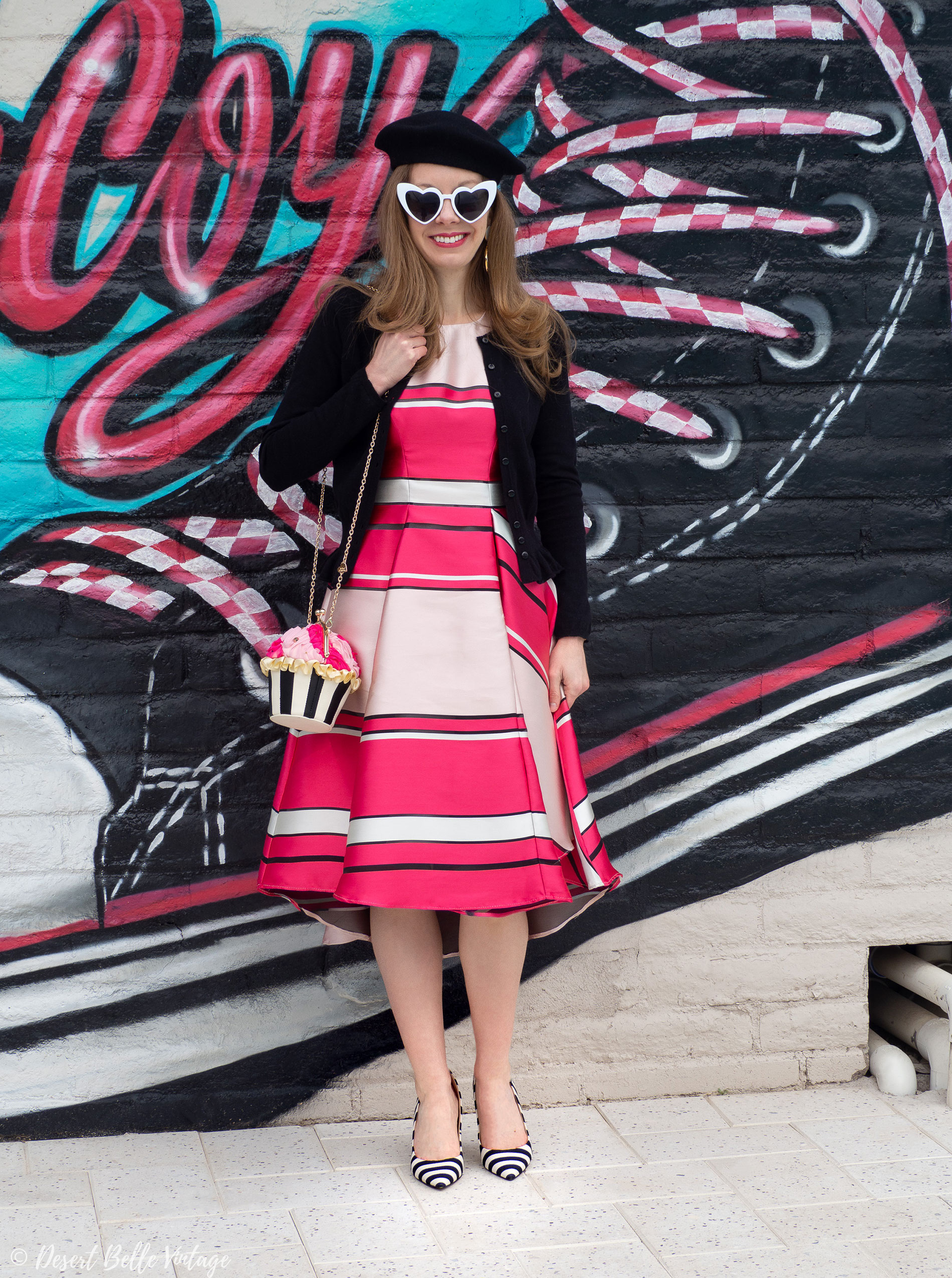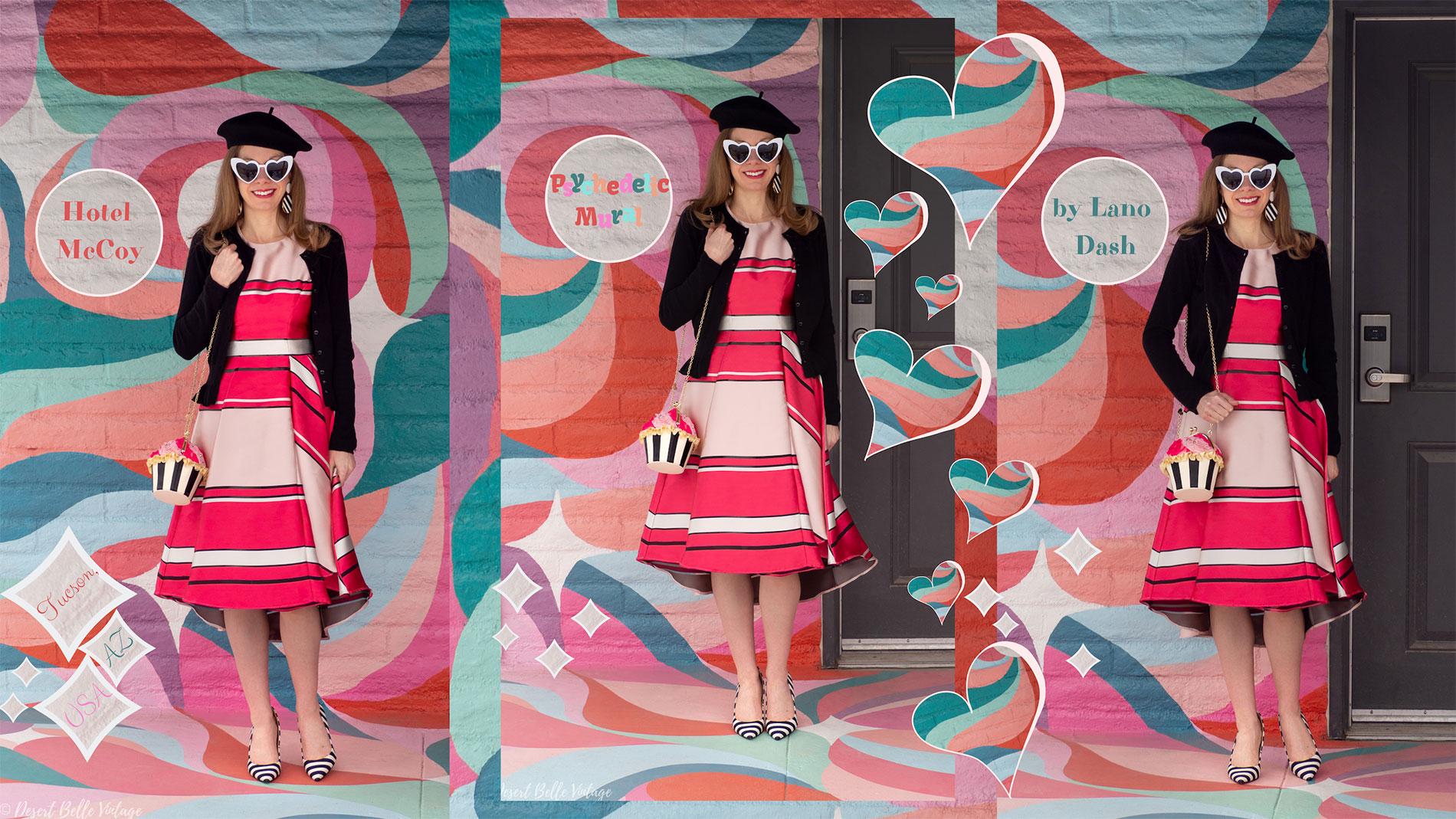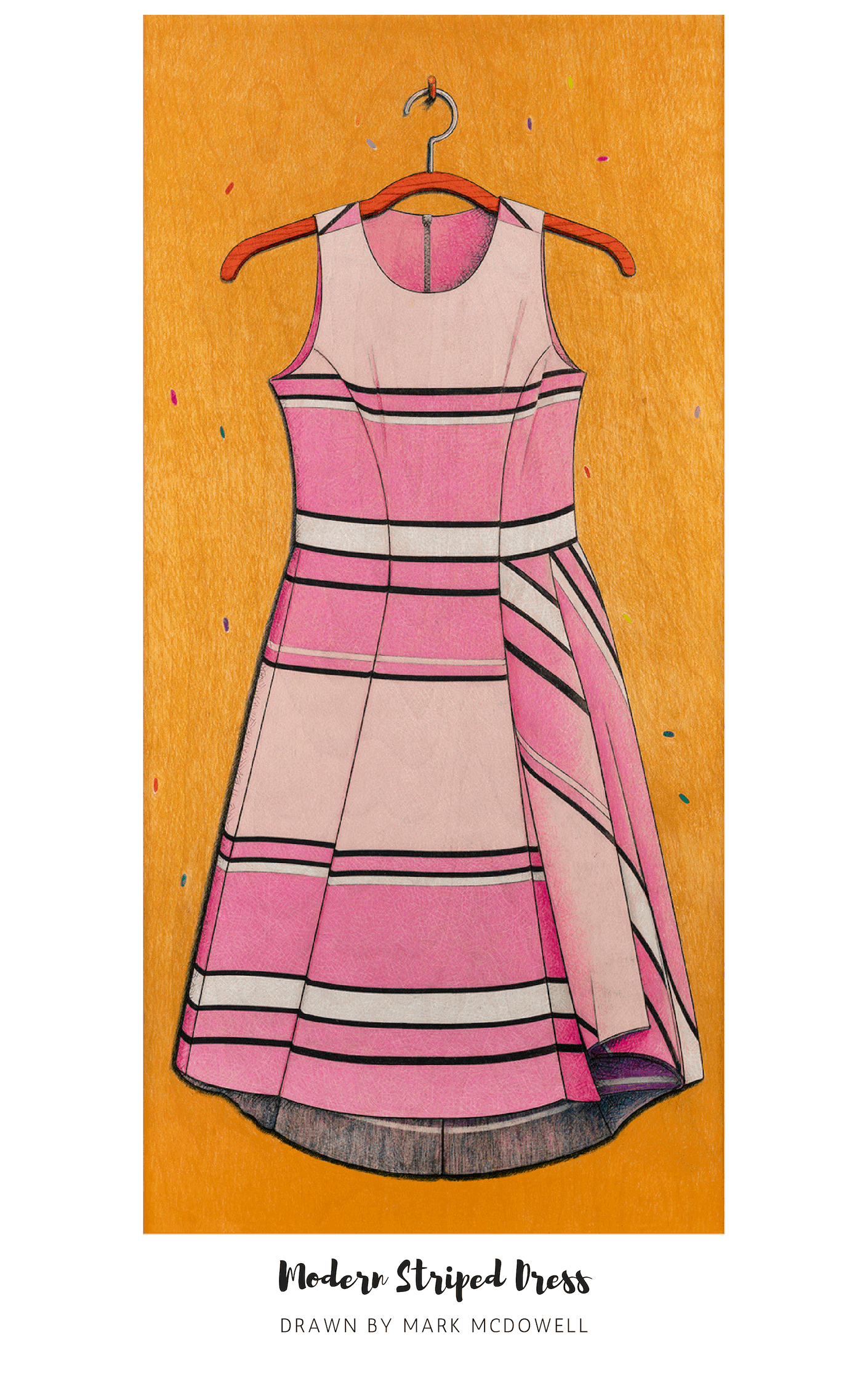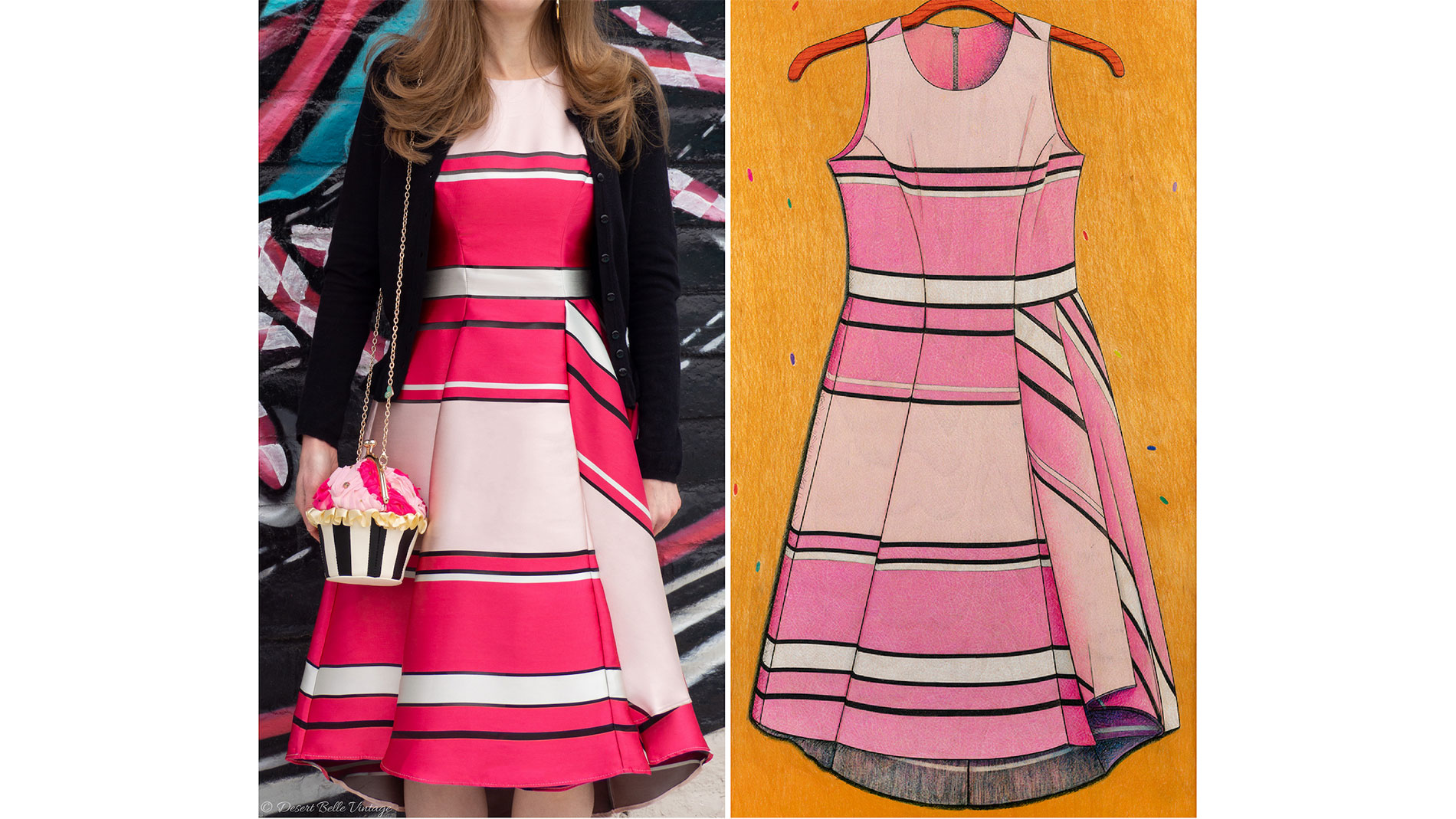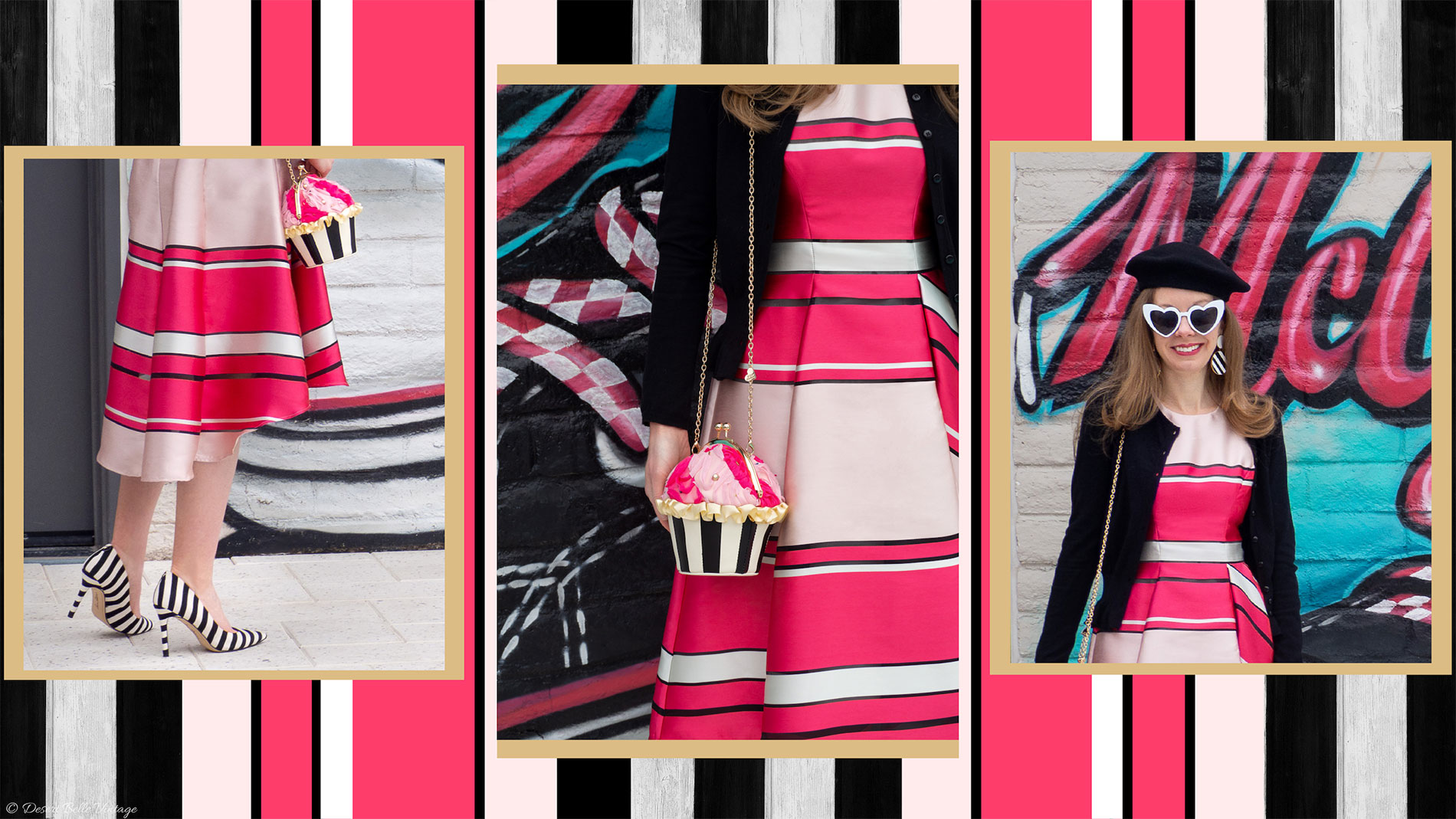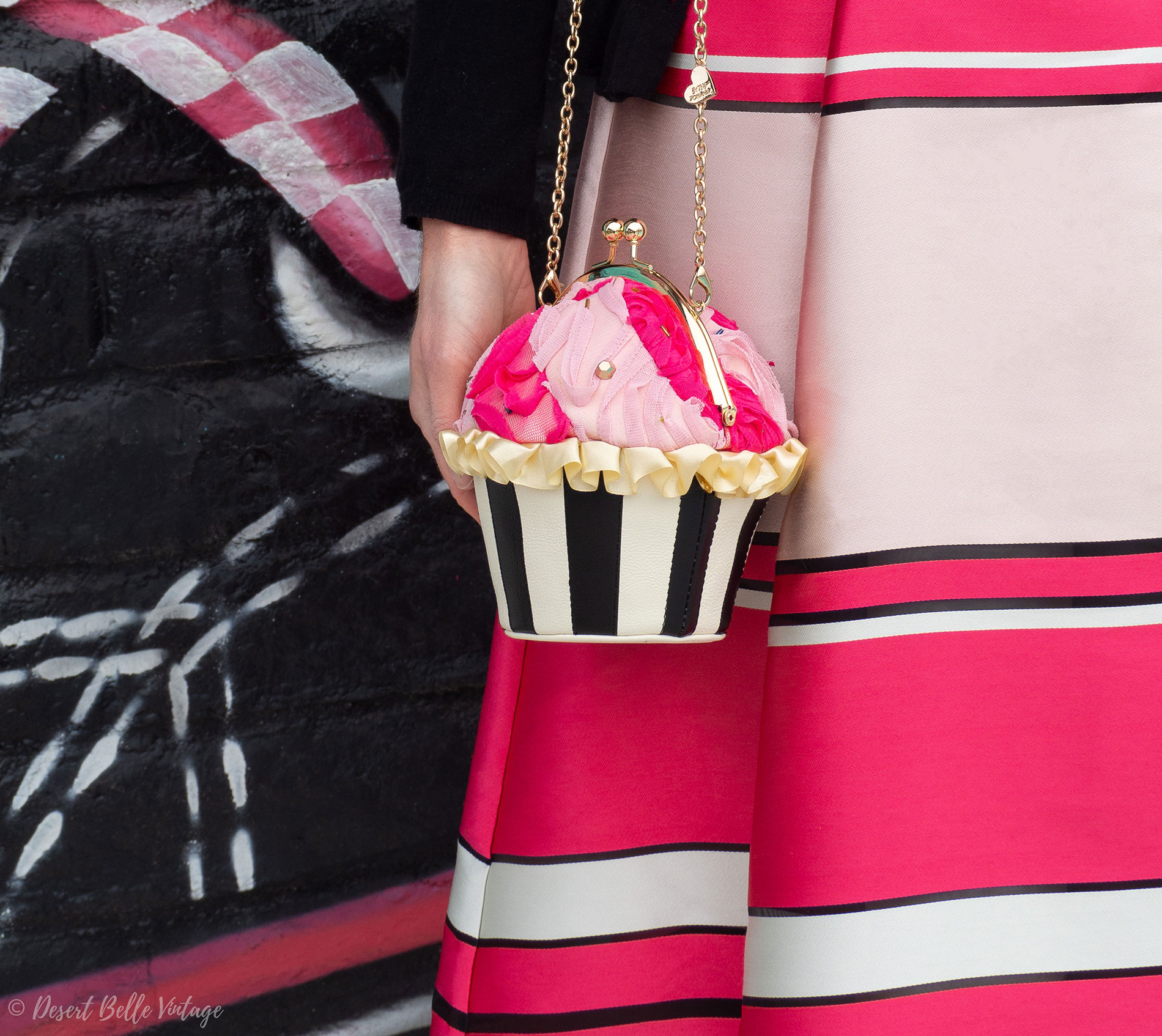 Dress: Coast (past season). Cardigan: Anthropologie, Brand: Sparrow (past season). Cupcake purse: Betsey Johnson (past season). Striped Heels: Sam Edelman (past season). Beret: Lola Hats (Vintage 1990's). Earrings: Joanna Laura Constantine.
The Hotel McCoy website can be found by clicking here. To see a list of all Hotel McCoy artists, please click here.
A big, hearty Thank You to Mark McDowell, Cattle Track Arts & Preservation and Tucson Museum of Art.
It is important to note that I am not affiliated, associated, authorized, endorsed by, or in any way officially connected with Hotel McCoy, the Hotel McCoy artists or any of the fashion designers (or any of their subsidiaries or affiliates) featured in this series or anywhere on the Desert Belle Vintage site. This blog contains my opinions and does not reflect the opinions of any featured businesses.