I am thrilled to debut the premiere post in the "Art + Fashion" Desert Belle Vintage Blog series!
About the "Art + Fashion" Blog Series
The "Art + Fashion" blog series follows the journey of a collaboration I began with Scottsdale, AZ artist Mark McDowell in the summer of 2018. Mark informed me back in June 2018 that he was putting together a collection of original drawings for a trunk show scheduled for February 2019 at the Tucson Museum of Art. He was interested in doing a unique grouping of drawings of utilitarian wrenches along with fun, lighthearted party dresses. To quote Mark: "I am taking the notion of trunk show quite literally and will be bringing an antique wardrobe trunk full of drawings. So I am calling it: "Mark McDowell Trunk Show: Weird Wrenches and Party Dresses."
The party dresses are where I come in! The dresses Mark chose to illustrate for the Tucson Museum of Art show are all actual dresses, both vintage and modern, from my personal collection. Per Mark: "The dresses from Laura's collection represent a point in time for me. They have a playful beauty in their design, color and purpose. Thank you to Laura for her passion for the subject, her devotion to the collection and the patience to gather and document them. They represent a time capsule."
It was an absolute pleasure to open my closet to Mark and help him with this show! For the Tucson show, Mark chose out of my personal collection eight dresses total to immortalize in colored pencil, four vintage dresses and four modern dresses. The original dress drawings are done on wood and are almost life-size in dimension, coming in at around 35″ high each. I am thrilled with the incredible detail and beauty of every dress that he completed!
I am delighted to report that our dress collaboration does not stop with Tucson! Mark and I both share a love for all things vintage, especially treasures from the 1950s. Mark knows about by my extensive vintage clothing and dress collection and knowledge on the subject and is impressed by my passion and devotion to vintage preservation. I am very excited and grateful to have been invited to showcase a portion of my vintage dress collection at Cattle Track in Scottsdale, AZ this March 2019. I am digging into my massive vintage vault and looking forward to sharing dresses from my marvelous collection with clients in Scottsdale and with the Cattle Track community. More details to come regarding Cattle Track when they are available!
The Desert Belle Vintage "Art + Fashion" Blog series is spotlighting every dress drawn by Mark for the 2019 Tucson Museum of Art show as well as the 2019 Cattle Track show. Each individual dress post is showcasing Mark's original dress drawing along with the styling and modeling of the actual dress in real-life. Furthermore, the "Art + Fashion" series is chronicling the goings-on of both shows and any future shows!
Mark and I will be present at the Tucson Museum of Art Trunk Show in February 2019. The dates and times of the show are as follows: Saturday, February 9th, 2019 from 10:00am to 4:00pm and Sunday, February 10th, 2019 from 10:00am to 4:00pm. If you are in the Tucson area, please stop by. We would love to meet you! For more information about artist Mark McDowell, please click here. The Tucson Museum of Art website is available here.
The Vintage 1950's Polka Dot Party Dress
This playful, frothy confection of a party dress is a perfect example of 1950's ultra-feminine, coquettish fashion. Polka dots were one of the most popular prints of the 50's, and dotty prints are timeless for their cute, fun and flirty attitude.
I purchased this dress close to 10 years ago. I was told by the seller at the time that the dress was hand-sewn by her grandmother. She said her grandmother loved the dress and wore it to her senior prom in the 1950s. This dress has a happy energy about it that I believe the original owner (and also maker in this case) is responsible for. She lovingly created the dress, wore and cherished it, and in those actions imbued the dress with a positive jubilance.
In the following pictures I styled the dress for the wintertime, complete with vintage 1960's faux fur cropped jacket, angora beret and ruched gloves. When it comes to polka dots, I believe "the more the merrier," so I love these vintage 1980's dot heels with the dress. This dress has the sweetest red bow on the back middle waist with long ends falling to the hem. I added a red bow clutch to the ensemble to give a nod to the backside bow.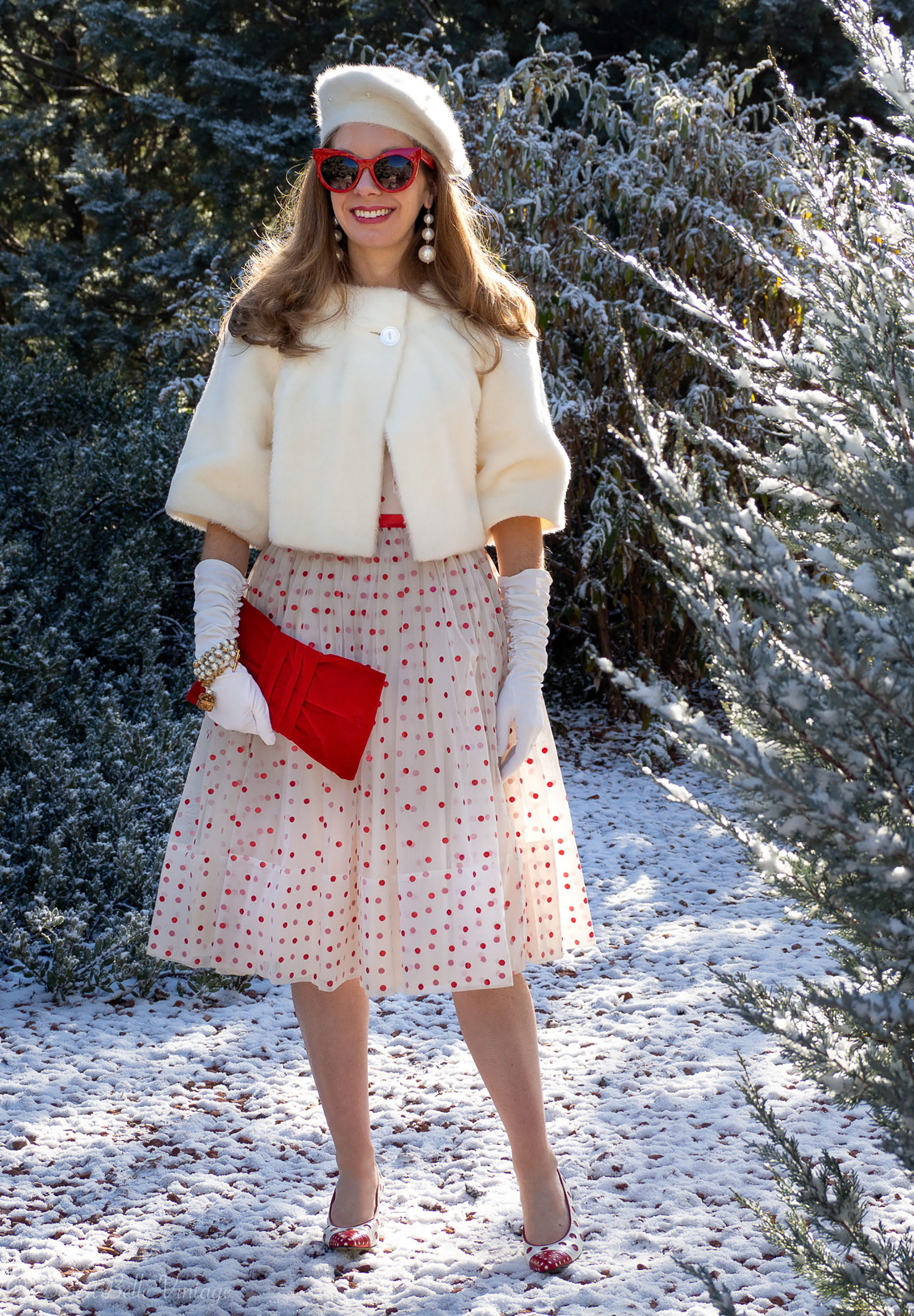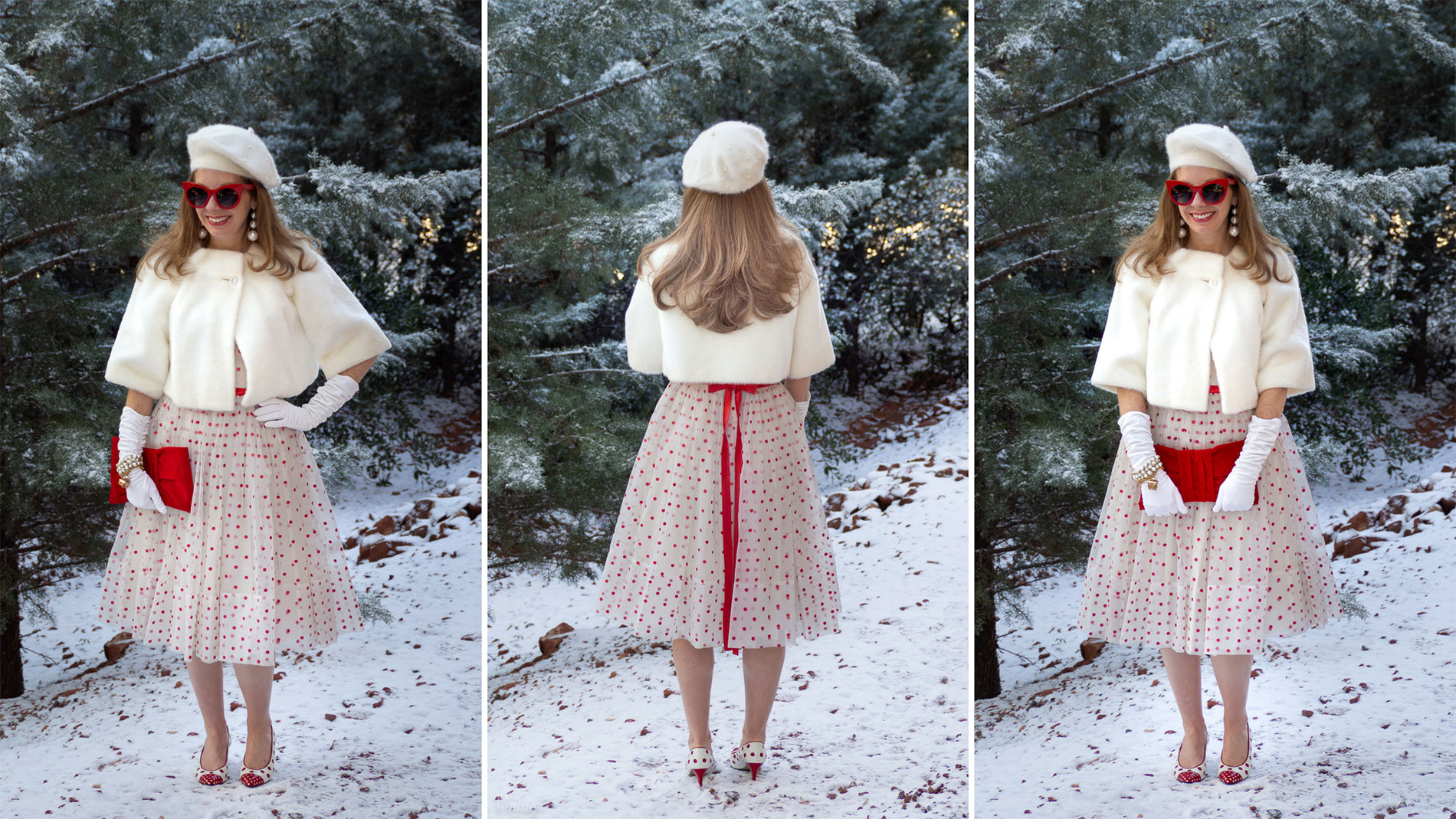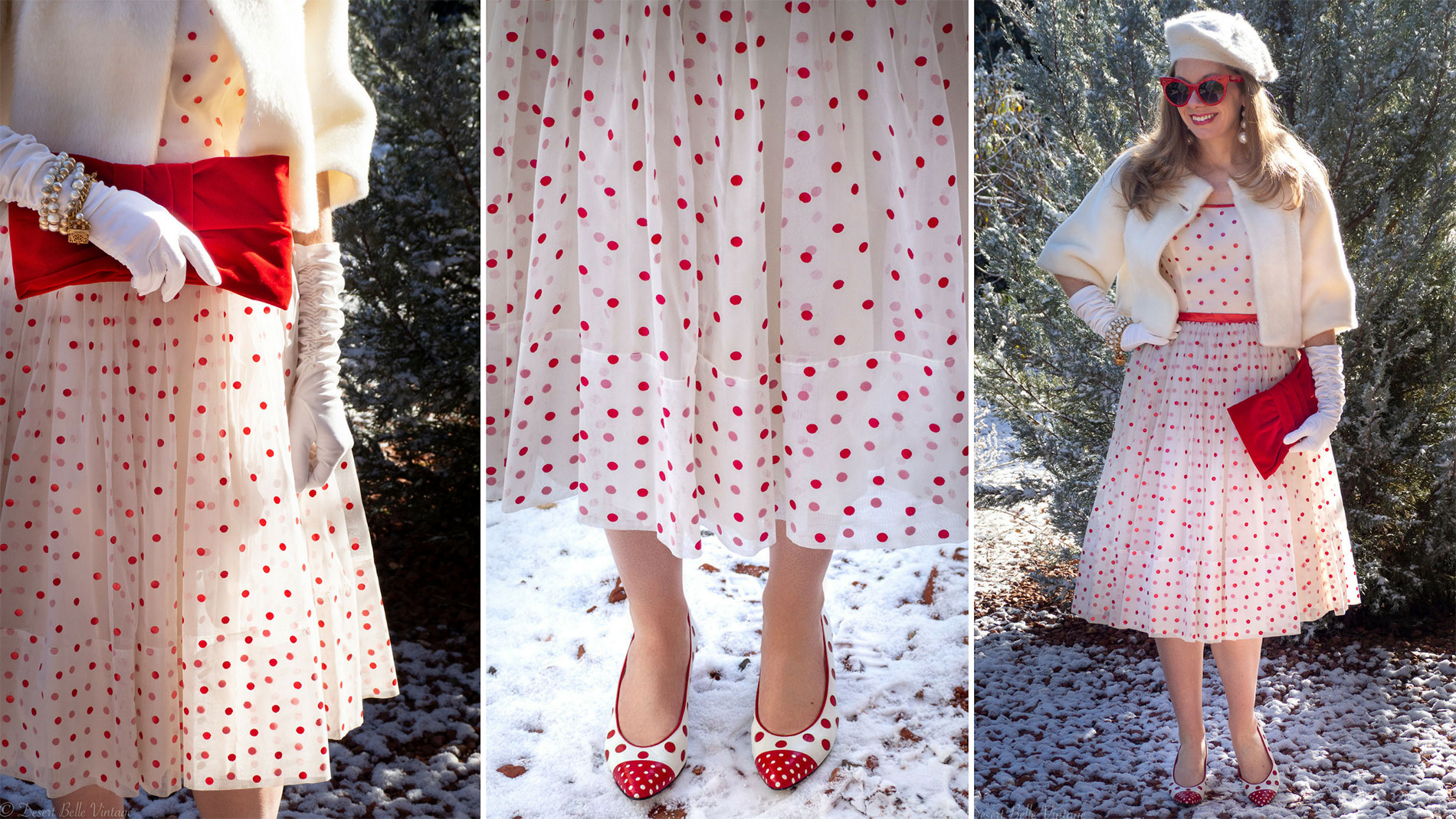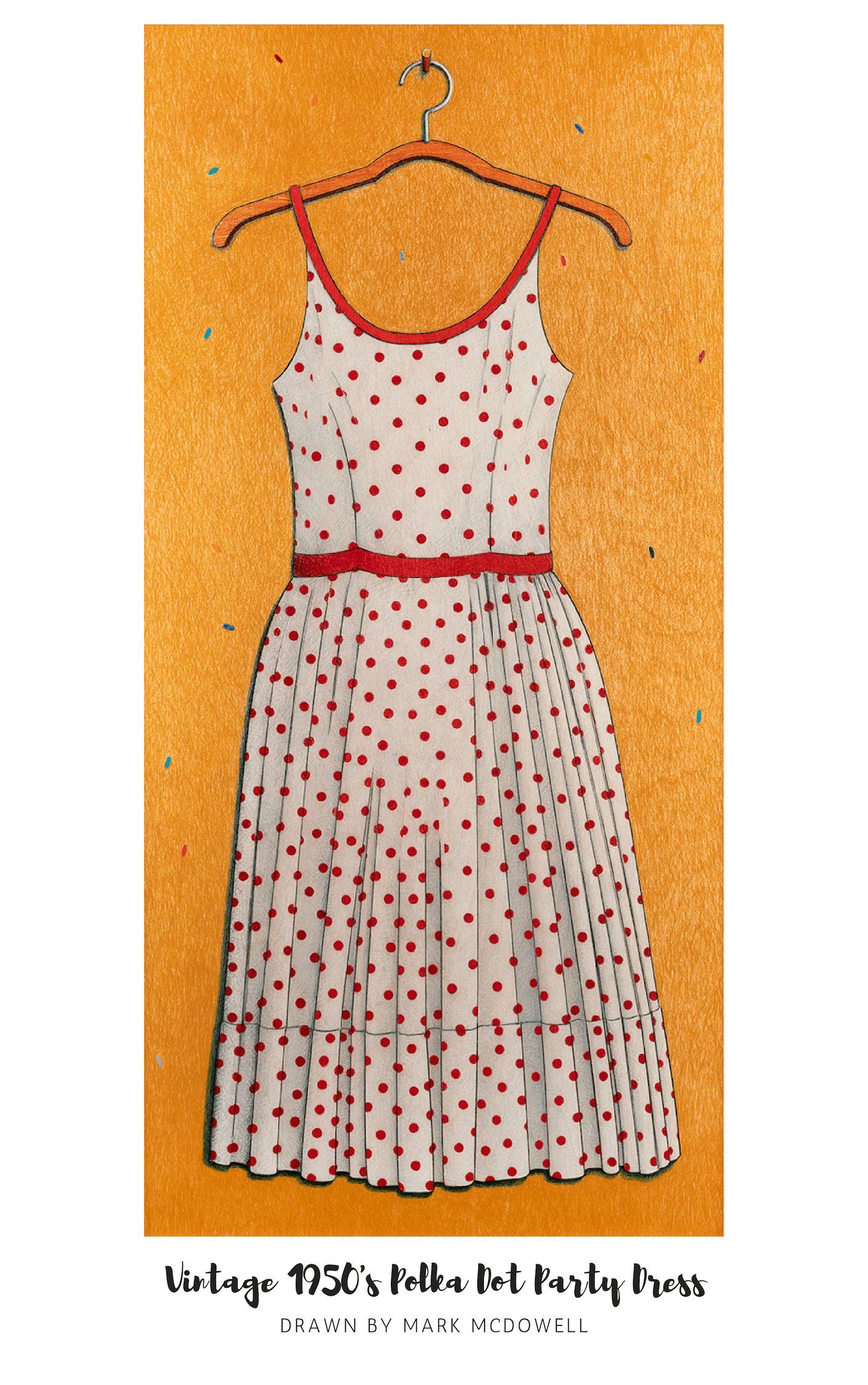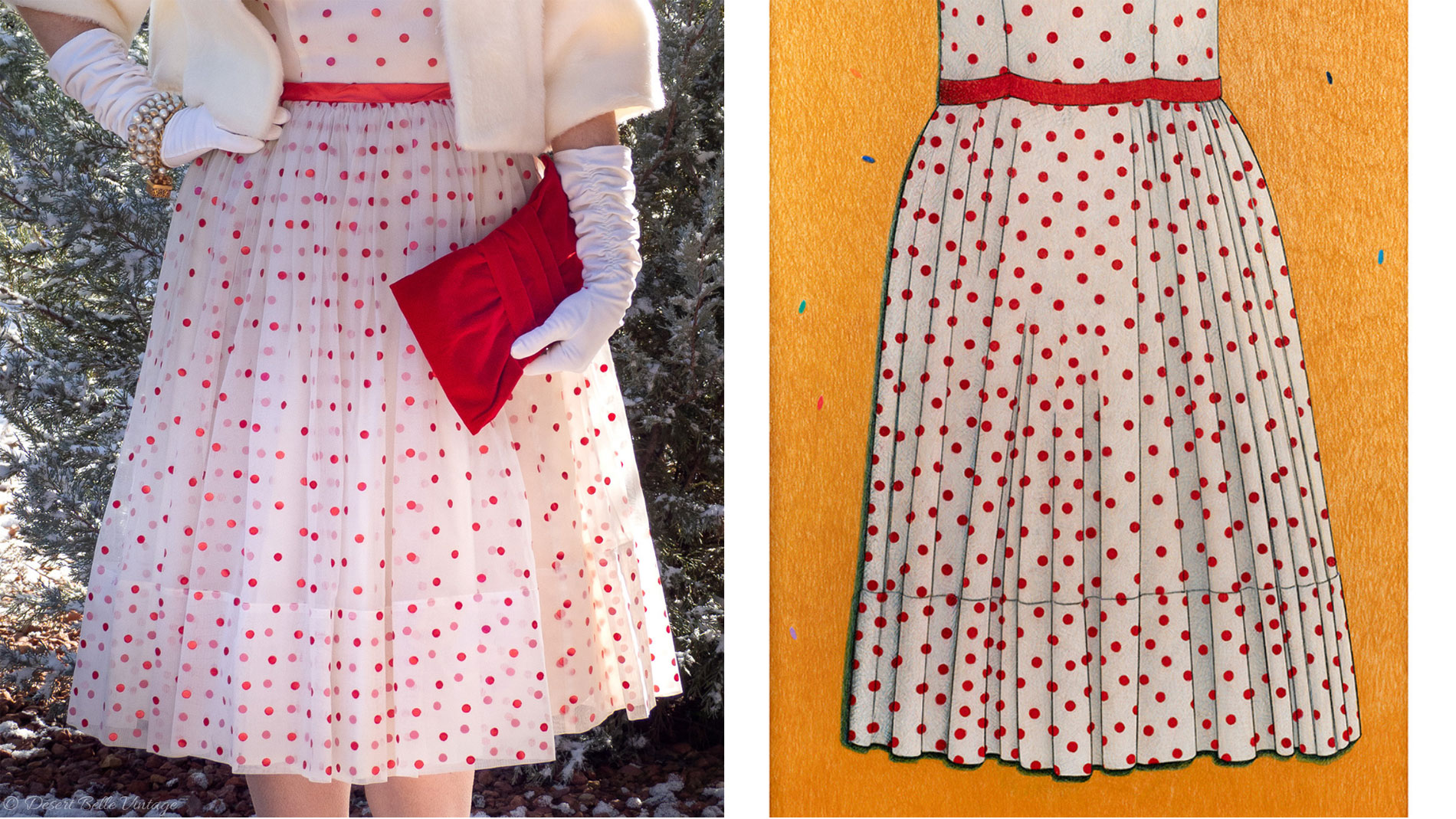 After the chilly photoshoot, a furry friend to warm me up by the fire…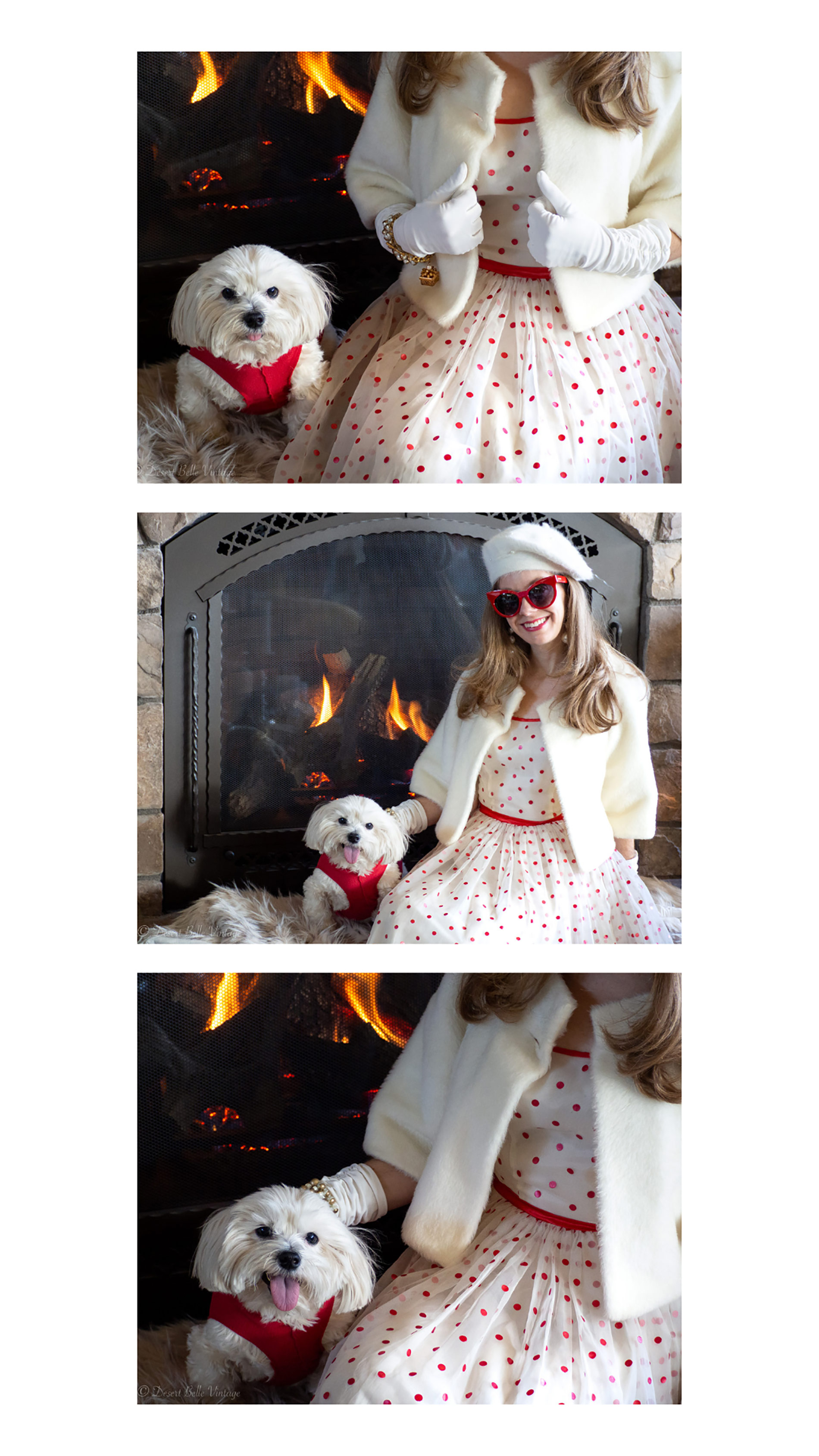 Essential shoe and purse shots…. Love these shoes!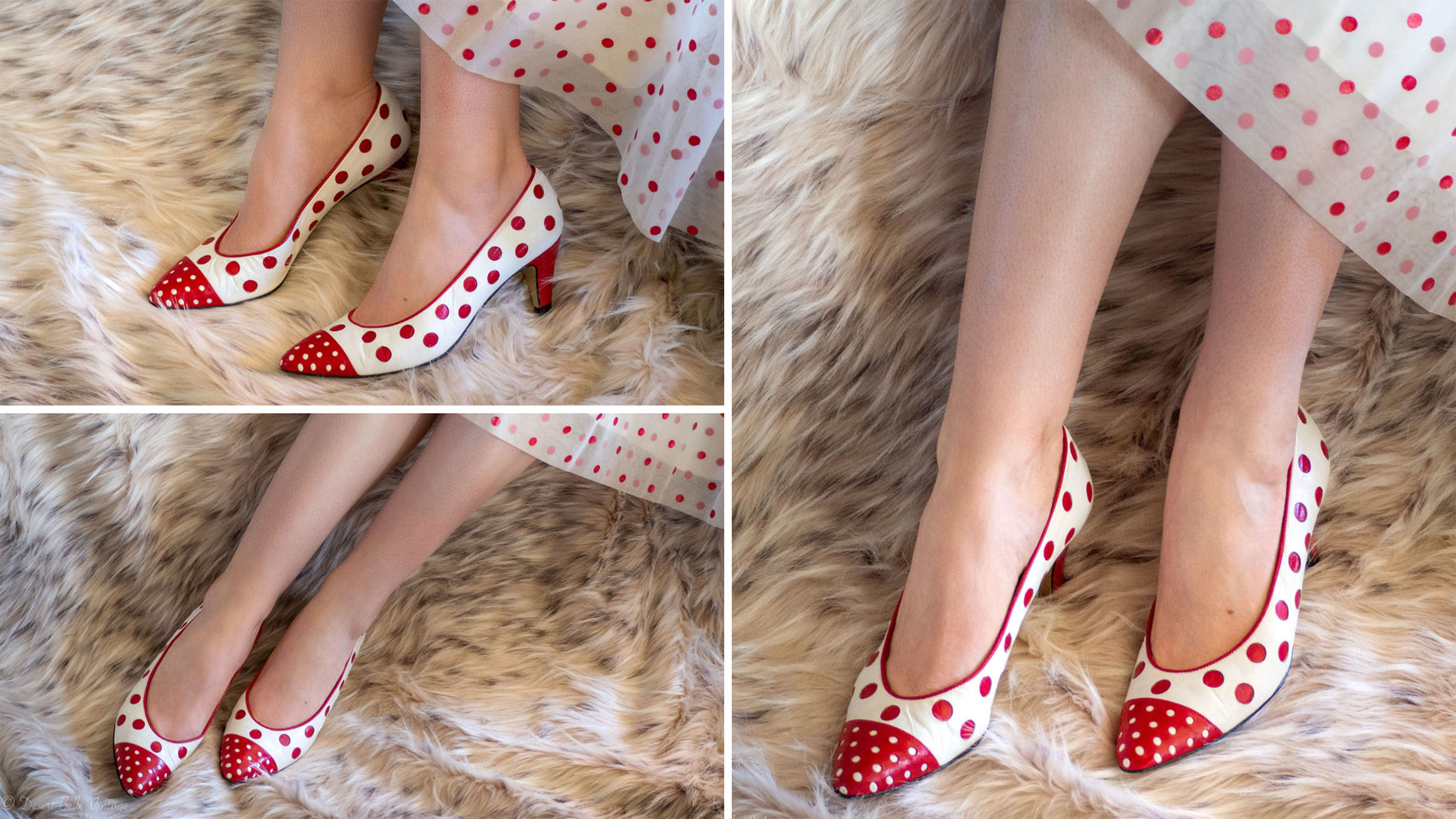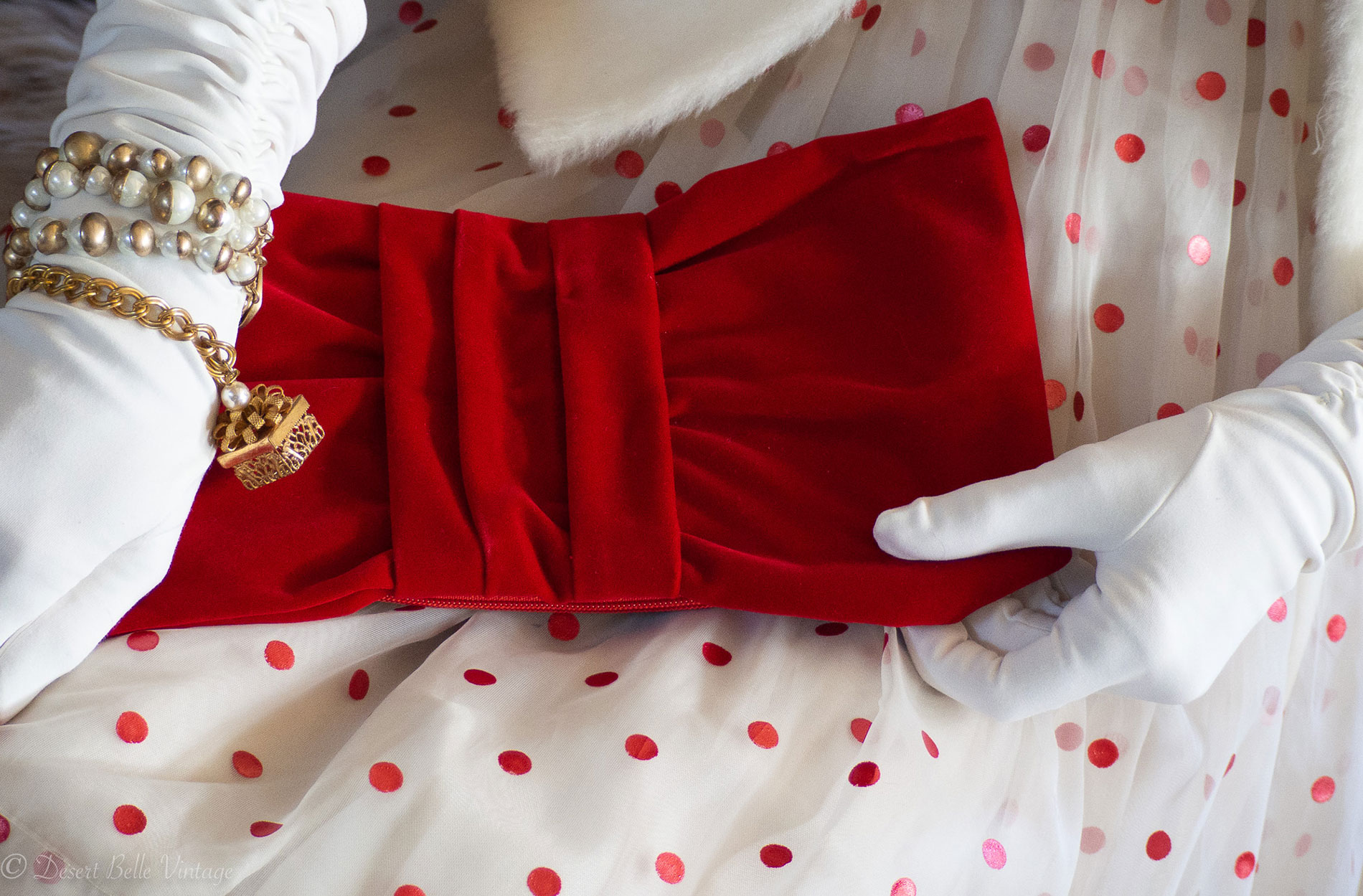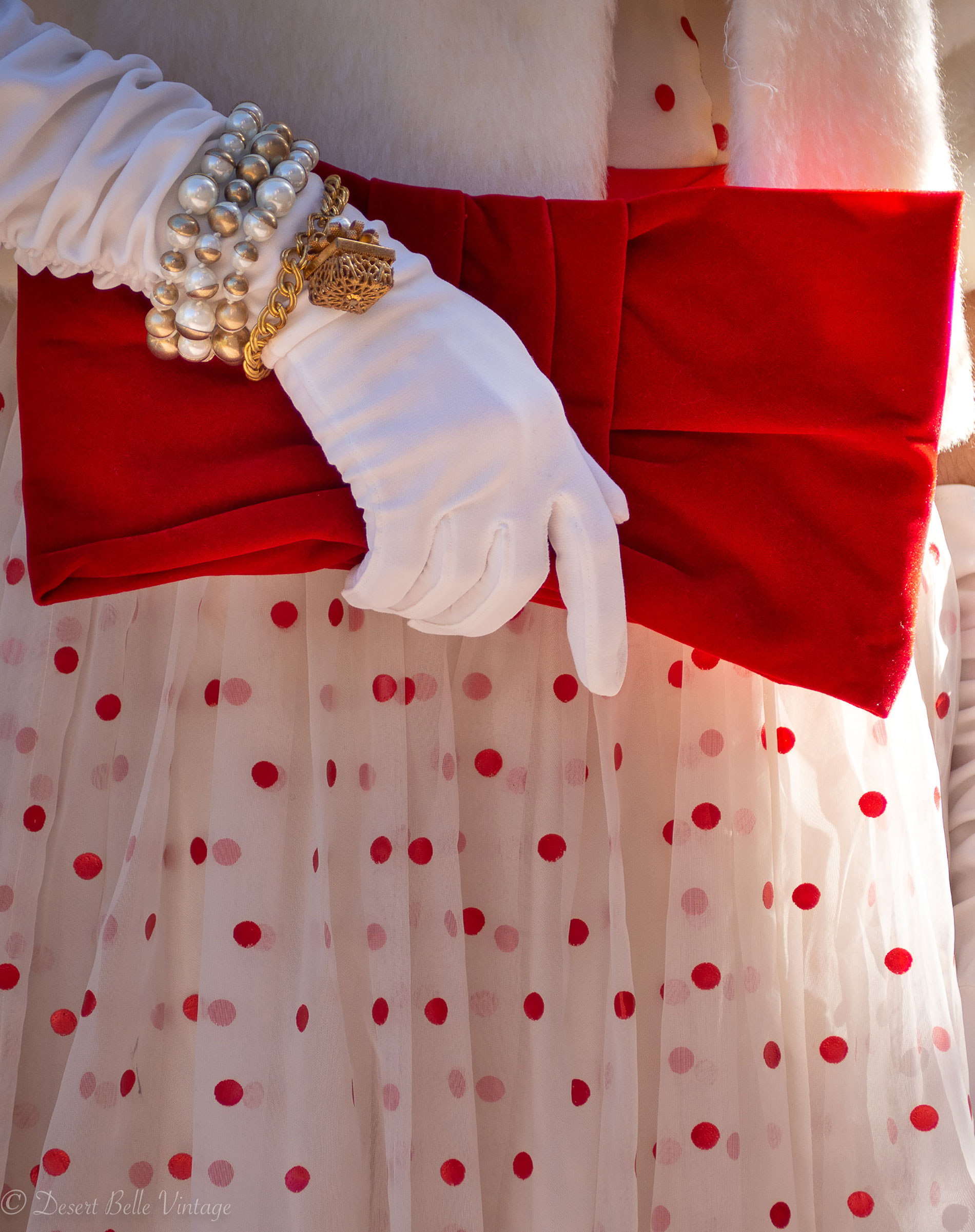 Dress: Vintage 1950's (handmade). Faux Fur Cropped Jacket: Vintage 1960's (unlabeled). Shoes: Vintage 1980's (Brand: Proxy). Bow Clutch: Shiraleah. Beret: unlabeled. Gloves: Vintage 1950's (Brand: Van Raalte). Jewelry: Present Charm Bracelet: Vintage Miriam Haskell & Triple Strand Pearl Bracelet: Maker unknown. Pearl Drop Earrings: BaubleBar (past season).
A big, hearty Thank You to Mark McDowell, Cattle Track Arts & Preservation, Tucson Museum of Art and Justin Germain at the Tucson Museum of Art for championing the trunk show series.
It is important to note that I am not affiliated, associated, authorized, endorsed by, or in any way officially connected with any of the fashion designers (or any of their subsidiaries or affiliates) featured in this series or anywhere on the Desert Belle Vintage site. This blog contains my opinions and does not reflect the opinions of any featured businesses.