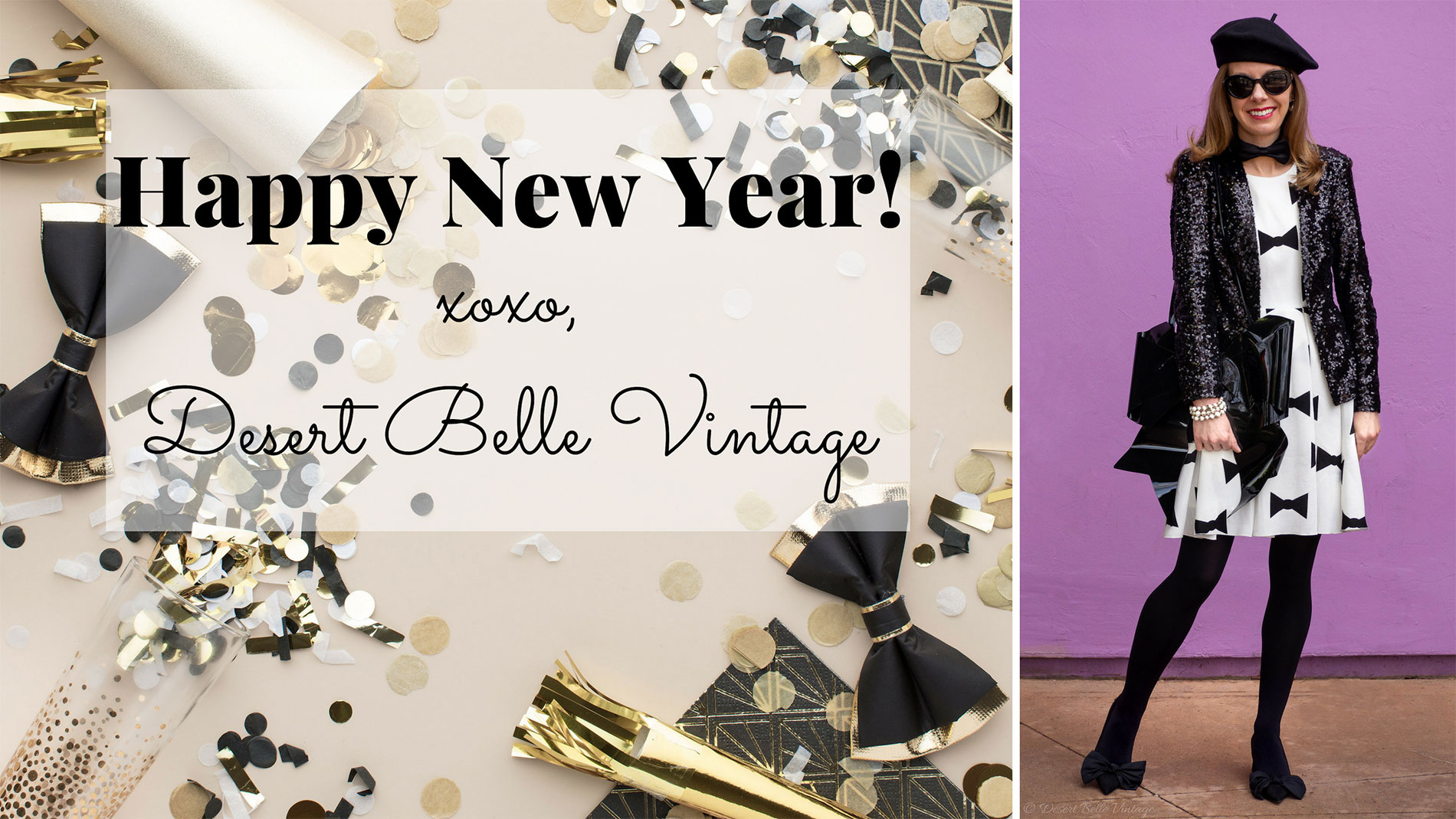 I am ringing in 2019 with a celebratory New Year's post and second installment in the "Art + Fashion" blog series!
The "Art + Fashion" Series
I began an exciting and incredibly enjoyable collaboration with Scottsdale, AZ artist Mark McDowell in the summer of 2018. Mark was inspired to do a series of fun, feminine party dresses for his Tucson Museum of Art Trunk Show in February 2019. I was thrilled to open my personal closet to Mark and offer him an assortment of playful dresses with which to work. Mark chose out of my personal wardrobe eight dresses total to immortalize in colored pencil, four vintage dresses and four modern dresses.
The Desert Belle Vintage "Art + Fashion" Blog series is showcasing every original dress drawing completed by Mark. Each individual dress post includes Mark's original dress drawing along with the styling and modeling of the actual dress in real-life. Furthermore, the "Art + Fashion" series is chronicling both the February 2019 Tucson show and March 2019 Cattle Track show.
For further information, please click here for the premier post and full backstory on the "Art + Fashion" series and my collaboration with Mark.
Tucson Museum of Art Trunk Show February 9 – 10th, 2019
January 2019 marks the one month countdown until the Tucson Museum of Art show scheduled February 9th and 10th. I am super excited about the Tucson show and seeing all of the dresses displayed together for museum viewing.
Mark and I will be present at the Tucson Museum of Art Trunk Show in February 2019. The dates and times of the show are as follows: Saturday, February 9th, 2019 from 10:00am to 4:00pm and Sunday, February 10th, 2019 from 10:00am to 4:00pm. If you are in the Tucson area, please stop by. We would love to meet you!
For more information about artist Mark McDowell, please click here. The Tucson Museum of Art website is available here.
The Modern Bow Tie Dress
This post spotlights one of the modern dresses that Mark chose to illustrate: The Bow Tie Dress.
I adore a clever use of print and pattern in design, bows of all shapes and sizes and classic black and white ensembles. This dress checks all the boxes! Taking the shape and silhouette of a recognized masculine object (the bow tie) and turning it into an elegantly feminine, yet spunky, fabric pattern of bows is genius!
I styled the dress for a New Year's party, complete with black sequined jacket, oversized and avant-garde glossy black bow purse, and black bow heels and beret. I am wearing a menswear black bow tie as a choker to wittily give a nod to the clever fabric design.
I purchased the black and white bow tie dress within the last two years.  The dress is from the sh by Silvian Heach Collection. I recall Kate Spade using a fabric with the same bow tie pattern in a past season. It is a timeless print!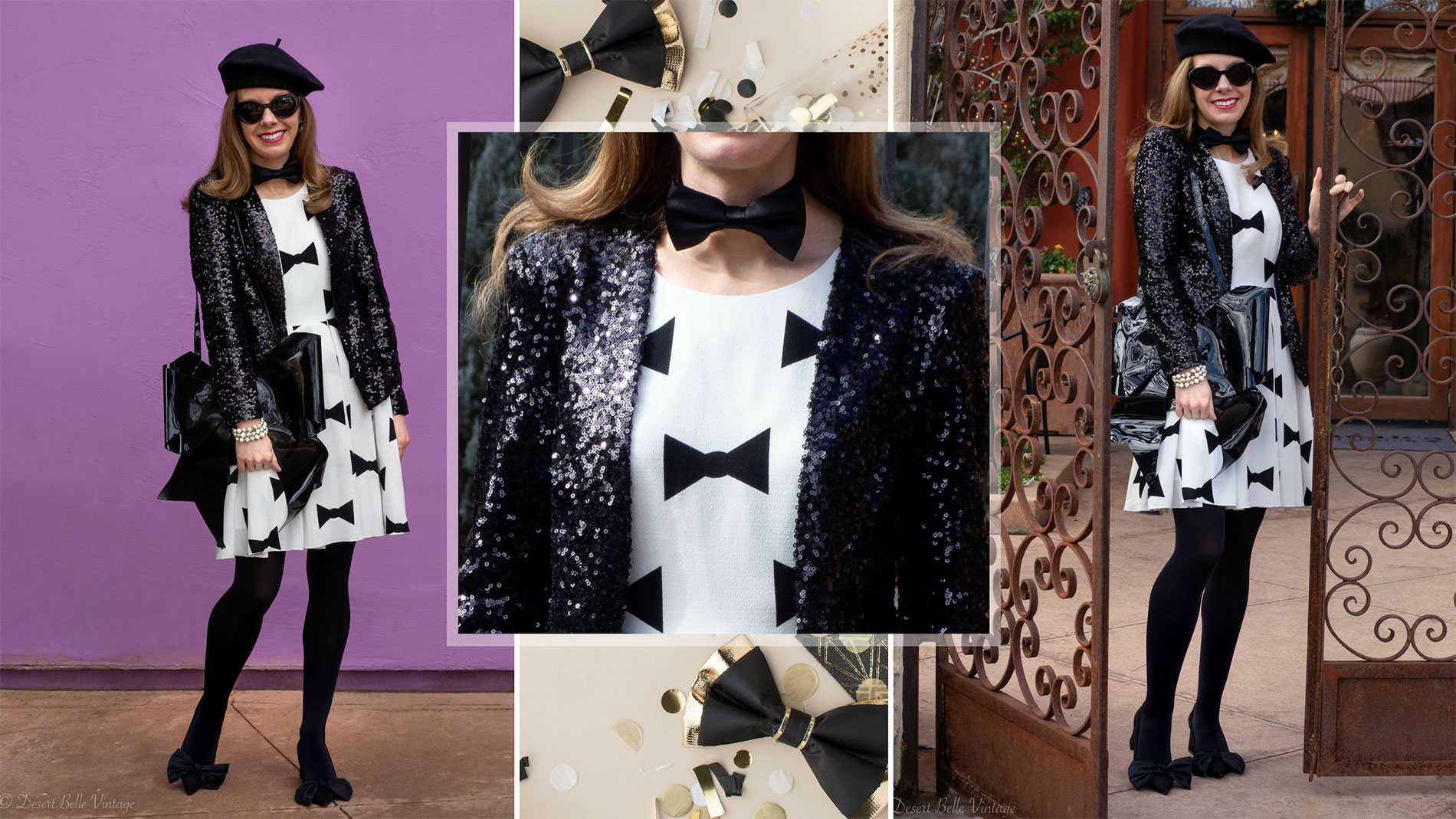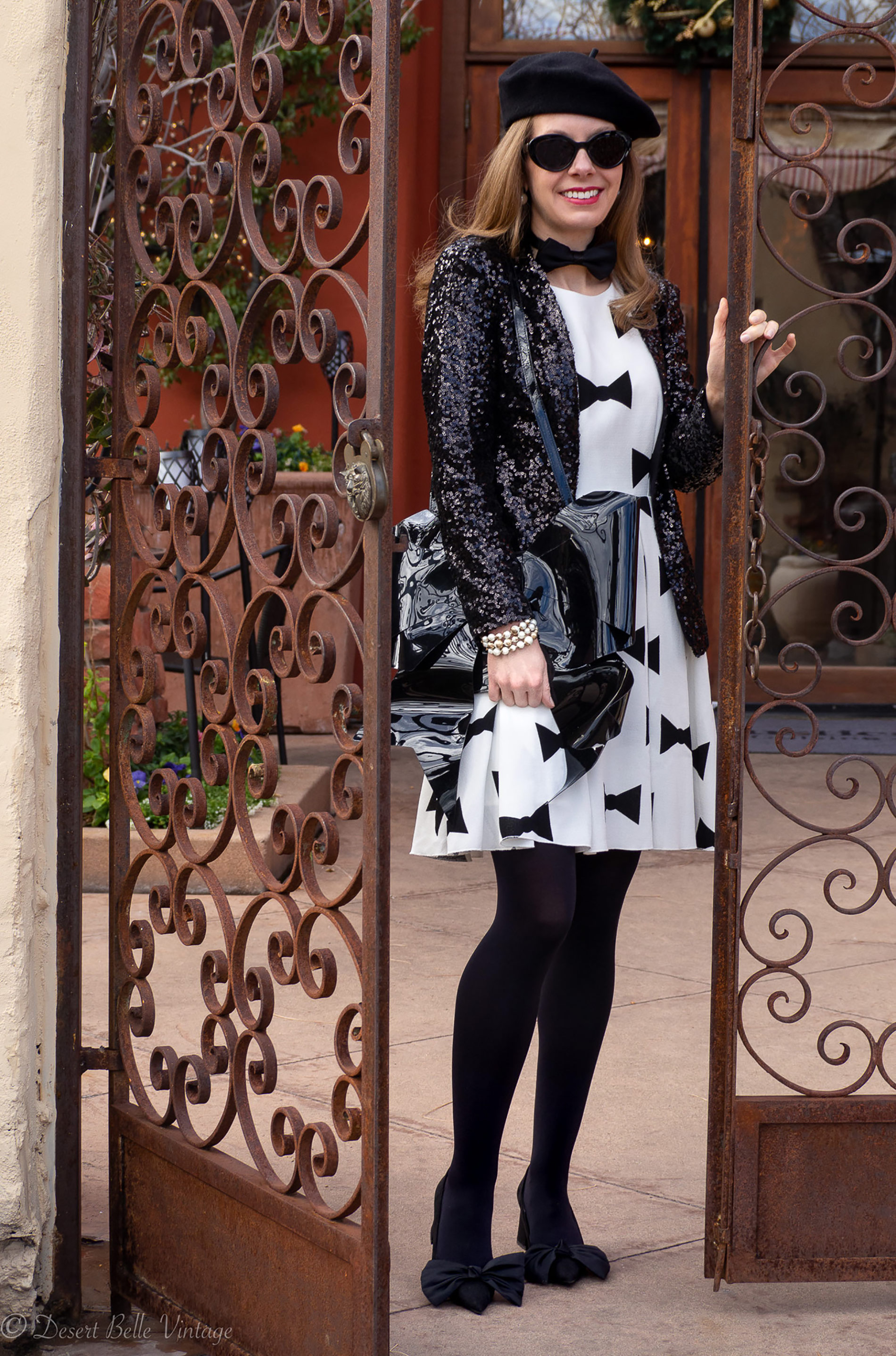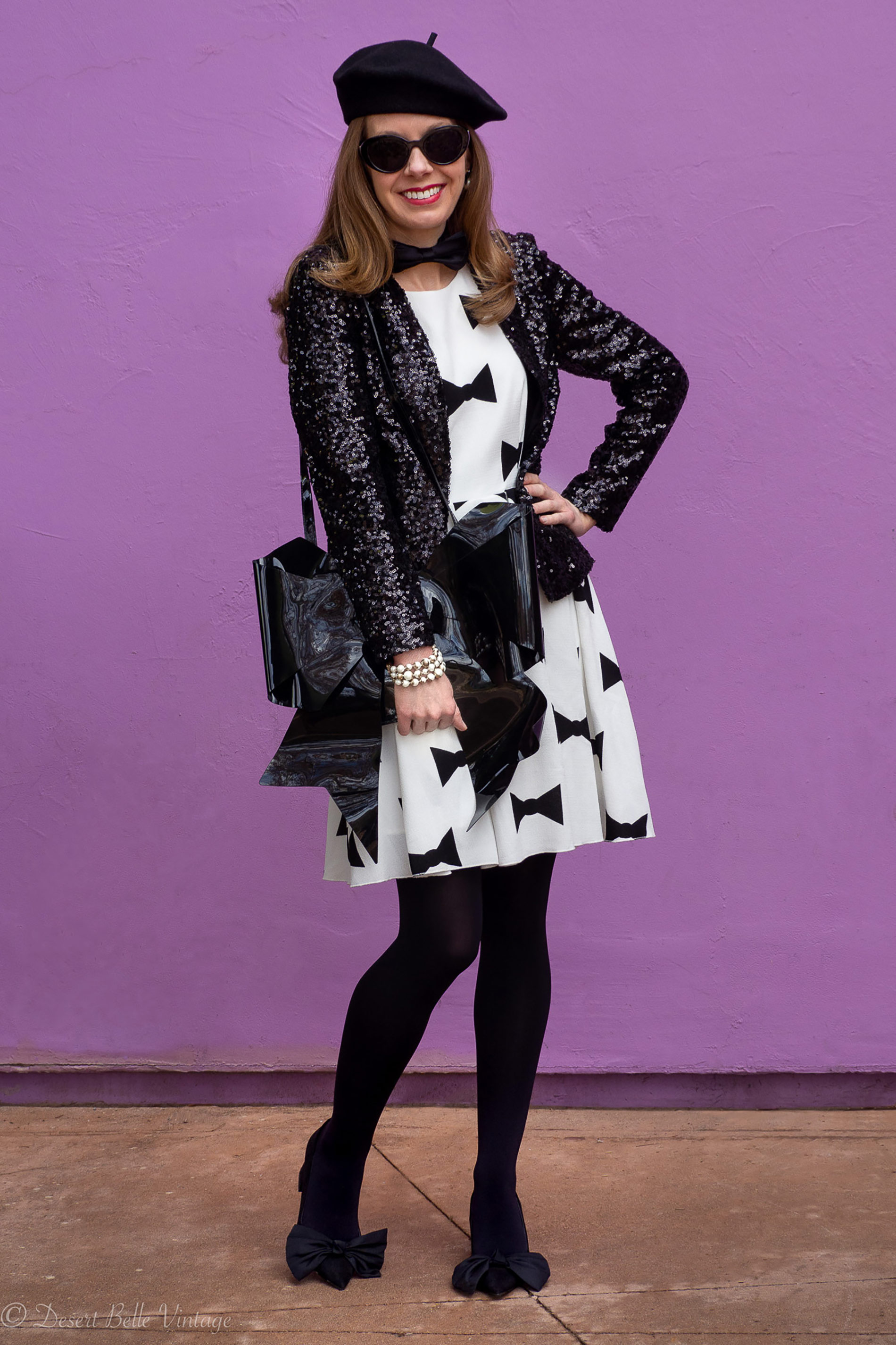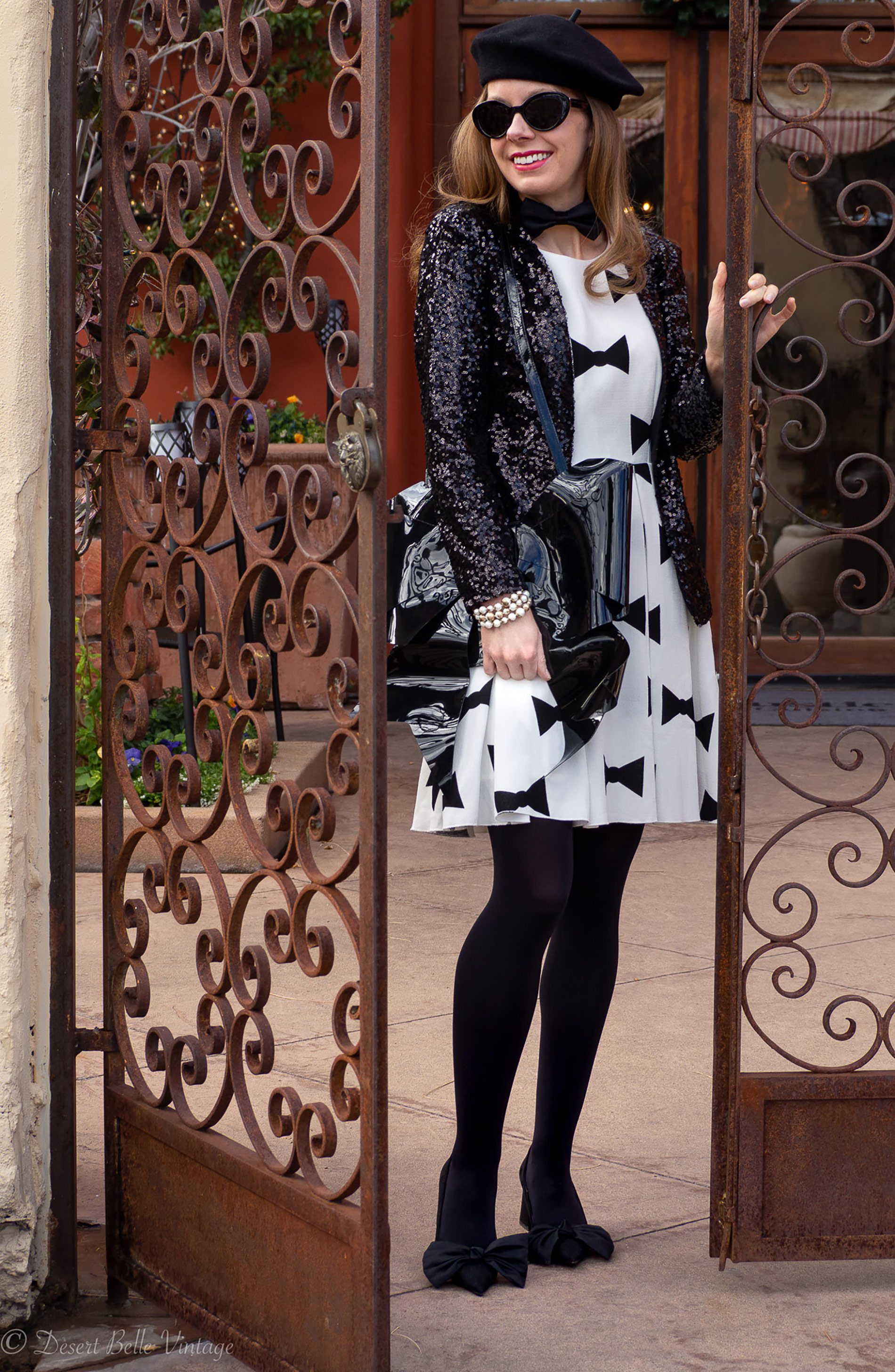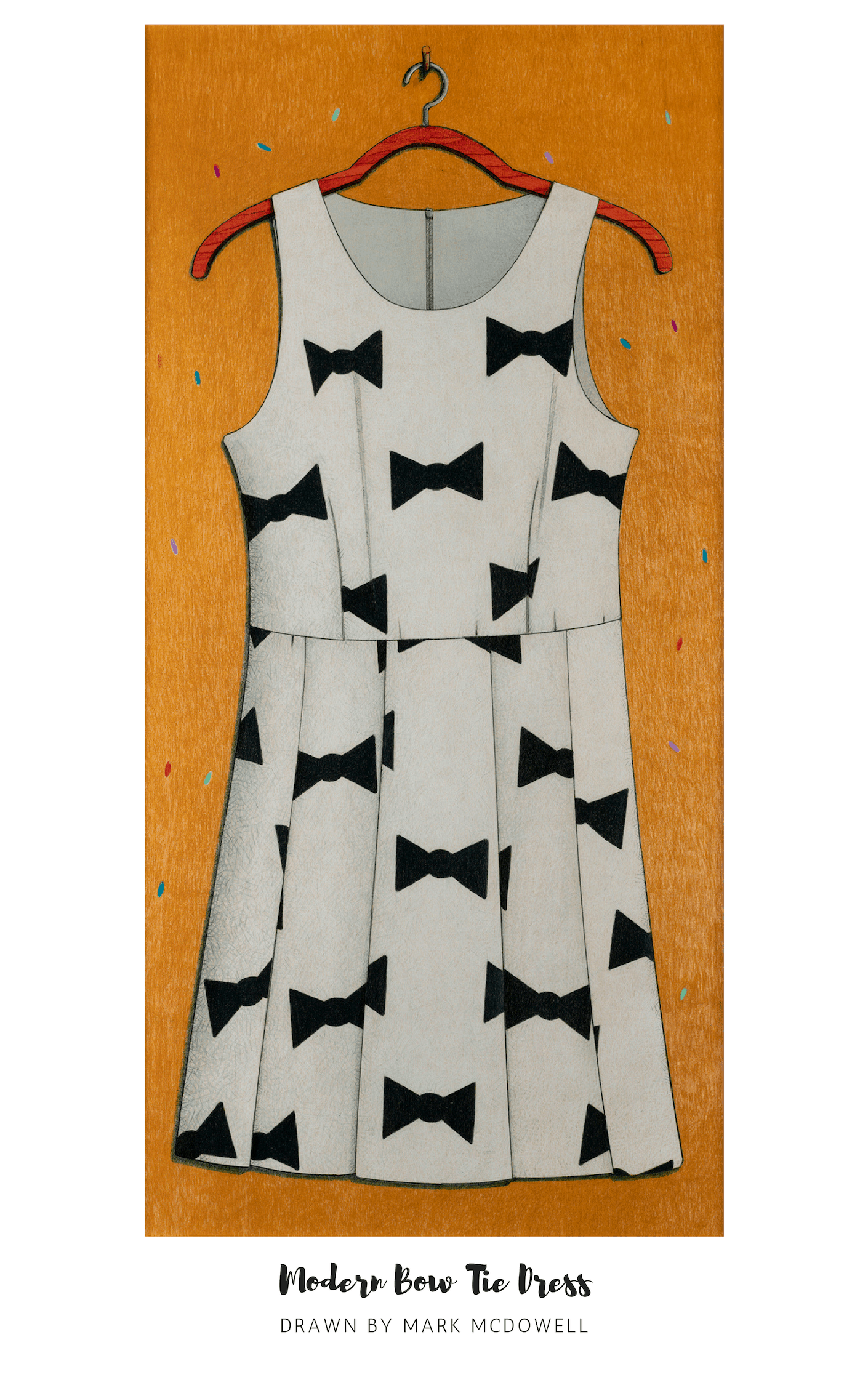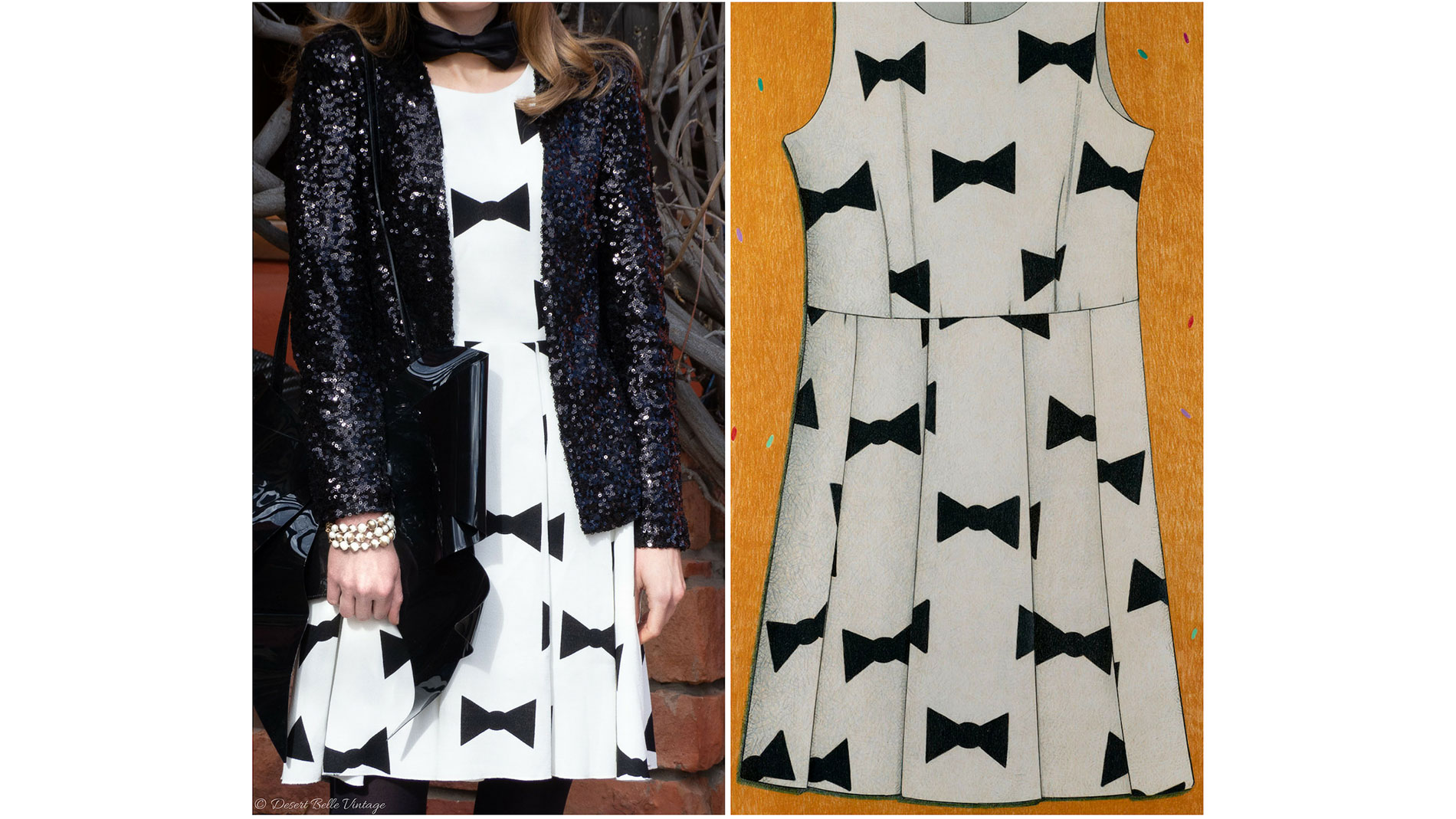 My furry date for the evening. He looks dashing in a bow tie!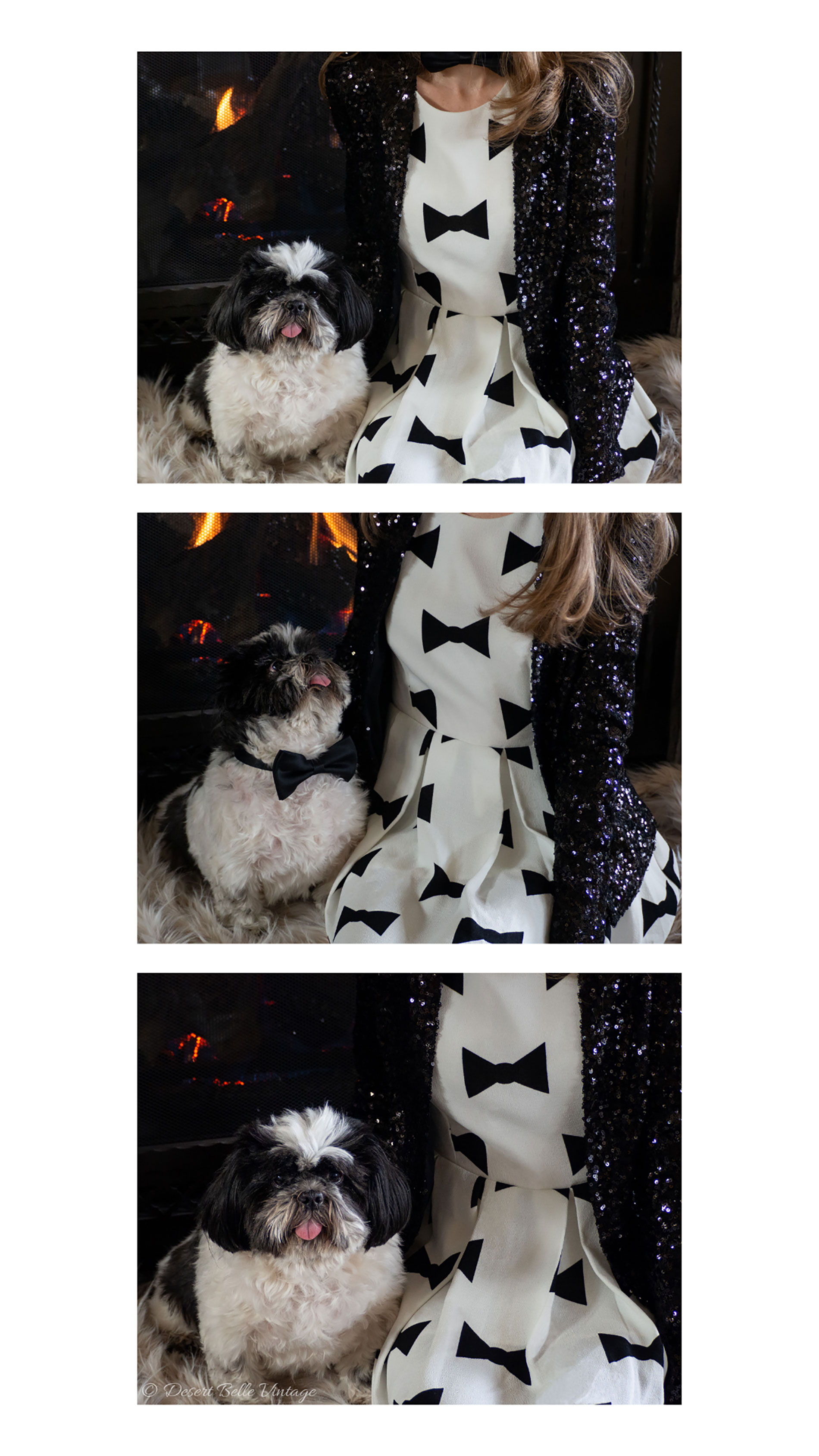 Essential purse and shoe shots. This large bow crossbody bag is a sculptural work of art & a blast to carry!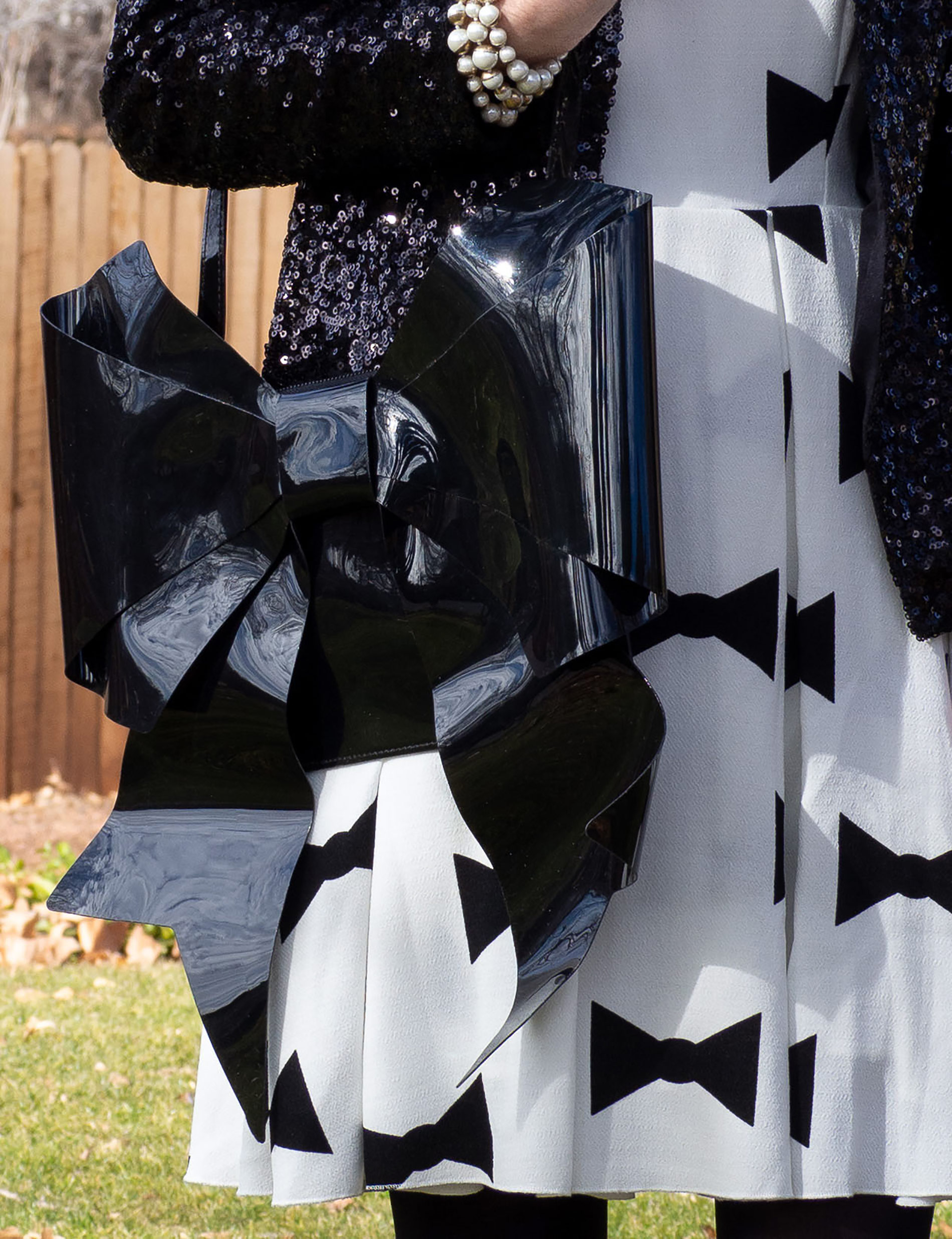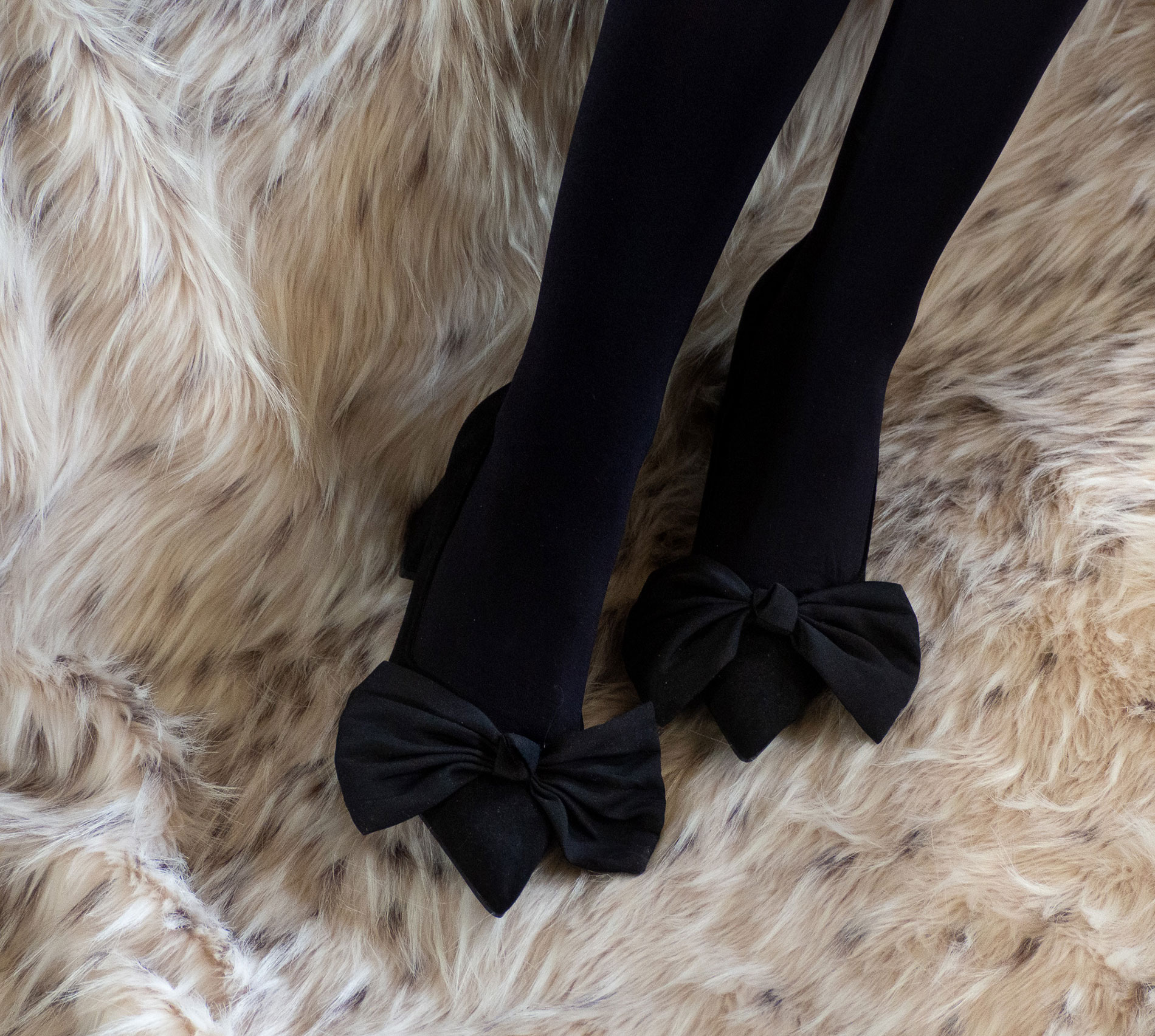 Dress: sh by Silvian Heach Collection (past season). Black Sequined Jacket: New Look (past season). Oversized Black Bow Patent Purse: MM6 Maison Margiela (sold out). Shoes: Zara (past season). Beret: Lola Hats (Vintage 1990's). Menswear Black Bow Tie (worn as a choker): Unlabeled. Jewelry: Pearl Earrings with Black Velvet Bows: Kate Spade (past season) & Triple Strand Pearl Bracelet: Maker unknown.
A big, hearty Thank You to Mark McDowell, Cattle Track Arts & Preservation, Tucson Museum of Art and Justin Germain at the Tucson Museum of Art for championing the trunk show series.
It is important to note that I am not affiliated, associated, authorized, endorsed by, or in any way officially connected with any of the fashion designers (or any of their subsidiaries or affiliates) featured in this series or anywhere on the Desert Belle Vintage site. This blog contains my opinions and does not reflect the opinions of any featured businesses.