"The Future Vintage" blog series is dedicated to the clothing, shoes, bags and accessories of today that will in the next 20 to 30 years be the "future vintage." You might be thinking: Everything will be vintage at some point! Yes, that is true. What this series spotlights however are the current designers that are offering well-made, collectible worthy goods that I believe will one day be the highly sought after Vintage with a capital "V." The designers that I personally choose to feature in this series produce unique, quality pieces that will stand the test of time through their style and craftsmanship.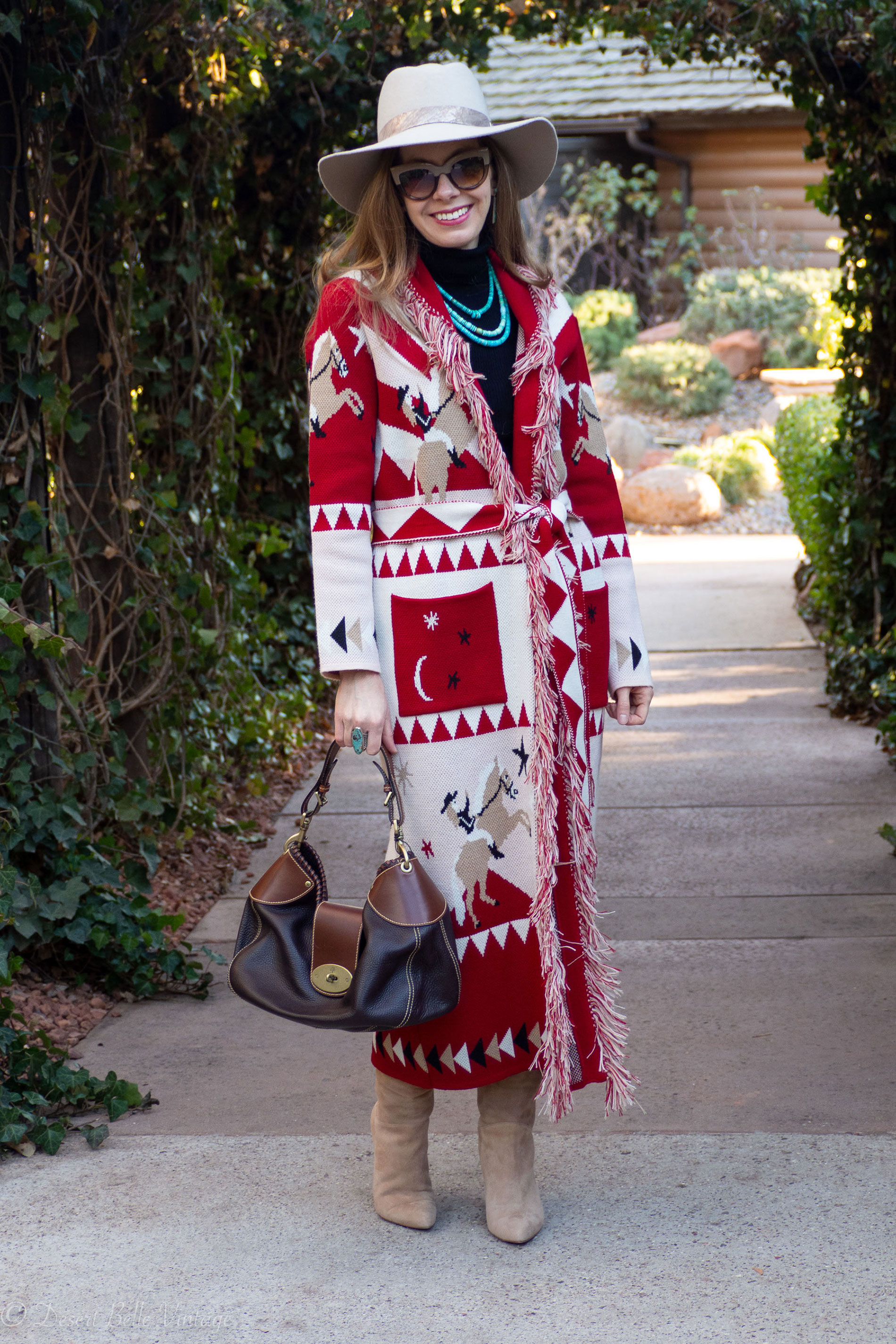 Hayley Menzies: Future Vintage Statement Knitwear
I love the iconic imagery of the American Old West. Western TV shows and films were huge in the 1950s, and due to their popularity, 50's clothing designers offered fashions with Wild West novelty prints. For example, I have a 1950's sundress depicting an Old West town complete with stagecoaches, horses and saloon. Post to come later!
Living in the American Southwest, I am always eager to learn about contemporary designers offering modern goods with Old West themes. I flipped when I discovered Hayley Menzies Portobello "Sunrise Rodeo Cardi-Coat" with confident and spirited cowgirls on palominos.
British designer Hayley Menzies is known for her statement making and vintage inspired knitwear. Her knitwear patterns are truly amazing works of art, ranging from animal prints and stripes to the Wild West cowgirl imagery as seen on my sweater. The Western cowgirl theme harkens back to the nostalgic motifs seen on vintage 1950's heavy knit Cowichan style sweaters and vintage 1950's Mary Maxim knitting patterns.
When I first received my Hayley Menzies long cardigan-coat, I was blown away at the construction and quality of the Italian yarns. Hayley Menzies produces impeccably made and substantial knitwear that will stand the test of time through its craftsmanship and timeless design. The skillful construction and exceptionally unique and playful patterns make every piece of the Hayley Menzies knitwear line a future vintage treasure to collect and cherish.
Please click here to be directed to the Hayley Menzies website to view her phenomenal collections.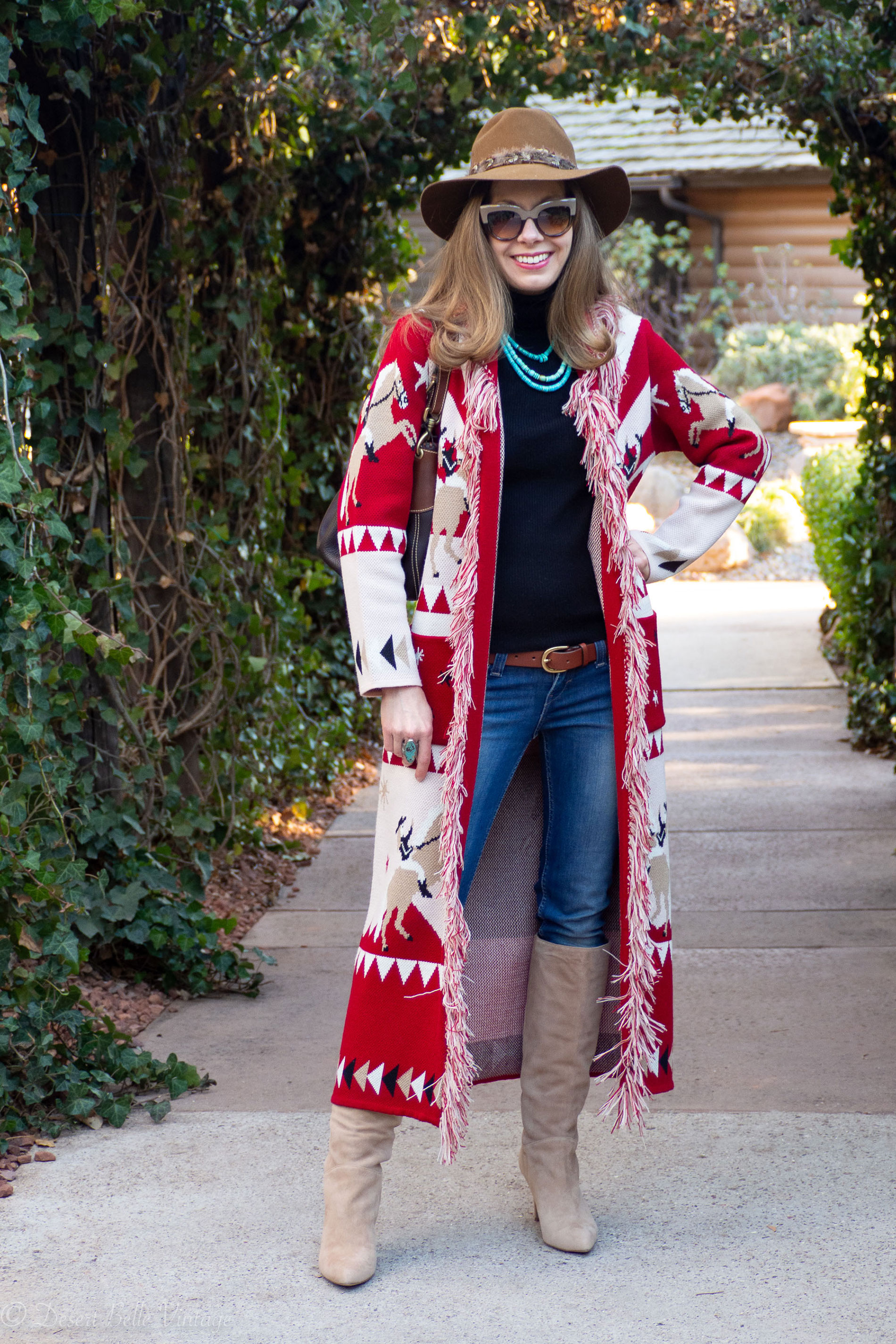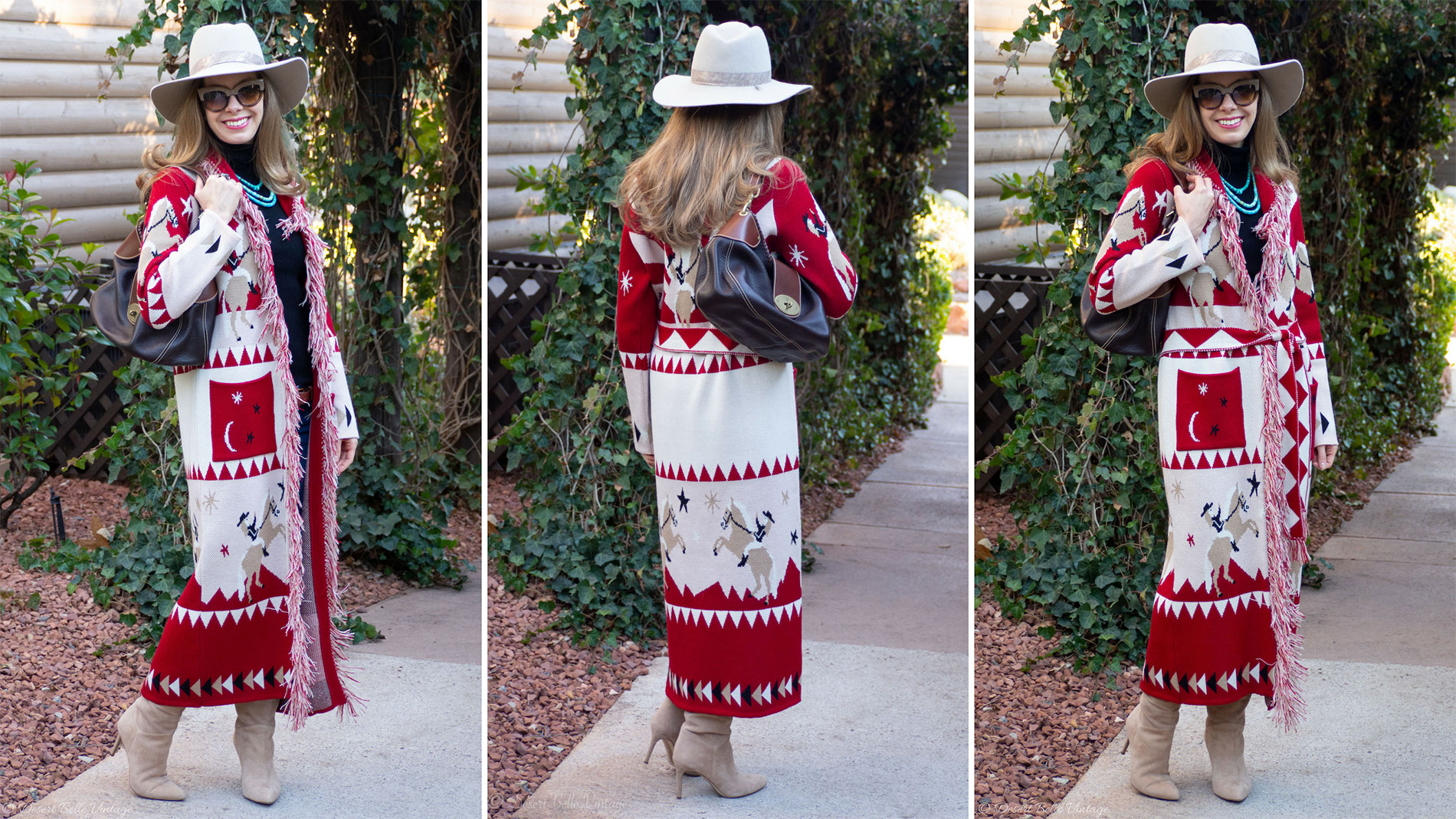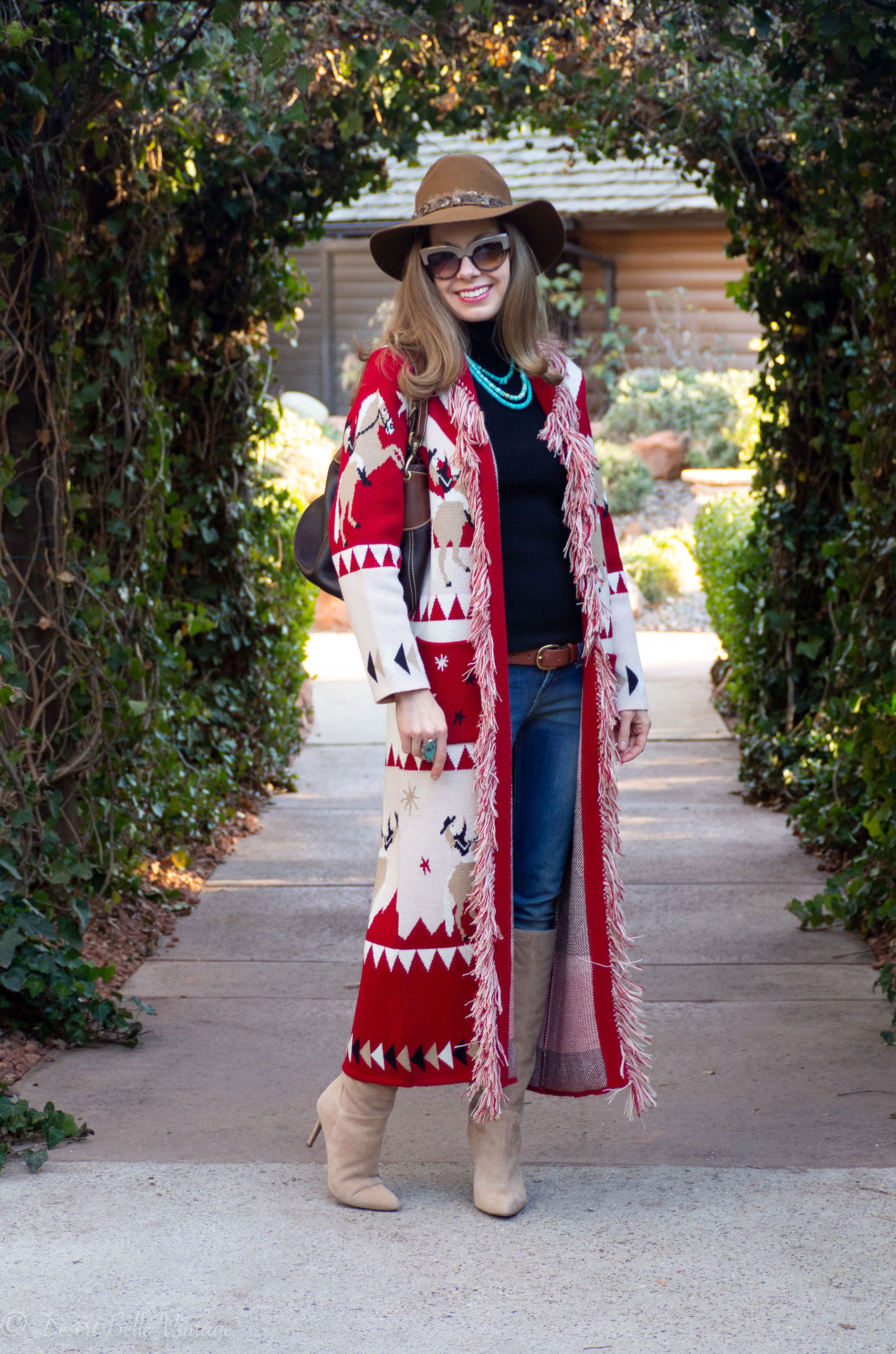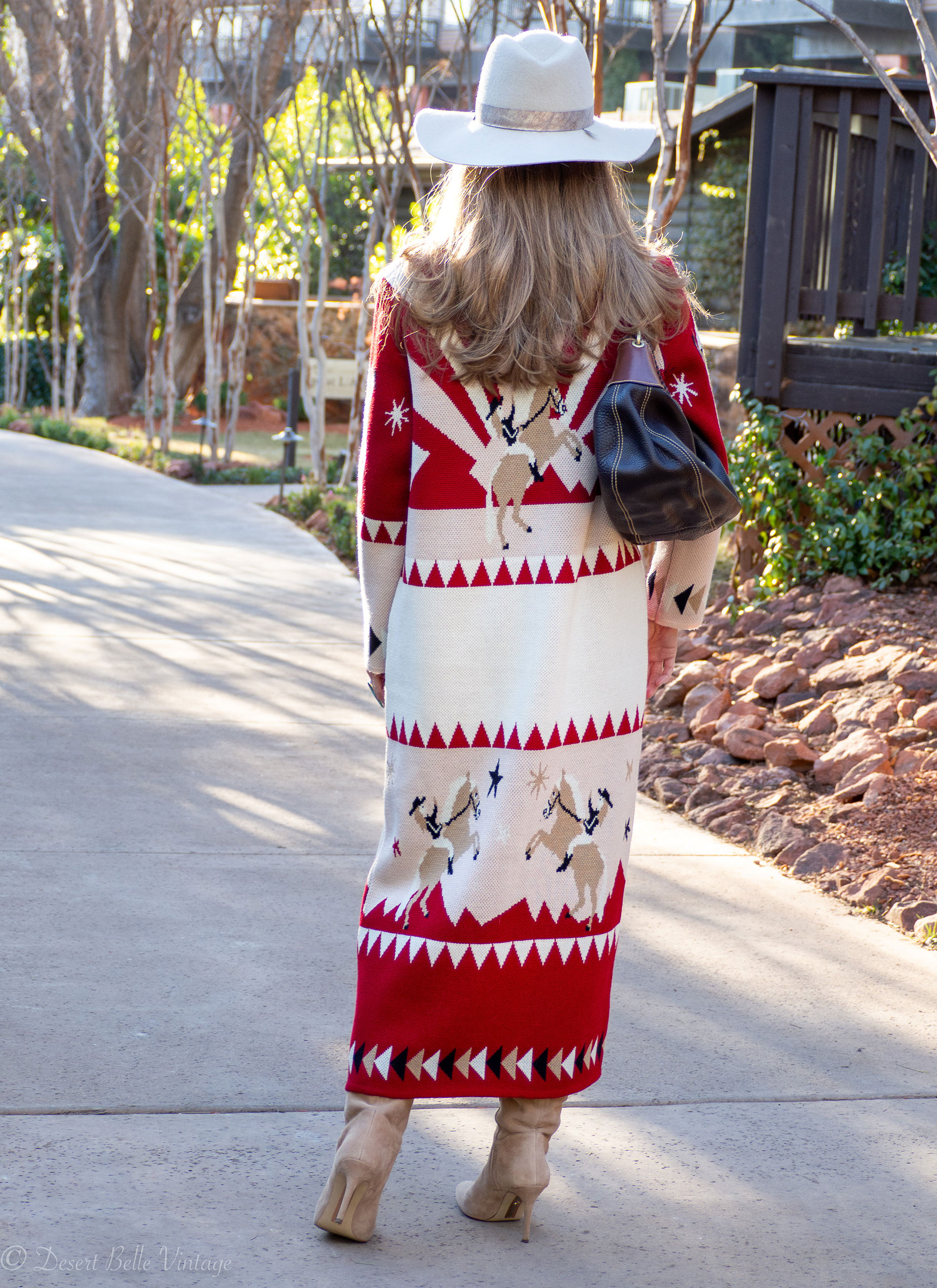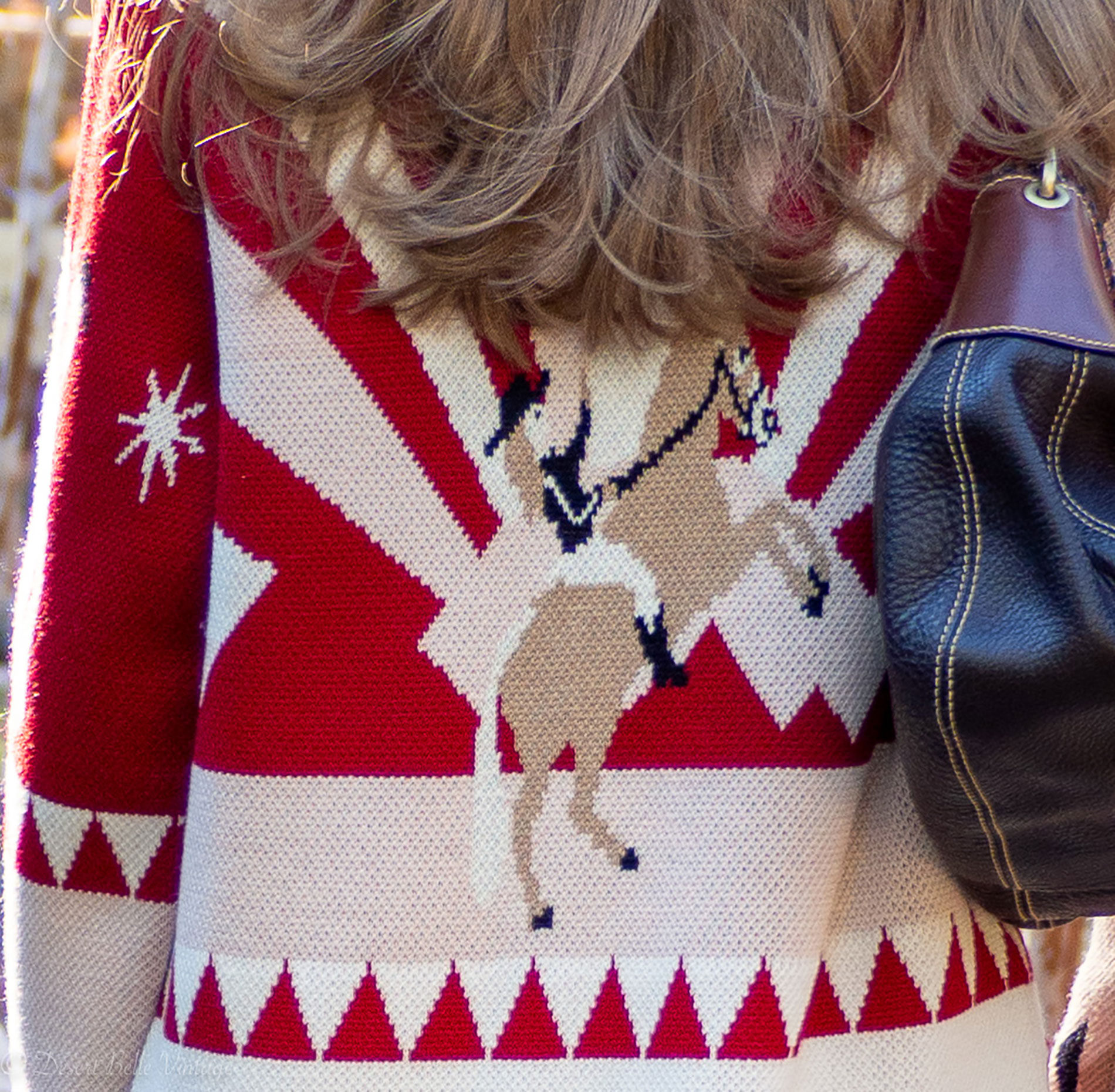 Cowgirl Cardigan-Coat: Hayley Menzies. Turtleneck: Vintage Cashmere. Jeans: Levi's. Bag: Mulberry (almost 10 years old). Hats: Almond Rancher: House of Lafayette and Brown Rancher: Orvis. Boots: Sam Edelman. Belt: J.Crew Jewelry: Various Native American Artists, for similar styles visit The Heard Museum Shop.
It is important to note that I am not affiliated, associated, authorized, endorsed by, or in any way officially connected with any of the designers (or any of their subsidiaries or affiliates) featured in this post or anywhere on the Desert Belle Vintage site. This blog contains my opinions and does not reflect the opinions of any featured businesses.