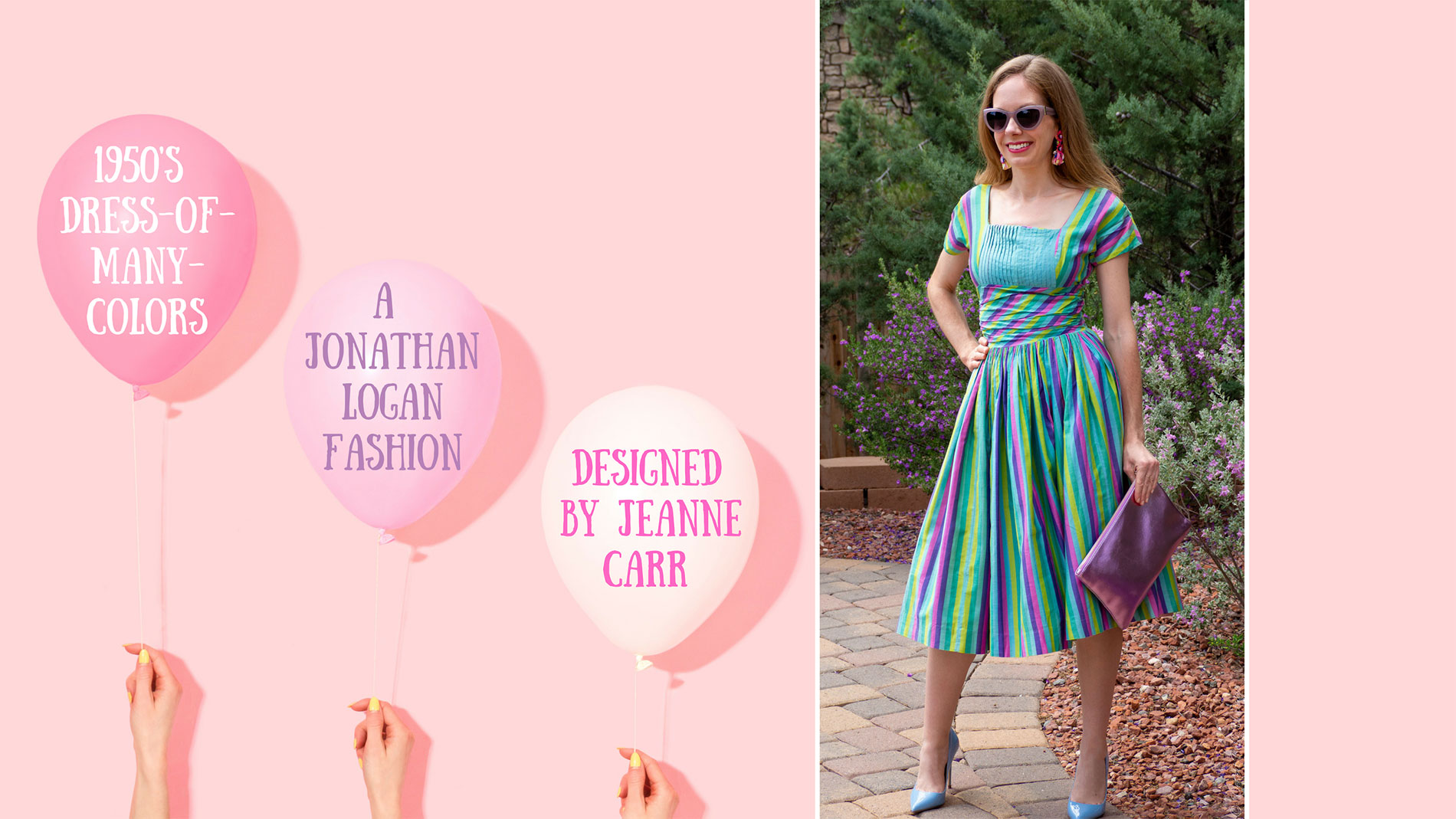 February is upon us, and that means the Tucson Museum of Art show is a little over one week away! In celebration of the February 9 – 10th show in Tucson, I am posting the third chapter in the "Art + Fashion" blog series. Details of the series and upcoming show dates are below along with the story of this amazing Jonathan Logan dress.
The "Art + Fashion" Series
I began an exciting and incredibly enjoyable collaboration with Scottsdale, AZ artist Mark McDowell in the summer of 2018. Mark was inspired to do a series of fun, feminine party dresses for his Tucson Museum of Art Trunk Show in February 2019. I was thrilled to open my personal closet to Mark and offer him an assortment of playful dresses with which to work. Mark chose out of my personal wardrobe eight dresses total to immortalize in colored pencil, four vintage dresses and four modern dresses.
The Desert Belle Vintage "Art + Fashion" Blog series is showcasing every original dress drawing completed by Mark. Each individual dress post includes Mark's original dress drawing along with the styling and modeling of the actual dress in real-life. Furthermore, the "Art + Fashion" series is chronicling both the February 2019 Tucson show and March 2019 Cattle Track show.
For more information and to read prior posts in the "Art + Fashion" series, please click here for the premier post and click here for the second post.
Tucson Museum of Art Trunk Show February 9 – 10th, 2019
Mark and I will be at the Tucson Museum of Art Trunk Show coming up on February 9 -10th, 2019. The dates and times of the show are as follows: Saturday, February 9th, 2019 from 10:00am to 4:00pm and Sunday, February 10th, 2019 from 10:00am to 4:00pm.
If you are in the Tucson area that weekend, please stop by. We would love to meet you!
For more information about artist Mark McDowell, please click here. The Tucson Museum of Art website is available here.
Desert Belle Vintage at Cattle Track in Scottsdale, AZ March 9 – 29th, 2019
I am thrilled to announce that there will be a dress show and reception at Cattle Track Arts Compound on Sunday, March 10th from 12:00pm – 4:00pm. The eight dresses from my collaboration with Mark McDowell along with their original drawings will be on display at the reception on March 10th. Cattle Track Arts Compound is located at 6105 N. CattleTrack Rd. in Scottsdale, AZ 85250.
If you are unable to attend the Sunday, March 10th dress show and reception, Desert Belle Vintage will be available by appointment March 9th and March 11 – 29th at Cattle Track in Scottsdale. If you are in the Scottsdale area and are interested in purchasing a vintage dress or simply meeting me (Laura) and learning more about the Desert Belle Vintage collection, please email me at hello@desertbellevintage.com to reserve an appointment time at Cattle Track. If you are interested in purchasing a dress, please let me know the desired decade, style, size and price range of dress that you are looking for. Exceptional customer service for my clients and the protection and preservation of my garments come first, and appointments allow me to better fulfill each client's particular requests and ensure the safe keeping of all garments before purchase.
If you are not in the Scottsdale area to reserve a Cattle Track appointment or stop by the March 10th reception, I am excited to announce that the Desert Belle Vintage online store will be opening May 2019. Until then, I always welcome vintage inquiries if you are seeking a particular dress for an event. Please contact me at hello@desertbellevintage.com, and I will be happy to assist you.
The Vintage 1950's Jonathan Logan Dress
I adore this fun-loving, multicolor, polished cotton party dress from the Jonathan Logan fashion line! The pin-tucked bodice, cummerbund waist and full skirt make the fit super flattering. The bright happy colors, carnivalesque stripes and artful design give the dress a lively, festive feel. When I look at this dress, I think county fairs with carousels and cotton candy and birthday parties with balloons and cakes.
Speaking of balloons, the Jonathan Logan label must have shared my thoughts toward the celebratory nature of this dress because the original ad for this dress has the model coquettishly smiling while holding light blush pink balloons. It can be nearly impossible sometimes to find the original ads for specific vintage dresses. I am thrilled to have the original ad for this dress, and I have included the original ad in this post!
Per the original Jonathan Logan ad for this dress, this dress was designed by Jeanne Carr. The Vintage Fashion Guild states that Jeanne Carr designed for the Jonathan Logan line in the late 1950s, so I am estimating this dress to be from that time frame.
The original ad describes this dress as "the dress-of-many-colors…to wear for so many occasions." According to the ad, this dress came with two different choices of bodice color, turquoise or rose, and each bodice color had "its own complementary multi-stripes." I obviously have the dress with the turquoise bodice as seen in the original ad.
I always have a giggle when I see the original prices advertised for dresses from the 1950s. This dress cost $17.95 back in the day at Lord & Taylor. Compared with today's prices for fashions that oftentimes do not compare in terms of craftsmanship and quality, this dress is a marvel with its impeccable construction and well-made design. I would like to drive a DeLorean time machine back to the 1950s and do some shopping!
It doesn't happen often, but I found myself in a style dilemma when deciding on how to model this dress. It turned out I have two different shoes and purses that look excellent with the dress. Instead of choosing one or the other, I did what any fashion maven would do and styled the dress two different ways. I call the look with the metallic pink clutch and baby blue pumps my "birthday party" look and the look with the floral woven straw purse and pink bow heels my "county fair" look. Do you have a favorite? Let me know!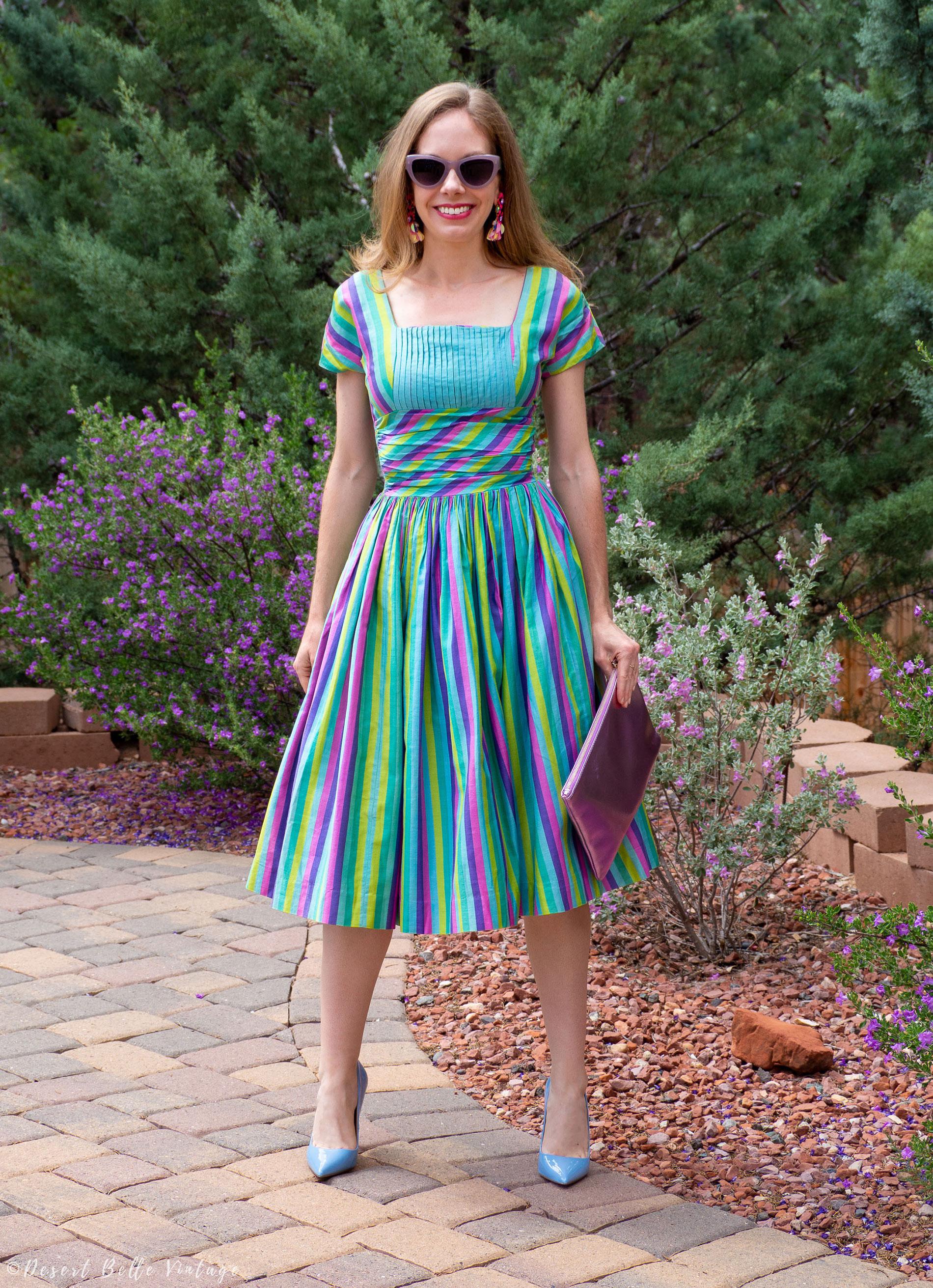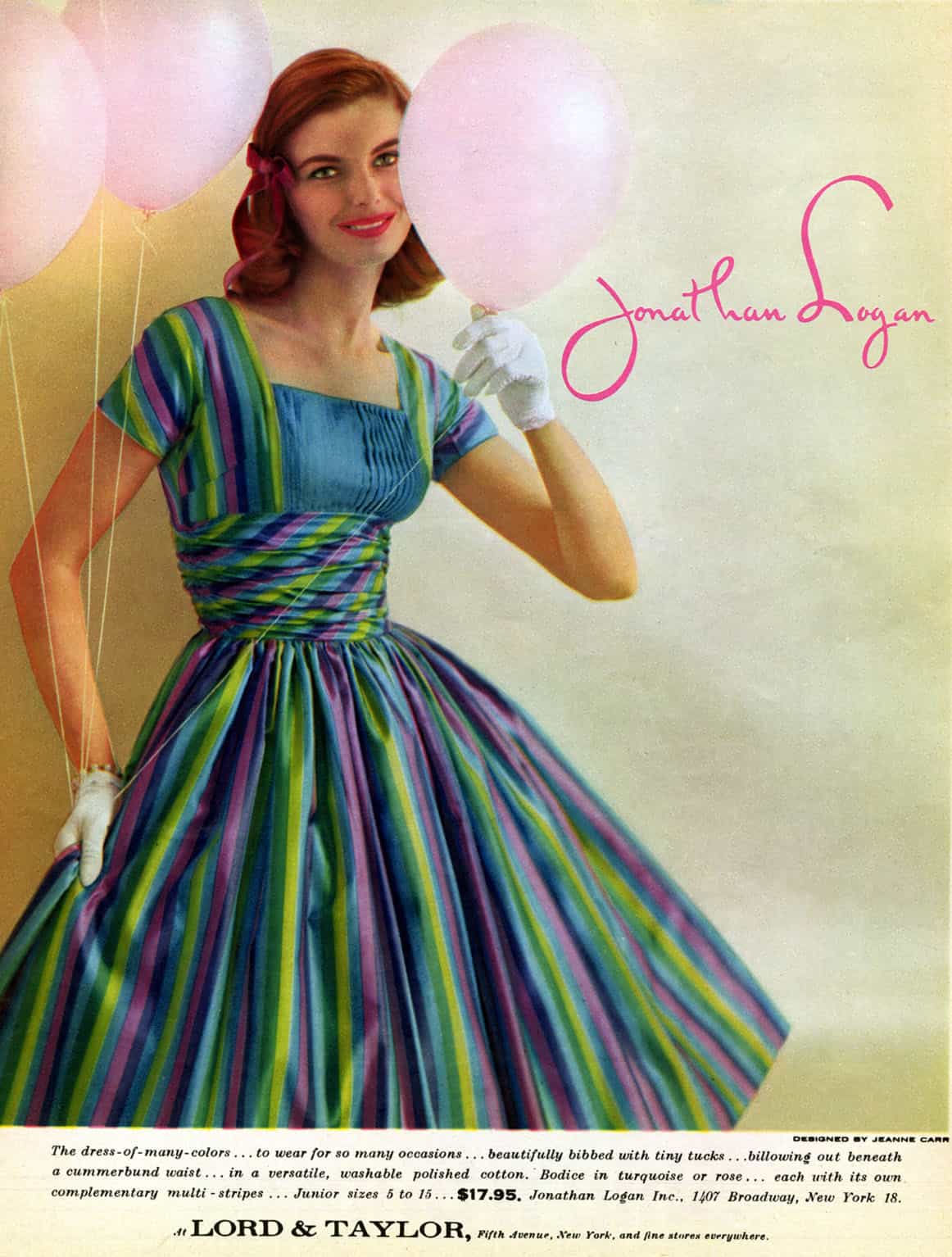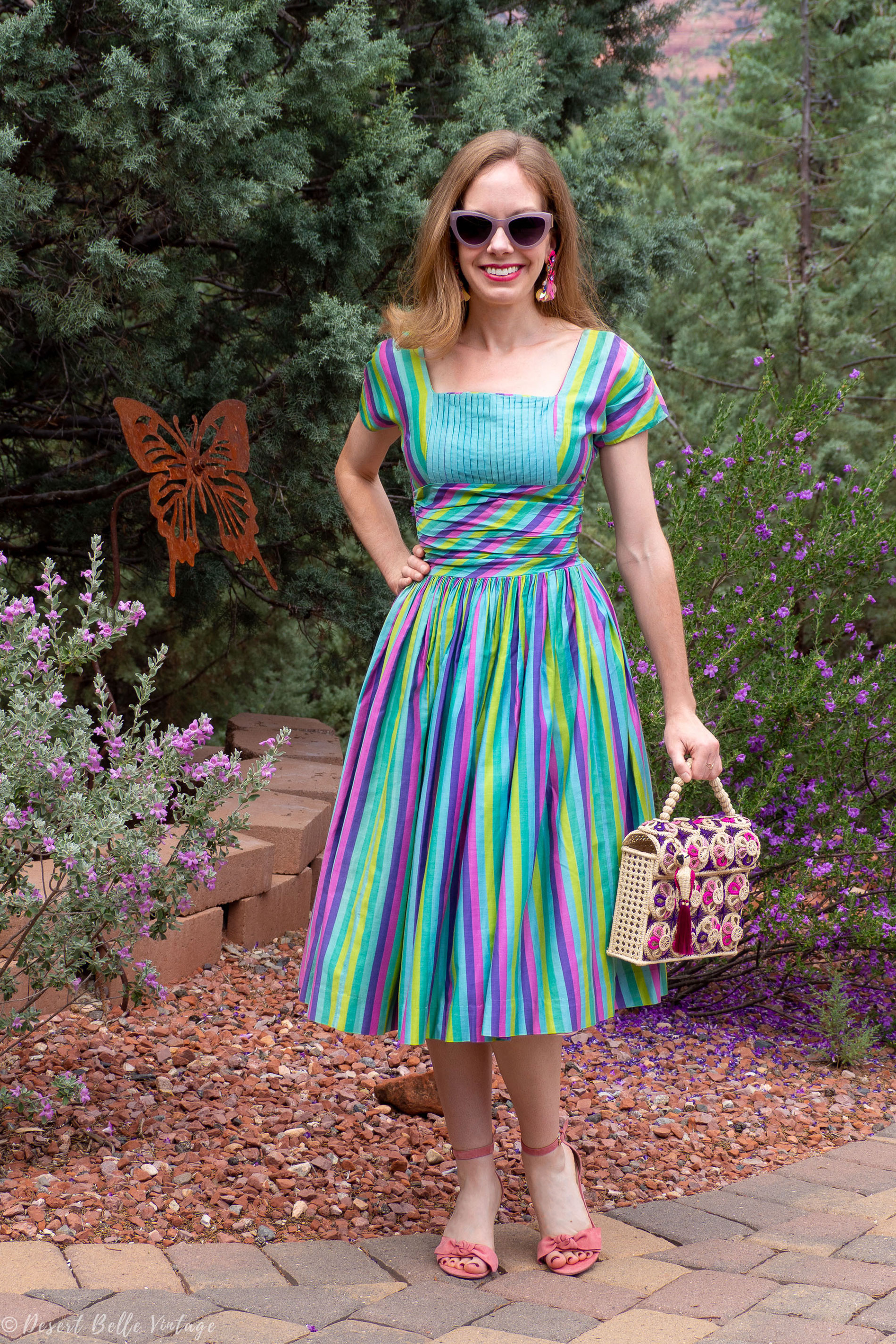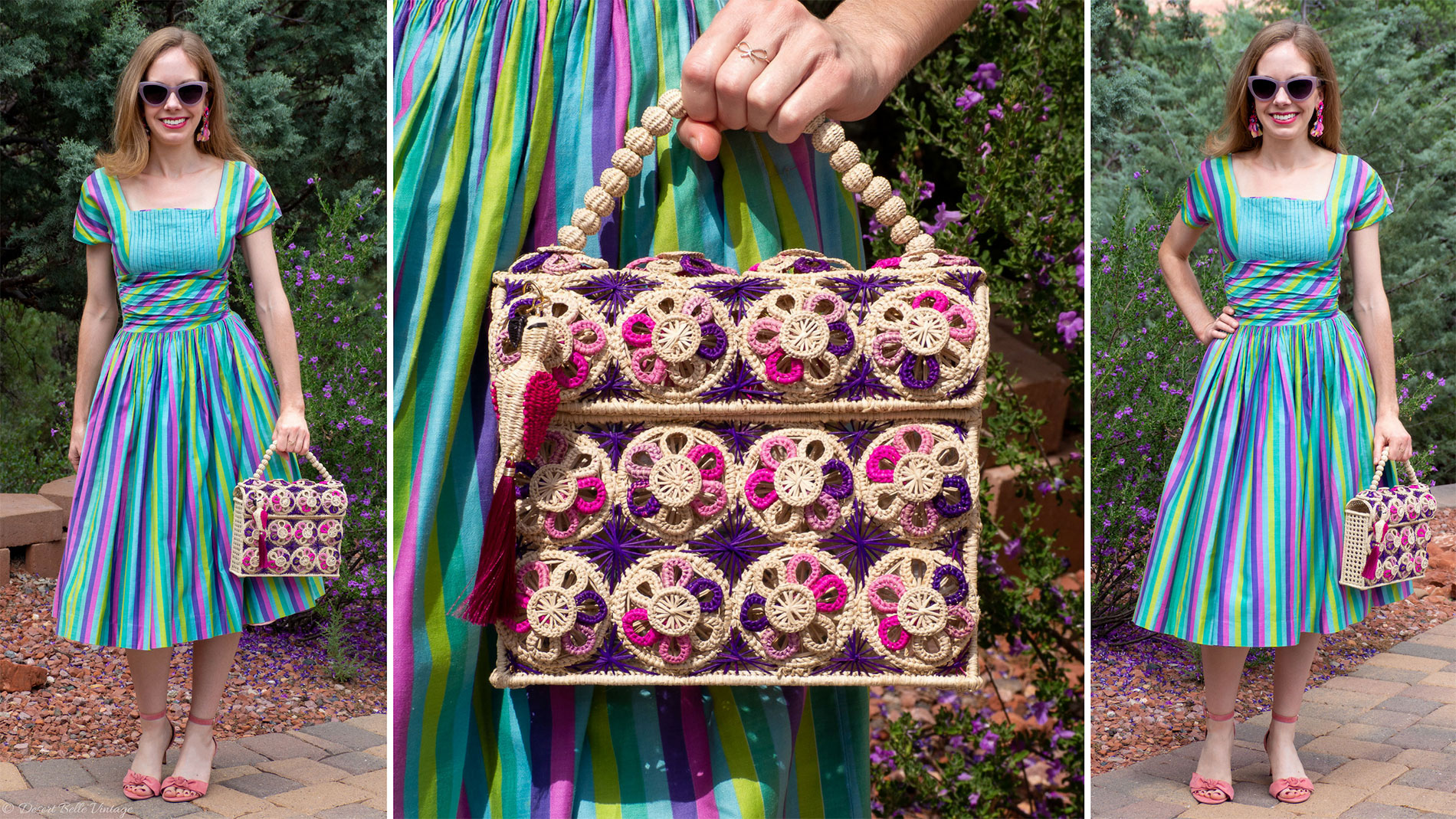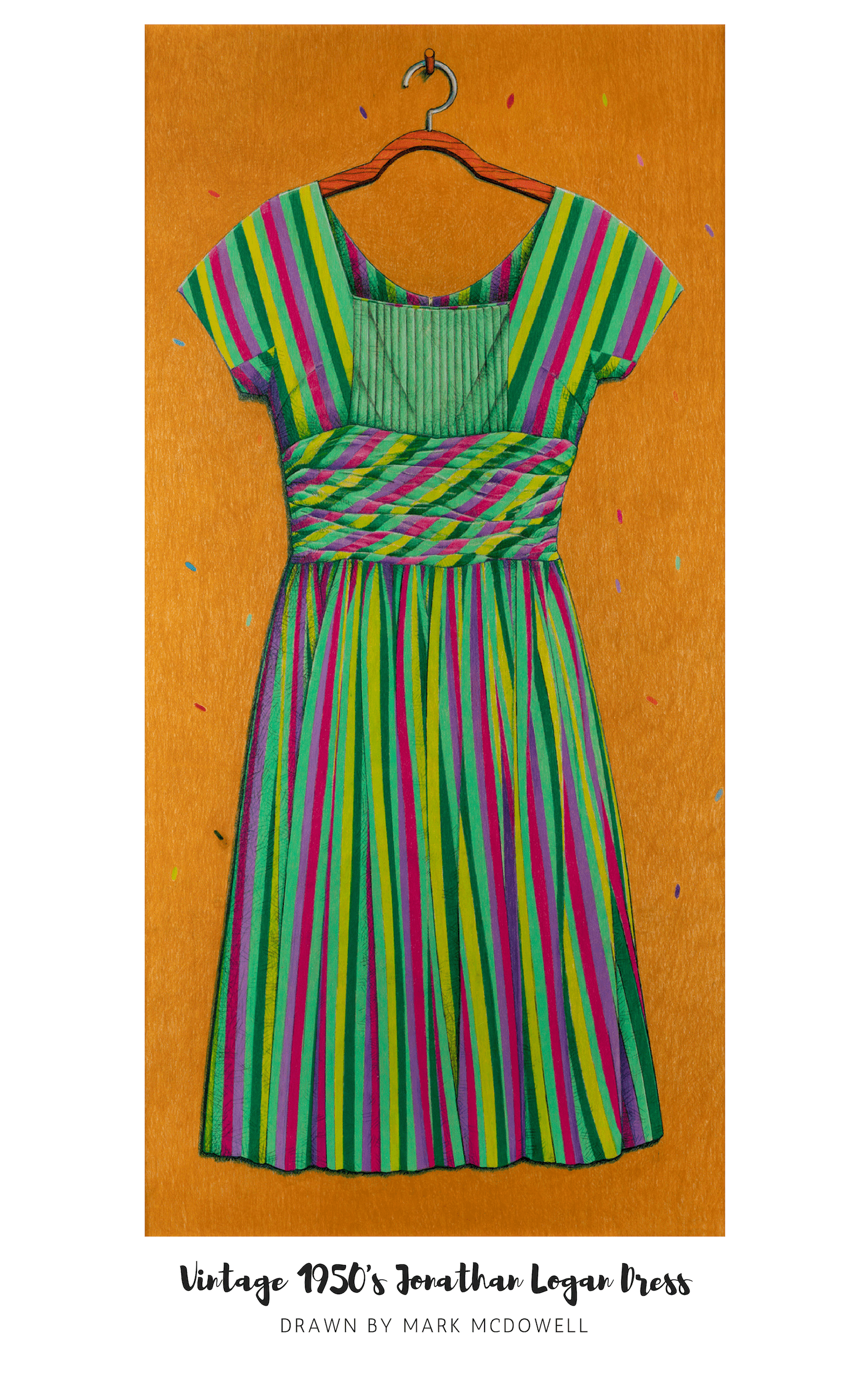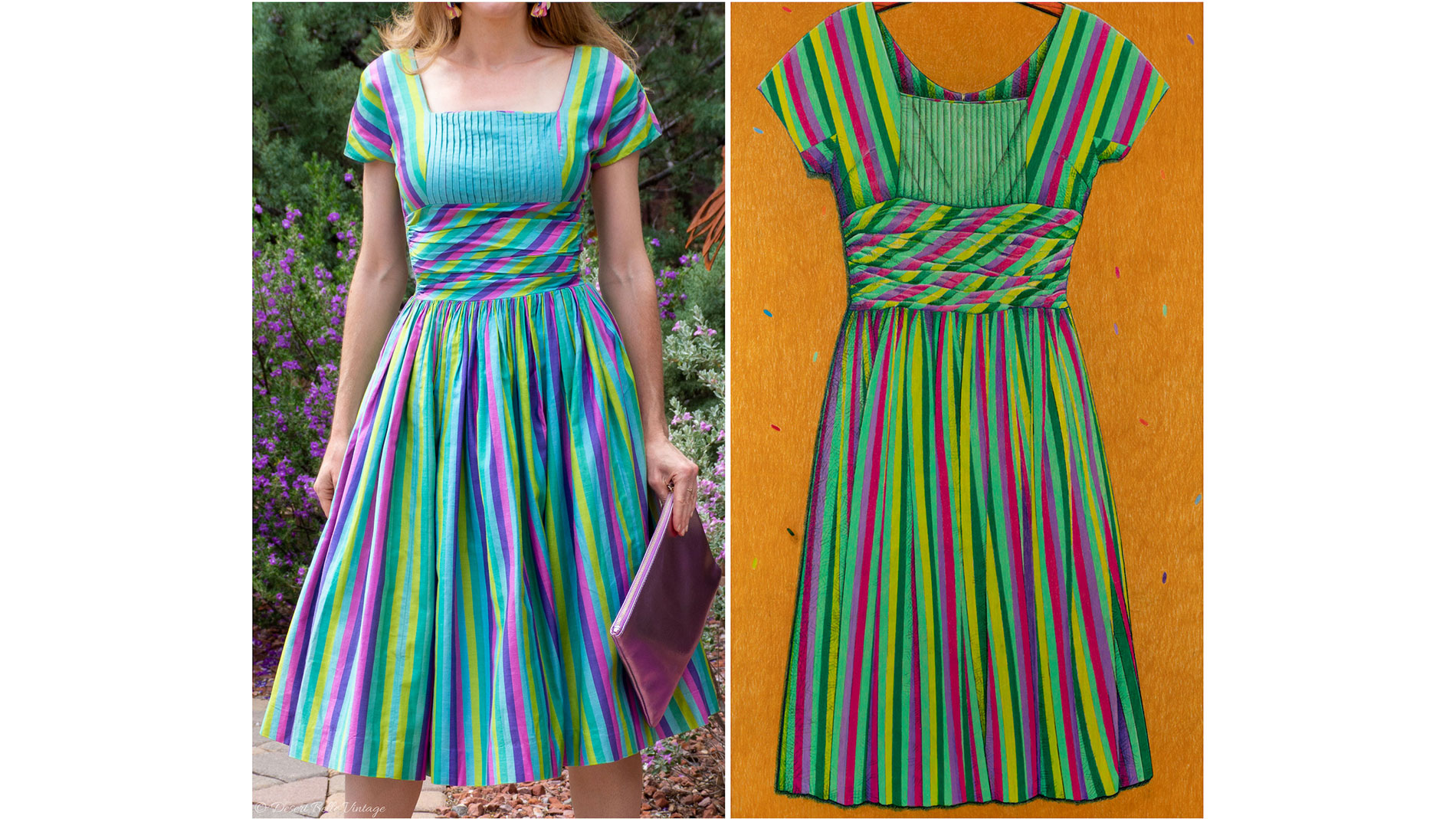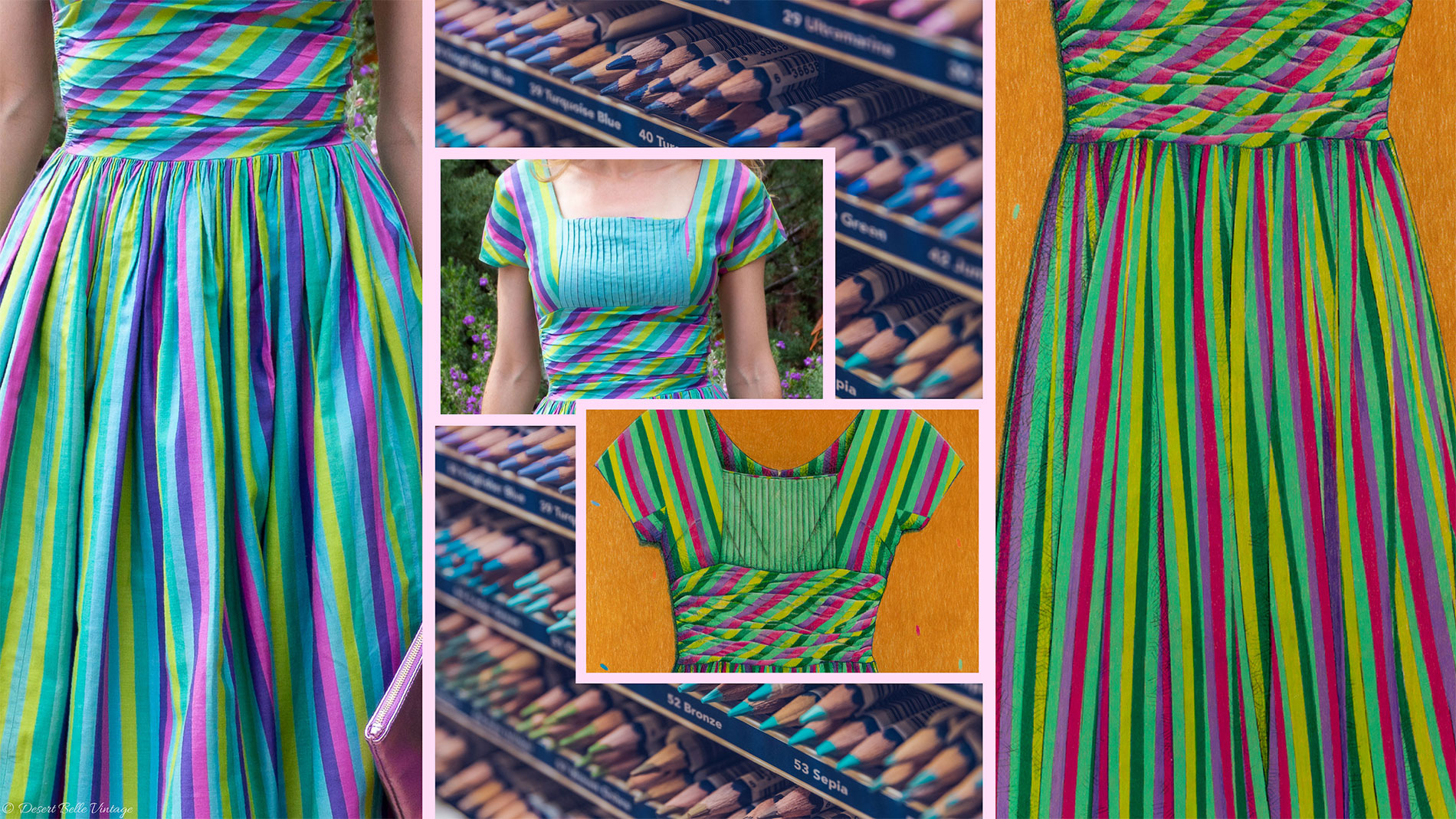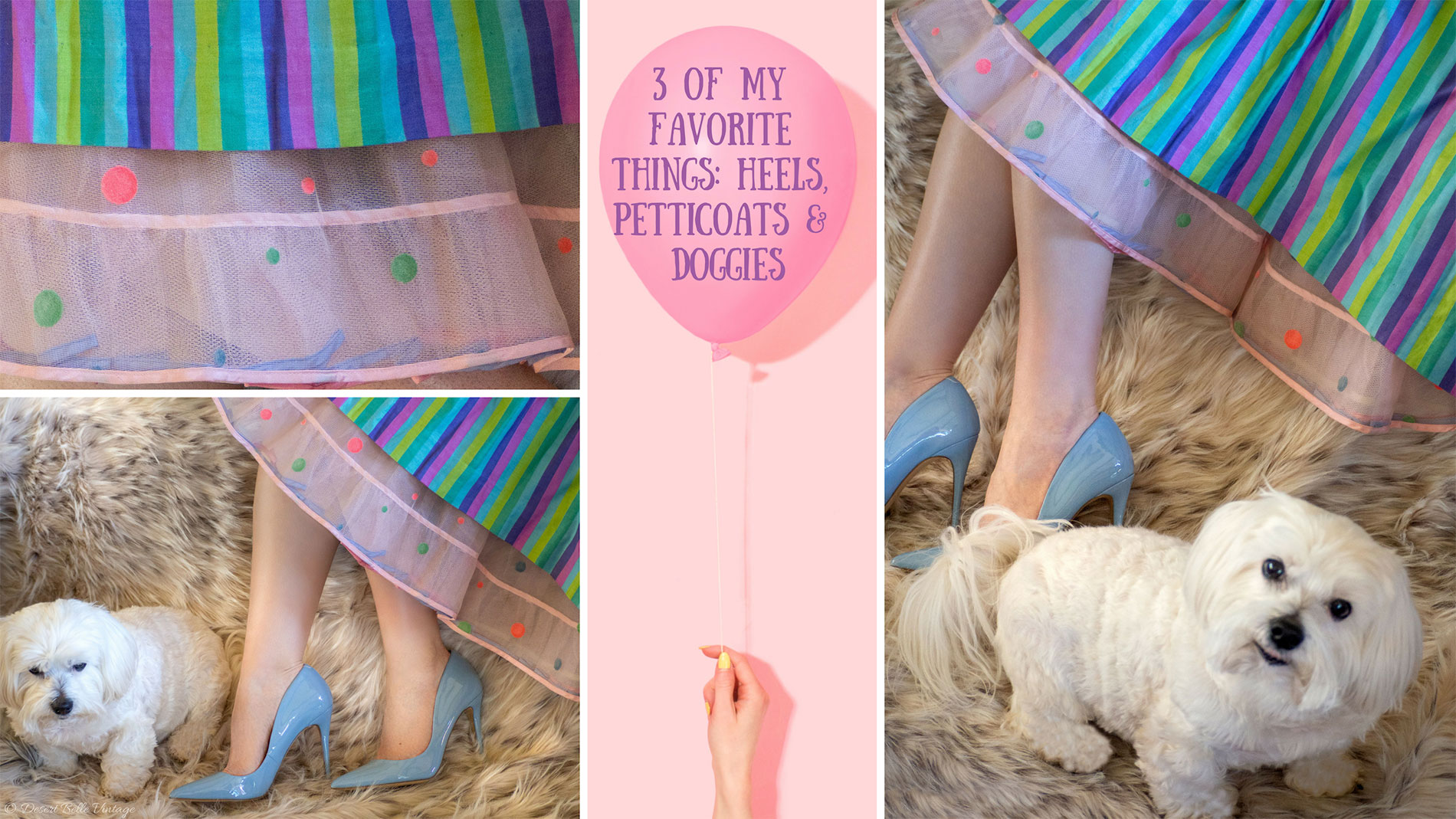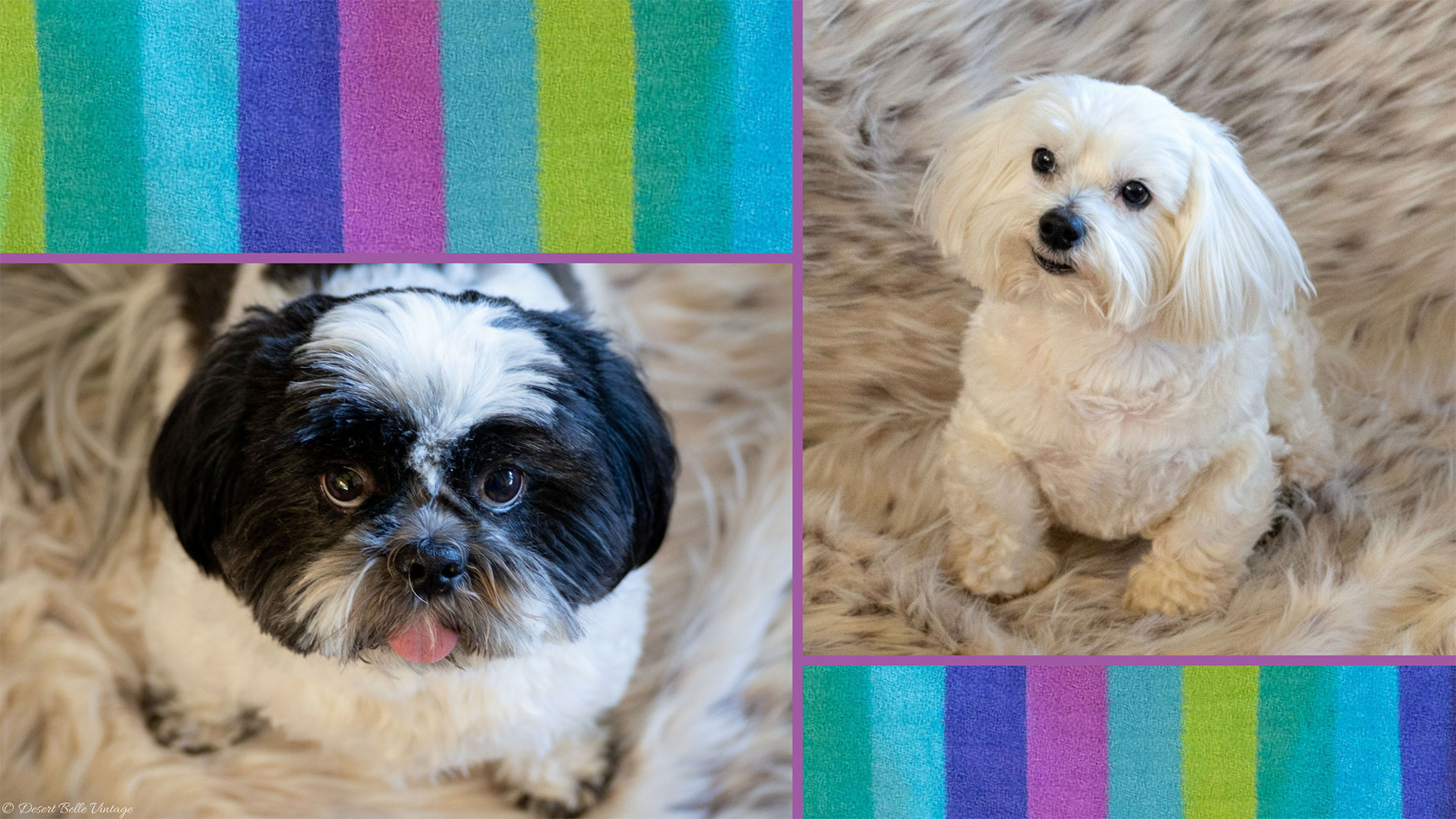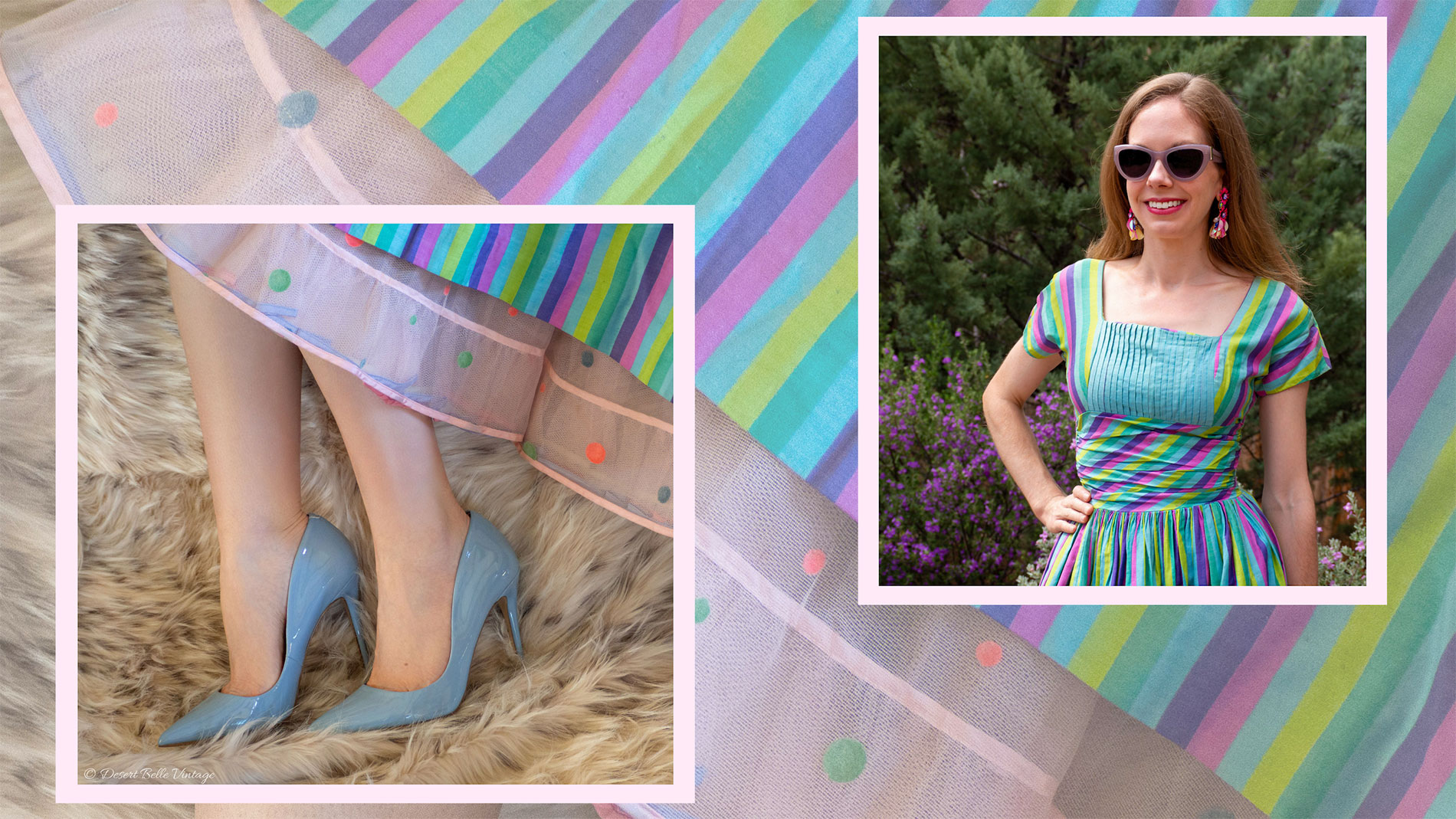 Dress: Vintage 1950's Jonathan Logan, designed by Jeanne Carr. Pink Crinoline Petticoat with Polka Dots: Vintage 1950's (Brand: Ladye Helene). Shoes: Blue Pumps: Steve Madden and Pink Bow Heels: Ann Taylor (past season). Purses: Pink Metallic Clutch: South Beach (past season) and Floral Woven Straw Bag: Mercedes Salazar. Earrings: J.Crew (past season).
A big, hearty Thank You to Mark McDowell, Cattle Track Arts & Preservation, Tucson Museum of Art and Justin Germain at the Tucson Museum of Art for championing the trunk show series.
It is important to note that I am not affiliated, associated, authorized, endorsed by, or in any way officially connected with any of the fashion designers (or any of their subsidiaries or affiliates) featured in this series or anywhere on the Desert Belle Vintage site. This blog contains my opinions and does not reflect the opinions of any featured businesses.