Christmas is almost here! I am officially looking forward to some holiday R&R, good food and quality time with friends and family. Christmas, as it is for many, is a very nostalgic time for me. It is an occasion to look back and lovingly reflect on Christmases past and celebrate time-honored traditions. I enjoy preparing cherished family recipes, revisiting treasured childhood ornaments and decorations and watching classic Christmas films that never seem to lose their magic despite my countless viewings.
Merry Mid-Century Marvelousness
I appreciate the memories that I hold dear from my personal Christmases past, but I also have a deep respect and reverence for how Christmases past have been celebrated through the years by others. The 1950s was a decade that truly embraced the Christmas season and all of its festivities, and throughout that decade innumerable items with cherished Christmas themes were produced. I have always loved seeing and discovering vintage 1950's Christmas collectibles at vintage shows, thrift stores, garage and estate sales. With my love of fashion, I had always yearned to find a vintage 1950's Christmas themed novelty garment to wear during the holiday season. It took me many years, but 10+ years ago I was finally able to find the vintage 1950's novelty Christmas garment of my dreams.
To nostalgically ring in the Christmas holiday this year and show reverence to mid-century Christmases past, it thrills me to showcase the beloved vintage 1950's holiday garment I found over ten years ago: my vintage 1950's novelty felt appliquéd Christmas tree dress.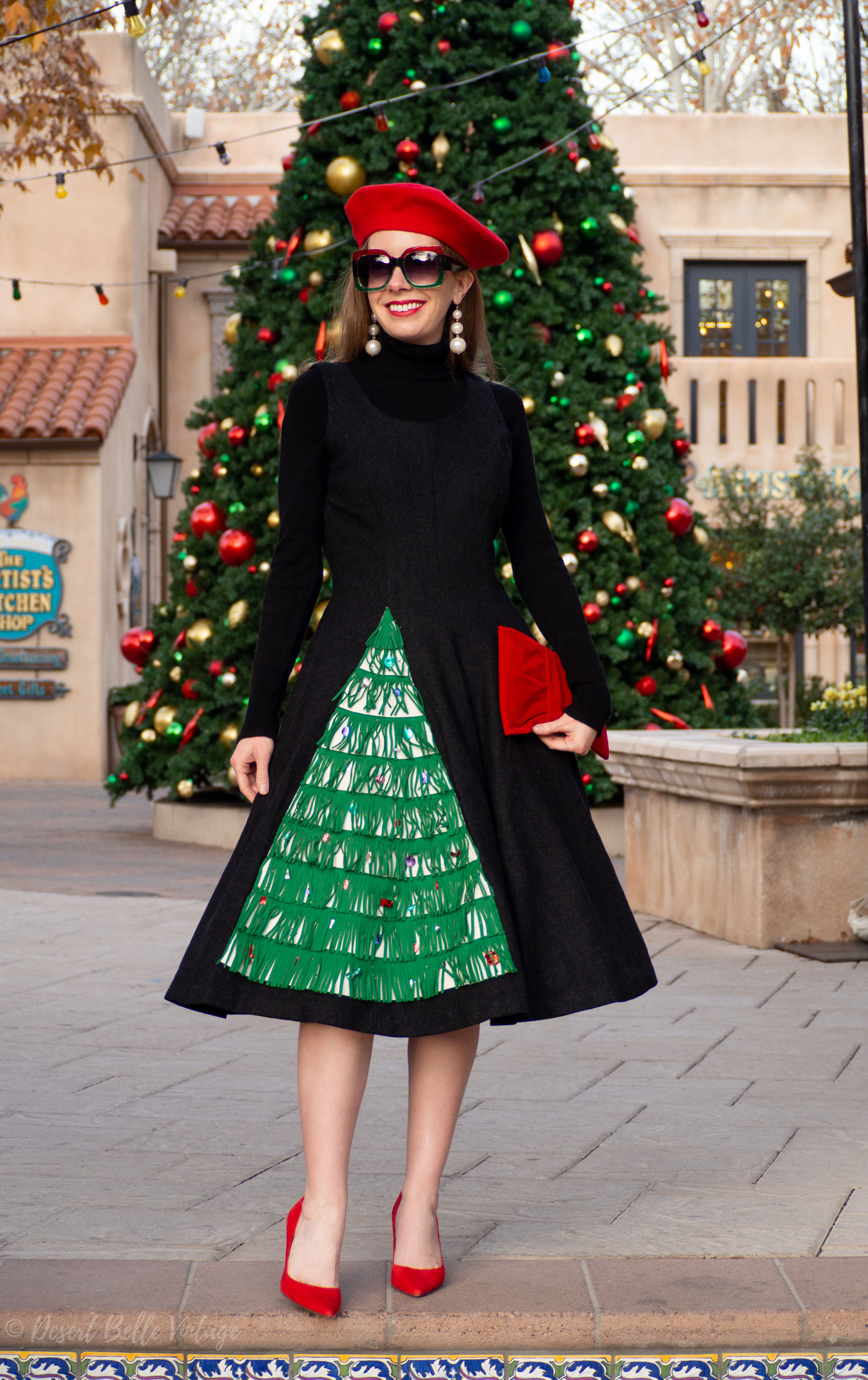 A Christmas Tree Unlike Any Other
This cozy vintage wool dress has an ultra-charming and festive felt appliquéd Christmas tree on its front skirt. The appliquéd felt Christmas tree is positively mid-century modern perfection! With its minimalist triangular shape, white felt background, felt fringe "branches" and sequin and bead "ornaments," it is obvious this precious Christmas tree was constructed with an exceptional and masterful attention to detail. This dress was designed with a scoop neck sleeveless bodice. For additional warmth, I layered a black turtleneck underneath my dress the way Audrey Hepburn layered a long-sleeved black top with one of her iconic sleeveless dresses in the 1954 film Sabrina.
This vintage 1950's dress looks to have been sewn by a highly skilled home seamstress. Because this dress was hand-sewn back in the 1950s and includes so many unique hand-done details, it is definitely one-of-a-kind. I imagine the talented person that designed and created this fabulous garment also wore this magnificent dress at the holidays. I like to envision how they may have styled the dress back in the 50s and also what glamorous parties or events they may have worn the dress to. 'Tis the beauty of vintage: It is incredibly fun to wear and also pays tribute to the brilliant fashion artisans (both well-known and unknown) of our past.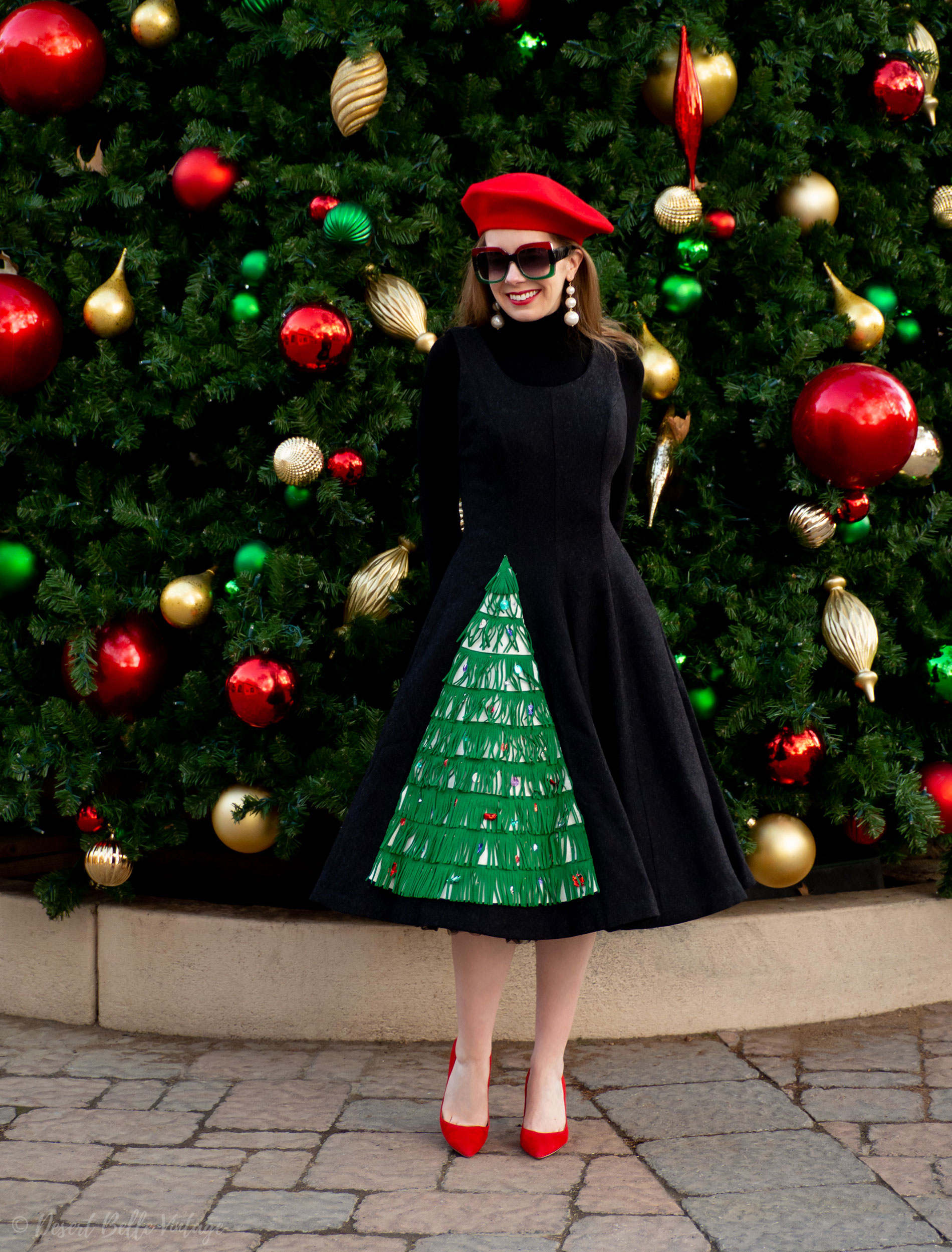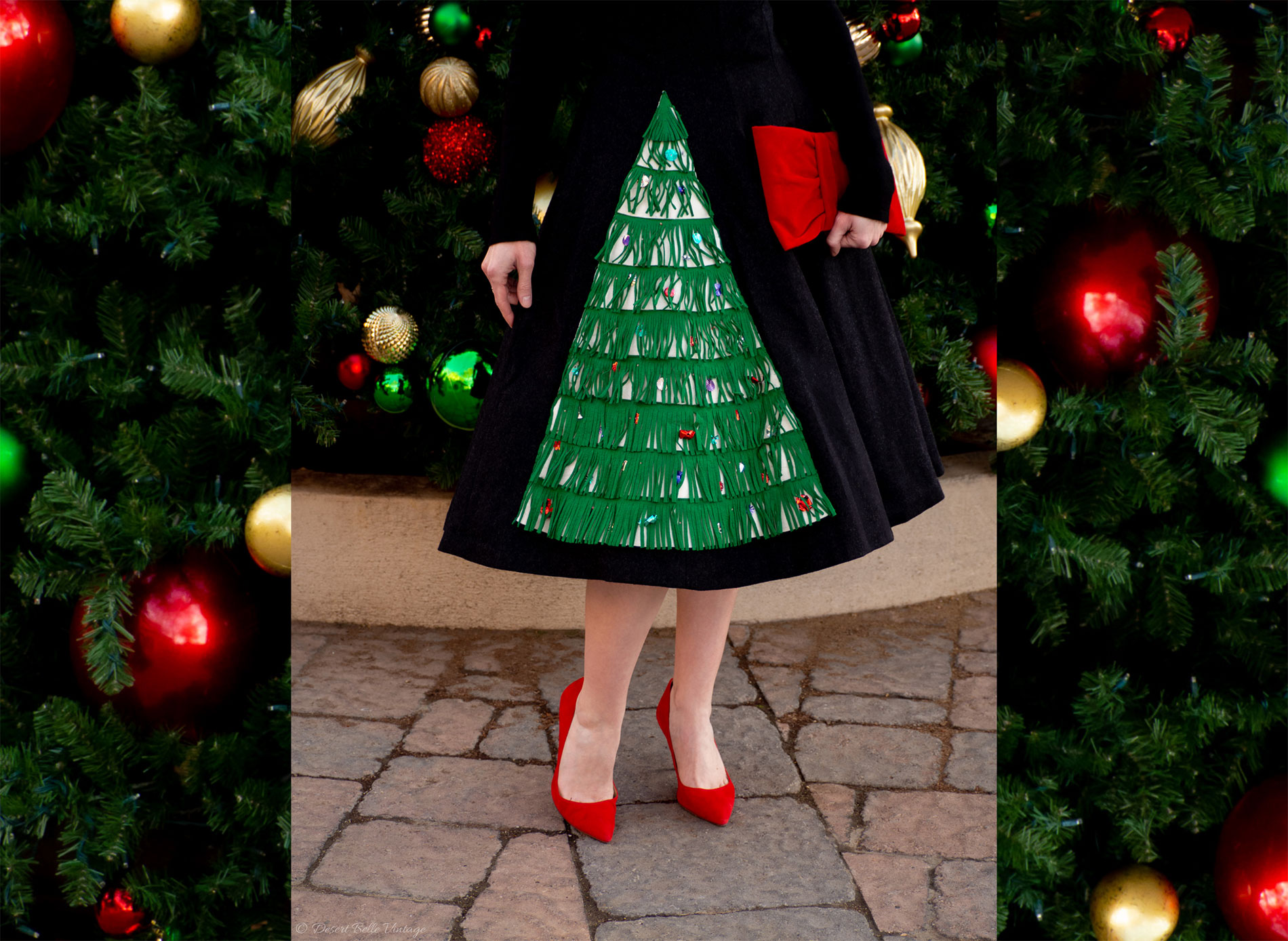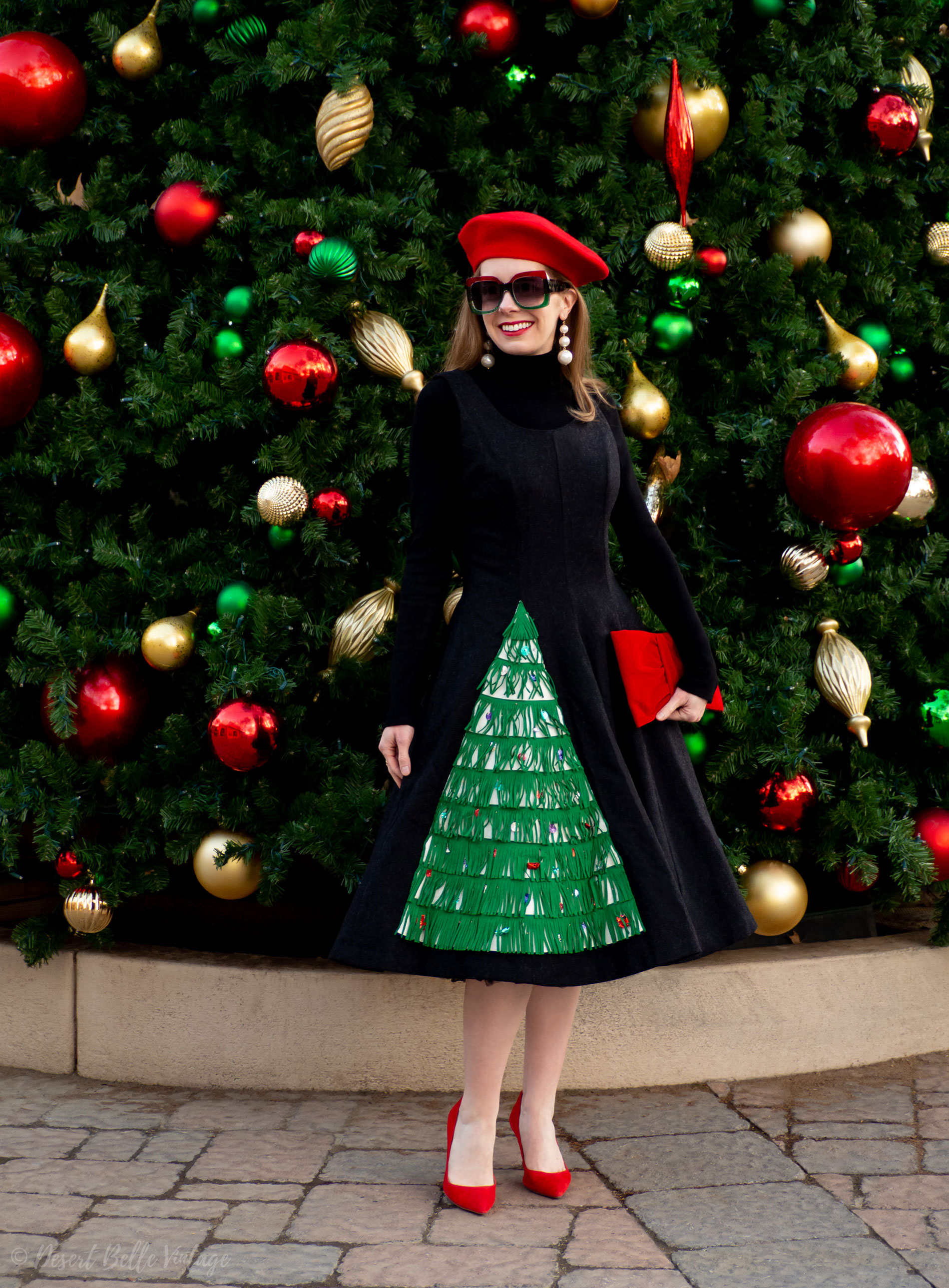 Season's Greetings from Desert Belle Vintage
The holidays are a truly special time of year, and I hope that however you plan to celebrate the season you are surrounded by love, laughter, happiness and good cheer. Desert Belle Vintage wishes you a memorable and joyous holiday season and a peaceful and prosperous New Year!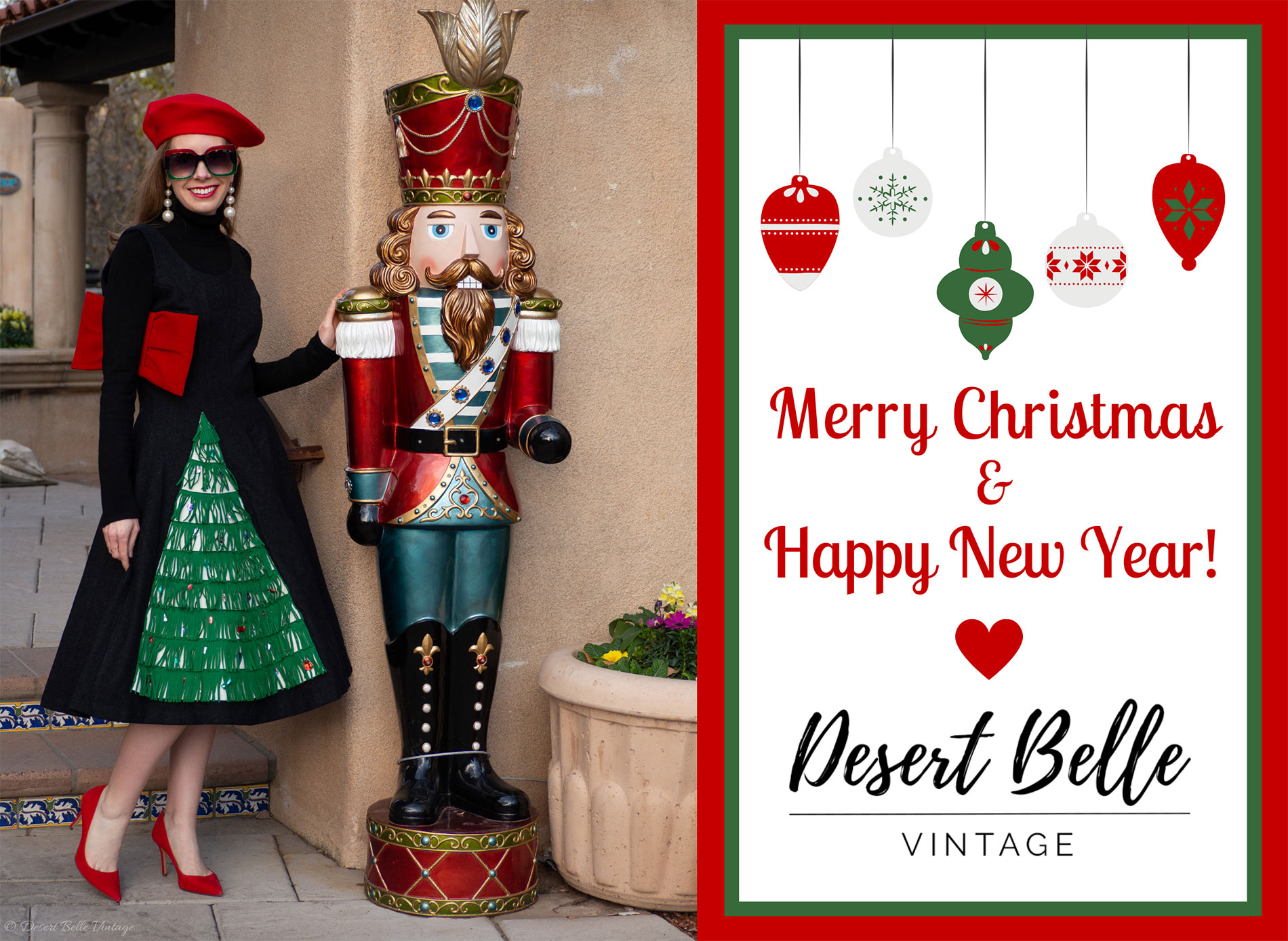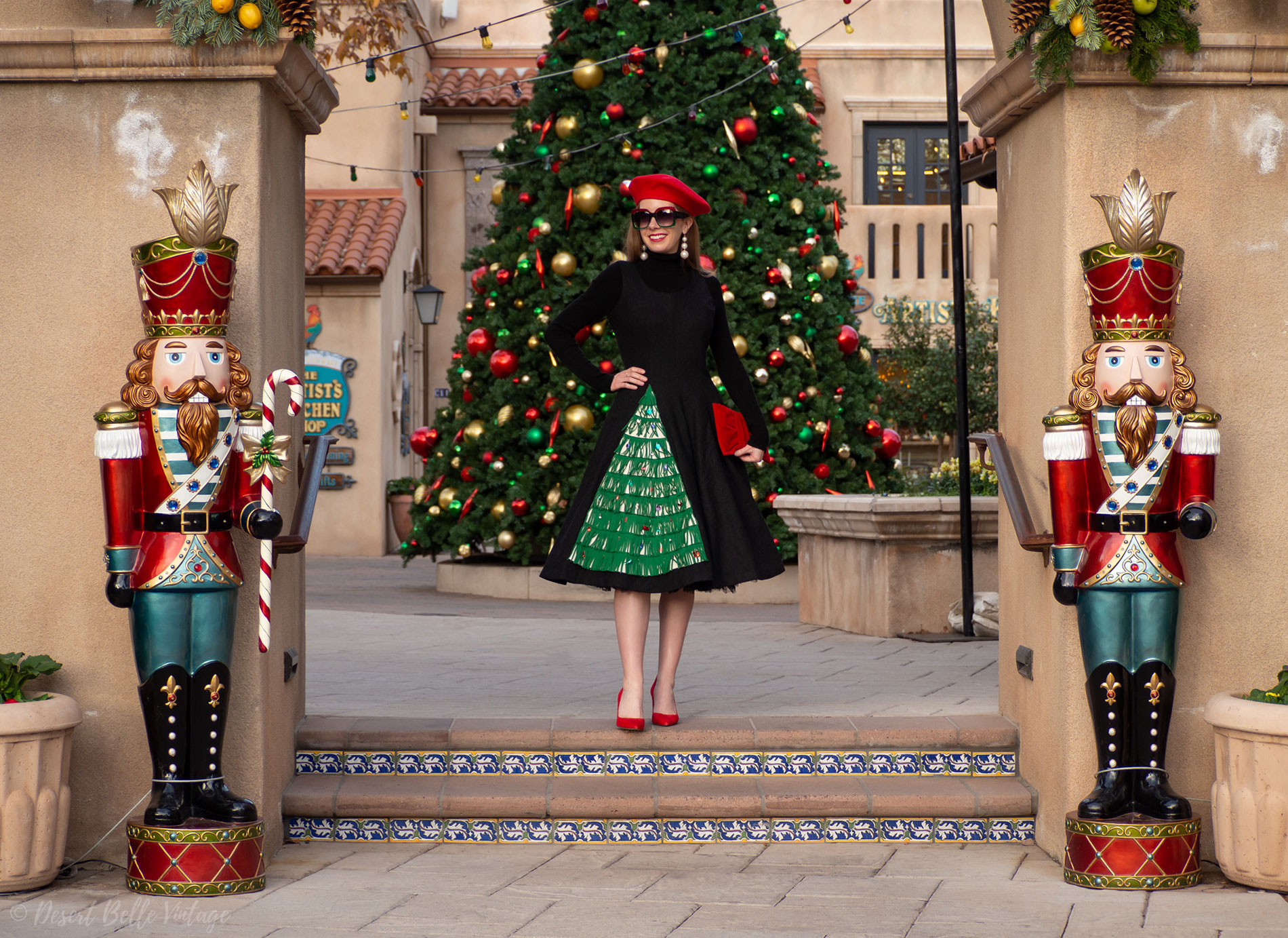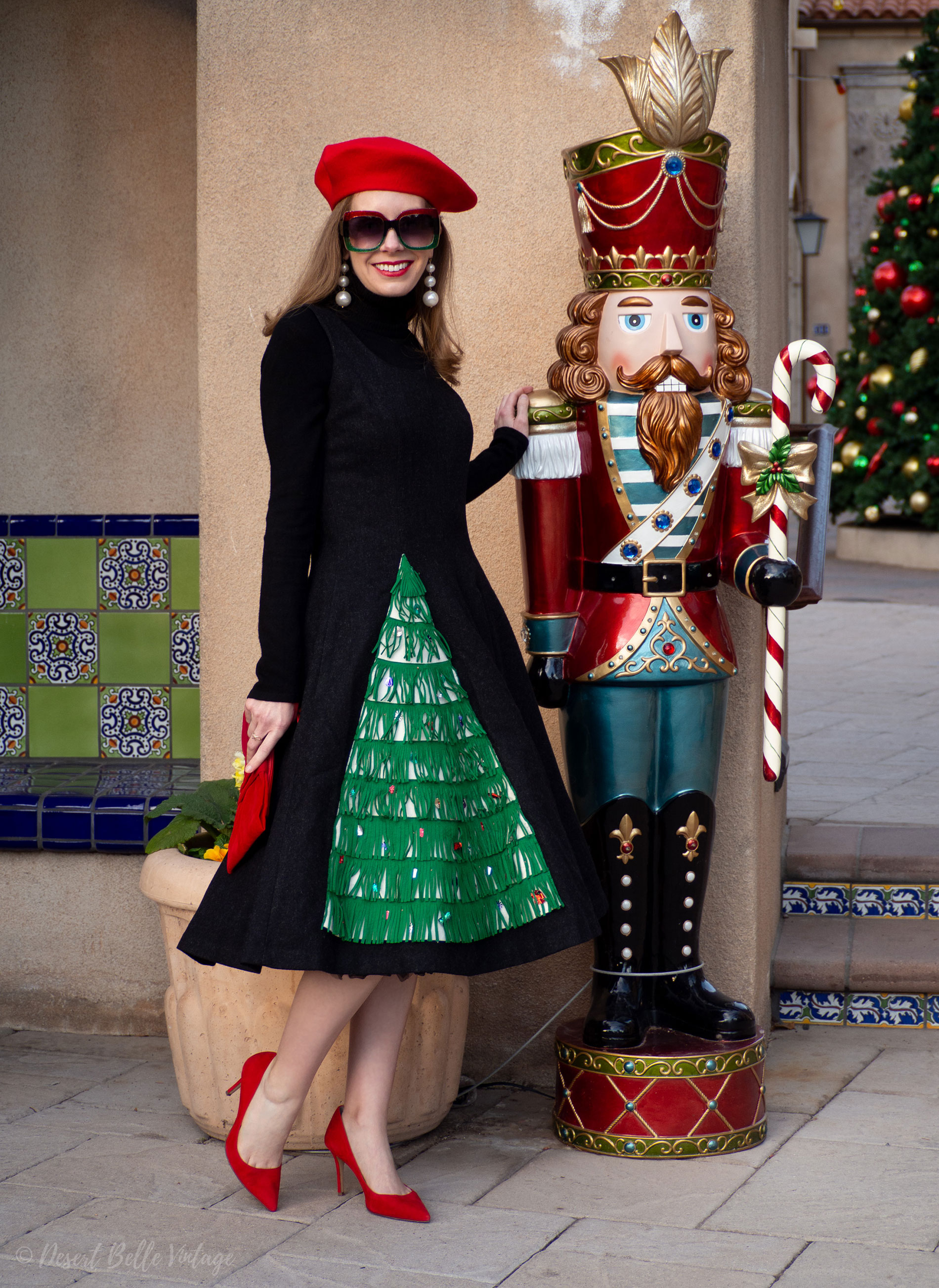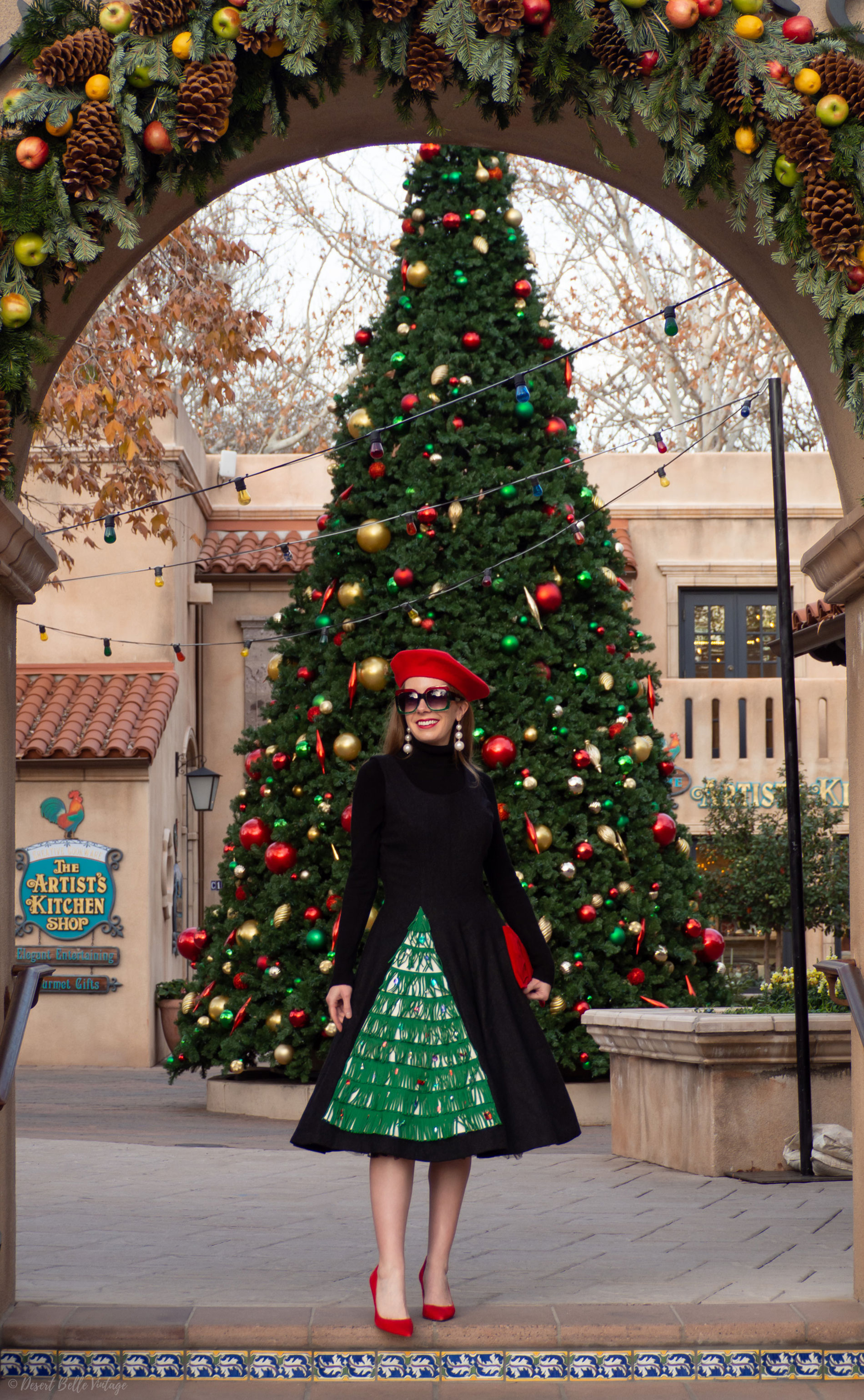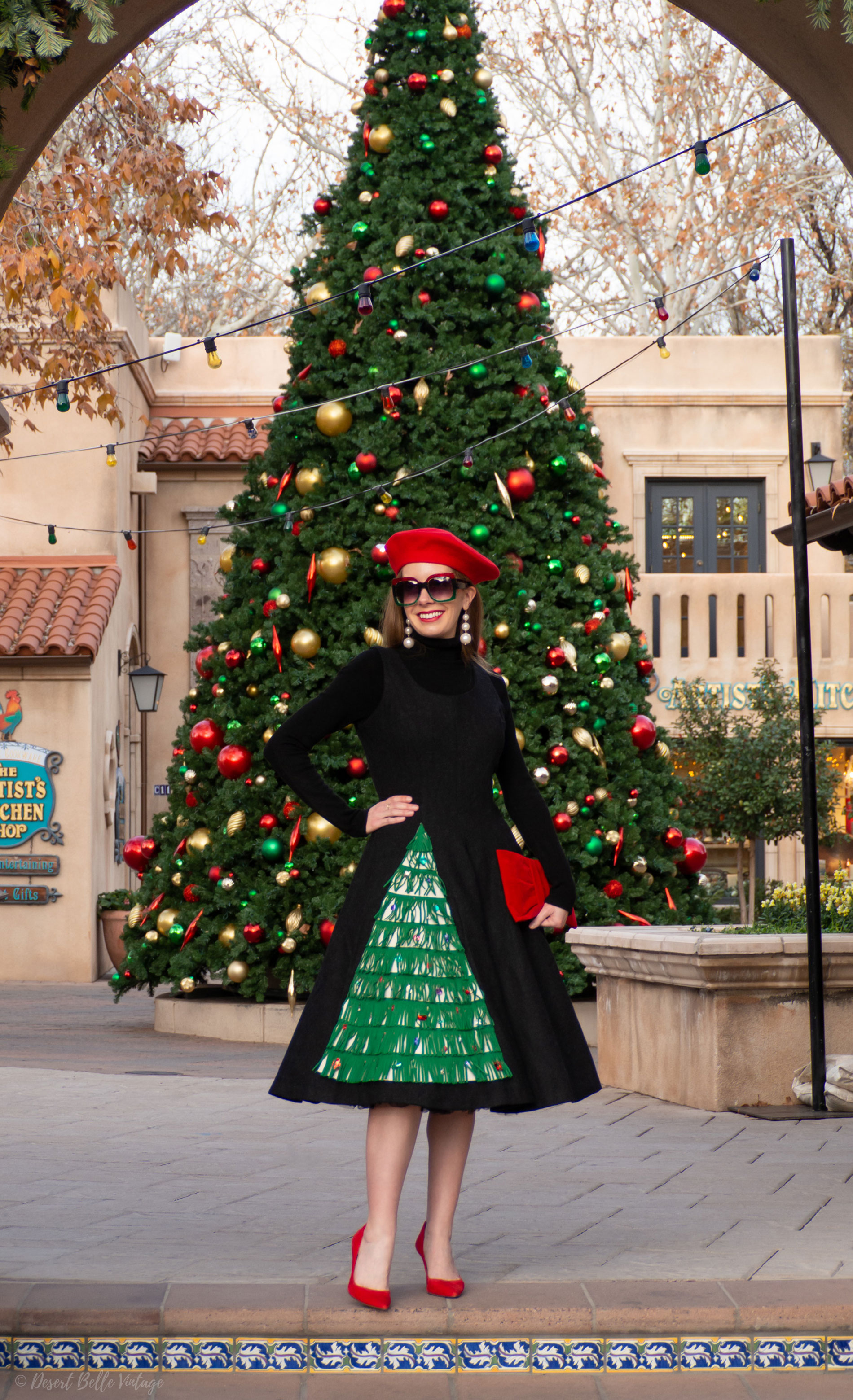 Dress: Vintage 1950's (Brand / Maker: unknown). Turtleneck: Olivia Sky (past season). Shoes: Ann Taylor (past season). Clutch: Shiraleah (past season). Beret: J.Crew (past season). Earrings: BaubleBar (past season).
Desert Belle Vintage visited Sedona, Arizona's Tlaquepaque Arts & Shopping Village for the festive photos you see in this post.
If you would like to see more vintage 1950's novelty fashion, please visit this post and this post.
The Desert Belle Vintage Shop is proud to offer rare vintage novelty fashions from the 1950's. Click here to see a fabulous vintage 50's Parisian poodle novelty dress that is currently available, and click here to view a delightful vintage 50's seaside vacation novelty print skirt that is now for sale in the Shop.
It is important to note that I am not affiliated, associated, authorized, endorsed by, or in any way officially connected with any of the designers or companies (or any of their subsidiaries or affiliates) featured in this post or anywhere on the Desert Belle Vintage site. This blog contains my opinions and does not reflect the opinions of any featured businesses.