Fall is almost here! I am excited for cooler weather, seasonal pumpkin treats and of course Halloween!
I had so much fun putting together last month's novelty fashion post that I have decided to feature more novelty fashion this month and in September.
Last month I showcased a 1990's silk novelty print dress. For this month plus September, I decided to create a two-part post celebrating two vintage 1950's skirts that share the same fabulous novelty theme. And what is this fabulous novelty theme you might ask? Well, if you have not already guessed it, it is giraffes!
This month's vintage 1950's giraffe themed novelty skirt is truly an artistic masterpiece! Embellished with an appliquéd scene of a jovial giraffe, this felt circle skirt by "Fay Foster Originals, A California Creator" and hand signed by "Salazar" is a rare example of 1950's novelty fashion.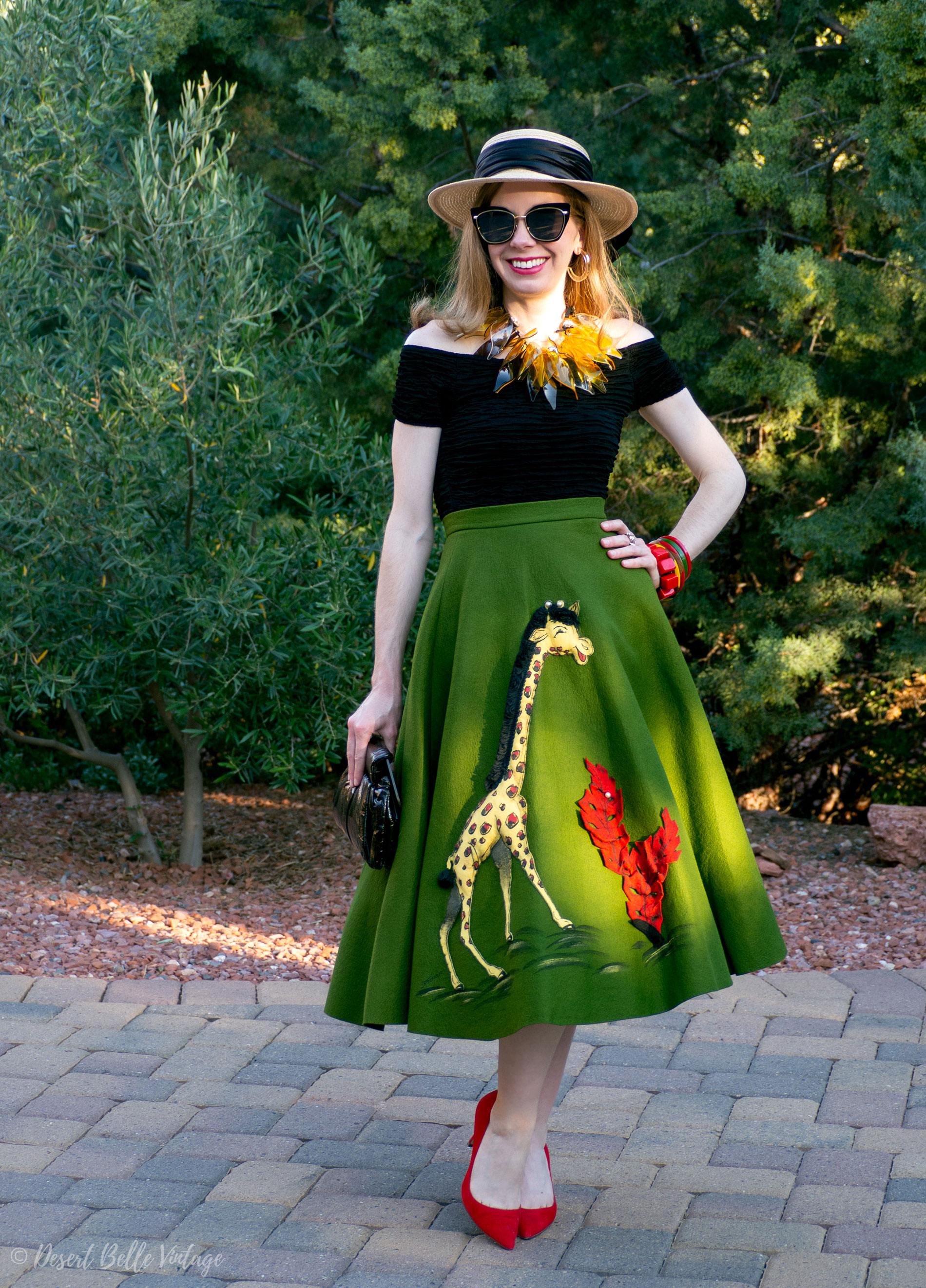 1950's Novelty Fashion
Through the years, I have collected a wonderful assortment of novelty fashion treasures from different time periods. My novelty collection began out of my adoration and appreciation for 1950's novelty garments. In America during the 1950s, novelty themed fashions were all the rage. The ending of WWII in the 1940s ushered in tremendous change, progress and growth in America that continued throughout the 1950s. 1950's popular culture took on an escapist agenda after the traumatic and somber war years. Whimsey and frivolity were adopted into 1950's fashion. Poodles in Paris, Wild West cowboys (and cowgirls!), harlequins, cute animals, travel scenes and many other various fun novelty motifs were embraced and could be seen on dresses and separates in the 50s. In the 50s, both notable designers as well as talented home seamstresses created novelty themed dresses and separates. Purses and other fashion accessories were also allowed in on the fun as many were created with playful novelty motifs.
Fay Foster & Salazar: A Brilliantly Creative Team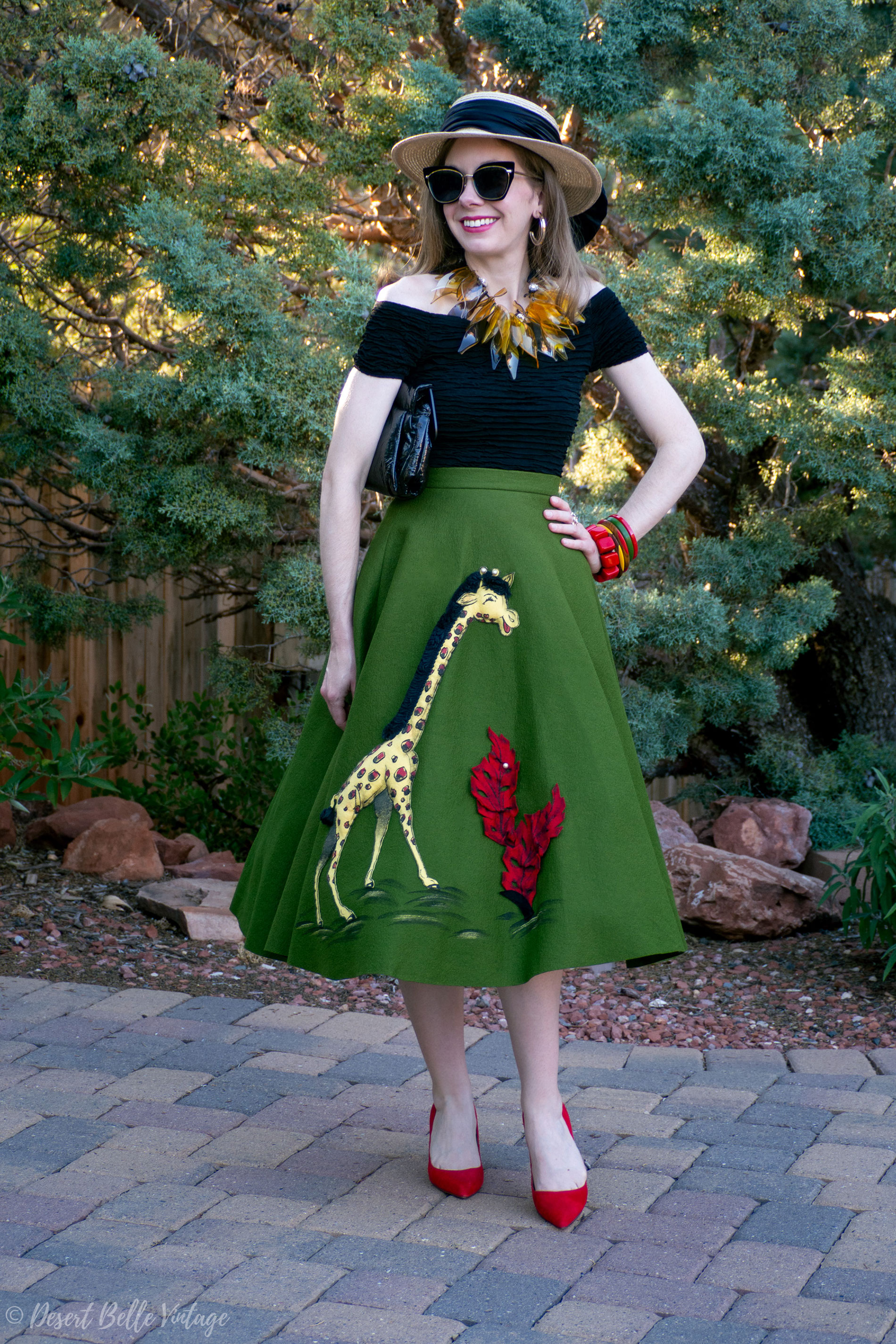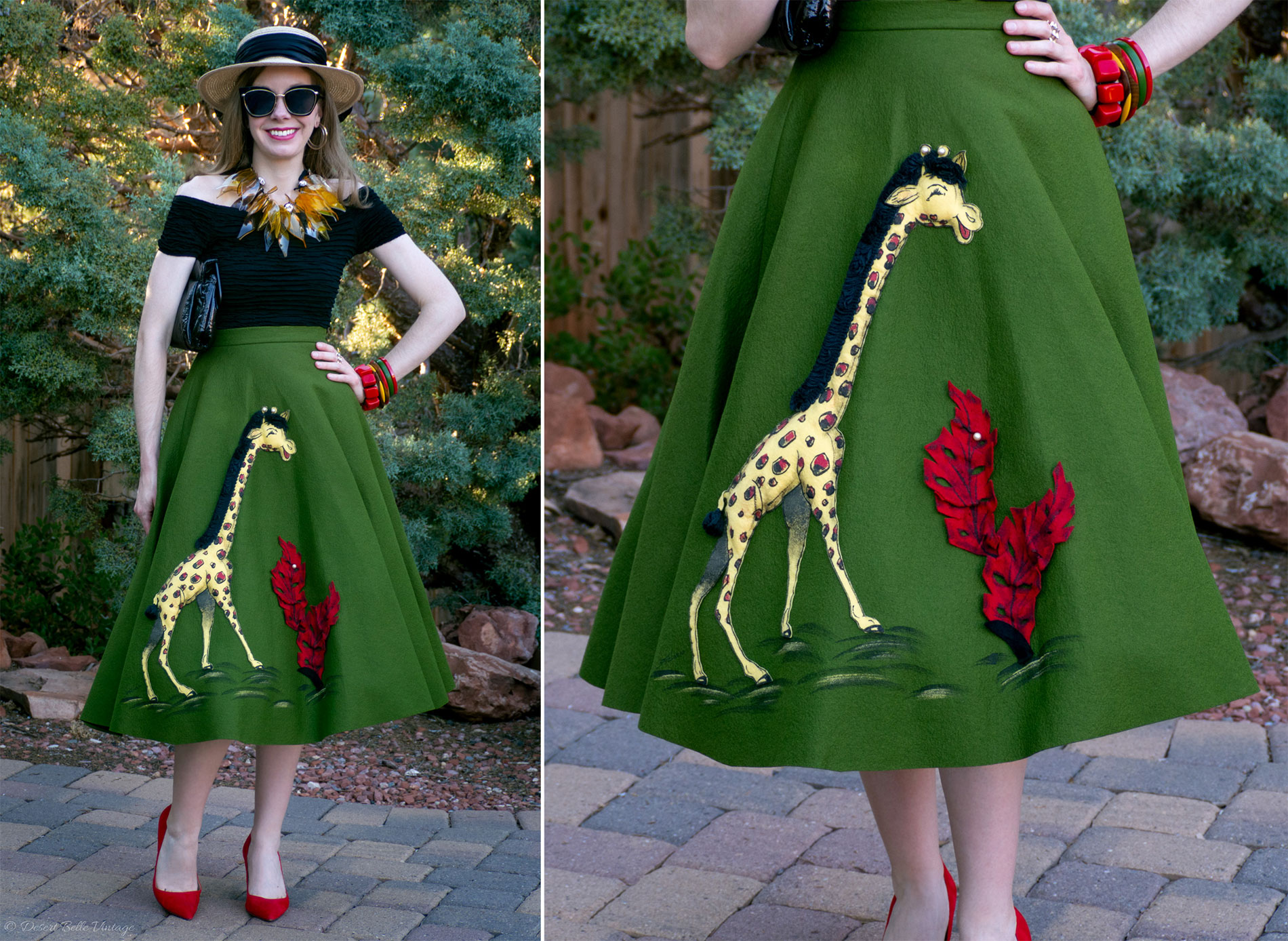 The level of design and workmanship seen on some vintage 1950's novelty fashion gems is truly astounding and propels them into the realm of wearable art. The meticulous attention to construction and detail seen on my vintage appliquéd giraffe skirt is remarkable. I can only imagine what other breathtaking creations Fay Foster Originals and Salazar perhaps completed together. It is obvious much time and thought went into my skirt, and I cannot post about this piece without describing its phenomenal details. The skirt and attached novelty embellishments are constructed of high-quality, thick felt, and hand-painted details are seen throughout the skirt's design. The skirt has three strategically placed pearls – two at the tips of the giraffe's ossicones and one on the plant. An adorable black yarn fringe trim is sewn along the giraffe's neck, at the top of his head and at his tail to represent fur. There is a 3-D quality to the giraffe and red-leafed plant due to their felt constructions, hand-painted details and the way they were hand-sewn onto the skirt. Furthermore, the giraffe has stuffing that was hand-sewn into his grand felt form, and the thickness and depth created through this technique lends an even greater 3-dimensional look to the giraffe's majestic physique. The smiling face of the giraffe as well as his spots and the outlines and shading of his body are hand-painted. The striking red leaves of the plant have hand-painted veins and shading. To express the rocky dry terrain of the giraffe's habitat, Salazar, the artist of this novelty confection, created a "ground" by painting gestural brushstrokes underneath the happy giraffe and thriving plant. Salazar cleverly included his or her hand-painted signature at the bottom "ground" of the magnificently done novelty scene, allowing the signature to blend in and almost look like one of the painted rocks.
Some Stylish Sleuthing
As noted earlier, this skirt has an inner label which reads "Fay Foster Originals, A California Creator" and is hand-signed by an artist named "Salazar." I have researched the "Fay Foster Originals" label and name, but unfortunately I have been unable to find any definitive information to share about this maker. I have seen a few other garments bearing the Fay Foster label but no information regarding the label's history. I have also researched the artist "Salazar" and, unfortunately, did not find any definitive information to share. I recently saw a darling vintage 1950's coordinating set comprised of a cotton top and hand-painted and appliquéd novelty lemon cotton circle skirt from the "Marjorie Montgomery California" label with the skirt hand signed by "Salazar." The Salazar signature on my skirt is the same as the Salazar signature I saw on the lemon skirt. I can only assume that this talented artist named Salazar worked with a select number of the California-based fashion designers in the 1950s completing painting and appliqué work on some of their fabulous creations.
I would love to know if the Fay Foster designer label name was derived from an actual person or was simply the name given to a fashion company (like in the case of Suzy Perette). Marjorie Montgomery was an actual person. Born in 1912, she began a career in acting and dance at a young age. She transitioned into clothing design in the 1920s and continued on as a fashion designer into the 1960s. If Fay Foster was an actual person, perhaps she and Marjorie Montgomery knew of each other and ran in the same fashionable circles? The inclusion of "A California Creator" on the "Fay Foster Originals" label leads me to surmise that Fay Foster was an actual person, "a California creator," that was active and successful in the 1950's California fashion industry.
Since my searches for "Fay Foster Originals" and "Salazar" did not provide much to go on, I decided to also research giraffes in 1950's novelty fashion. There is a very popular and highly collectible cotton novelty print giraffe skirt from the 1950's. This novelty print giraffe skirt will be featured soon, wink wink. Regarding skirts with appliquéd felt giraffes, in the last few years I have only seen one other skirt that had a highly similar but differently constructed and painted giraffe. This other skirt was made of burlap and had an "Ethel of Beverly Hills" label. I find it interesting that this designer was also from California.
A Necessary Nod to Juli Lynne Charlot
When I first found my felt giraffe skirt over 10+ years ago, the design and construction immediately called to mind the skirts of famed American actress and singer turned designer, Juli Lynne Charlot. Per the Vintage Fashion Guild: "In 1947, [Juli Lynne Charlot] designed a felt circle skirt which she decorated with appliquéd Christmas trees. The skirt was such a success that she continued to design similar skirts with embroidered and appliquéd motifs. According to some sources, Charlot was the originator of the poodle skirt." I have a few of Juli Lynne Charlot's breathtaking appliquéd creations, and the marvelous ingenuity displayed through my giraffe skirt's design rivals that of Charlot's work.
Juli Lynne Charlot was living in California when she debuted her first famous felt appliquéd skirt and started designing and making clothing. Juli Lynn Charlot's success with her appliquéd novelty designs obviously influenced other 1950's California fashion creators to produce their own appliquéd works of wearable art. Like Marjorie Montgomery (mentioned above), Madalyn Miller, for example, was another California-based 1950's fashion label that created, along with more traditional designs, whimsical novelty skirts, some of which were hand-painted and appliquéd. I look forward to featuring a Madalyn Miller skirt in a future post.
Juli Lynne Charlot's design influence grew and spread throughout the country in the 1950s as other, non-California, designers, like Junior House Milwaukee (more on them in a future post), and skilled home seamstresses created, offered up and styled their own versions of appliquéd novelty nirvana.
To "Sew" Things Up
Based off of my years of research and collecting, Fay Foster, I can only assume, was one of the highly talented 1950's "California Creators" known for well-made clothing and playfully clever novelty garments. I am honored to own a spectacular piece from the Fay Foster collection. My giraffe skirt is not only fun to wear, but it is also a conversation starter and 1950's fashion time capsule from an inimitable era in American history.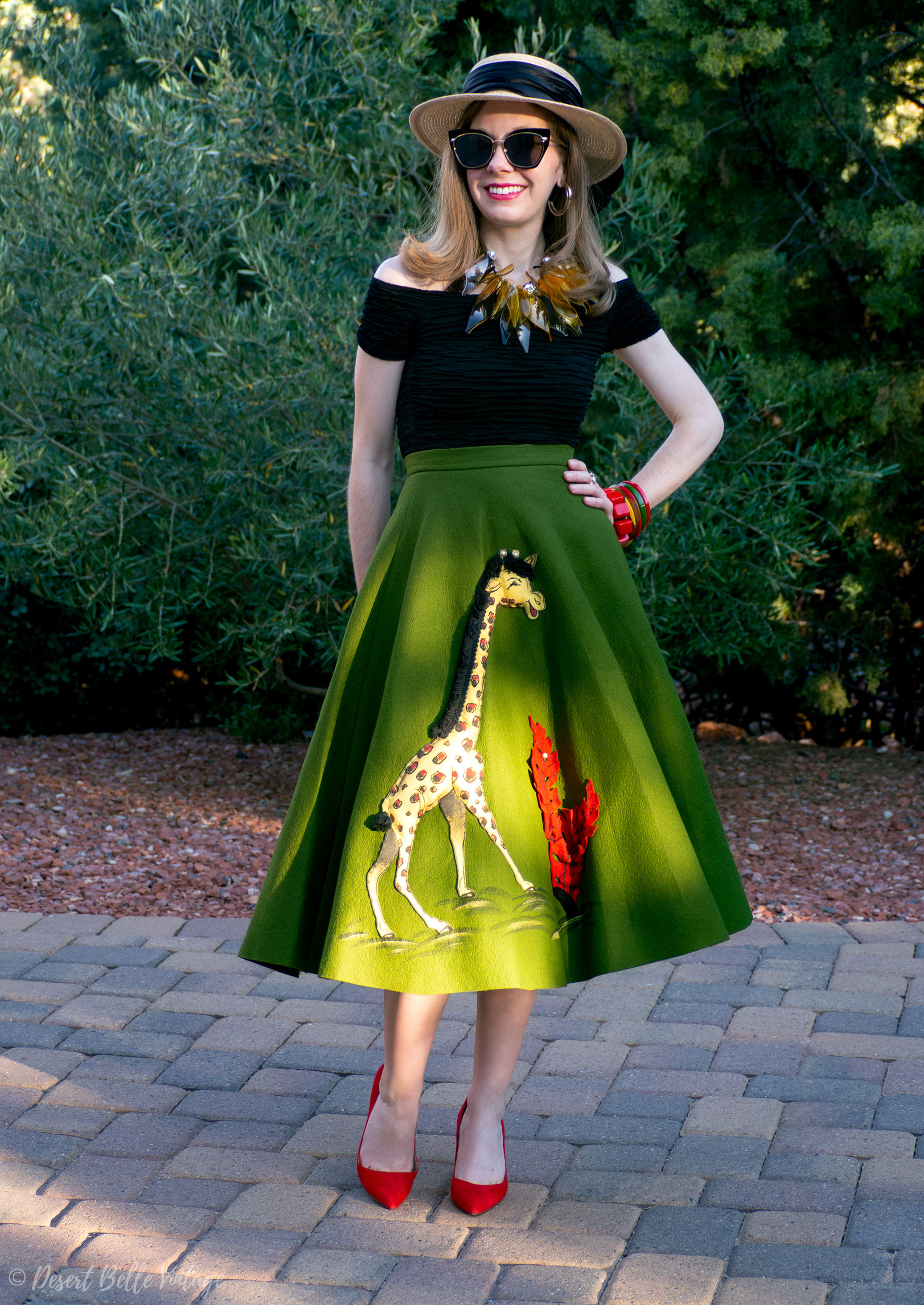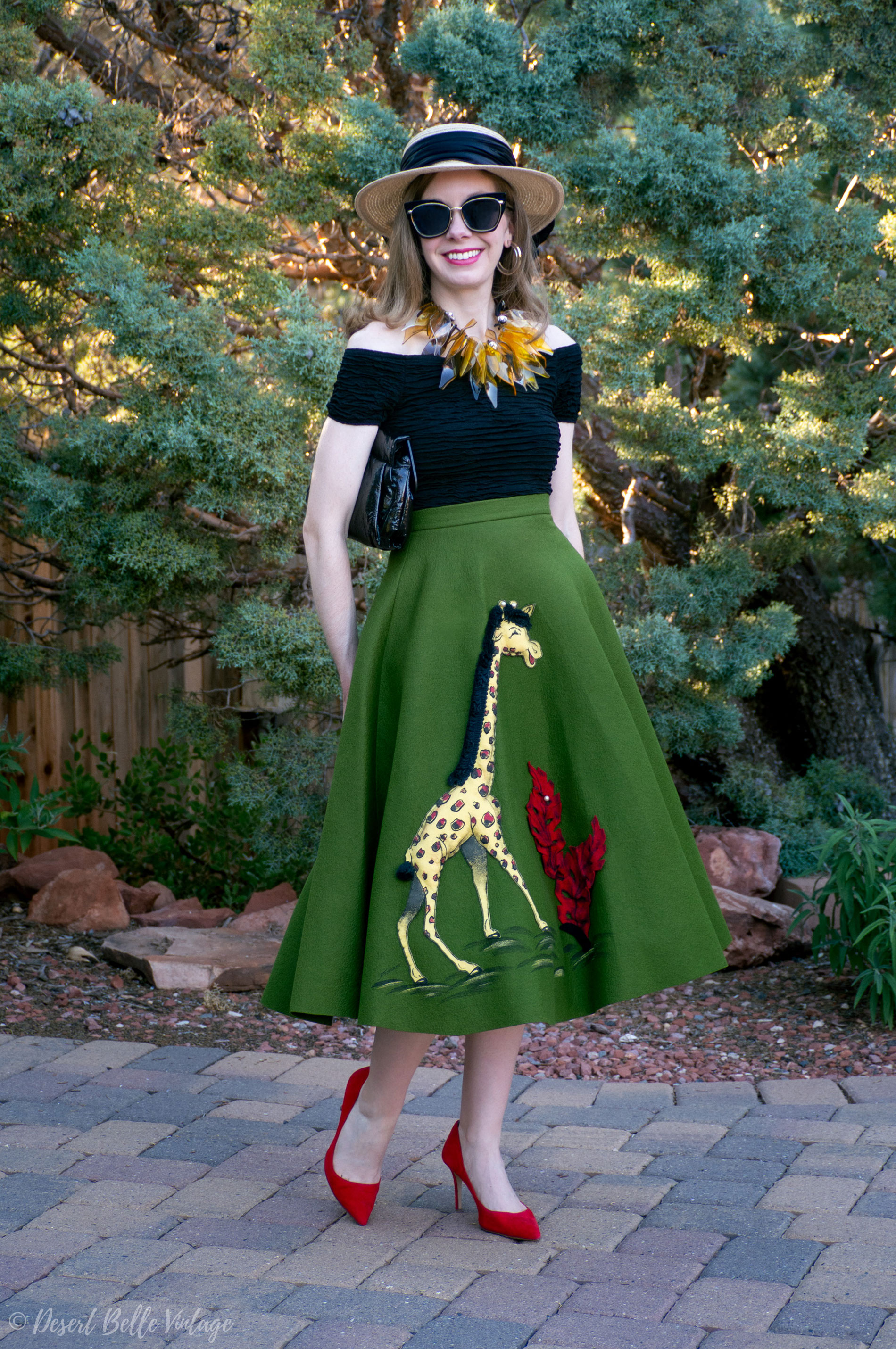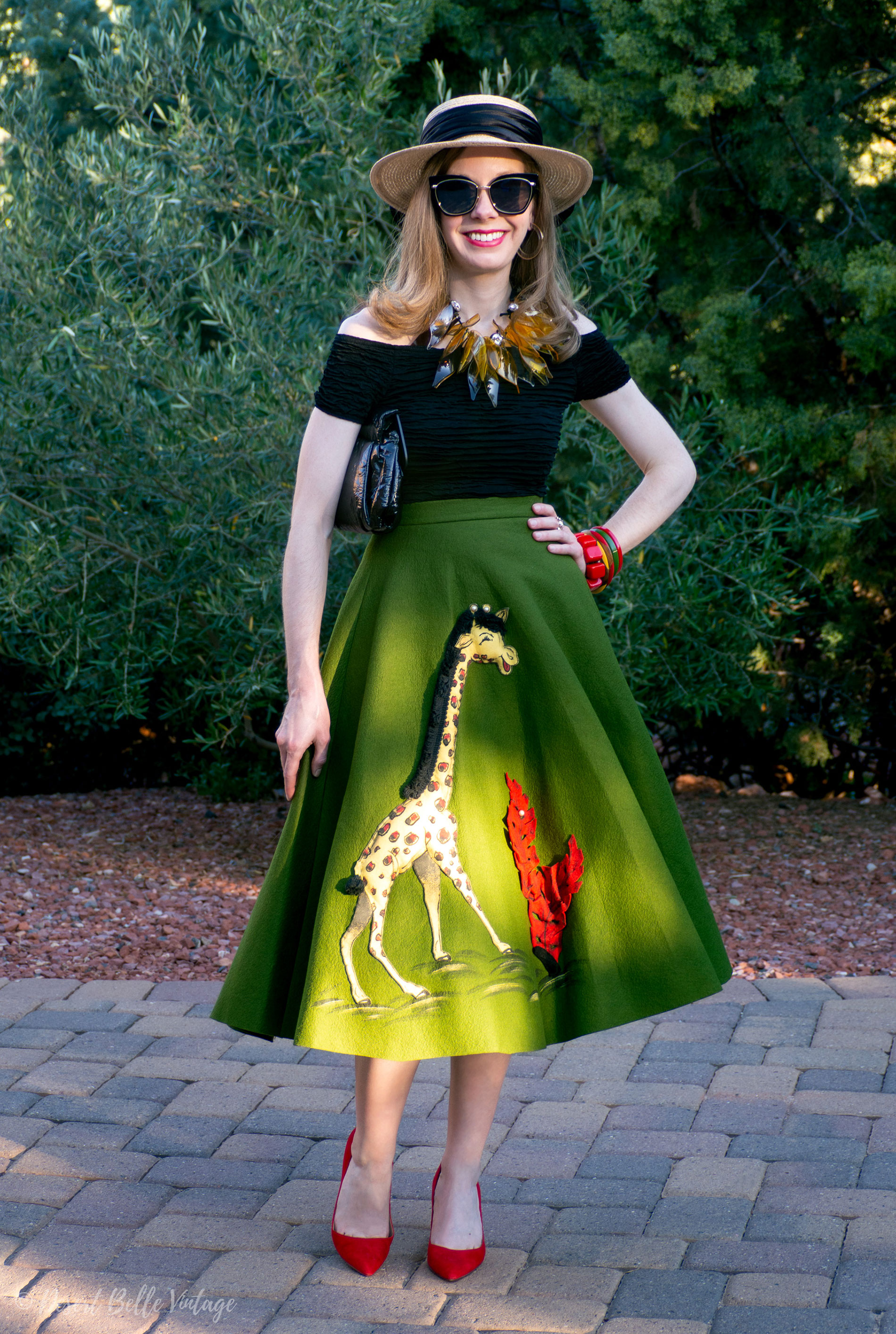 Skirt: Vintage 1950's "Fay Foster Originals, A California Creator" Hand Signed by "Salazar." Top: ASOS (past season). Purse: Vintage 1980's Leather Clutch by Patricia Smith Moon Bags. Shoes: Ann Taylor (past season). Hat: Eugenia Kim (past season). Necklace: Marni for H&M 2012 Collection. Bracelets: A mix of vintage bakelite bangles & the 2012 Marni for H&M collection. Earrings: AQUA at Bloomingdale's (past season).
It is important to note that I am not affiliated, associated, authorized, endorsed by, or in any way officially connected with any of the designers or companies (or any of their subsidiaries or affiliates) featured in this post or anywhere on the Desert Belle Vintage site. This blog contains my opinions and does not reflect the opinions of any featured businesses.