I hope you are enjoying a lovely September! I am picking up where I left off last month and continuing on with my two-part novelty fashion post celebrating my two vintage 1950's novelty skirts that both feature giraffes. If you have not already seen last month's post or would simply like to revisit it before reading on, please click here.
Novelty Fashion in the 1950s
As I mentioned in last month's post, 1950's popular culture took on an escapist agenda after the traumatic and somber WWII years. Whimsey and frivolity were adopted into 1950's fashion. Poodles in Paris, Wild West cowboys (and cowgirls!), harlequins, cute animals, travel scenes and many other various fun novelty motifs (like giraffes!) were embraced and could be seen on dresses and separates in the 50s. In the 50s, both notable designers as well as talented home seamstresses created novelty themed dresses and separates.
The Desert Belle Vintage Shop is proud to offer rare vintage novelty fashions from the 1950's. Click here to see a fabulous vintage 50's Parisian poodle novelty dress that is currently available, and click here to view a delightful vintage 50's seaside vacation novelty print skirt that is now for sale in the Shop.
Enchanted by Giraffes: Living in Novelty Nirvana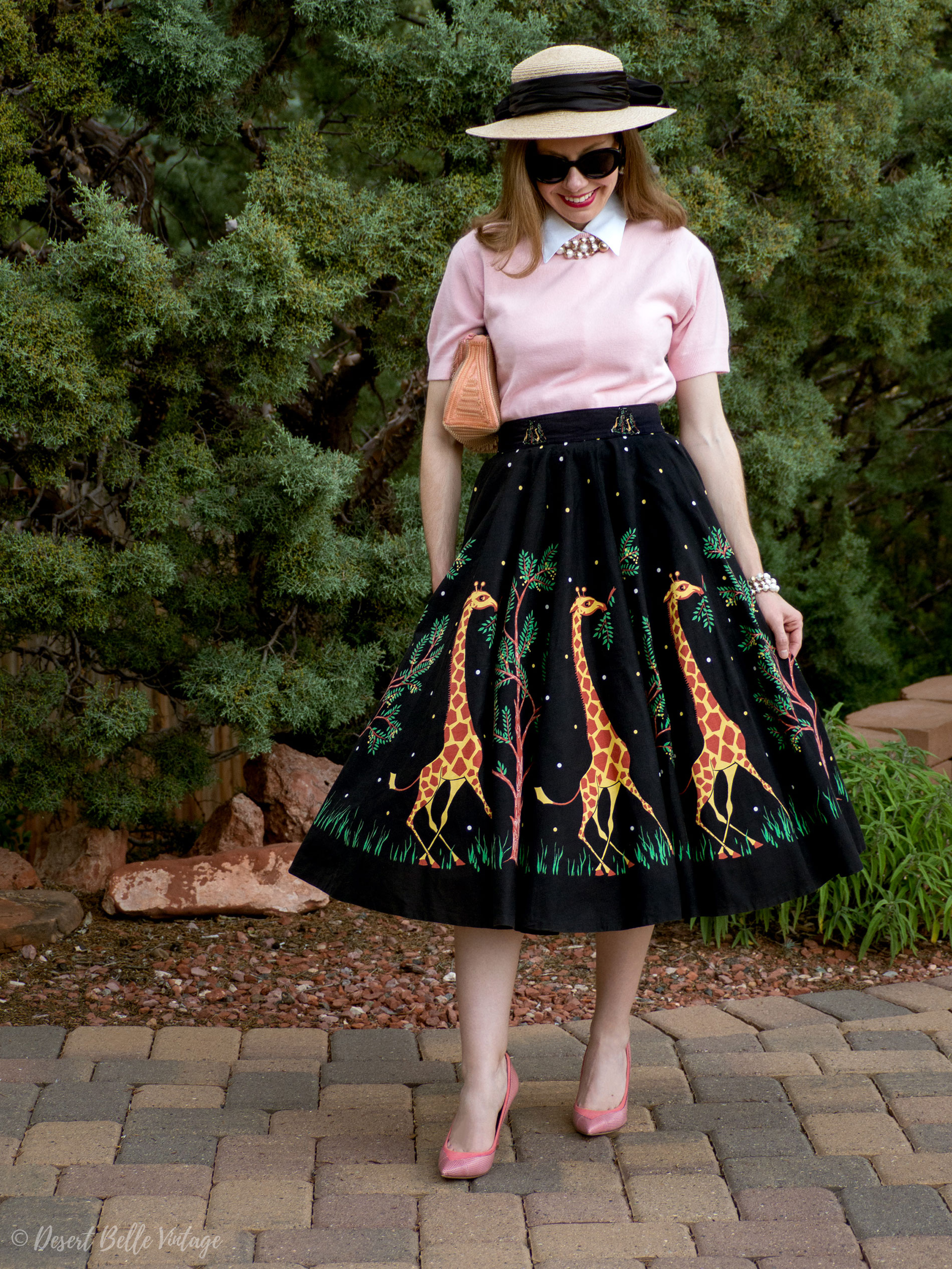 This month's vintage 1950's giraffe themed novelty circle skirt is a truly special novelty print cotton confection! This skirt's novelty giraffe print is an exceptional example of 50's novelty fashion at its finest.
Encircling the skirt are precious, content giraffes depicted walking through grass and munching on leaves from tall verdant trees. A marvelous background of polka dots lends a feminine charm to the print. I cannot help but smile when wearing this skirt! Like with my other vintage giraffe themed skirt, everything about this skirt makes me happy!
Analyzing the Details Stitch by Stitch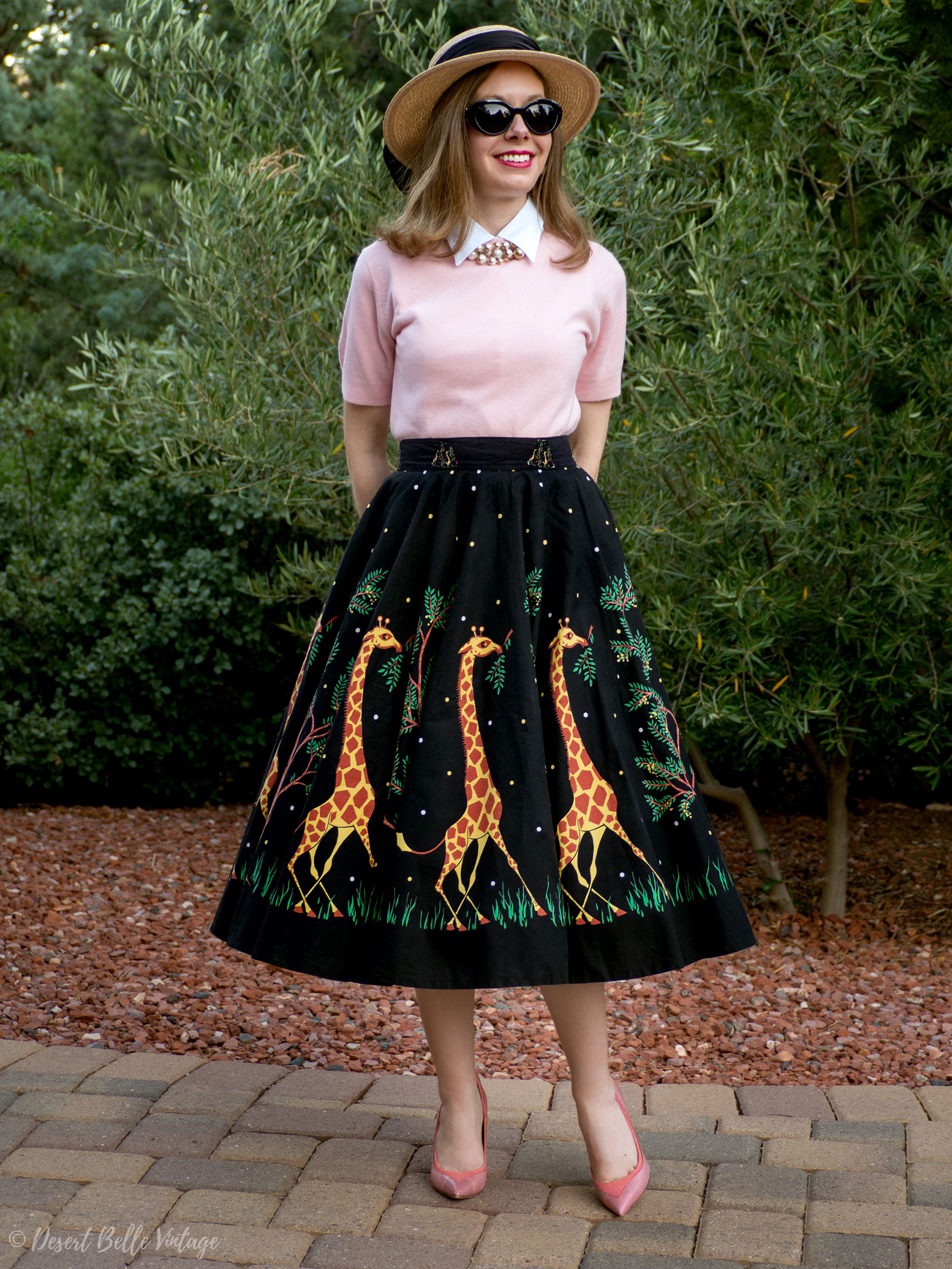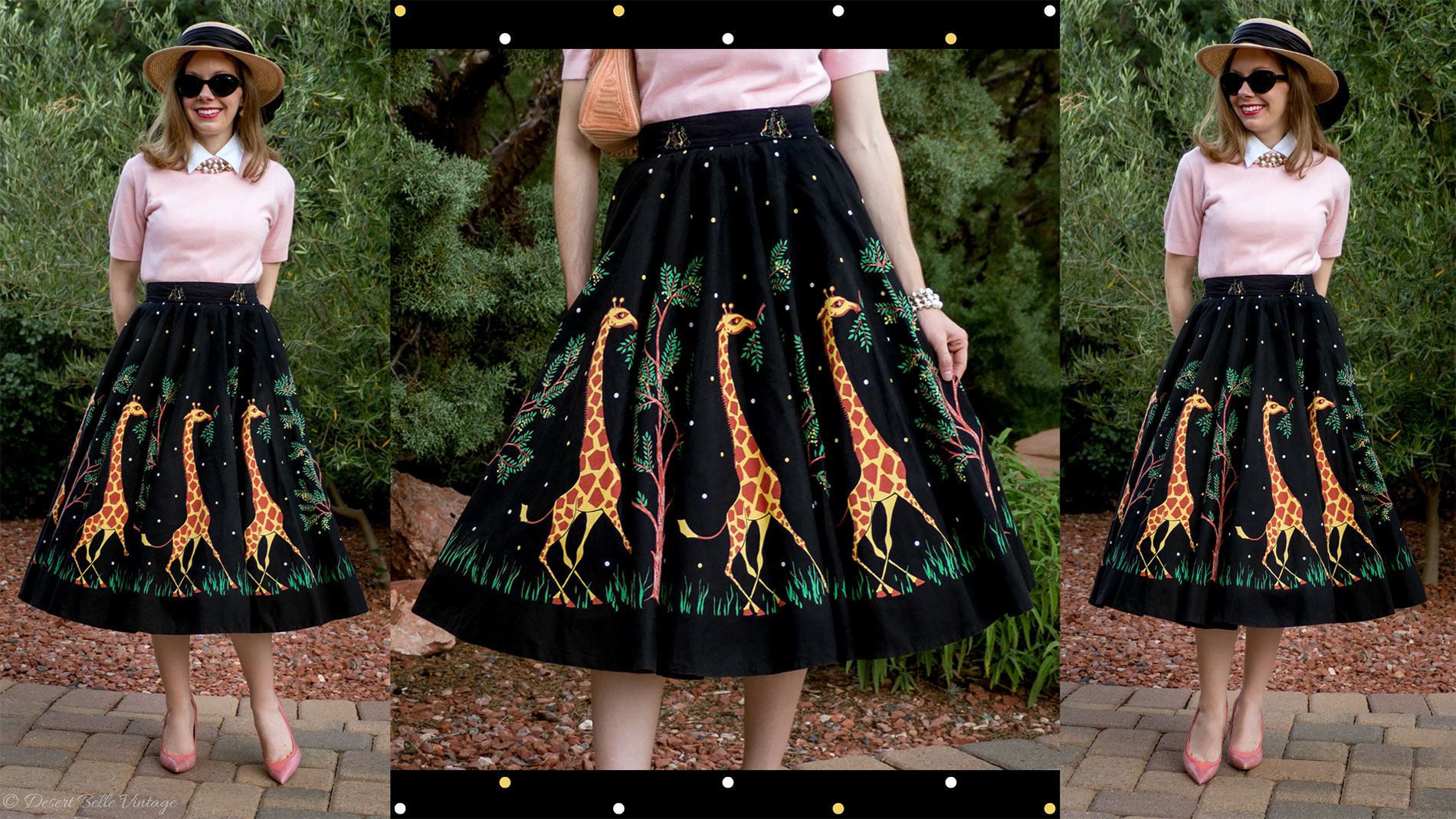 Last month I featured a vintage 1950's designer felt appliquéd giraffe skirt. This month's giraffe skirt is a vintage 1950's cotton novelty print garment that looks to have been sewn by a highly skilled home seamstress. In the 50s, both novelty print fabrics as well as novelty print fabric skirt kits were offered for sale. In my novelty fashion collection, I actually have a vintage 1950's mint, uncut, poodle print skirt kit. The kit consists of adorable cotton novelty print fabric sections / panels depicting poshly dressed poodles walking with umbrellas. The novelty print fabric sections / panels are outlined with dashed lines indicating where and how to cut the panels. Printed around the sections / panels of novelty print are sewing directions titled "To Make Skirt" as well as a list of materials required appropriately titled "Requirements." Adorably, the maker of the kit also provided an "Alternative Suggestion" for how to construct the skirt for mother versus daughter and included miniature diagrams of the skirt with its poodle print by the sewing directions.
One very interesting and unique characteristic of my vintage cotton giraffe print skirt is that it has miniature images of its giraffe print sewn at intervals around its waistband, almost creating the look of faux belt loops. I mentioned my vintage uncut poodle print skirt kit earlier because the miniature giraffe prints sewn around the waistband of my skirt are the same size, scale and shape of the miniature poodle print skirt diagrams seen in my skirt kit. I believe that my giraffe print skirt was sold as a kit in the 1950s (more on that below). I also believe that the brilliant seamstress that constructed my skirt did not want to waste the cute miniature giraffe print skirt diagrams that came with the kit and therefore found a clever way to incorporate them into the design. I love the added innovative touch of originality given to the skirt by the distinctive waistband!
Coincidentally, as I was writing this post, I discovered a vintage 1950's advertisement for Penny's featuring a woman wearing my giraffe print skirt. The advertisement reads "Do-It-Yourself Novelty Skirt Prints / To make a whirling skirt just cut 'n' sew…it's as simple as that with Penny's." This advertisement confirms that my giraffe print skirt was sold as a kit in the 1950s. Additionally, the advertisement shows small images of other novelty prints offered in the Penny's novelty print line, and my poodles with umbrellas print is one of the prints featured. There you go! Both novelty prints were offered in the 1950s by the same company hence why my giraffe skirt's miniature waistband diagrams are the same size, scale and shape as the diagrams in my uncut poodle print skirt kit.
I want to briefly add that in my 20+ years of collecting, I have seen this vintage giraffe print skirt in three different colorways. There is my version with a more traditional colorway for giraffes as they are seen in the wild and then a version with pink giraffes and another with blue giraffes. I am partial to the colorway of my skirt and sought it out specifically for the reason you will read in the next section below.
My Skirt's Fashionable Hollywood Connection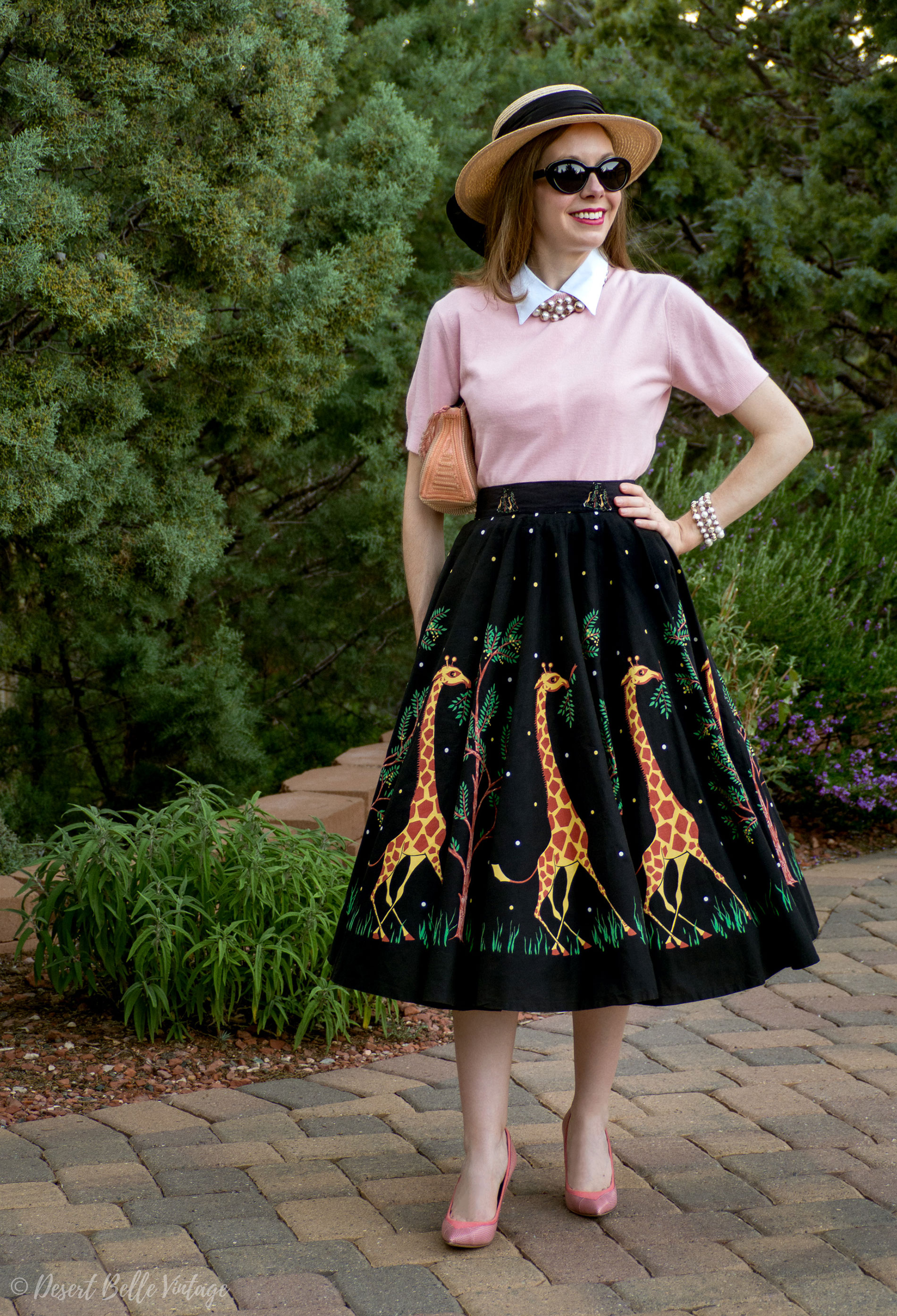 It took me many years of searching before I was able to find my vintage giraffe print novelty skirt featured in this post. This skirt is highly coveted by collectors, and my particular skirt, with its more traditional giraffe colorway, also stands as a piece of movie memorabilia as it is the exact skirt worn by character Lorraine Baines McFly in the 1989 film Back to the Future Part II. An online image search for film stills of Lorraine from Back to the Future Part II shows pictures of Lorraine in her giraffe skirt.
I adore the Back to the Future film trilogy, and being the film lover that I am, I decided to give a wink to Lorraine's Back to the Future Part II giraffe skirt ensemble by pairing my skirt with a pink sweater similar in color to Lorraine's. I opted for pink heels, and I decided to add a vintage 1940's – early 1950's pink telephone cord purse to the outfit. For jewelry, I accessorized with pearls, and I finished the look with a hat and sunglasses. I am ready to meet Lorraine at Ruth's Frock Shop in Hill Valley, California!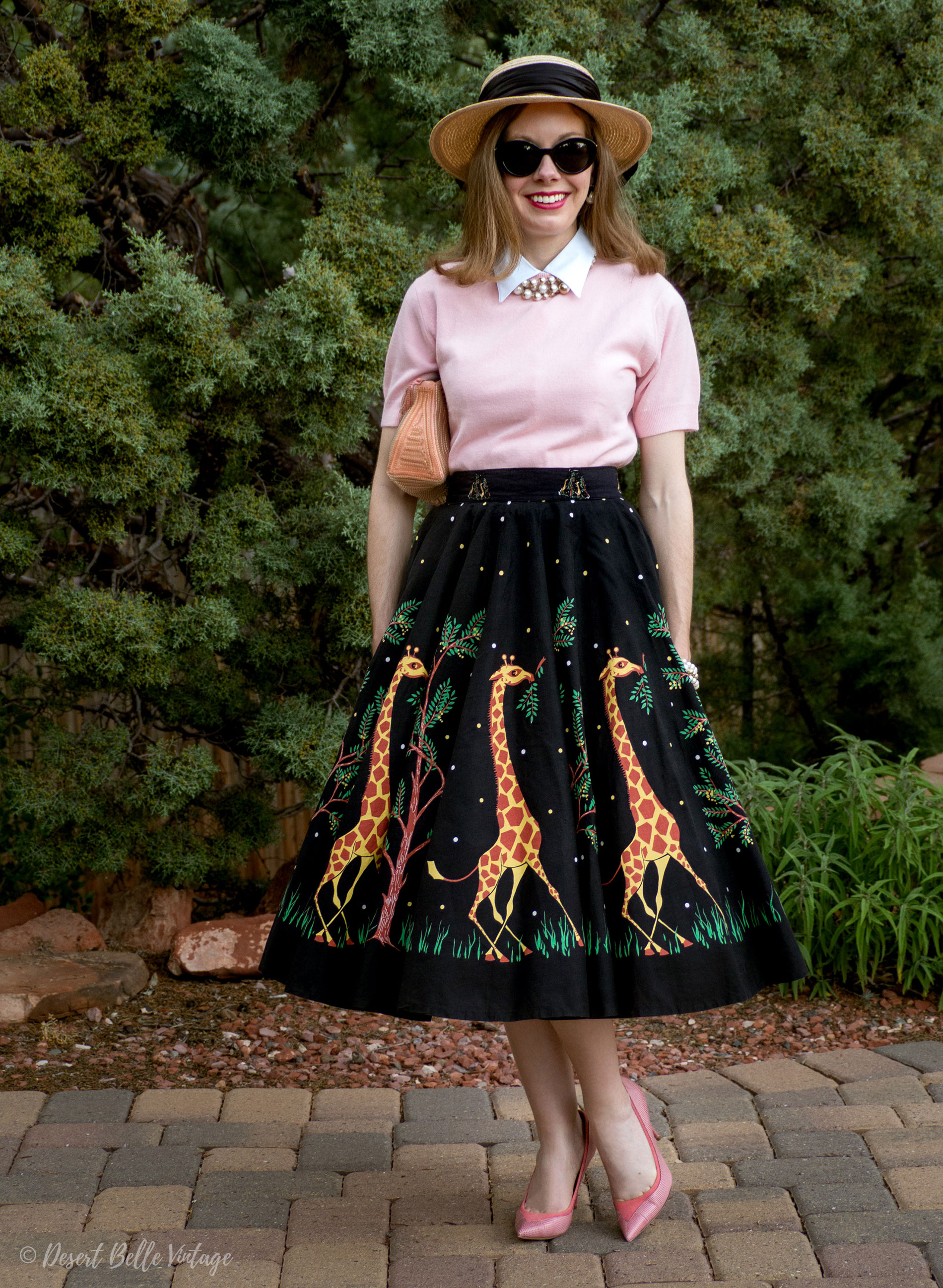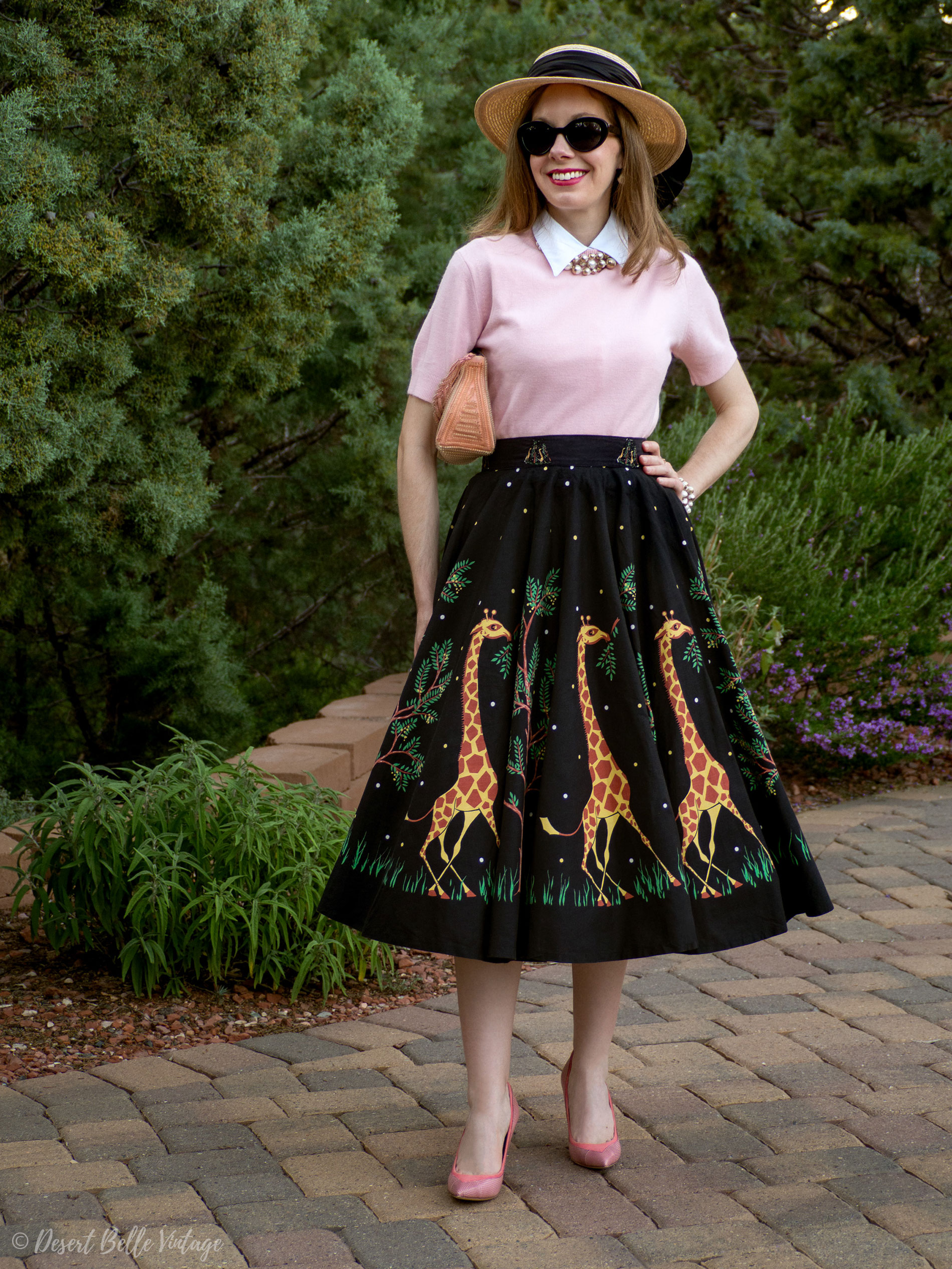 Skirt: Vintage 1950's. Pink Sweater: Vintage 1950's (Brand: House of Morrison). Purse: Vintage 1940's – early 1950's Telephone Cord Purse. Shoes: Malone Souliers (past season). Hat: Eugenia Kim (past season).
It is important to note that I am not affiliated, associated, authorized, endorsed by, or in any way officially connected with any of the designers or companies (or any of their subsidiaries or affiliates) featured in this post or anywhere on the Desert Belle Vintage site. This blog contains my opinions and does not reflect the opinions of any featured businesses.