I am thrilled to declare that Halloween is here! Happy Halloween! I hope you are enjoying the day and all the thrills of the season!
Spooktacular Traditions
To honor the Halloween holiday this year, I have enjoyed a week-long celebration of all things spooktacular. For me, Halloween has always been a time of great unbridled creativity and fun. To celebrate Halloween through the years, I have embraced a myriad of different activities. I have dressed in many unique costumes, thrown parties, traveled to chilling haunted house events, watched countless scary movies, made cute crafts and baked yummy pumpkin treats and monster cakes. No matter the activities I choose to commemorate the season, Halloween puts a smile on my face every year.
Desert Belle Vintage Halloween 2019
My inspiration for this year's Desert Belle Vintage Halloween blog post is old Hollywood glamour at Halloween. I curate a board on my Pinterest called "Retro Halloween," and I enjoy collecting vintage pictures of actresses and pin-up models dressed up (some in costumes) and posing with fun props like jack-o'-lanterns in Halloween-themed settings.
In seeking to create my own version of one of these delightful vintage images, I decided to combine the amusing Halloween kitschiness seen in these vintage pictures with a spooky Sleepy Hollow-esque setting and a vintage outfit that exudes elegance, refinement and of course classic old Hollywood glamour.
A Wickedly Fun Dress Decision
When going through my personal vintage collection to choose the perfect outfit for this photoshoot, the garment that beckoned to me is my vintage 1950's black silk Hattie Carnegie dress. For vintage collectors and enthusiasts, the name Hattie Carnegie calls to mind top quality ultra-sophisticated high-fashion style. My Hattie Carnegie dress is not only meticulously constructed with an attention to detail reserved for couture quality garments, it represents one of the most glamorous times in American fashion history and the Golden Age of Hollywood. Per the Vintage Fashion Guild: "[Hattie Carnegie's] clothes were particularly popular in California, and many Hollywood stars were known to wear [her garments]."
The Frighteningly Phenomenal Dress Details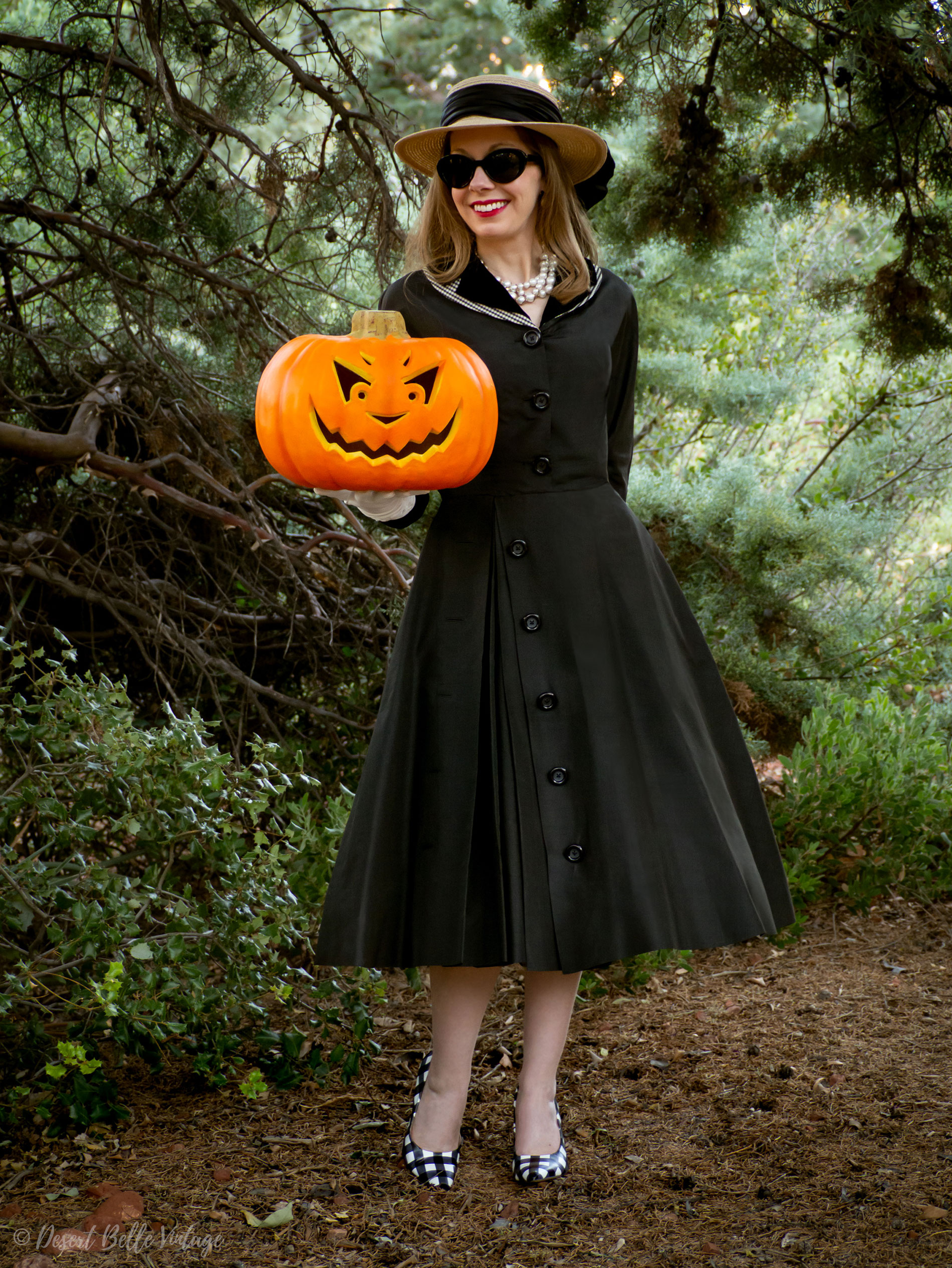 I have to point out a few of the details on my Hattie Carnegie dress that make it truly special. It is known that Hattie Carnegie took inspiration from Parisian couture for many of her designs. My dress is constructed in a classic Christian Dior-inspired New Look silhouette with full skirt and nipped-in hourglass waistline. In addition to the overall silhouette, the asymmetrical buttons on my dress are a direct interpretation of some of Christian Dior's vintage garments that feature asymmetrical button designs. Cleverly, the skirt's asymmetrical buttons on my dress were designed and placed so as to look as though they are unbuttoning part of the skirt. Through this "unbuttoning" effect, hidden pleating is revealed which creates a fuller, more dramatic skirt circumference for the stylish wearer. I am sure there might be a vintage Christian Dior garment in existence displaying this same "unbuttoning" effect although I have yet to find a picture of one.
Lastly, in regards to the special features of my dress, I would like to point out the inclusion of both black velvet fabric and black and white silk gingham fabric at the chic double collar of the neckline and hem of the 3/4-length sleeves. There are hand-sewn details throughout my dress, including where the black and white silk gingham is attached to the sleeves. I love to see hand-sewn details on a vintage garment because I always like to wonder who completed those magnificent stitches!
Setting the Scene
I really enjoyed putting together this look and choosing a spooky location for the photoshoot. I kept my accessories somewhat minimalist to really showcase the exceptional dress. To add a playful touch and give a wink to the black and white gingham silk fabric on the dress, I paired the outfit with charming black and white gingham heels. Pearls, a hat, gloves and of course my jack-o'-lantern we shall simply call "Jack" complete the look.
When I think of Hattie Carnegie, one image that comes to mind is a picture I once saw of her sitting with her adorable black poodle. I have ended this post with a picture of my precious black and white Shih Tzu posing with Mr. Pumpkin or "Jack" as I have named him. My sweet little rescue pup really enjoyed helping me decorate this year.
To learn more about Hattie Carnegie and her illustrious fashion career, I highly recommend the excellent bio located on the Vintage Fashion Guild website. I have provided a link to the page at the end of this post.
I wish you a faBOOlously fun and safe Halloween!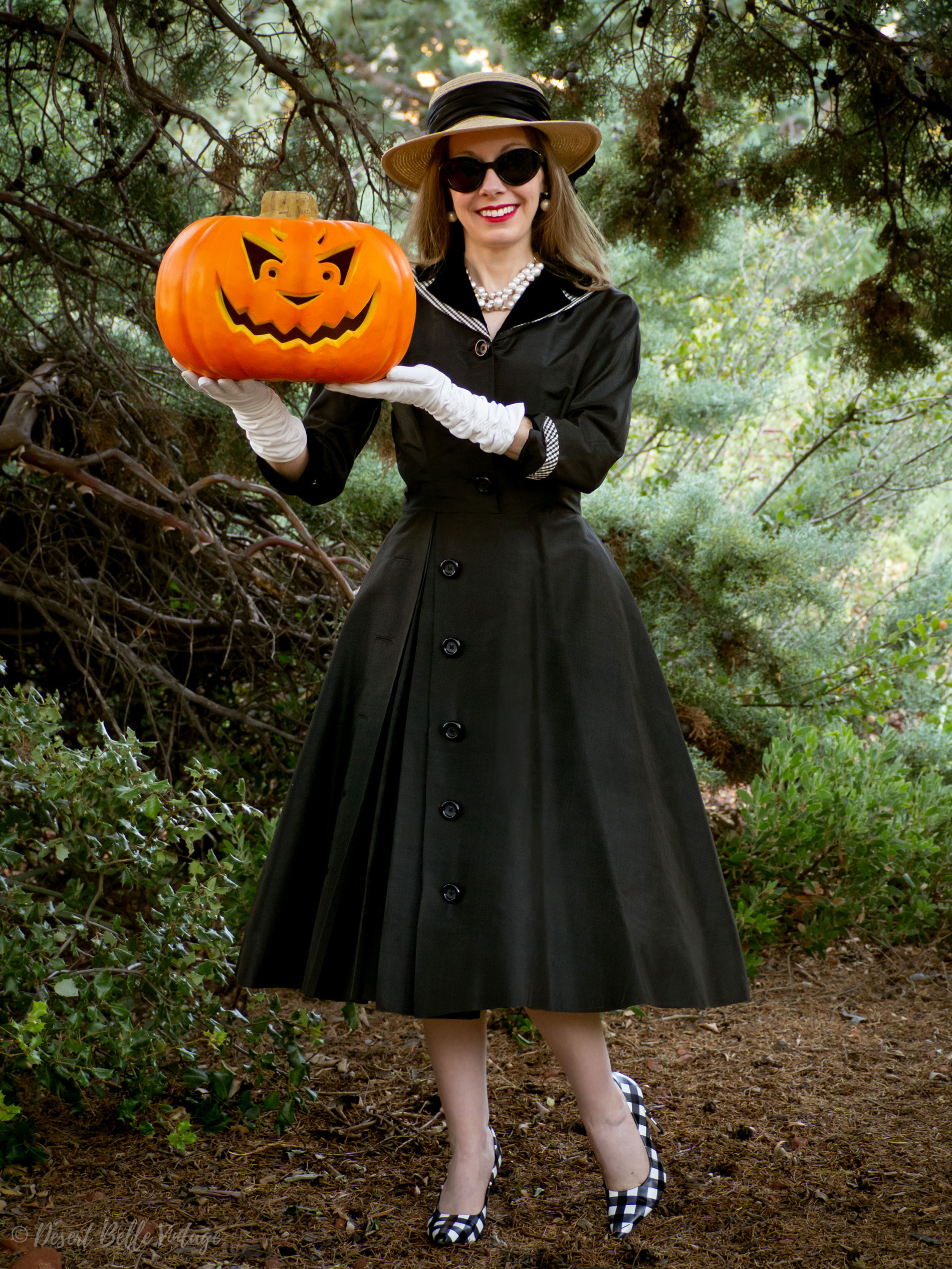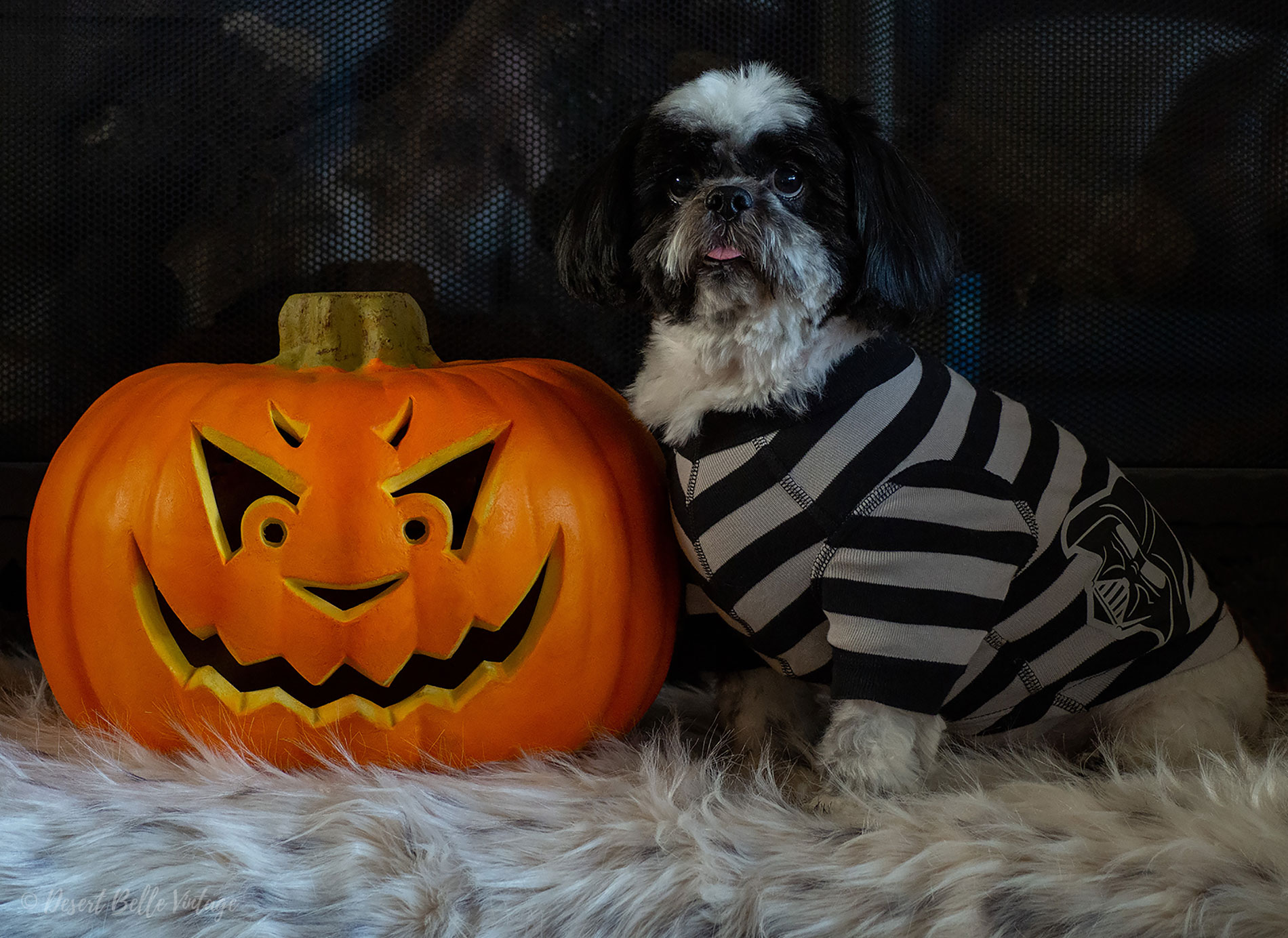 Dress: Vintage 1950's Hattie Carnegie. Shoes: Zara (past season). Hat: Eugenia Kim (past season). Gloves: Vintage 1950's (Brand: Van Raalte).
Please click here for the Label Resource Bio for Hattie Carnegie located on the Vintage Fashion Guild website.
It is important to note that I am not affiliated, associated, authorized, endorsed by, or in any way officially connected with any of the designers or companies (or any of their subsidiaries or affiliates) featured in this post or anywhere on the Desert Belle Vintage site. This blog contains my opinions and does not reflect the opinions of any featured businesses.