Yours truly is in print! I am thrilled to have a cameo in Margaret Wilds' new book Wear Vintage Now!: Choose It, Care for It, Style It Your Way. Margaret Wilds is the owner of denisebrain, a vintage fashion website and online shop. Margaret also wrote the very educational Vintage Fashion Guild's Fabric Resource located on the Vintage Fashion Guild website.
A Must-Have Book on Vintage Fashion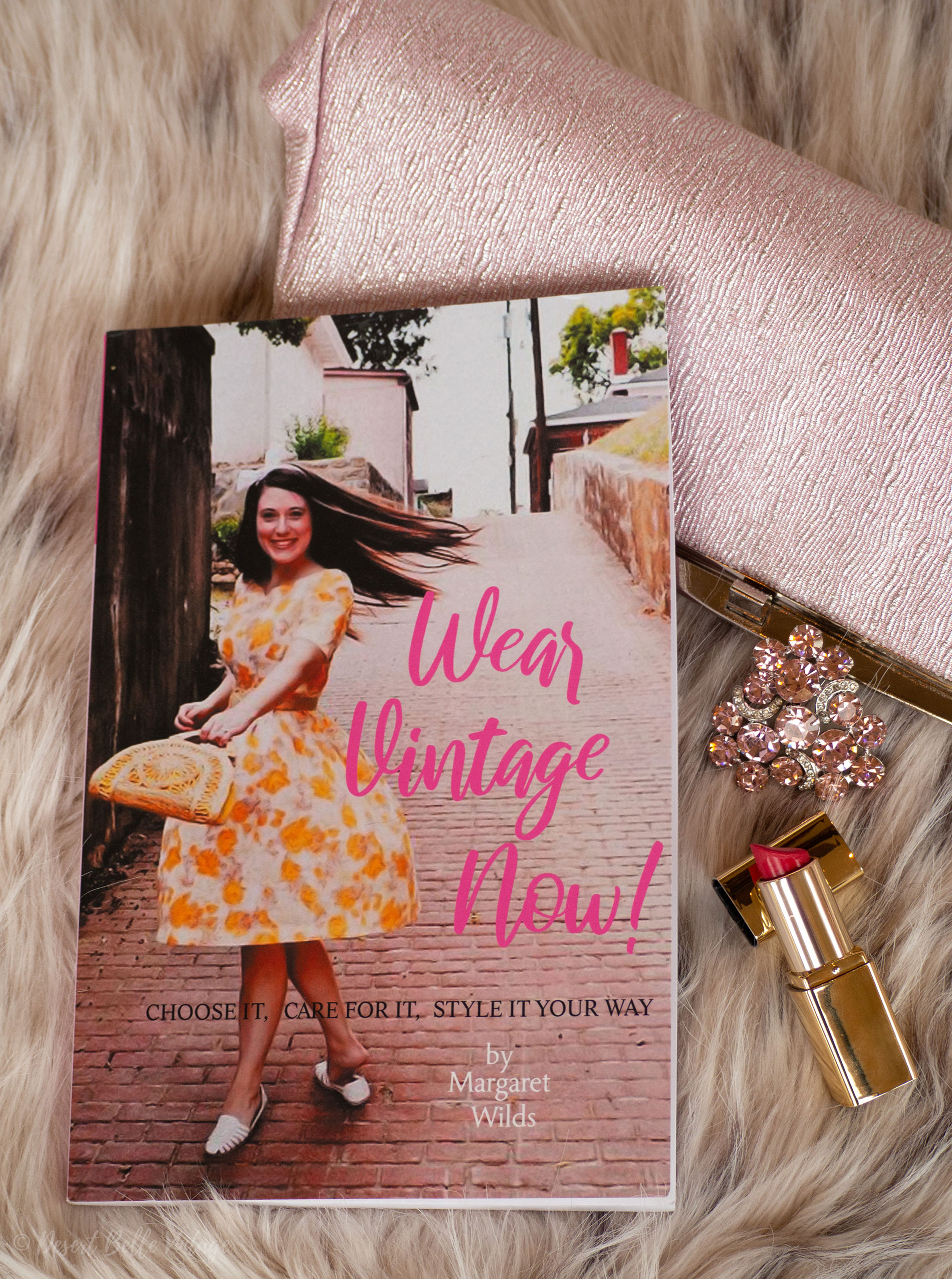 Wear Vintage Now!: Choose It, Care for It, Style It Your Way is an essential resource for all vintage fashion enthusiasts. The love Margaret has for vintage and those who appreciate and wear it really comes through in her writing. The book is both incredibly informative and fun to read. In the book, Margaret guides you in figuring out your best vintage fit, size and silhouette, and she provides invaluable vintage styling advice. In one of my favorite sections, she addresses how to properly clean, store and maintain your vintage fashion treasures. From purchase to preservation, Margaret has got your vintage questions covered! Seasoned vintage wearers as well as newcomers to the world of vintage will adore this book and learn a great deal. Every page is brimming with excellent information and guidance that will expand your knowledge of vintage fashion.
My Featured Picture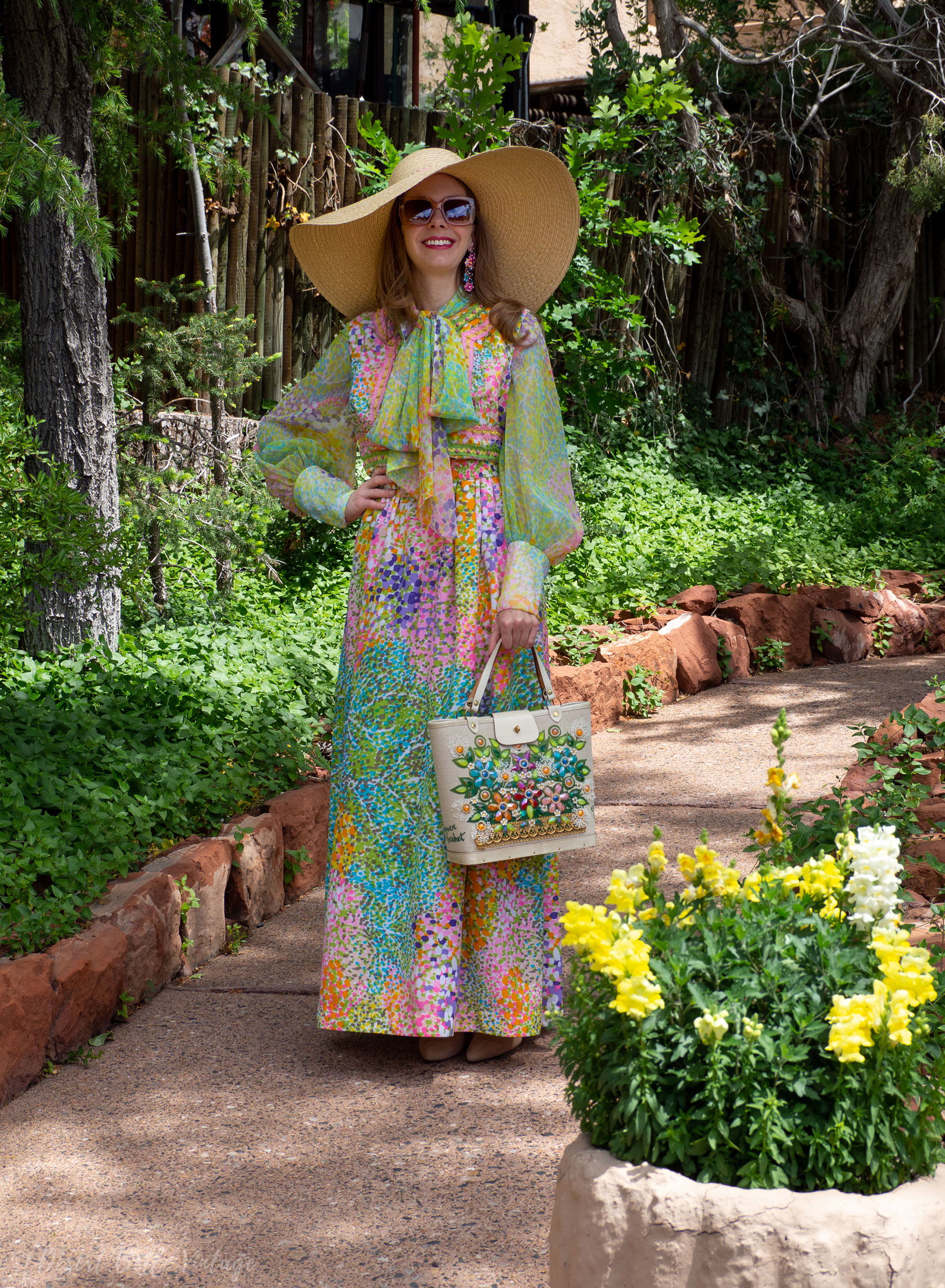 I am featured in the book on page 26 in a section dedicated to "Vintage Mixers." This picture that Margaret chose comes from my June 25, 2019 Desert Belle Vintage Blog post "Channeling the Haute Bohème Aesthetic in Vintage Victor Costa… Isn't it Romantica?" To see the full post, please click here. In the picture, I am wearing a vintage late 1960's – early 1970's "Romantica by Victor Costa" outfit and carrying a vintage 1960's Enid Collins "Flower Basket" purse.
I am so incredibly honored to be a part of such an outstanding book devoted to vintage fashion! I started Desert Belle Vintage out of a desire to share my passion for vintage with others and to inspire fashionistas of all ages to embrace your own singular look and live and dress boldly with vintage. It brings me so much joy to know that through this book I may perhaps inspire someone to start cherishing, wearing and "mixing" vintage the way I do. Thank you so much Margaret for including me in your spectacular book!
If you have never experienced the magic of wearing vintage, make your 2020 New Year's resolution to wear vintage now!
Margaret is signing all copies of her book sold through her Etsy shop. Plus, Margaret shares 10% of her earnings through Etsy with Save the Manatee Club. Click here to visit denisebrain on Etsy and order your copy. Wear Vintage Now!: Choose It, Care for It, Style It Your Way is also for sale online at Amazon and Barnes & Noble.
It is important to note that I am not affiliated, associated, authorized, endorsed by, or in any way officially connected with any of the designers or companies (or any of their subsidiaries or affiliates) featured in this post or anywhere on the Desert Belle Vintage site. This blog contains my opinions and does not reflect the opinions of any featured businesses.